Ever since Darrelle Revis' scheme-changing 2009 season where he tracked opposing No. 1 receivers week in and week out, the name of the game for elite cornerbacks has been shadowing. The thought is, unless you're going from one side of the field to the other to try and shut down the opposing team's best receiver, you can't call yourself an elite corner. This is obviously a load of crap. We've seen cornerbacks track top receivers with disastrous results while we've also seen how valuable locking down one side of the field and being able to roll coverages away can be.
There is no doubt though that shadowing is the most difficult role a cornerback can play, and currently no cornerback in the league does more of it than the Cardinals' Patrick Peterson.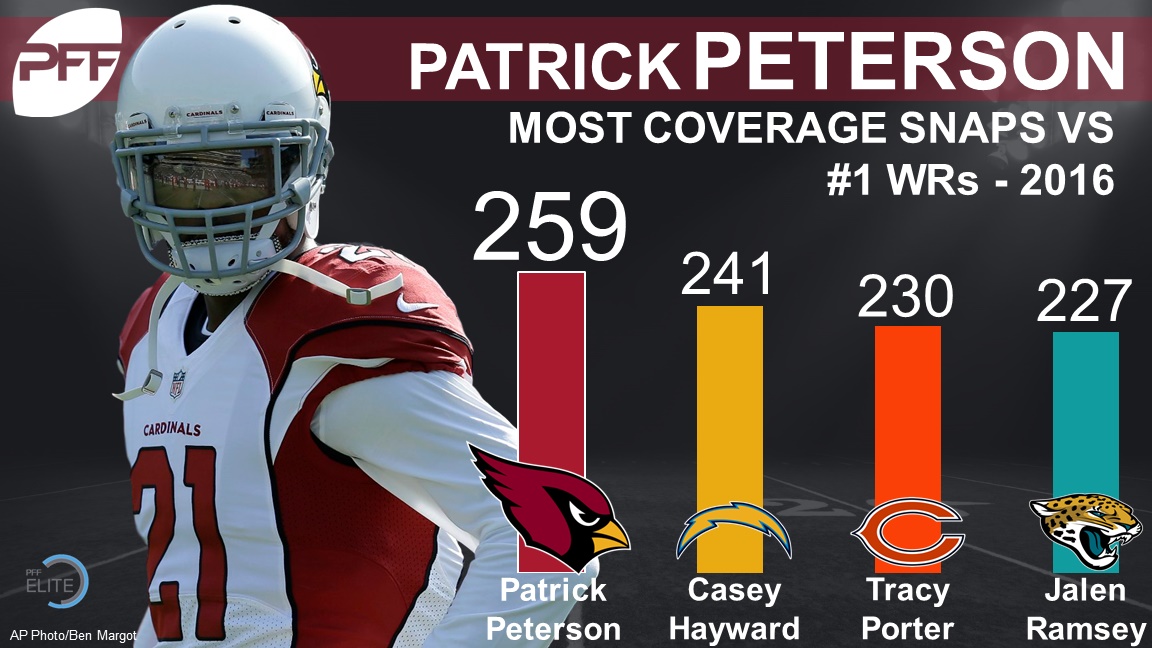 Peterson spent 40 percent of his coverage snaps tracking wideouts. That may not sound like a lot, but it's more a product of the fact that not all teams have a true No. 1 option. Peterson didn't track anyone in matchups with teams like Seattle or Washington who have no one receiver who stands out above the rest. Below is a sampling of the receivers he did track throughout the 2016 season:
Mike Evans, Tampa Bay Buccaneers
Brandon Marshall, New York Jets
Kelvin Benjamin, Carolina Panthers
Stefon Diggs, Minnesota Vikings
Julio Jones, Atlanta Falcons
Brandin Cooks, New Orleans Saints
That list includes PFF's two highest-graded receivers from last season (Evans and Jones). This is nothing new for Peterson though, as he's been doing it almost his entire career. He's made himself the sacrificial lamb of sorts as his coverage stats may never look amazing on paper, but because of the difficulty of the role he takes on, the Cardinals defense as a whole benefits. Arizona has finished in the top-10 of PFF's team pass coverage grading five of Peterson's six years in the league (the lone exception coming after Peterson's diabetes diagnosis in 2014). Coincidence? I doubt it.
One of the biggest misconceptions about shadowing wide receivers is that they're playing man coverage every time. They can follow and play any coverage in the book and just because a corner is lined up across from a wideout doesn't even mean that he'll necessarily guard him on the play. Either way though, it can still make an impact on the defense.
Peterson's Week 2 bout with Mike Evans is a great example of this. On Tampa Bay's very first drive from scrimmage, he starts at left corner across from Evans before following him to the right side and back to the left. The first snap is man coverage. The second snap is cover-3 and because Evans runs a crosser Peterson passes him off. And then the third snap he does this:
Some of the plays Patrick Peterson made last year were jaw-dropping. He tracked this deep ball better than Mike Evans pic.twitter.com/7RX83Roe35

— Mike Renner (@PFF_Mike) June 7, 2017
This is cover-3, but it's not your run of the mill spot dropping cover-3. Tony Jefferson is the middle of the field safety on the play, but at you can see, he's wholly uninterested in actually providing help to Peterson's side. Jefferson doesn't come close to even having enough depth to defend a deep post like that and with Peterson's outside leverage this should spell big trouble for the defense. "Should" is the key word there, though. It's 100 percent the right receiver for Jameis Winston to target, but his small overthrow turns into a big mistake on the stat sheet. Because Jefferson didn't have to worry about helping Peterson and could cut the crosser, the Cardinals defense gave Winston no options. This was a common theme in that one as Peterson only allowed 3 catches on 8 targets for 38 yards against Evans all day while Winston threw four picks.
As I mentioned before, tracking a top wide receiver does nothing for a defense if the corner is just going to get torched. With Peterson, this isn't an issue. He hasn't allowed more than 73 yards in a game in either of the past two seasons. That includes the battle with Julio Jones, where Peterson yielded only 31 yards on 3 catches (5 targets).
How many times do you see Julio Jones get stacked this hard by a CB in press? pic.twitter.com/vMY3tudTmQ

— Mike Renner (@PFF_Mike) June 7, 2017
You can count the number of corners in the NFL who could manhandle Jones like that on one hand. For as good as Peterson is playing press-man, his bread-and-butter coverage last season was actually playing off in cover-3. In that scheme he allowed 7 catches on 16 targets all season long for 78 yards. His 4.9 yards per attempt allowed in cover-3 was the second-best figure of any boundary corner in the NFL. It's comical to think what Peterson's stats would look like if he didn't have to face the top wide receivers in the game play in and play out. We got a good taste of that in his matchups with the 49ers and Bills where he tracked Torrey Smith and Marquis Goodwin respectively because of speed concerns. In those three games, he allowed 4 catches on 8 targets for 48 yards. Extrapolated out over a full season that's 21 receptions for 248 yards. Oh, and that also included the best play of any cornerback last year:
This one was catch of year candidate…and he's a corner pic.twitter.com/oS60tDlHIl

— Mike Renner (@PFF_Mike) June 7, 2017
Even with Peterson's difficult assignments, he still was targeted at the lowest rate of any corner in the NFL and allowed receptions at the third-lowest rate. Peterson may not be putting up Darrelle Revis numbers, but he's altering offensive and defensive game plans more than any corner in the NFL today. And that's why he's the Teaching Tape for tracking wideouts at the cornerback position.