Recently, I was looking into the first Sunday Night Football tilt of the season — between the Pittsburgh Steelers and the New England Patriots — and I found myself reminiscing about the damage Rob Gronkowski did against the Steelers throughout his career. It's not just the Steelers who have fallen victim to a specific player, though. To at least some degree, every team in the NFL has experienced a similar struggle with a player who just seems to have their number no matter the season or situation.
Below is a list of those team-killers, the players who have played a minimum of 300 snaps against a given team and picked up the highest overall grade in the PFF era (2006-present).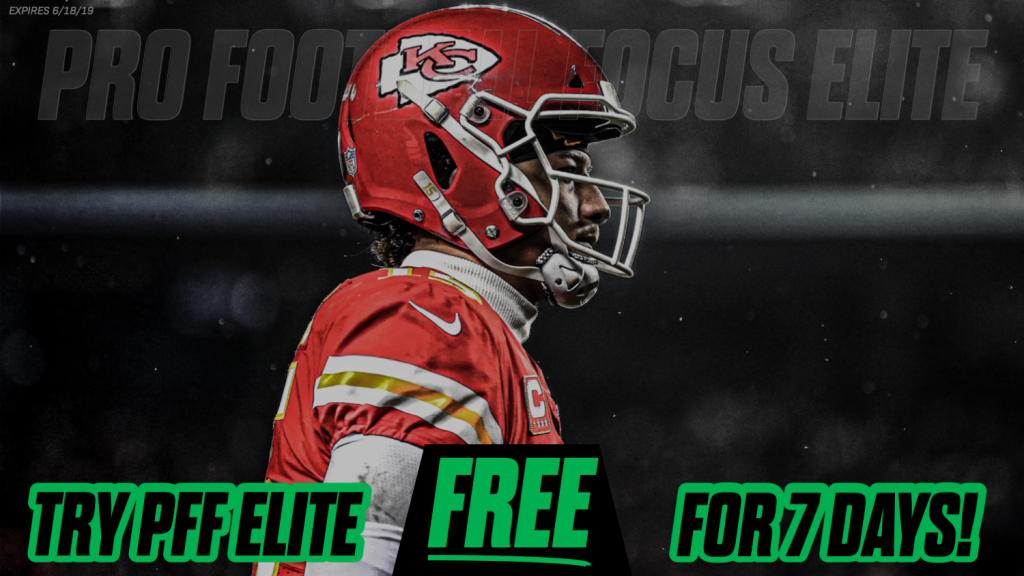 I present to you Part 1 of Donald dominates the NFC West. On 313 pass-rushing snaps, Donald has picked up 61 total pressures against Arizona, second to only Michael Bennett (65) in the PFF era. Among all defenders with 100 or more pass-rush snaps against the Cardinals, Donald's pass-rush win rate of 24.3% and his pressure rate of 19.5% both rank first.
Since entering the league three years ago, Thomas has risen to a place among the top wide receivers in the NFL, and he has proven to be a thorn in the Falcons' side in the process. Across six games, Thomas has brought in 45-of-57 targets against Atlanta for 577 yards. He's been particularly efficient operating in traffic, bringing in 9 of his 12 contested targets and forcing nine missed tackles after the catch.
No one got after Joe Flacco and the Ravens quite like Harrison over his career. He notched 453 pass-rushing snaps against the Ravens in the PFF era, which is roughly a season's worth of work, and he turned those opportunities into a league-high 80 quarterback pressures and 20 sacks — nine more sacks than the next closest defender. Those pressures were often high-impact plays, as evidenced by Harrison's 92.0 pass-rushing grade against Baltimore.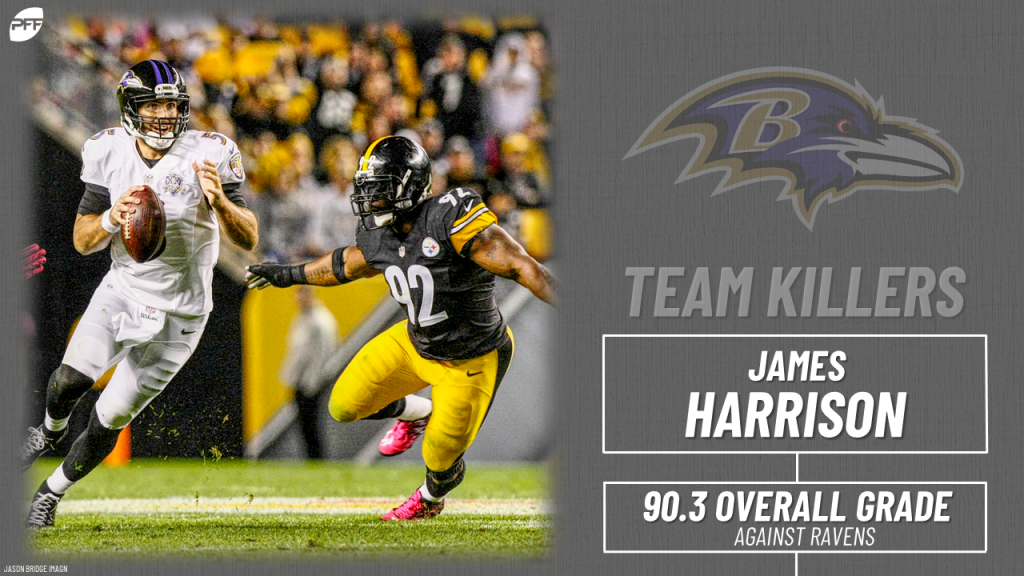 Brady has consistently dominated the AFC East over his career, so it comes as no surprise to see him as the highest-graded player against the Bills. He has picked up an absurd 52 big-time throws against the Bills since 2006 — the next closest quarterback is Ryan Tannehill, with just 15. Looking at the 21 quarterbacks with at least 100 attempts against Buffalo in the PFF era, Brady ranks second in yards per attempt (7.7) and passer rating (101.9).
Since PFF began charting games in 2006, Brees has picked apart the Panthers' defense, just as he has done against most of the league on his march up the record books. In total, he has completed 640-of-948 attempts for 7,079 yards, 46 touchdowns and 21 interceptions against Carolina over that span. His passing grade of 90.9 ranks second among 19 quarterbacks with 100 or more attempts against the Panthers.
Continuing the theme of elite quarterbacks performing well against divisional foes, Rodgers has had the upper hand against Chicago since entering the league. From a clean pocket, Rodgers has been second to none against the Bears with a passing grade of 93.1 to go along with strong showings in yards per attempt (7.9) and passer rating (113.6). The only quarterbacks with 15 or more big-time throws against the Bears are Rodgers (40) and Matthew Stafford (28).
Miller marks the first appearance by a player outside the division of the team in question, terrorizing the Bengals as both a pass-rusher and a run defender. Miller's pass-rushing prowess has been matched by very few in the league throughout his career, but it's his run defense that has really shined against Cincinnati. Since entering the league, Miller has recorded a 90.9 run-defense grade and an 88.4 pass-rushing grade in the matchup. Both of those figures rank first among qualifying players who have logged 300 or more snaps against the Bengals.
Before going to man the left tackle position in Los Angeles, Whitworth was a fixture on the Bengals' offensive line — a fixture that the Browns were undoubtedly happy to see go. Whitworth led all qualifying offensive linemen in run-blocking grade against Cleveland with a grade of 91.4. He also stood tall in pass protection, allowing just 33 total pressures from 747 pass-blocking snaps.
Mathis spent time with six different NFL teams across an illustrious career, but most of his battles against the Cowboys came as a member of the Eagles. He graded above 90.0 every season from 2009 to 2015 and elevated his game to another level against Dallas. In those matchups, he allowed eight pressures from 332 pass-blocking snaps and picked up a run-blocking grade of 92.6.
The Broncos have had several high-intensity matchups with the Patriots over the last 10 seasons, and in those games, Gronk took control. He converted his 71 targets against Denver into 52 receptions for 734 yards and seven touchdowns. Among all players with 40 or more targets against the Broncos in the PFF era, Gronkowski's 2.47 yards per route run rank second to only Travis Kelce.
Another NFC North team, another appearance for Rodgers. The Packers quarterback has performed better against the Lions than he has against the Bears throughout his career. In all, he has completed 66.0% of his passes for 8.2 yards per attempt and a passer rating of 109.0. When getting rid of the ball in 2.5 seconds or less against Detroit, Rodgers has thrown 14 touchdowns and no interceptions to go along with no turnover-worthy throws.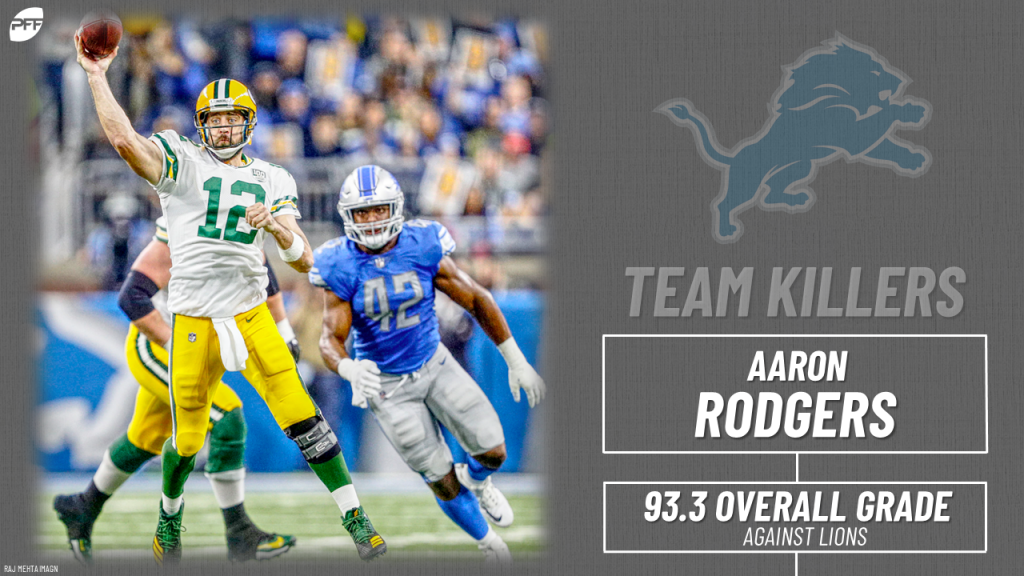 Smith has been one of the best safeties in the league since being drafted in 2012, and he has been the best defender in the league against Rodgers and the Packers offense. He has a run-defense grade of 90.1 and a coverage grade of 85.7 across 868 snaps vs. Green Bay. In coverage, Smith has allowed a passer rating of 71.5 behind a league-high five interceptions.
The AFC South was Manning's domain for a large chunk of his career. The PFF era just captures the back end of that tenure with Indianapolis, but from 2006 to 2008, Manning graded at 85.0 or better in each of the six games he played against the Texans. In all his games against Houston, Manning completed 31-of-65 pass attempts that traveled 20 or more yards downfield for 956 yards and seven touchdowns.
A throwback to the times of power football in the NFL. Fullbacks may seem antiquated now, but at the start of the PFF era they were very much a vital part of an offense, and Leach was one of the best. As an absolute force in the run game, Leach amassed a perfect 99.9 run-blocking grade on his 238 run-blocking snaps against the Colts. For a running back, it doesn't get much better than a fullback clearing lanes in front of you like that.
The second consecutive Texan to make this list, Myers cleared just over 1,000 career snaps against the Jaguars, consistently performing at a high level in the matchup. His run-blocking grade of 90.6 led all offensive lineman with 300 or more snaps, and in pass protection, Myers allowed just one hit and zero sacks from 547 pass-blocking snaps.
Chris Harris Jr. has been arguably the best slot cornerback in the NFL since entering the league back in 2011. Last year, he secured another high finish in slot coverage grade, finishing second behind only Desmond King II. He's put that talent to work against the Chiefs over his career, coming out of those matchups with a passer rating allowed of 69.8 to go along with just 8.3 yards allowed per reception in his coverage.
Miller is back for seconds as a team-killer, this time against an AFC West foe. Against the Chargers, he has racked up a league-high 87 pressures since 2006. Miller isn't getting it done on volume alone, though, as his pass-rush win rate (20.6%) and his pressure rate (19.1%) both rank in the top five of all pass-rushers with 100 or more pass-rushing snaps against the Bolts.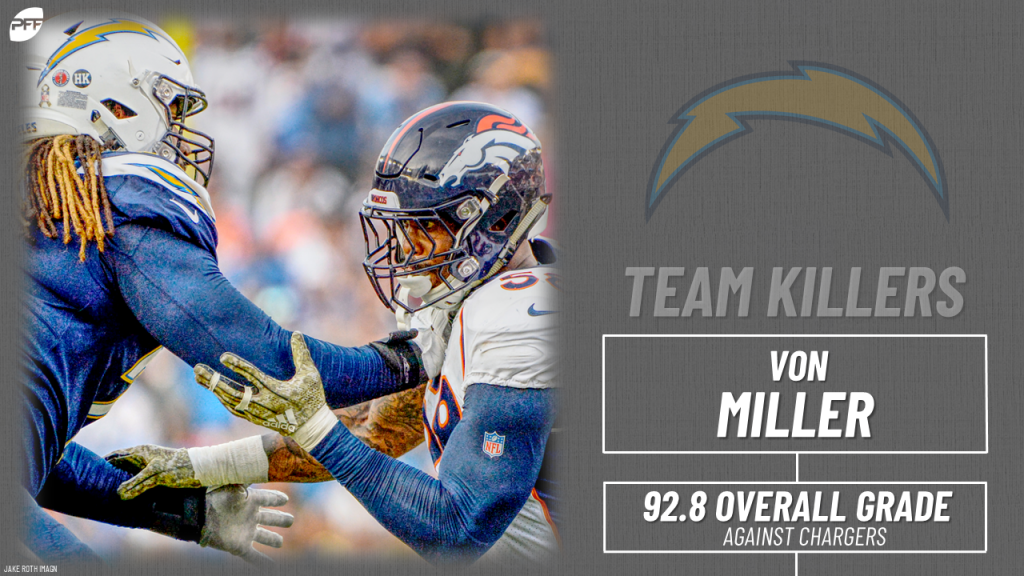 Before suspensions derailed his career, Daryl Washington was one of the more promising linebackers in the NFL. He graded at 72.0 or higher in each of his first four seasons, with two seasons above 82.0. Against the Rams, there was no one better. Washington recorded a 91.7 overall grade across seven games, excelling in coverage with a grade of 90.2.
Few cornerbacks can claim to be better playmakers than Samuel, who always seemed to be around the football. Simply put, the Dolphins would have been better off throwing the ball into the ground than targeting him. Samuel allowed a passer rating of just 30.2 on throws into his coverage against Miami. He forced incompletions on five of his 32 targets while intercepting another two.
At just 29 years old, it appears that Lacy's time in the NFL has come to a close, but there was a time at the beginning of his career when Lacy was very effective. That was especially true when facing off against the Vikings. In those matchups, Lacy forced 31 missed tackles as a runner on 139 attempts — good for a forced missed tackle rate that led all runners with 50 or more attempts against the Vikes.
Sure to upset the #QBWINZ crowd, Roethlisberger comes out as the top-graded player against the Patriots despite being just 4-8 against Brady and company. The tape shows, however, that the subpar record hasn't been his fault. Big Ben's touchdown to interception ratio of 18-to-10 doesn't overly impress, but his big-time throw to turnover-worthy play ratio of 28:8 is much more impressive. The discrepancy indicates that luck hasn't been on his side in the matchup, but that doesn't detract from him playing at a high level.
The trend of elite quarterbacks — which Ryan is — dominating divisional opponents continues with the Saints. Against New Orleans, Matt Ryan has racked up 523 completions on 797 attempts for 6,354 yards, 39 touchdowns and just 13 interceptions. While his 51 big-time throws lead all quarterbacks in the matchup by 21, his 11 turnover-worthy plays are fewer than fellow NFC South quarterback Cam Newton (12).
Rodgers' appearance here against the Giants is one of the rare non-divisional team-killers, but his spot has been well earned. While his underlying stats — such as a 59.0% completion percentage — aren't all that impressive, Rodgers' overall performance stands second to none. He was particularly effective in the fourth quarter of one-score games, throwing six big-time throws compared to no turnover-worthy plays.
Once again, Brady takes the crown against an AFC East team. No quarterback has come close the volume that Brady has seen against the Jets — 952 attempts, 582 completions, 6,677 yards, 48 touchdowns and 12 interceptions. No one has matched his efficiency in the matchup, either. Brady's passing grade of 90.7 against New York tops 22 quarterbacks with 100 or more attempts.
Mangold consistently anchored the Jets offensive line from 2006 to 2016, grading above 80.0 in eight of his 11 seasons. In that time, he relished the chance to play the Raiders and put together a master class in run blocking. Mangold's 92.8 run-blocking grade led all qualifying offensive linemen by 6.0 points. The highlight came in a 2009 game in which Mangold picked up an overall grade of 95.4.
Despite only amassing 202 routes run, Jones has torched the Eagles throughout his career to the tune of 45 receptions for 698 yards. Among all players, his 18 receptions of 15 or more yards rank fifth, and his 3.46 yards per route run are easily more than any other wide receiver with 25-plus targets.
As I mentioned in the intro to this article, Gronkowski utterly dominated his matchups with the Steelers. He was targeted 51 times and brought in 41 of those passes for 685 yards and eight touchdowns. No matter which metric you look at Gronk is up near the top but most impressive is his passer rating when targeted – a perfect 158.3. Can't get any better than that.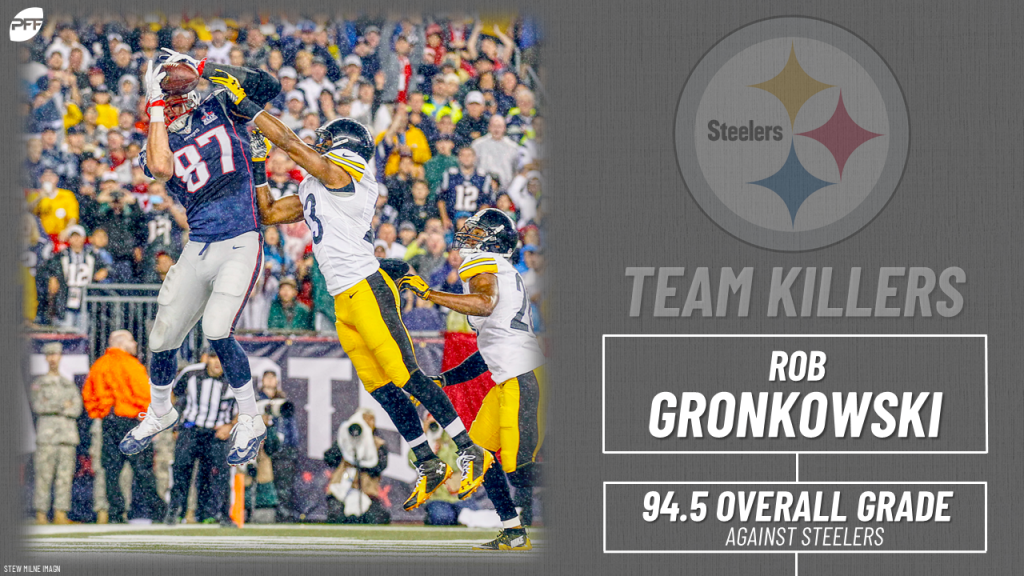 The 49ers bring you Part 2 of Donald dominates the NFC West. The Pitt product has turned 302 pass-rushing snaps into 45 pressures which include 12 quarterback hits and eight quarterback sacks. His 20.5% pass-rush win rate comes in at the highest among all defenders with 150-plus pass rushes against the 'Niners.
The final edition to Donald dominates the NFC west brings the highest grade of the bunch, which shouldn't be surprising given the state of the Seahawks offensive line over the last several seasons. Donald has amassed a monstrous 28 quarterback hits and sacks against the Seahawks over his career and looking at a wider picture, he's picked up 61 quarterback pressures on 308 pass-rushing snaps. Those 61 pressures fall second to only Chris Long.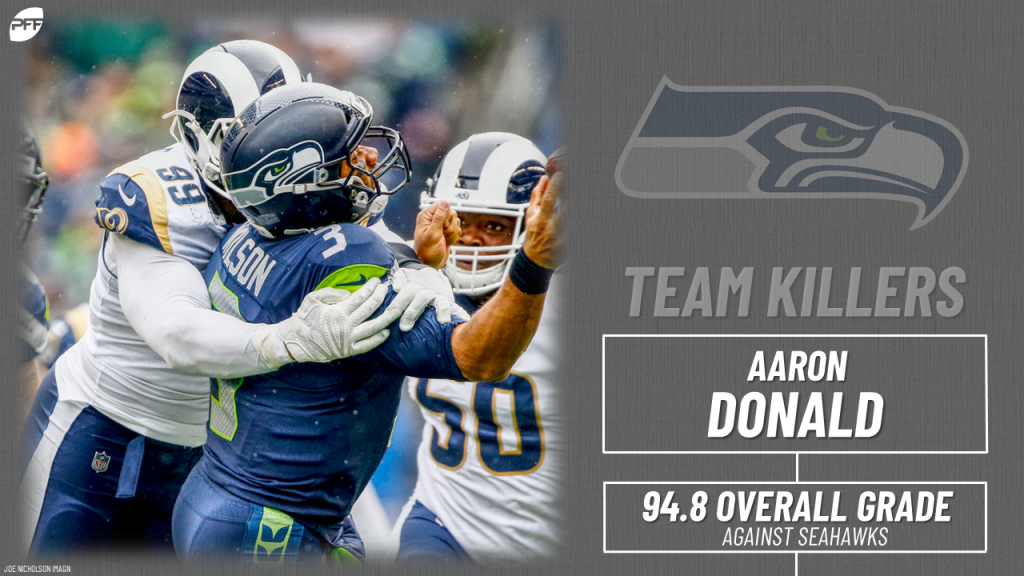 Mack has been a model of consistency over his career. In ten seasons, he has played 900-plus snaps in all but one, while grading at 74.0 or higher each year. Against the Buccaneers, Mack has been at his best. In seven career games against Tampa Bay, Mack has picked up a pass-blocking grade of 84.0 and a run-blocking grade of 92.2.
Once again, Manning makes an appearance as a team-killer for one of his former AFC South rivals in Tennessee. Against the Titans, Manning unloaded 29 big-time throws while only giving up four turnover-worthy plays. In total, he had a completion percentage of 70.1% to go along with 7.3 yards per attempt and a passer rating of 100.1.
As I mentioned in the Cowboys' team-killer section, Mathis was one of the best offensive linemen in the league, so it doesn't come as a surprise that he was one of the few players with multiple appearances on the list. He allowed just eight pressures — none of which were sacks — on 342 career pass-blocking snaps against the Redskins. Mathis graded above 80.0 in six of his eight career games against Washington.