With the 2019 NFL season quickly approaching, many teams are hoping to see improvement in their offensive lines, while some are looking to maintain their success from a year ago. No offense wants to be one-dimensional, so having linemen who excel in both the passing game and the run game has become increasingly important.
With that said, let's look at the league's most balanced offensive lineman across every position by using their PFF grades from the 2018 season. For this, we combined grades across all three positions (center, guard, tackle) and compared the two facets that make the composite overall grade — run-blocking and pass-blocking grade.
Without further ado, here are the NFL's most balanced offensive linemen at each position from last season.
Offensive Tackle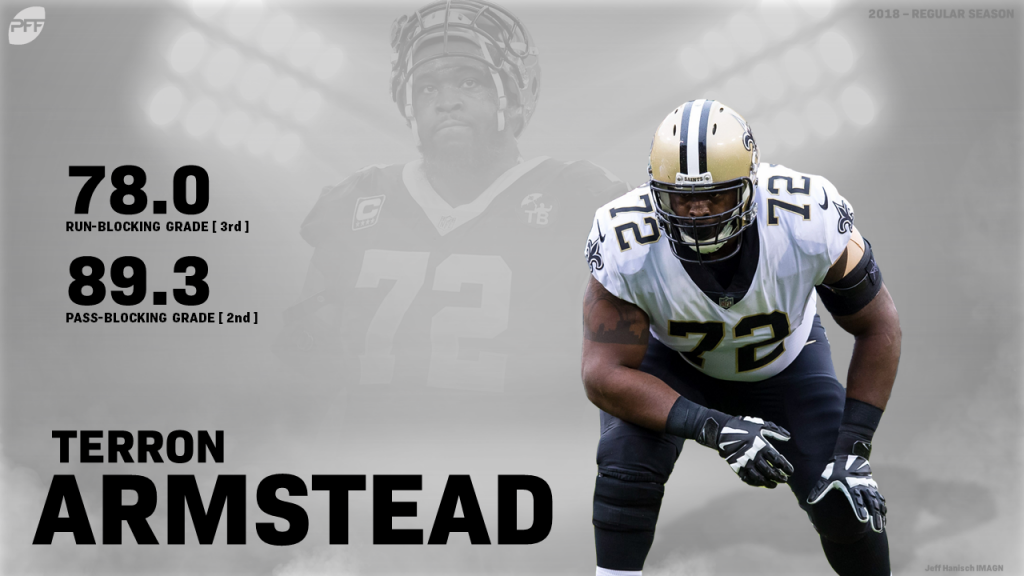 Terron Armstead has been in the conversation as one of the NFL's most balanced offensive lineman in the NFL ever since his breakout season in 2015 where he earned a 92.6 overall grade. In 2018, the seventh-year left tackle was one of only two offensive tackles to finish top 10 in both pass-blocking and run-blocking grades, resulting in an overall grade of 87.7. For his elite play, he earned the top spot on PFF's top 25 offensive linemen of the 2018 NFL season.
Armstead finished the regular season with a pass-blocking grade of 89.3,  the second-best mark among offensive tackles. With only 11 pressures (seven hurries, three hits, one sack) allowed on 329 pass-blocking snaps, Armstead tied for the fourth-best pass-blocking efficiency rating (98.2) at his position. From a run-blocking standpoint, 2018 was Armstead's second-best career effort with a 78.0 run-blocking grade, third among offensive tackles.
Honorable Mention: Andrew Whitworth, Los Angeles Rams
Andrew Whitworth earned a 78.4 run-blocking grade and an 86.1 pass-blocking grade with Los Angeles in 2018, both fifth among offensive tackles. He's been nothing short of outstanding throughout his career, earning 70.8 or higher overall grades in all but one season in the PFF era (2006-18), including an 83.1 overall grade last season.
Offensive Guard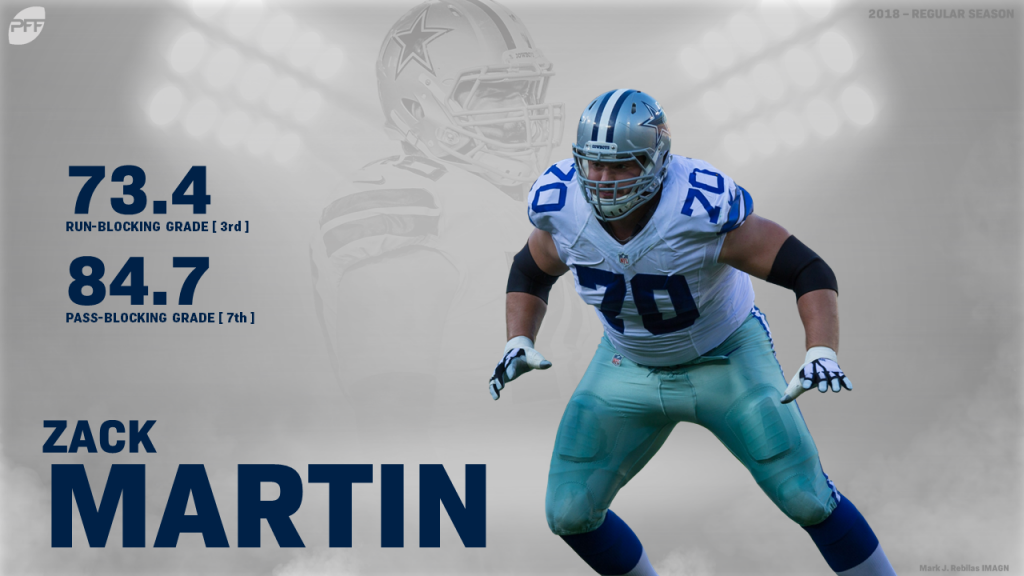 Zack Martin saw a slight regression from his overall dominance this season as he battled through nagging injuries to his left knee. Despite being somewhat limited for much of the year, the fifth-year guard still lined up on over 1,000 snaps, including the postseason, and posted the second-highest overall grade at the position at 78.6.
In pass protection, Martin allowed just 19 pressures (12 hurries, four hits, three sacks) on 522 regular season pass-blocking snaps, and he ended the campaign with an 84.7 pass-blocking grade that ranked seventh among guards. As a run-blocker, it's hard to find a more consistent offensive lineman in the NFL. Although Martin's 73.4 run-blocking grade last season was a career-low mark, it still ranked third at the position.
Honorable Mention: Shaq Mason, New England Patriots
Shaq Mason's 78.4 run-blocking grade ranked first among offensive guards, while his 79.1 pass-blocking grade was a career-high mark. In total, Mason allowed 20 pressures all season long and only allowed one sack.
Center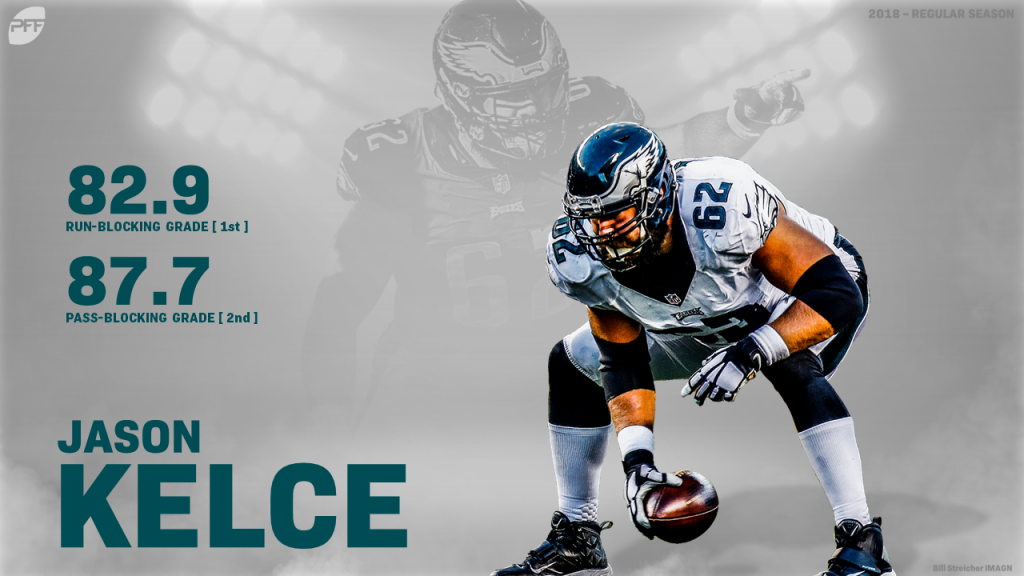 Jason Kelce may very well be the best all-around offensive linemen in the NFL, and his 2018 season further proved that point. The nine-year veteran paced all centers with an 84.9 overall grade through the regular season — the third-highest mark of his storied Philadelphia career.
Kelce also led all centers in run-blocking grade at 82.9 — with a 14.82% run-blocking success rate — while adding a career-high 87.7 grade in pass protection this season that ranked second to only Oakland's Rodney Hudson (90.8).
Honorable Mention: Alex Mack, Atlanta Falcons
Although his play has slipped a bit after his first two dominant seasons in Atlanta, Alex Mack still proved to be a top-five center in the NFL. In 2018, Mack generated a 76.4 run-blocking grade, third among centers, and his 15.9% run-block success percentage ranked first among qualified players at the position. He also held his own in pass-protection, ending the season with a 79.9 pass-blocking grade.