If you are anything like me, you probably don't pay much attention to what's happening along the offensive line on a down in and down out basis. Sure, if a tackle gets his butt whooped for a sack or if an announcer highlights a key block after the fact I'll take note, but I could rarely tell you with any certainty who played well and who didn't after watching a game on TV. That's why we do what we do here at PFF, though. After watching and evaluating every single snap of football from the All-22 this season, we believe these to be the best offensive linemen in the NFL this season.
*Editor's Note: This list is largely based on our Pro Football Focus Player Grades but does not stick to them 100 percent, rather Senior Analyst Mike Renner has adjusted for scheme and/or role variances between select players in certain instances.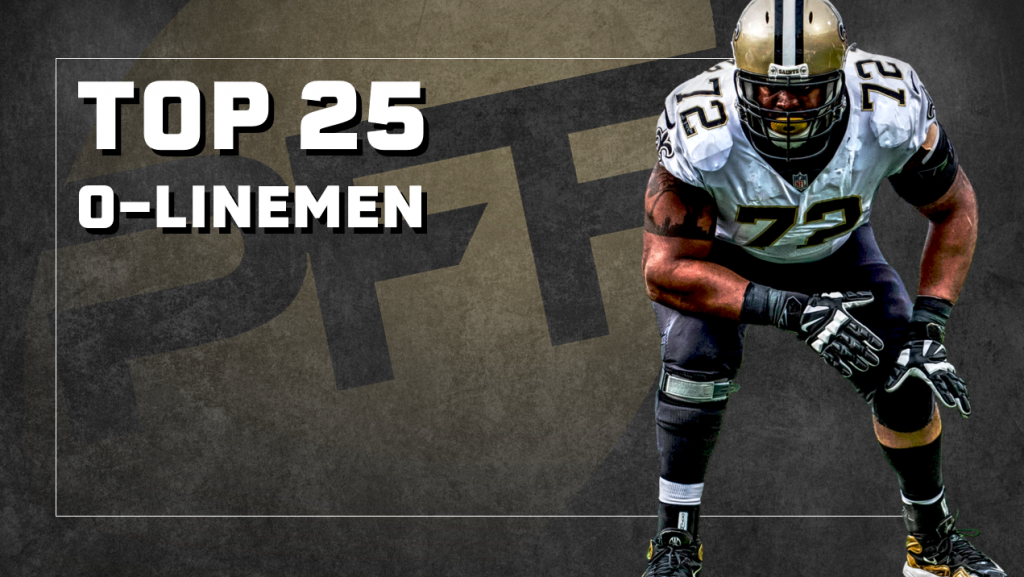 2018 Overall Grade: 89.4
Armstead has been in the conversation for best offensive lineman in the NFL ever since his breakout season in 2015 where he earned a 92.6 overall grade. He simply needed to stay on the field. While he's been out since Week 10 with a pec injury, the left tackle was lights out enough in the first nine games to still earn this spot. In four of those games, he didn't allow a single pressure.
2018 Overall Grade: 87.3
When you're blocking for Aaron Rodgers' blindside, you know you are going to have to sustain your block for a while, and few do that as well as Bakhtiari. His 92.3 pass-blocking grade is tops in the NFL. Bakhtiari has been over 90.0 in that regard for three straight seasons now.
2018 Overall Grade: 82.2
The debate for best center in the NFL has been overwhelmingly decided over the last season and a half. It's Jason Kelce. The PFF All-Pro from a season ago, Kelce can simply make blocks at the center position with his athleticism that others can only dream of.
2018 Overall Grade: 84.4
The best pass protecting right tackle in the NFL is Mitchell Schwartz. While people love to glorify the blind side, Schwartz' ability to go one-on-one on the side where the majority of the best pass-rushers line up and still hold his own is even more valuable. In his two outings against Von Miller this season, Schwartz allowed a grand total of two pressures.
2018 Overall Grade: 80.2
Hopefully, Martin won't be down for long because the Cowboys right guard has been elite since the day he stepped on an NFL field. His lowest grade through his first four seasons is an 86.2 as a rookie.
2018 Overall Grade: 83.4
The fact that the Saints have the highest-graded left tackle and second highest-graded right tackle tells you all you need to know about their offensive line. Ramczyk has had only three games all season where's allowed multiple pressures.
2018 Overall Grade: 79.5
Mason is a bowling ball in the run game and will throw some of the most impressive blocks you'll see all year on a near-weekly basis. He's had only three games all season with a below average run-blocking grade.
2018 Overall Grade: 82.5
There was a point in Staley's career where people were ready to write him off as a bust. Now he's polishing off a resume worthy of Hall of Fame consideration. Staley has twice been PFF's highest-graded left tackle and the 34-year-old hasn't shown any signs of aging again.
2018 Overall Grade: 79.5
While Kelce is the best all-around center in the NFL, Hudson is quite comfortably the top pass protector. Hudson has allowed only four pressures all season long, and even that is somehow more than he allowed last season.
2018 Overall Grade: 81.1
Havenstein isn't going to overpower a lot of people, but he's as consistent and technically sound as any tackle in the league. The former second-rounder has only allowed three combined sacks and hits all season.
2018 Overall Grade: 81.0
Closing in on his 37th birthday, Whitworth is doing things that offensive tackles aren't supposed to do. As fellow 36-year old left tackle Jason Peters has seen his body break down and play slip in recent years, Whitworth continues to churn out dominance. He hasn't had a single game with a below average pass-blocking grade all season.
2018 Overall Grade: 79.0
Paradis was in the midst of a fantastic season that would have landed him serious cash as a free agent this offseason before breaking his leg and ending up on IR. Still, Paradis was the anchor of one of the best run games in the NFL before going down against Houston in Week 9.
2018 Overall Grade: 76.7
It's not quite the Yanda we saw before missing the 2017 season, but it's pretty darn close. Yanda has never finished a season with a grade below 80.0 in his entire career.
2018 Overall Grade: 80.6
Matthews is having the kind of season GM's dream about when they lock up a key player long term. It's been a career year by a good margin for the left tackle in pass protection, as he's on pace to allow 15 fewer pressures than he did last year.
2018 Overall Grade: 75.6
It's great to see Linsley back to the center he was before a nagging back injury torpedoed his 2017 season to a career-low 66.7 overall grade. Linsley has six different games this season in which he hasn't allowed a pressure.
2018 Overall Grade: 79.5
Johnson has had some uncharacteristically ugly games by his standards this year (like last week's 46.0 overall grade against Dallas), but he's alternated those with dominant outings. In two of his last four games, he hasn't allowed a single pressure.
2018 Overall Grade: 78.4
Not a bad ranking for a guy that was a backup in training camp. Moton has been the biggest reason why the wheels didn't completely fall off after both starting tackles went down before the year in Carolina.
2018 Overall Grade: 74.9
After a dominant first two seasons in Atlanta, the 33-year old Mack's play has slipped a bit this season. He's still a top-5 center in the league, though, even if it's not that level of play we've come to expect.  
2018 Overall Grade: 74.8
While the rest of the Jaguars' offensive line hasn't lived up to their lofty preseason expectations, Linder has continued to thanklessly do his job. He's had a pass-blocking grade above 80.0 for three straight seasons now.
2018 Overall Grade: 78.3
The lone representative of PFF's highest-graded offensive line this season. Villanueva's been as steady as they come at the position and hasn't had a single below average grade in pass protection in any game this year.
2018 Overall Grade: 77.6
It's sad to see injuries continue to take their toll on a player with the Smith's ability. He looked to be on a Hall of Fame trajectory after the 2015 season where he earned a 93.3 overall grade but has been limited to only 1,637 snaps since and clearly hasn't been himself with back problems. Even though he came in the league in 2011, Smith hasn't even turned 28 yet.
2018 Overall Grade: 74.7
It's been difficult for Brooks to get the respect he deserves playing on an offensive line with the likes of Jason Peters, Jason Kelce, and Lane Johnson. He's been as reliable as all three, though, in his tenure in Philadelphia. Brooks has had a pass-blocking grade above 85.0 every season in an Eagles uniform.
2018 Overall Grade: 74.2
Anyone could have had one of the top-25 offensive linemen in the NFL after he was waived by the Colts a year and a half ago. The former seventh-round pick wasn't even supposed to start for the Rams until Jamon Brown got suspended. Blythe never relinquished control of the job and has been reliable ever since.
2018 Overall Grade: 77.1
Much like fellow NFC East tackle Tyron Smith, Trent Williams has seen injuries limit what was a dominant career arc. Williams hasn't played a full season since 2013 and hasn't played over 800 snaps since 2015.
2018 Overall Grade: 74.0
Kelly had a rocky start to his career after being selected in the first round back in 2016. He's now one of the biggest reasons for the Colts offensive line turnaround. Kelly hasn't allowed a single sack or hit since Week 3.