At the surface, it's hard to say that Sam Darnold had anything but a disappointing rookie campaign. Out of the 32 quarterbacks with at least 250 regular-season pass attempts, Darnold ranked 30th in completion percentage (57.7%), passer rating (77.6) and TD:INT ratio (17:15), leading only Josh Allen and Josh Rosen in all three categories. His overall PFF grade of 64.7 — 26th among the top 32 quarterbacks in terms of snaps played — didn't paint a story of a quarterback simply down on his luck, either. On a week-to-week basis, he wasn't performing at a level synonymous with what you would hope for out of a player taken inside the top three picks of the draft, even after taking into consideration that he was only a rookie.
Why, then, are we at PFF still bullish for the most part on the long-term prospects of the young Darnold? The answer is in his late-season improvement.
As PFF's Steve Palazzolo mentioned in his recent article breaking down what went right with each rookie quarterback last season and what stands to be improved, Darnold was the highest-graded quarterback in the league after returning from a foot injury in Week 14. Over those last four games of the season, his 87.7 overall grade led the position, sitting in stark contrast to the 50.9 overall grade he had posted before his injury. The natural follow up question to recognizing that is: what changed?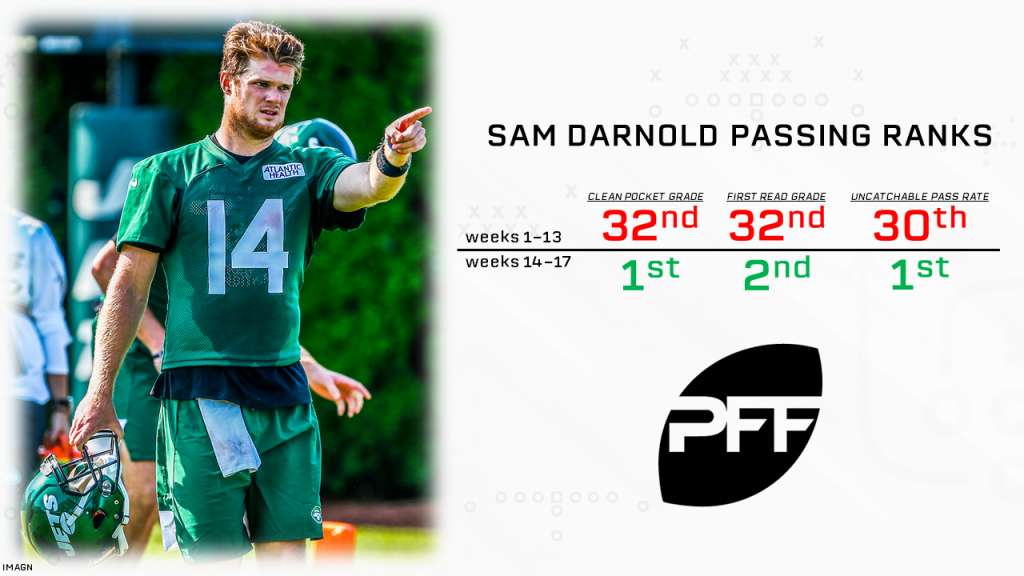 CLEAN POCKET PERFORMANCE
What changed: It all starts with his performance from a clean pocket. Prior to returning from injury in Week 14, Darnold posted a 56.6 clean-pocket passing grade. To put that into context, it was the worst in the league and ranked nearly five points worse than the 31st-ranked passer (Allen,61.4). He had twice as many clean-pocket turnover-worthy throws (10) as he did big-time throws (5).
On the other hand, during his hot stretch to end the season, Darnold finished first in the league in clean-pocket passing grade, at 92.7. He did not register a single turnover-worthy play when kept clean, and he posted top-three marks in both yards per attempt (8.6) and passer rating (118.5). That worst-to-first transformation in an area that is crucial for quarterbacks was the main driver in his late-season improvement.
Will it continue next season? There is reason to believe that Darnold's performance next year will look closer to his last four games rather than his first nine. Across his 2016 and 2017 seasons at USC, Darnold recorded a clean-pocket passing grade of 90.5 which ranked eighth among the 41 qualifying draft-eligible quarterbacks in his class. His history and what we know about the stability of play from a clean pocket would seem to indicate that the nine-game stretch to start his career is a blip that will soon be put in the distance. Another important question is just how many clean pockets the big guys upfront will give him. In 2018, 64.1% of Darnold's dropbacks came without pressure, the 22nd-highest rate in the NFL. The New York Jets will be hoping that veteran offseason additions such as Kelechi Osemele and Ryan Kalil will improve that number in 2019.
GIVING HIS RECEIVERS A CHANCE
What changed: Over his first nine NFL games, 24.4% of Darnold's passes were uncatchable, trailing only Allen and Mitchell Trubisky across the first 13 weeks of the season. By contrast, only 12.8% of Darnold's passes were uncatchable over his last four games which ranked first among all quarterbacks. It should come as no surprise that cutting the number of uncatchable passes in half tends to result in significantly better results.
Will it continue next season? As quarterback ball location charting is a relatively new process here at PFF, we only have one college season to pull from with Darnold (2017). That being said, those numbers aren't overly favorable in the uncatchable-pass department. All told, 20.7% of Darnold's passes were uncatchable in his final season at USC, a number that trailed only Allen and Rosen among the ten collegiate quarterbacks with 200 or more attempts charted. His overall accuracy rate of 62.0%, however, trailed only Baker Mayfield among the same group. The Jets will be hoping that that accuracy rate is a sign of things to come.
CONNECTING WITH HIS FIRST READ
What changed: To put it succinctly: everything. Before the injury that sidelined him for several weeks, Darnold had just a 47.9 grade when targeting his first read, easily the worst mark in the NFL. His 72.3 passer rating on those throws certainly wasn't anything to write home about, either. His first-read passing over the last four games? 56-of-82, 708 yards, four touchdowns and no interceptions. His passing grade jumped all the way to 91.4 on his first read, second to only Andrew Luck over that stretch. Considering roughly 65% of attempts from quarterbacks league-wide came on first reads, excelling in this area will be key for Darnold in an improved 2019 campaign.
Will it continue next season? It's not fair to say that Darnold struggled on his first read in his final season at USC, posting a 79.6 passing grade on those plays, but he also didn't outpace his peers. Out of the five first-round quarterbacks taken last year, Darnold's passing grade on his first read finished fourth in 2017, behind Mayfield, Rosen and Allen. The main culprit was turnover-worthy throws, as Darnold posted a turnover-worthy throw rate of 5.0% on his first-read passes in 2017. Those poor decisions and passes also plagued him to start his rookie season at the NFL level. His turnover-worthy throw rate on first reads prior to Week 14 was 7.3 percent, the second-highest in the league to Jameis Winston. Correcting those miscues as he did over the final four games will be key in 2019.
TAKING ADVANTAGE OF BACKFIELD AND SLOT
What changed: Over his first nine games, Darnold had just a 76.5 passer rating when targeting players lined up in either the slot or the backfield, ranking 31st in the league ahead of only Rosen. That jumped all the way to 116.8 over the last four weeks of the season which ranked third in the NFL behind Tom Brady and Patrick Mahomes.
Will it continue next season? The Jets improved the pass-catching options for Darnold in both the slot and the backfield this season, bringing in players such as Jamison Crowder and Le'Veon Bell to bolster the passing attack. As PFF analyst Anthony Treash highlighted in an article last month, Crowder's slot grade isn't anything overly exciting, but he has been one of the more productive slot wide receivers in the league, finishing among the top ten receivers in explosive plays and yards after the catch per reception out of the slot since 2015. Bell has a track record of being a pass-catching asset since entering the league, as well. Since 2013, no running back has more regular-season targets (374), receptions (308), receiving yards (2,640) or receiving first downs (117) than Bell, despite the considerable amount of time he has missed.
FINAL THOUGHTS
It may seem a bit repetitive going through and highlighting all the areas that Darnold improved. When a quarterback goes from one of the worst quarterbacks to the best quarterback in the league from a PFF grade standpoint, it follows that he improved significantly in multiple facets of his game. What is promising for Darnold and the Jets is that he improved in the right areas: clean pocket passing, providing his receivers with catchable and accurate passes, making strong passes on his first read and taking advantage of the target alignments that often lead to mismatches (the slot and the backfield). It would be a stretch to say that Darnold will show up next year and grade out as the best quarterback in the league over the course of an entire season, but his late-season stretch does give reason for hope that he will take steps towards developing into an above-average starter.