We have one year of NFL data on the quarterback class of 2018, and like most first-year players, there were signs of optimism paired with room for improvement. The class of 2018 was a deep one, as five signal-callers heard their name called in the first round, and 2019 is a pivotal season to see who is on the franchise-quarterback path and who may have their teams inclined to move on. The Arizona Cardinals have already traded 2018 first-rounder, Josh Rosen, and the Miami Dolphins have assumed the optimism that made Rosen the 10th overall pick in the draft. Here's a look at what went right and what needs to improve from each of the five first-round quarterbacks in the 2018 draft.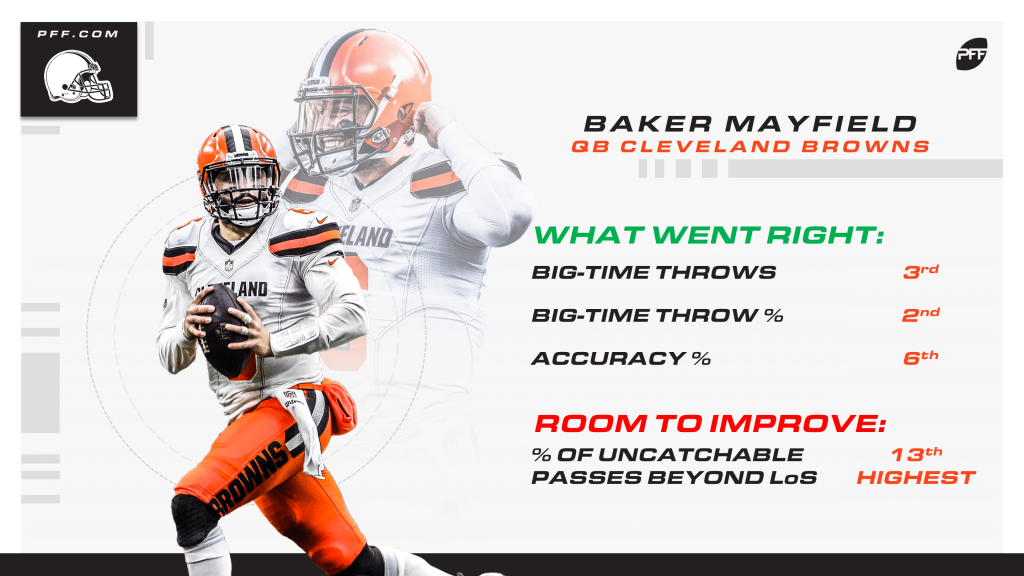 What went right: Mayfield instilled plenty of hope into the Browns' fanbase as his natural playmaking and leadership turned the franchise around immediately. He showed the same big-play ability and downfield accuracy that made him the No. 1 player on the PFF draft board, finishing third in the NFL with 41 big-time throws and ranking second in big-time throw percentage. His accuracy percentage (using actual ball location on every throw) of 65.3% tied for sixth in the NFL. Mayfield was also fantastic when making plays outside the pocket, posting a 78.3 grade that ranks fifth among NFL quarterbacks since 2016. 
Room to Improve: While Mayfield's overall accuracy was strong, he still missed more throws than expected, given his exceptional play in college. He had the 13th-highest percentage of uncatchable passes on plays thrown beyond the line of scrimmage (out of 39 qualifiers). 
What went right: Much like his final year at USC, Darnold had bouts of disastrous play but also stretches in which he looked as good as any of his peers. Darnold's rookie season saw him rank as the No. 35 quarterback in PFF grade (50.9) during the first nine weeks of the season, but over his last four games, he ranked No. 1 at 87.7. Darnold also saw an increase in his accuracy percentage, ranking eighth at 62.5 while having on two turnover-worthy plays, a massive improvement from his 18 turnover-worthy plays during the first nine weeks of the year.
Room to Improve: Consistency is the name of the game for Darnold, who needs to turn that clear split in play and combine it into one year of strong play. His short and intermediate accuracy was a strength at USC, and his accuracy percentage was the best in the draft class in the 1-9-yard range in 2017, but last year, he had the eighth-highest percentage of uncatchable passes on throws in the 1-20-yard range. Expect improvement in this area as Darnold has multiple years of success in this range at USC.
Subscribe to PFF Edge to continue reading
Already have a subscription? Sign In