From players like Terrell Davis to Clinton Portis, the Denver Broncos have a long history of solid running backs — and last year was no exception. Led by the undrafted Phillip Lindsay, the Broncos earned a team rushing grade of 85.3 in 2018, ranking third in the NFL. But Lindsay wasn't the only impressive running back for Denver in 2018. Royce Freeman, who joined the Broncos alongside Lindsay last year, ran the ball with a purpose, and his tough running was a perfect complement to Lindsay's speed.
With two quality backfield options entering the 2019 season, Broncos' fans need not worry about the running game. And to further bolster the unit, John Elway and the front office brought in former Detroit Lions back Theo Riddick, who is only 28 years old and is the definition of a pass-catching specialist at running back.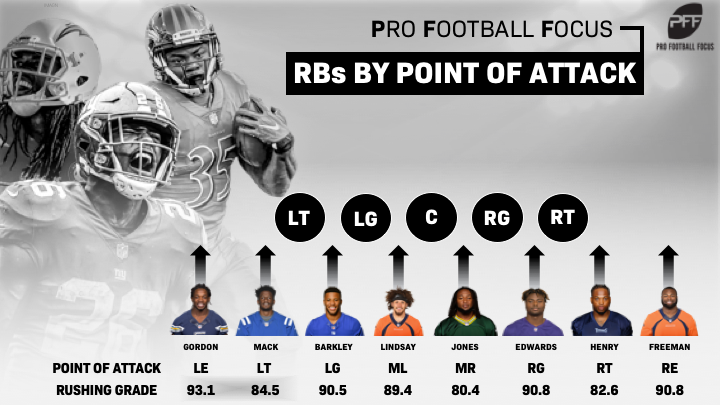 For fans and fantasy owners of Lindsay or Freeman who are worried that Riddick will eat into their carries, here's an interesting note: Riddick had only 40 rush attempts last season, compared to having 272 snaps as an eligible pass-catcher. That kind of usage has been pretty much the same for the entirety of Riddick's career, and the Broncos should plan to use him the same exact way.
With that said, Riddick will likely see most of his snaps come on third down or obvious passing downs. If Riddick's past grades are any indication, he should be excellent in that role, as he has had some monster years as a receiver. Riddick once led the league's running backs with a ridiculous 94.0 receiving grade in 2015 (which is also the highest single-season receiving grade ever for a running back in the PFF era) and he finished fourth with a receiving grade of 86.4 the year before that. Last season, Riddick's receiving grade of 74.0 ranked 13th out of 54 qualifying running backs.
With Riddick as the team's receiving specialist at running back, he will surely be asked to pass-block on plenty of snaps, and he has been great at doing just that in recent years. Riddick has earned a pass-blocking grade above 75.0 in each of the past three seasons, including ranking fourth among all qualifying running backs last season with a pass-blocking grade of 81.2. With Riddick joining the fold as the team's primary pass-catching back, the Broncos' backfield is in a great position to be one of the league's best next season.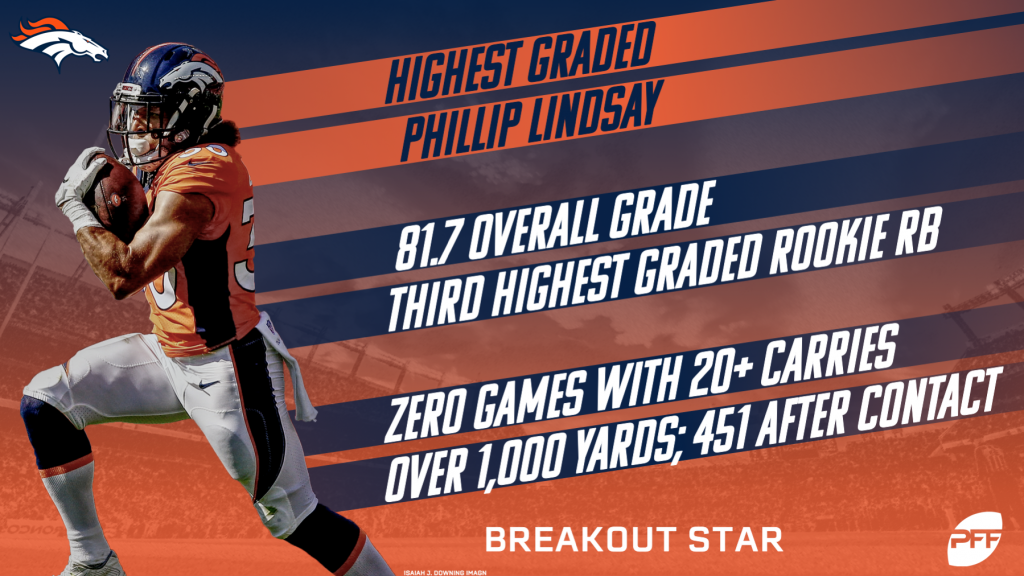 Phillip Lindsay, who exploded onto the scene last season and earned a rushing grade of 84.3, is sure to still be the team's featured back. As an undrafted free agent in his rookie season, Lindsay's rushing grade ranked seventh out of 62 qualifying running backs. Lindsay's acceleration and breakaway speed led to him having 30 rush attempts of 10-plus yards last season, ranking seventh among running backs. Perhaps even more impressively, Lindsay had six rushes of 25-plus yards last season, tied for second-most among running backs and ahead of studs like Ezekiel Elliott (4), Todd Gurley (3) and Alvin Kamara (1).
After opposing defenses watch Lindsay fly by them, they'll have to deal with Freeman's tough running style. Freeman gained an average of 3.22 yards after contact per attempt last season, ranking 15th among running backs. He also forced 24 missed tackles as a runner, which ranked 23rd at the position last year despite having only 130 rush attempts. On average, Freeman forced 0.18 missed tackles per rush attempt, ranking 13th among running backs. Standing at 6-foot and weighing 229 pounds, Freeman is clearly a load to bring down and will be a nice change of pace for the Broncos' offense.
With a speed demon in Lindsay who can leave an entire defense in the dust and a tough, in-between-the-tackles runner in Freeman to go along with a great scatback like Riddick, the Broncos' backfield is loaded with depth and should be an effective three-headed attack in 2019. Last season, the Broncos' backfield produced the third-best team rushing grade in the league, and the addition of Riddick can turn that backfield into a unit that can do similarly devastating damage through the air. For that, Broncos fans should be very excited as the new season approaches.