Since drafting him in 2012, the Indianapolis Colts had saddled Andrew Luck with offensive lines that ranged from bad to mediocre throughout his first six seasons (including 2017, which he missed due to injury). From 2012-17 here is where the Colts offensive line ranked among all 32 NFL units in terms of overall PFF grade:
2012 – 28th
2013 – 26th
2014 – 18th
2015 – 17th
2016 – 23rd
2017 – 26th
That trend changed in a big way though in 2018, with the Colts finishing the season with the second-highest graded offensive line in terms of overall grade, and they were one of just five units in the entire league to rank within the top-10 in terms of both pass-blocking grade (8th) and run-blocking grade (3rd).
It should come as no surprise that with a top-tier offensive line surrounding him, the incredibly talented Andrew Luck finished 2018 with an elite 91.0 overall grade, which ranked third among all QBs (trailing only Drew Brees and Patrick Mahomes) and is the highest season-long grade he's earned to date.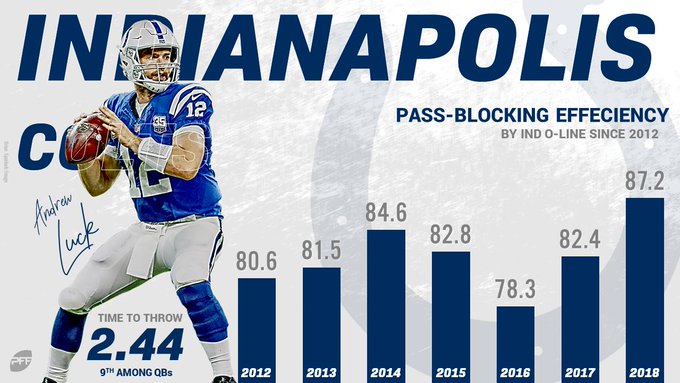 Coming into the 2018 season, the Colts clearly made building up their offensive line a priority. Indianapolis spent big-time draft capital by selecting Quenton Nelson with the sixth overall pick in last offseason's draft, and he's already looking like someone who's going to make multiple All-Pro teams throughout his career. The rookie out of Notre Dame finished his inaugural season ranked second out of 37 players who saw at least 300 snaps at left guard with a 74.4 overall grade, and he ranked within the top-four among that group in both pass-blocking and run-blocking grade.
Nelson is paired with Anthony Castonzo on the left side of the line, and the two of them together could very well finish 2019 as the most productive left-tackle-left-guard tandem in the league. Castonzo finished the 2018 season ranked 10th among qualified left tackles with a 77.1 overall grade, and the 77.0 overall grade the Colts saw from the left tackle and left guard position combined ranked third, trailing only the Los Angeles Rams and the Green Bay Packers.
Ryan Kelly — a first-round pick by Indy back in 2016 — enjoyed a bounce-back season at center after a bit of a sophomore slump in 2017. He finished the year ranked 10th among centers with a 69.9 overall grade, and he ranked sixth among centers by allowing pressure on just 2.0% of his pass-blocking snaps. 
Moving down the line, Mark Glowinski ranked sixth among players who saw at least 300 snaps at right guard last season with a 73.3 overall grade. Glowinski didn't surrender a single sack or hit on 345 pass-blocking snaps at right guard last season, and his 2.9% pressure rate ranked fifth among right guards.
Last season, from Week 5 on, the Colts turned to second-round rookie Braden Smith for their right tackle duties. Smith finished the season ranked 10th among right tackles with a 72.2 overall grade, and he surrendered four or fewer pressures in 10 of his 11 starts as a rookie.
All five of those players are returning for Indianapolis this season, and with experience under the belts of two high-pedigree rookies, along with five players who get to enjoy some continuity getting to play together again following a successful season, there's little reason to doubt that the Colts offensive line will be one of the best — if not the best — offensive line units in the league in 2019.