After the season-long absence of Indianapolis Colts' signal-caller Andrew Luck, there was rightfully some concern about what shape he would be in upon his return, as he had not played football for an entire season, and the former Stanford star hadn't thrown a football since October 2017. However, entering the 2018 season, getting Luck back was only half of the equation for the Colts. After all, what's the point in finally having a franchise quarterback back at full health, just to throw him straight back out to battle behind the same offensive line that had done such a terrible job of keeping him upright in the first place?

As they entered the 2018 season, the Colts had two main priorities. Priority number one: get Andrew Luck back to his 2016 form, where his play earned an elite overall grade of 90.4 which trailed only the two eventual Super Bowl participants in Tom Brady (95.2) and Matt Ryan (91.1). Priority number two: Fix the offensive line so he could stay on the field. Through 11 weeks of the 2018 season, it looks like the Colts have succeeded in doing both.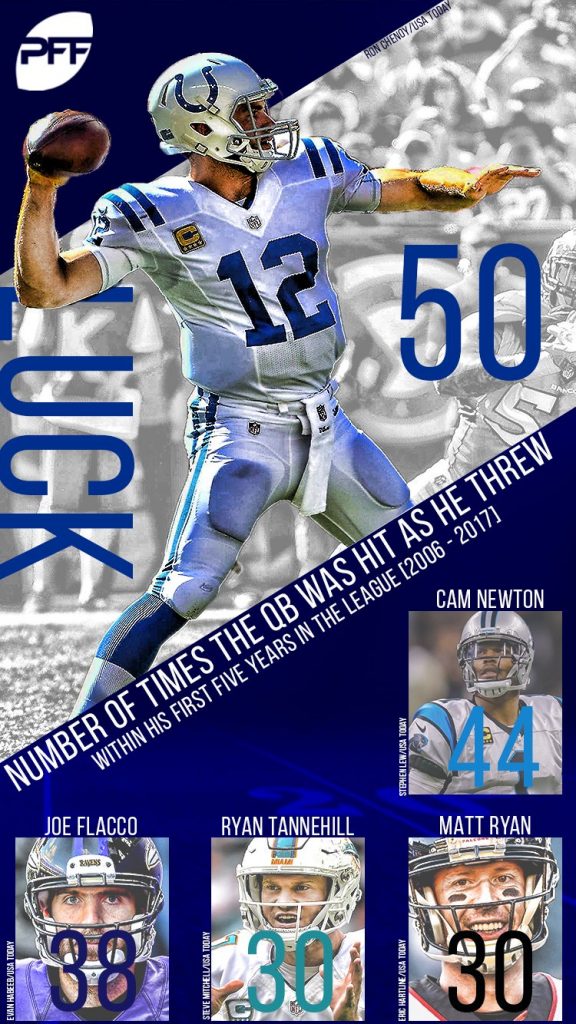 Looking back at Luck's first five years in the NFL and the many different offensive line combinations that he played behind, it's hardly a surprise that he was forced to miss time. From 2012 to 2016, a staggering 92 different line combinations were deployed to protect the Captain and 22 different players suited up to try and complete that task. Only nine of those players ended a single season with an overall grade above 70.0, and only Anthony Castonzo, Joe Reitz and Jack Mewhort managed to top the 80.0 mark. In Luck's first five seasons in the NFL, the Colts managed team pass-blocking grades of just 65.5, 77.8, 78.0, 77.6 and 67.1, which ranked 31st, 22nd, 16th, 11th and 28th among teams, respectively. When we tally up their collective efforts over that period, their cumulative pass-blocking grade of 74.5 was the seventh-worst mark among offensive lines in that span.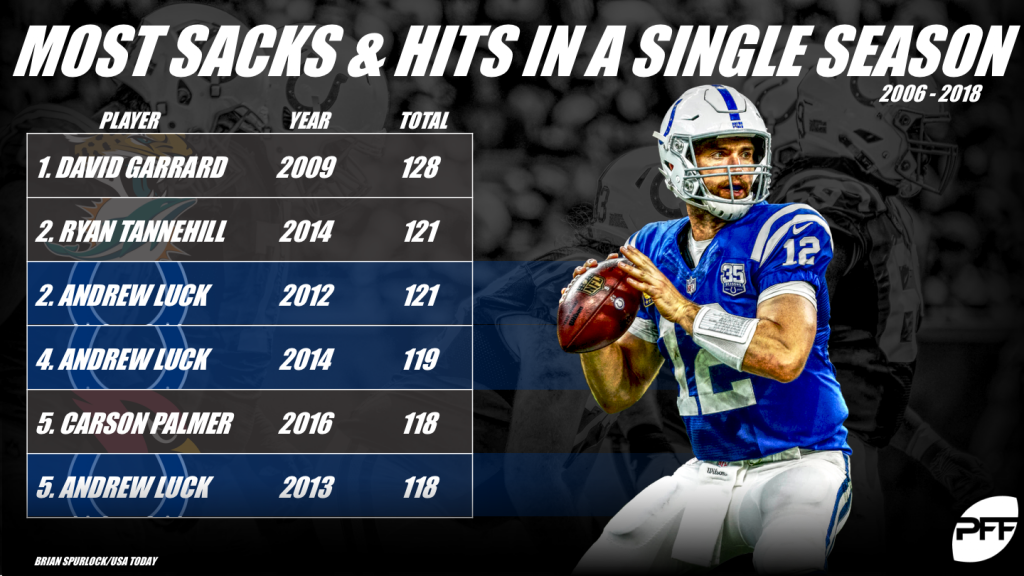 Over his first five years in the league, Luck paid the price for his team's pass-blocking inadequacy. From 2012 to 2016, he was hit as he threw a whopping 50 times, which was – and still is –  a record-high for a quarterback over his first five years in the league. Over that same span, he was either sacked or hit in the pocket a staggering 528 times, which was 34 more times than the next closest quarterback. In the PFF era, only four quarterbacks have been sacked or hit more than 118 times in a single season, but Andrew Luck suffered this fate for three consecutive years.
All told, Luck logged 1169 dropbacks under pressure in his first five seasons as a pro, which was by far the most among quarterbacks in that time. On average, he was pressured once every 2.56 dropbacks, and he was hit or sacked once every 5.66 dropbacks – which respectively ranked second and first among qualifying quarterbacks.

The frequency with which Luck was hit was unsustainable, to put it mildly.  The human body is just not built to be hit by 200-plus pound pass rushers eight times a game, and subjecting a franchise quarterback to pressure that often simply makes it impossible for him to do his job efficiently. Heading into the 2018 season, the Colts needed to turn it around.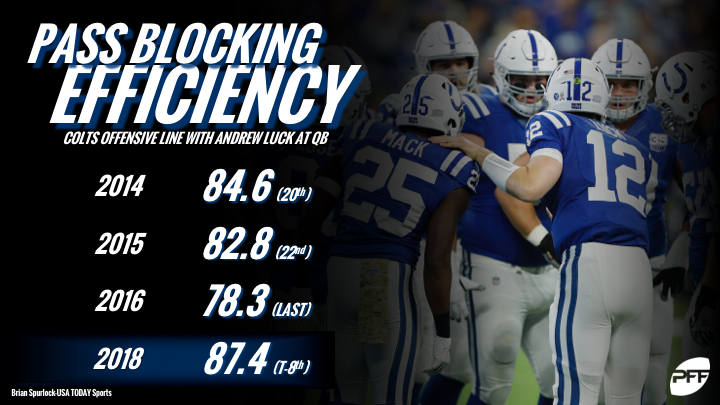 Through 11 weeks of the 2018 season, the team has done just that. In their 10 games, the Colts' offensive line, a unit once ridiculed for their inability to protect the face of their franchise, has allowed only 98 pressures on their 423 passing plays and have tallied a cumulative pass-blocking efficiency of 87.4, which is by far the best mark of the Andrew Luck era. Since returning from injury, Luck has faced pressure on just 28.1% of his dropbacks, has faced pressure once every 3.56 dropbacks and, most importantly, has been hit or sacked once every 9.88 dropbacks, all of which are career-high marks for the former Stanford signal-caller, with the latter being more than double the rate of his previous career-best.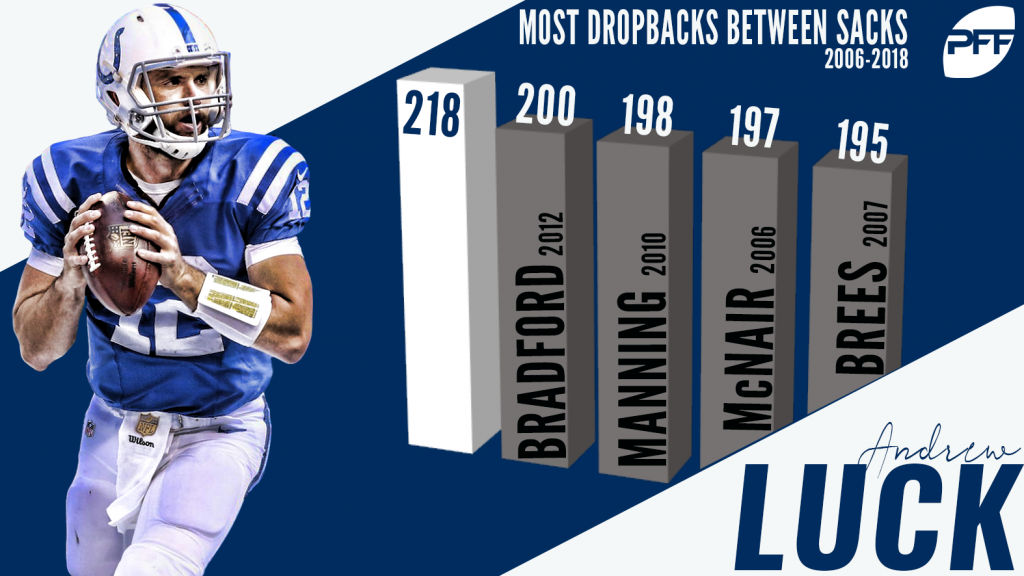 The offensive line has seemingly got better in every single game and their recent stretch of games (Week 5 to 11) is not just one of the best seven-game stretches of the season, but arguably one of the best seven-game stretches that we've ever seen from an offensive line. Over that period, the team has not only allowed just 37 pressures on their 222 passing plays, but they have just set the PFF record for the most consecutive dropbacks without allowing a sack, as it's been 218 passing plays since Luck was last taken to the turf.
So, who are the key players responsible for turning around an offensive line that used to surrender more pressure than anyone else into a unit that is setting PFF records?
Well, left tackle Anthony Castonzo, who was the only consistently good performer on the Colts' lines of years past, is up to his usual tricks and even though his overall grade has taken a little hit, his pass-blocking grade of 84.0 is still up there with the league's best, and ninth among all players at the position. Castonzo has allowed just eight pressures pressure on his 159 pass-blocking snaps and is one of just eight tackles in the league who have played 150-plus snaps and not allowed a sack.
Next to him, is the first-round pick and former Notre Dame standout Quenton Nelson, who has allowed only 15 pressures on his pressure on 423 pass-blocking snaps on the year and has allowed pressure on just 1.2% of his pass blocks since Week 6– the second-best rate among guards in that span.
In the middle of the new-look offensive line comes third-year center Ryan Kelly, who has bounced back after a dreadful sophomore campaign that was marred by injury. Through 11 weeks, Kelly has allowed just eight pressures on his 414 pass-blocking snaps and ranks sixth among qualifying centers with a pass-blocking efficiency of 98.8.
At the right side of Kelly is Mark Glowinski, who was claimed off waivers after he was waived by the Seattle Seahawks. Glowinski, a fourth-year pro, is currently on pace to record a career-high pass-blocking grade has allowed pressure on just 2.4% of his snaps – the eighth-best rate among guards.
Finally, rookie tackle Braden Smith, who has stepped in for the retired Jack Mewhort admirably, and allowed just 11 pressures on 226 pass-blocking snaps on the year en route to a 70.9 pass-blocking grade.
Andrew Luck is now back at his very best and currently ranks fifth among the leagues starting signal-callers with an overall grade of 89.4. As the Colts stuff their satchels in preparation for a playoff battle, fans and impartial spectators alike should give thanks to the Colts brass, whose investment in a new-look offensive line has helped get the Captain's campaign back on track.