Modern NFL offenses feature dynamic passing attacks that stress all levels of a defense. PFF data scientists Eric Eager and George Chahrouri have demonstrated that passing is the best way to score points because – on average – a passing play results in a net positive for the offense. Consequently, defending the pass should now be the primary focus for NFL defenses. There is perhaps no team better equipped to stop the pass than the Los Angeles Chargers.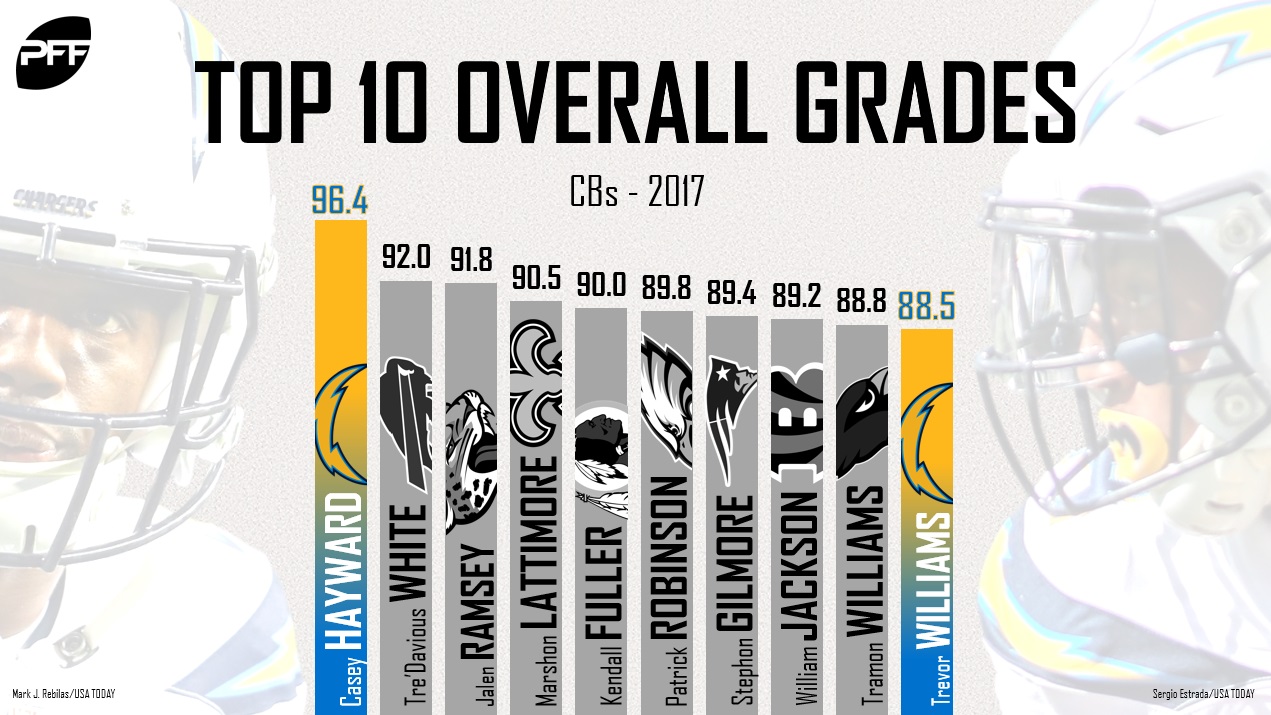 The Chargers secondary broke through to become PFF's second-best pass coverage unit last season, a major improvement on their middling ranking of 15th from 2016. Casey Hayward leads the group as PFF's reigning top-graded cornerback, finishing with a 96.4 overall grade and 96.7 coverage grade. Trevor Williams bookends Hayward on the outside as the second-year player sneakily graded as PFF's 10th-best cornerback last season with an 88.5 overall grade and 88.2 coverage grade. While he was largely aided by the fact that Hayward often shadows opposing team's No. 1 receiver, Hayward and Williams were the only pair of teammates to each rank among PFF's top 10 cornerbacks.
In addition to general excellence in coverage, Hayward and Williams have the remarkable ability to elevate their play under the stress of extended coverage times. The pair in the Chargers secondary was certainly aided by the premier pass-rush duo of Melvin Ingram and Joey Bosa – who combined for 151 total pressures last season – but when they were asked to cover for extended periods of time, they were still dominant.
The PFF Signature Stat "Time to Throw" measures the amount of time elapsed from snap to pass for every passing play. Last season, quick passes in 2.5 seconds or less had a modest 6.7 yards per attempt with an average depth of target of 6.2 yards. Throws after 2.6 seconds or more spiked to 9.1 yards per attempt with the average depth of target nearly doubling to 12.2 yards. Prolonged times to throw can often yield explosive plays and analyzing cornerback performance in these situations reveals unique insight into coverage ability.
[Editor's note: throwaways were excluded on all YPA and average depth of target calculations in this study.]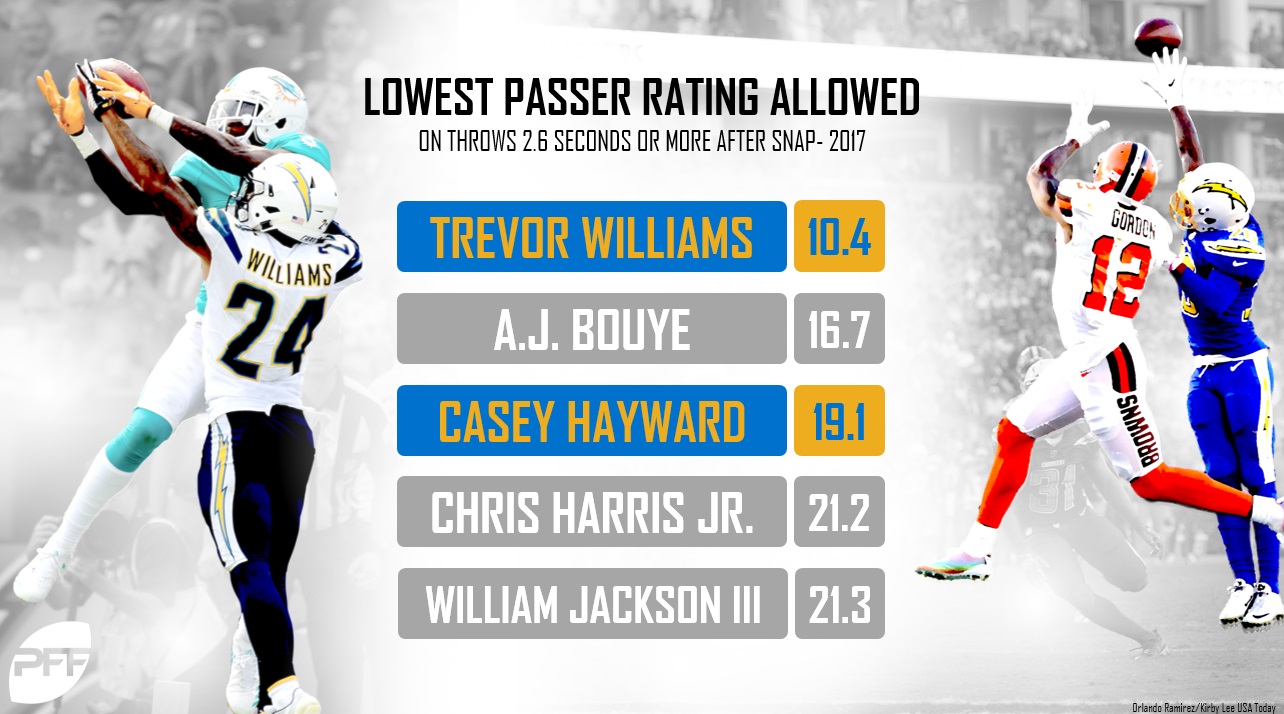 Let's look at last season's top 10 cornerbacks ranked by passer rating allowed on throws into their coverage with a time to throw of 2.6 seconds or more:
1. Trevor Williams, Los Angeles Chargers – 10.4
2. A.J. Bouye, Jacksonville Jaguars – 16.7
3. Casey Hayward, Los Angeles Chargers – 19.1
4. Chris Harris Jr., Denver Broncos – 21.2
5. William Jackson, Cincinnati Bengals – 21.3
6. Darius Slay, Detroit Lions – 29.1
7. Xavien Howard, Miami Dolphins – 37.3
8. Ross Cockrell, Carolina Panthers, formerly with the Giants – 37.9
9. Richard Sherman, San Francisco 49ers, formerly with Seattle – 38.5
10. Tre'Davious White, Buffalo Bills – 40.7
When tasked with extra cover time, the Chargers cornerback duo completely erased opposing wide receivers last season. Williams and Hayward allowed passer ratings of 10.4 and 19.1 on throws of 2.6 seconds or more, ranking first and third among all cornerbacks with at least 15 targets on throws in 2.6 seconds or more in 2017, respectively. For context, an incomplete pass is worth a 39.6 passer rating. Quarterbacks were better off spiking the ball into the ground than targeting Williams and Hayward in coverage on extended plays.
Williams was targeted 18 times on these throws last season, conceding just five catches for 99 yards. Williams did not allow a touchdown and his measly 27.8 percent catch rate ranked second-best among all cornerbacks. He made a play on the football four times with one interception and three pass breakups, one of which went straight into the arms of a Chargers defender for another interception.
Hayward was equally stingy on throws in 2.6 seconds or more, allowing 12 catches for 181 yards on 31 targets last season. He did not surrender a touchdown and his 38.7 percent catch rate ranked tied for ninth among all cornerbacks. Hayward was an absolute ballhawk in these situations with three interceptions (tied for second-most) and seven pass breakups (tied for third-most) for a 32.3 percent playmaker index, second-best among all cornerbacks. For good measure, he added an eighth pass breakup that led to an interception on a ball that wasn't even thrown into his coverage.
The impact of Hayward and Williams is amplified by strong play from the remainder of the secondary. Rookie sensation Desmond King locked down the slot last season to the tune of an 86.5 overall grade, ranking third-best among slot corners and 13th-best among all corners. Jason Verrett returns from injury and should play a key role in the defense, provided he can stay healthy. The former first-round pick has barely played over the last two seasons after suffering back-to-back ACL tears, but he was dominant in 2015 when he was PFF's second-highest graded corner with an 89.5 overall grade. The old adage "you can never have too many cornerbacks" still rings true and the Chargers will count on key contributions from all four of their top corners.
There is tangible buzz around the Chargers safety group as well, specifically surrounding Derwin James. The No. 17 overall pick is a longtime PFF favorite and his 92.1 overall grade last season was tops among all FBS college safeties. Expect the Chargers to employ James as a versatile Swiss-army knife all over the defense. Jahleel Addae rounds out the unit having achieved solid 83.4 (21st) and 85.4 (14th) overall grades the last two seasons.
As we mentioned before, the Chargers will enter the 2018 season with all the ingredients necessary to make a deep playoff run. With a secondary stacked in talent and a pass-rush buoyed by superstars Bosa and Ingram, the Chargers defense is built to stop the pass. The Jaguars rode a star-studded secondary and ferocious pass-rush all the way to the AFC Championship game last season.
Can the Chargers replicate that formula in 2018?
With Casey Hayward and Trevor Williams at the helm of the secondary, the Chargers could be well on their way.