The word "tweener" used to be a knock on a defensive player, often referring to one who lacks enough size for one position, but is perhaps too slow for another. Today, the evolution of offenses dictates that 'tweeners' are necessary to combat the ever-growing creativity of offensive coordinators. Box safeties are more than just run defenders as they must be able to match up against tight ends in man coverage while showing the range and instincts to be in position in short zone coverages. Throw in creative blitzes and pass-rush opportunities, and box safeties have gone from run-first afterthoughts to defensive chess pieces.
That's exactly what Florida State's Derwin James brings to the table.
Overall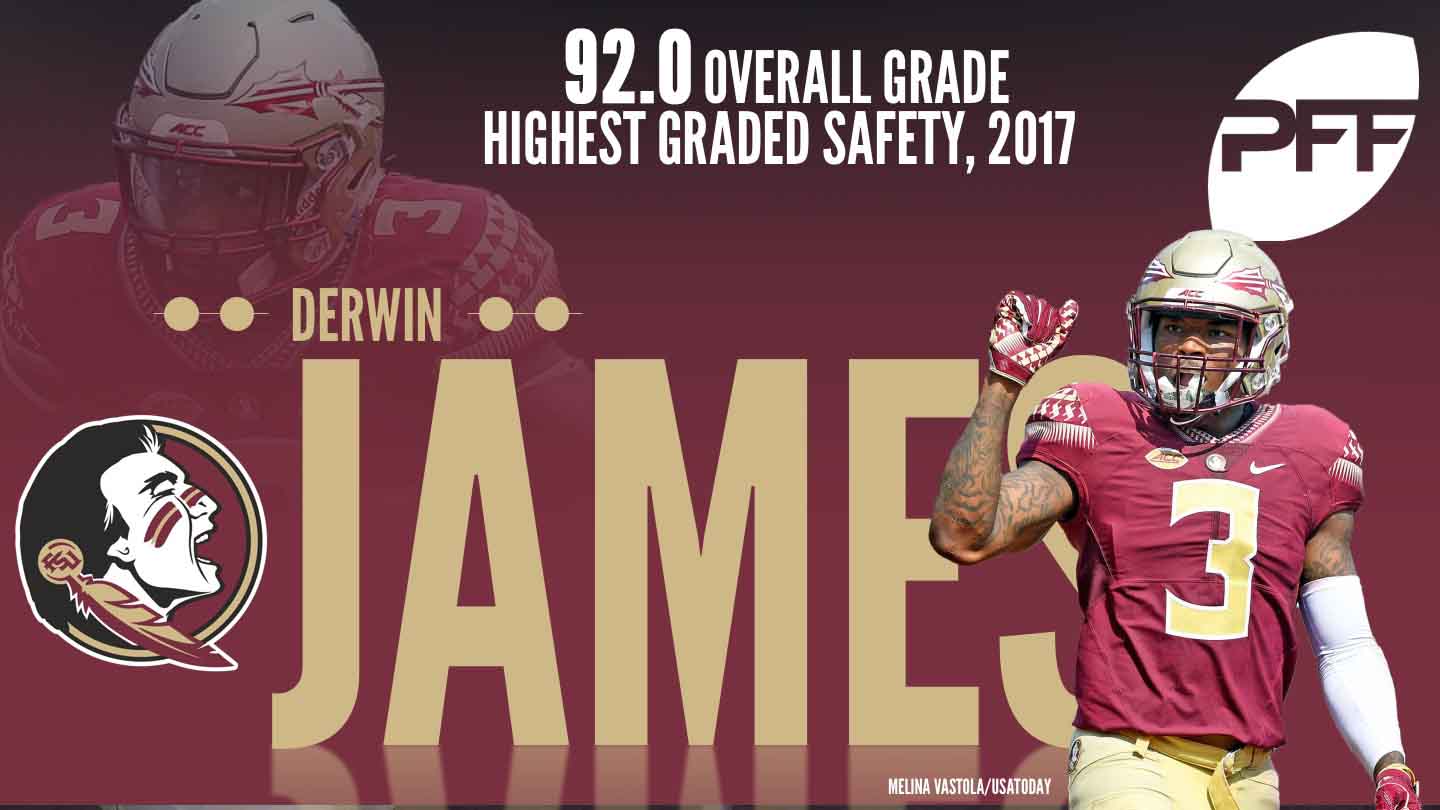 James burst onto the scene as a true freshman in 2015, taking over as a starter in Week 6 and never looking back. He went on to lead the nation with the top overall PFF grade at 91.2, while ranking second as a pass-rusher, 31st in coverage and 13th against the run. That kind of three-way impact is rare in the secondary, especially for a true freshman and especially for a player like James who did so while performing multiple unique roles on the Florida State defense. The 2016 season saw James limited to only 100 snaps due to injury, but he bounced back in 2017 to once again lead all safeties with a 92.0 overall grade consisting of the No. 2 grade both as a pass-rusher and in coverage to go with the No. 15 grade against the run.
With 1,637 career snaps under his belt, James has established himself as the clear-cut best safety in the nation when healthy, and the same skills that led to his gaudy PFF grades will translate at the next level.
Coverage versatility
When describing the best tight ends in the NFL, the phrase "too big for cornerbacks and safeties, but too quick for linebackers" is uttered often. James is a potential trump card for tight ends as he has 6-foot-3 size, but also the quicks to stick with slot receivers. That combination of size and athleticism makes James a viable option to match up with opposing tight ends in man coverage.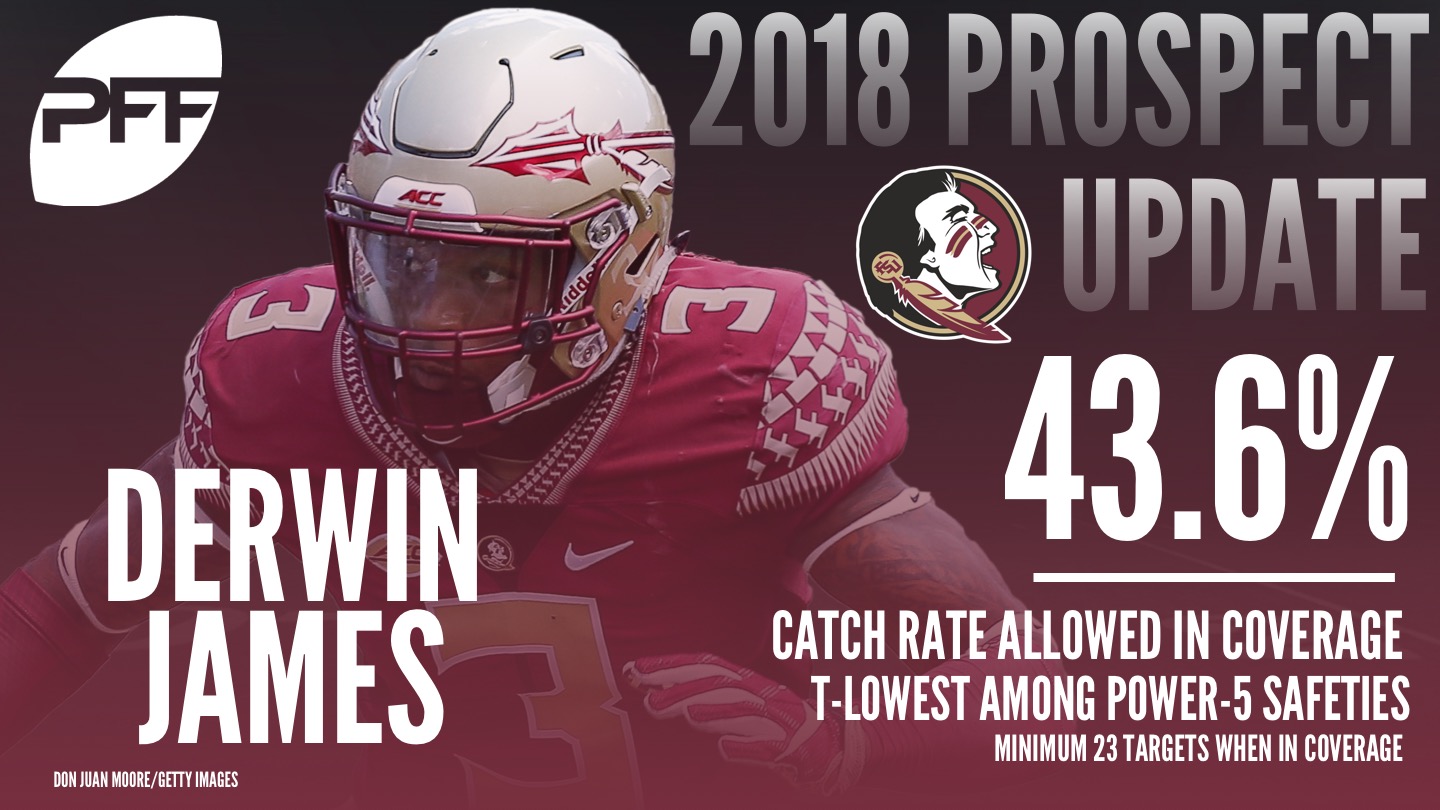 There's more to James' game, however, and when watching the tape to find his best plays in coverage, there are many similarities to New York Giants safety Landon Collins who has become one of the best downhill safeties in the league. Collins makes many of his best plays from a "quarters" alignment or a late shift into box, where he can play downhill against the run or erase underneath routes in coverage. James has a strong menu of similar plays littered about his tape.
Tough to see the entire play, but James breaking on the ball from a "split" safety look.
If used in Landon Collins-like role, James will be a star pic.twitter.com/yODV53o2dC

— Steve Palazzolo (@PFF_Steve) February 6, 2018
Derwin James showing off the ball skills. He's very athletic at the catch point#PFFDraft pic.twitter.com/LEGieKGGyf

— Steve Palazzolo (@PFF_Steve) February 6, 2018
When it comes to man coverage, James is certainly not perfect, but there are enough "wow" plays to whet the appetite for what he can do at the next level. He's still likely best against bigger tight ends, but there are a few plays in which he hangs with smaller, shiftier slot receivers. Watch him break on this pass to Syracuse slot receiver Ervin Philips.
One of my favorite plays from Derwin James all season.

Covering one of the most productive slot receivers in the ACC, sticks with him on the short route and breaks up the pass pic.twitter.com/NBNrfR2kNp

— Steve Palazzolo (@PFF_Steve) February 6, 2018
While James may not spend much time covering slot receivers at the next level, just having that option in the toolbox brings more versatility to the defense.
If there's a complaint about James in coverage, it's his work as a deep free safety, where he can get turned around and he's not your classic, sideline-to-sideline free safety. But like Collins, that's a role in which he's competent enough to play a handful of snaps per game without embarrassing himself, and unlike Collins, James' size and ball skills could lead to a few big plays on the back end.
Another one from "quarters" look, James breaks on the ball, would have been nice to finish with the INT#PFFDraft pic.twitter.com/YAsU9uVpUm

— Steve Palazzolo (@PFF_Steve) February 6, 2018
The one last chess-like quality to James' coverage game is what he's capable of against mobile quarterbacks. Whether playing underneath zone or specifically in a "spy" role, James can become a factor against quarterbacks looking to break the pocket. He has the speed to track them down, and he's shown this ability throughout his career, often when used in a pass-rushing role.
Pass-Rushing
There's a difference between blitzing and rushing the passer. Most linebackers and safeties are used on blitzes where they are given gaps to attack, often getting a free run at the quarterback or taking on a running back one-on-one in pass protection. Pass-rushers line up to get after the quarterback and they're accounted for by the offense, most often by an offensive lineman. While James has performed both roles, he's lined up as a pure pass-rusher far more often than a traditional back-seven player, and he's had great success beating college offensive tackles in one-on-one situations.
While that doesn't mean James will double as a pure edge defender at the next level, the ability to beat tackles in 1-on-1s certainly bodes well for what James can do against running backs if used in a creative blitz scheme. It also doesn't preclude him from using his quicks and bend to win a handful of 1-on-1 opportunities against offensive tackles. The bottom line is James can attack the quarterback from all angles and he does not need to be "schemed up" in order to make an impact as a pass-rusher. Combine that with his coverage ability in both man and zone, as well as the athleticism that will allow him to excel in a spy role, and James truly brings multi-position versatility to his future defensive coordinator.
Against the run
While the pass-game is the most important piece of James' top-10 value, he's also excellent against the run. He attacks the line of scrimmage and finishes tackles once he gets there, as he's missed only 15 of his 160 career tackle attempts. Whether used as a box safety, as an extra man against the run or perhaps even a "dime" linebacker who will be accounted for by opposing rushing attacks, James has the strength, quicks and tackling ability to make an impact in the run game.
[Editor's Note: The 2018 NFL Draft Guide is coming. For PFF Edge & Elite subscribers, a comprehensive guide featuring player profiles of signature stats, grades and exclusive PFF content will be released on February 26.]
Final Word
The only way to combat offensive versatility is with defensive versatility and James is the prototype for today's NFL. He's not a classic, Earl Thomas-like free safety, but he can excel if used as more of a split safety with in-the-box responsibility that taps into his ability to play man or zone, stop the run, or rush the passer. A creative defensive coordinator will get the most out of James' skillset, while offsetting the mismatch options good offenses can throw out there every week. While safeties often get labeled as a position that lacks value, don't be fooled, James is more than just a safety, he's a playmaker and a top-5 talent in the 2018 NFL draft.