In the pass-happy world that is both the NFL and college football nowadays, as important as the quarterback position is on offense, the argument can be made that cornerbacks who can disrupt opponent's passing games rival in importance on the defensive side of the ball.
At Pro Football Focus, we go beyond the standard, pole-bearing metrics to track and analyze play in the secondary, from position origin at the time of the snap to coverage scheme and from targeted passes to forced incompletions and all in between. Gone are the days of simply ranking cornerbacks and safeties by their amount of interceptions in a season and here are the days of yards allowed per snap in coverage, average receptions allowed per snap and a lesser-known PFF advanced statistic: playmaker index.
Defined as index = (passes defensed + interceptions) / targets, the resulting output — the playmaker index — serves as a true testament to just how disruptive a cornerback was in coverage on a 'per-target' basis over a season. While other PFF metrics like passer rating when targeted can showcase an entire season's worth of work in terms of limiting yards, touchdowns and receptions, it can sometimes be skewed by a lack of targets, or fluky touchdowns/interceptions. However, we know that an incompletion by an offense generally costs them about one expected point, with an interception costing them over four expected points. Cornerbacks capable of forcing such plays on a consistent basis will therefore be definitively valuable at the NFL level.
Playmaker index in and of itself is easy to understand: The higher the percentage, the more disruptive on a 'per-target' basis per player. For further questions on playmaker index calculations follow @PFF_Cam and for all other up-to-the-moment draft coverage, follow @PFF_College throughout draft season.
Below are the top six cornerbacks who are available in the 2018 NFL Draft, as ranked by their playmaker index from the previous season.
6. Darious Williams, UAB
Playmaker index: 24.0 percent (18 PD+INT, 75 targets)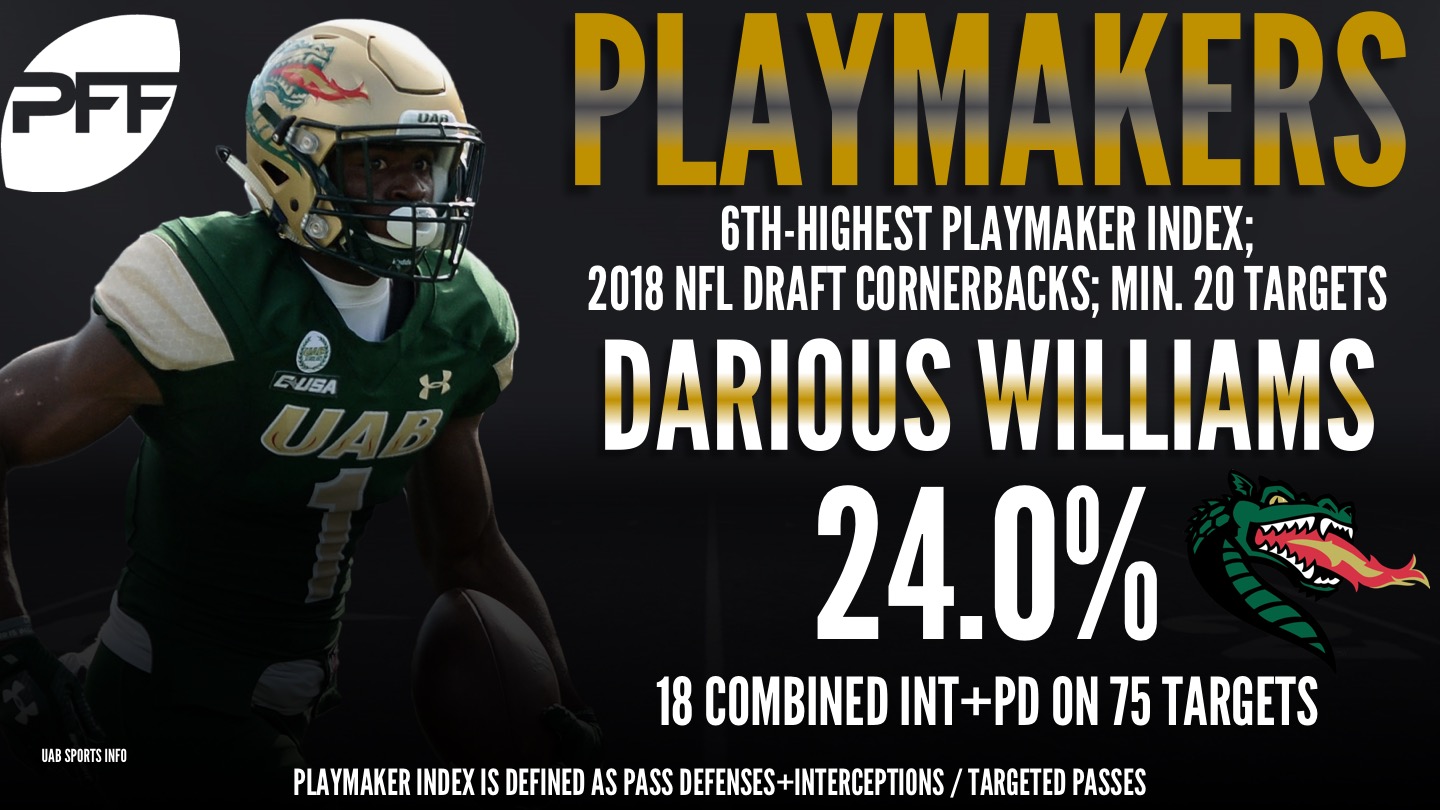 Williams may be one of the lesser-known prospects at the position heading into April, but that is not a key indicator of just how productive he was in 2017. Williams was a standout in the Blazers secondary, seeing a whopping 75 targets while allowing only 27 of those to be caught. He had seven games with multiple pass breakups and interceptions, and finished the season with a grand total of 13 passes defensed and five interceptions.
Although he may have ended his season on a sour note by allowing two touchdowns in the bowl game against Ohio, Williams was stalwart in coverage for most of the season, including three separate games in which he allowed a passer rating of 0.0 when targeted. His ability to lockdown receivers on a high volume of targets should not go unnoticed during evaluation time. He'll have to rely on pro day and game tape during that time, but one thing is for sure: When that tape is on, his ball skills will stand out, as will his awareness to the football. Those skills should land him a spot at the next level somewhere.
[Editor's Note: The 2018 NFL Draft Guide is coming. For PFF Edge & Elite subscribers, a comprehensive guide featuring player profiles of signature stats, grades and exclusive PFF content will be released on February 26.]
5. Denzel Ward, Ohio State
Playmaker index: 24.6 percent (14 PD+INT, 57 targets)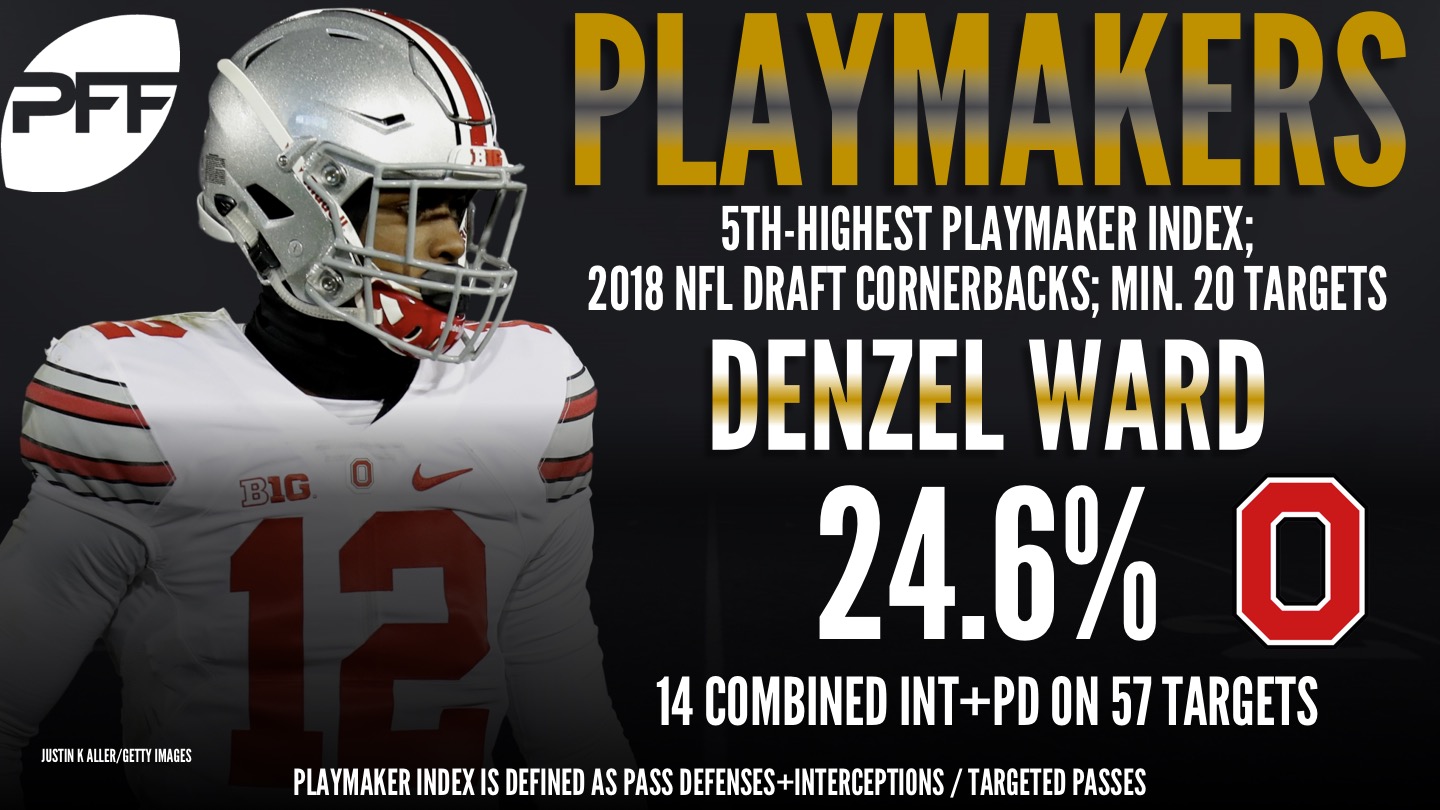 With high expectations for his junior season in Columbus, Ward burst onto the scene against Indiana, being targeted 15 times by Richard Lagow and Co. Despite allowing a touchdown on a red zone fade to Simmie Cobbs, Ward answered the call with a ridiculous stat line of four pass breakups and an interception, equaling the amount of receptions he allowed on the day (for just 47 yards). No other opponent would come within half the amount of targets on Ward that he faced against the Hoosiers, as opposing offenses clearly steered away from the speedster.
His physical way of play saw him allow just two receptions longer than 22 yards and he made a total of 14 plays on the ball, including two interceptions in the process. There is no questioning his coverage abilities, nor his ball skills, but Ward's best feature may be the top-end speed he possesses. A darling of PFF all season long, if Ward can post a ridiculous 40-yard dash time that he's capable of at the Combine, there should be no doubt his combination of production and quickness should all but confirm his draft stock as one of the first cornerbacks taken in April.
Subscribe to PFF Edge for analysis on remaining members of this list and to receive all the benefits from your PFF Edge subscription, including the eventual release of the 2018 NFL Draft Guide.