Pro Football Focus' 'Snaps Lost' series takes a detailed look at playing time void, created by players who have left their respective team either during the season last year, or during this past offseason, albeit trades, cuts, signing elsewhere or retirement.
Yesterday, we took on the AFC East, today, we'll break down the NFC East:
Sign up for PFF Edge for full player grades heading into the 2017 season.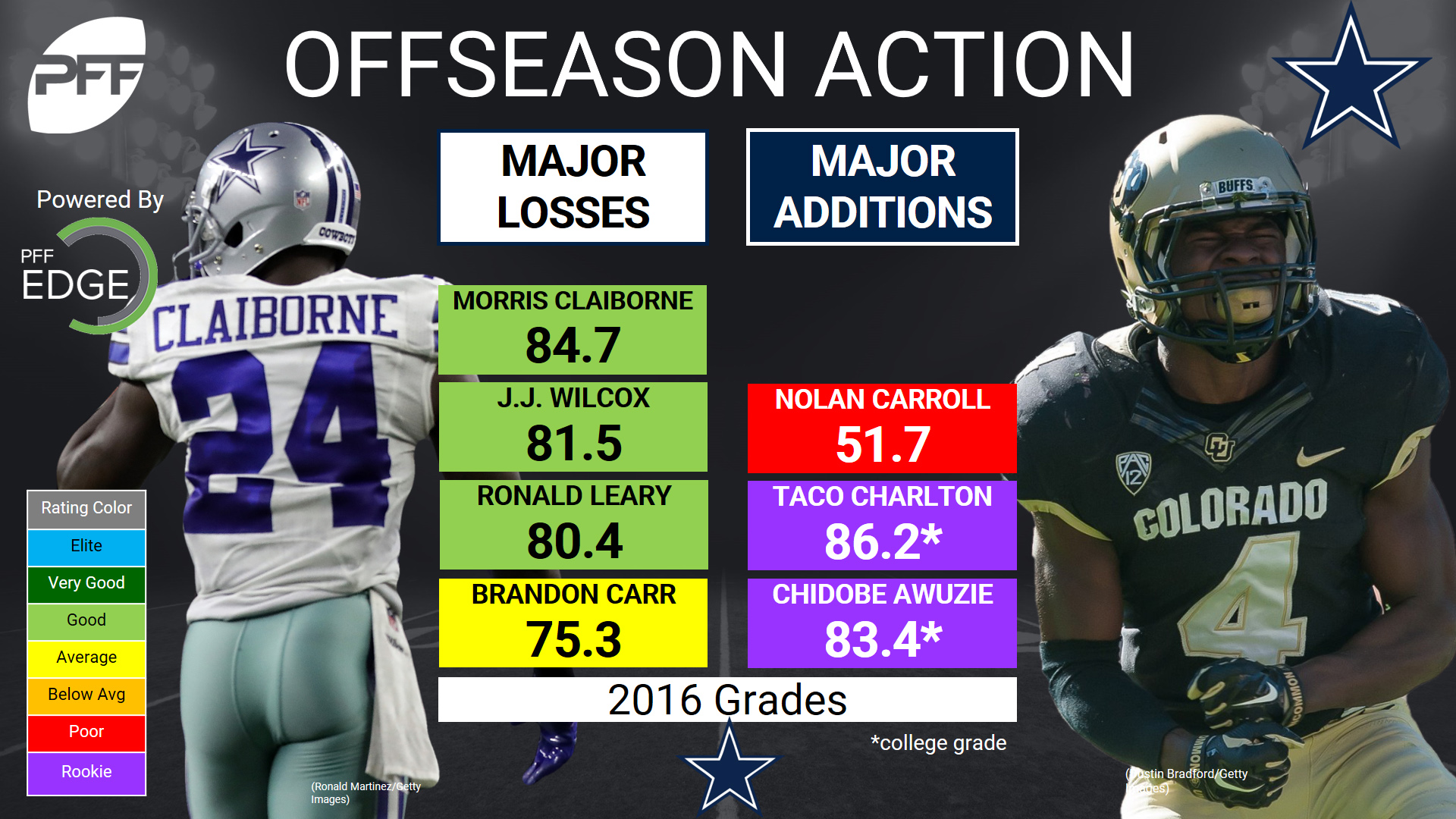 TOTAL SNAPS LOST: 6273
OFFENSIVE SNAPS LOST: 2396
DEFENSIVE SNAPS LOST: 3877
Key Losses, offense: Doug Free – OT – 72.4 grade – 1058 snaps, Ronald Leary – G – 80.4 grade – 803 snaps
The Cowboys had one of the best offensive lines in all of football last season, but now they'll have to adjust to two key losses up front. They lost high-level G Ron Leary and his 80.4 overall grade (22nd in the NFL among guards) to the Denver Broncos in free agency, as well as OT Doug Free and his solid play to retirement. Having to replace one starter on the offensive line is hard enough, but the Cowboys have to find a way to replace two full-time starters that were paramount to the team's success last season. Fortunately the team believes they have a solid plan to do so.
Likely replacement: Jonathan Cooper – G – 73.8 grade, La'el Collins – OT – 38.0 grade 
Despite the losses in the offensive trenches, the Cowboys didn't address the need in the 2017 NFL Draft, preferring instead to rely on an in-house option and a free agent pickup. G Jonathan Cooper played only three games last season for the Cleveland Browns, but performed admirably and allowed just one sack, one hit and one hurry in 119 pass blocking snaps. As for replacing Free, the Cowboys hope that moving Collins back to tackle (his college position) will spark a return to the high-level play that teams saw out of him in college. He has struggled at guard the past two seasons, finishing with grades of 53.4 and 38.0 in 2015 and 2016, respectively.
Key Losses, defense:  Brandon Carr – CB – 75.3 grade – 1013 snaps, Barry Church – S – 87.1 grade – 674 snaps, J.J. Wilcox – S – 81.5 grade – 552 snaps, Jack Crawford – ED – 42.4 grade – 525 snaps, Morris Claiborne – CB – 84.7 grade – 406 snaps
The Cowboys secondary took a massive hit this offseason, losing 2645 snaps between four key players. Perhaps the biggest loss was Claiborne, who was playing like a top level corner prior to being injured in Week 8. From Week 1 to Week 8, Claiborne fielded just a 64.1 passer rating into his coverage, the 12th lowest mark among cornerbacks in that timeframe. Carr started as the right corner in every game last season and while he didn't have a particularly impressive season, he was a constant for the Cowboys defense allowing a reception on just every 11.6 snaps in coverage – third highest in the NFC East last year. They also lost Church, who had the best year of his career and finished as the 11th highest graded safety in all of football last year. The Cowboys have their work cut out for them in replacing this amount of production, but they have a few new additions that they believe can help them out.
The Cowboys made one big splash free agent signing in getting Carroll, although he struggled at times last year for the Philadelphia Eagles. Still he figures to lock up one of the starting corner jobs. Across from him it will likely be a battle between Scandrick, who allowed just 1.07 yards per snap in slot coverage last year (21st among slot corners), and the two rookies in Awuzie and Lewis. Both were big playmakers on their college defenses last year, each breaking up nine passes on the season and allowing just two touchdowns. Regardless of who wins the job the Cowboys should have plenty of depth at corner. At safety, Heath figures to move into a starting role across from Byron Jones who tied for the 30th most stops in run defense among all the league's safeties a year ago.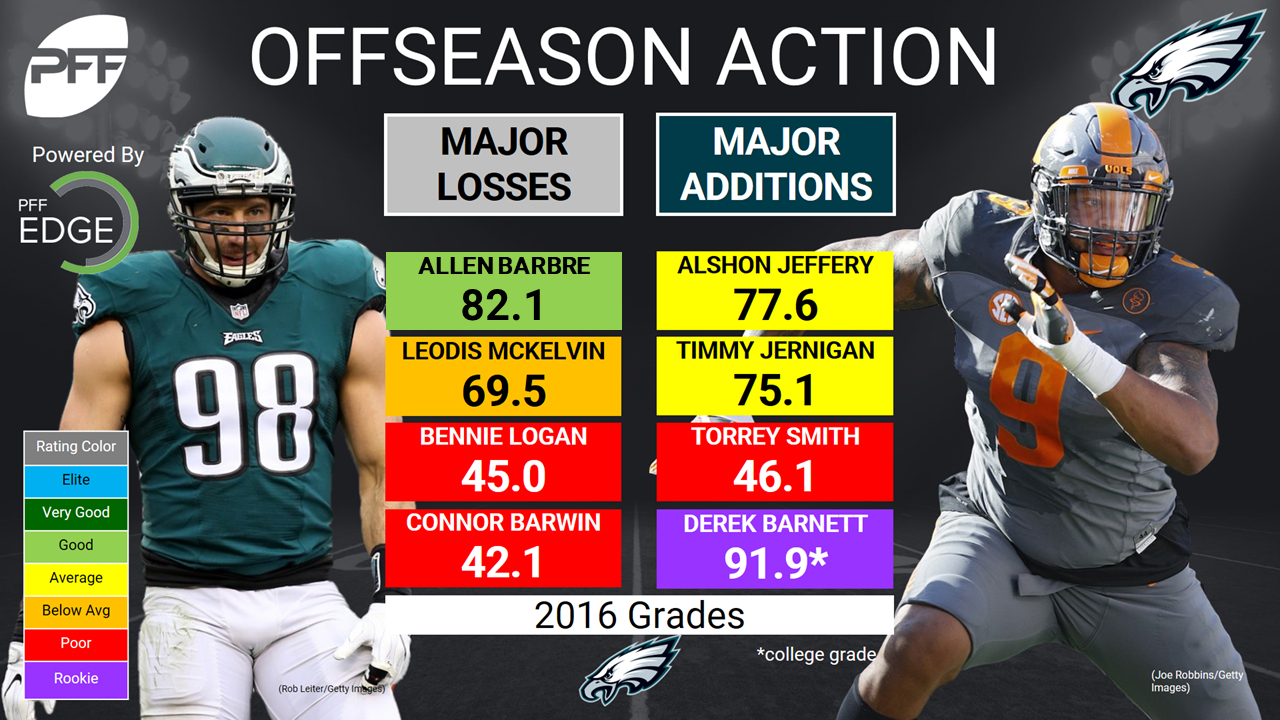 TOTAL SNAPS LOST: 4604
OFFENSIVE SNAPS LOST: 1644
DEFENSIVE SNAPS LOST: 2960
Key Losses, offense: Allen Barbre – G – 82.1 grade – 672 snaps, Dorial Green-Beckham – WR – 46.9 grade – 641 snaps
This young Eagles offense was very fortunate to not lose many players this offseason, with just two real key losses. Barbre was a good player, starting seven games at left guard and three at right tackle last season. But the Eagles ultimately felt he was expendable as they traded him away two weeks ago. Green-Beckham didn't contribute a ton for the offense last year, but he did play the third most snaps for a receiving group that was fairly weak last year. The Eagles did well to go out and improve that position for QB Carson Wentz before his sophomore season.
The Eagles made a big splash in signing top free agent WR Jeffery in the hopes that he can upgrade their receiving corps in a big way. Despite playing for a quarterback-needy Chicago Bears last season Jeffery averaged 1.87 yards per route run, which ranked in the top 30 for receivers. They also added Smith, who they hope can return to his field-stretching form of the 2012-2013 seasons. Up front, the Eagles clearly felt that the strong play of Seumalo late last season was enough to make Barbre expendable. He started four games late in the season and allowed just two sacks and 10 other pressures in those games.
Key Losses, defense: Nolan Carroll – CB – 51.7 grade – 910 snaps, Connor Barwin – ED – 42.1 grade – 705 snaps, Leodis McKelvin – CB – 69.5 grade – 586 snaps, Bennie Logan – DI – 45.0 grade – 467 snaps
The Eagles lost a few key contributors to their defense from last year, perhaps none bigger than the loss of Carroll and McKelvin. Carroll started every game at corner, while McKelvin played significant time across from him. Barwin and Logan didn't grade well last year but they were both big presences that will be missed along the front line of the Eagles defense. Philadelphia should be thankful that they didn't lose anyone that graded particularly well last season, but they still had plenty of shoes to fill from both in-the-house and outside.
The Eagles are set to begin the season with sophomore corner Mills as their No. 1 even after a rough rookie season. The seventh round rookie struggled throughout the season, but did flash at times despite being thrown into the fire immediately. He saw a 97.7 passer rating when targeted, and Mills allowed the most yards per snap in coverage (2.07) among rookie cornerbacks, but was the only rookie cornerback with at least 22 targeted passes to allow just one touchdown. The Jernigan signing will replace Logan and likely be an improvement after he graded much better than Logan did last season (while also being younger). At the edge, elite ED Fletcher Cox has one spot locked up, while the second spot will likely be Curry's with Barnett given a percentage of snaps throughout the year. Curry seems ready for a starting role as he recorded three sacks and 40 total pressures last season despite playing under 50 percent of the Eagles defensive snaps. Barnett could be a huge addition to the defense as well, after finishing last season as highest graded edge rusher in college football.
For more signature stats like Yards Per Route Run and passer ratings when targeted, sign up for PFF Elite now.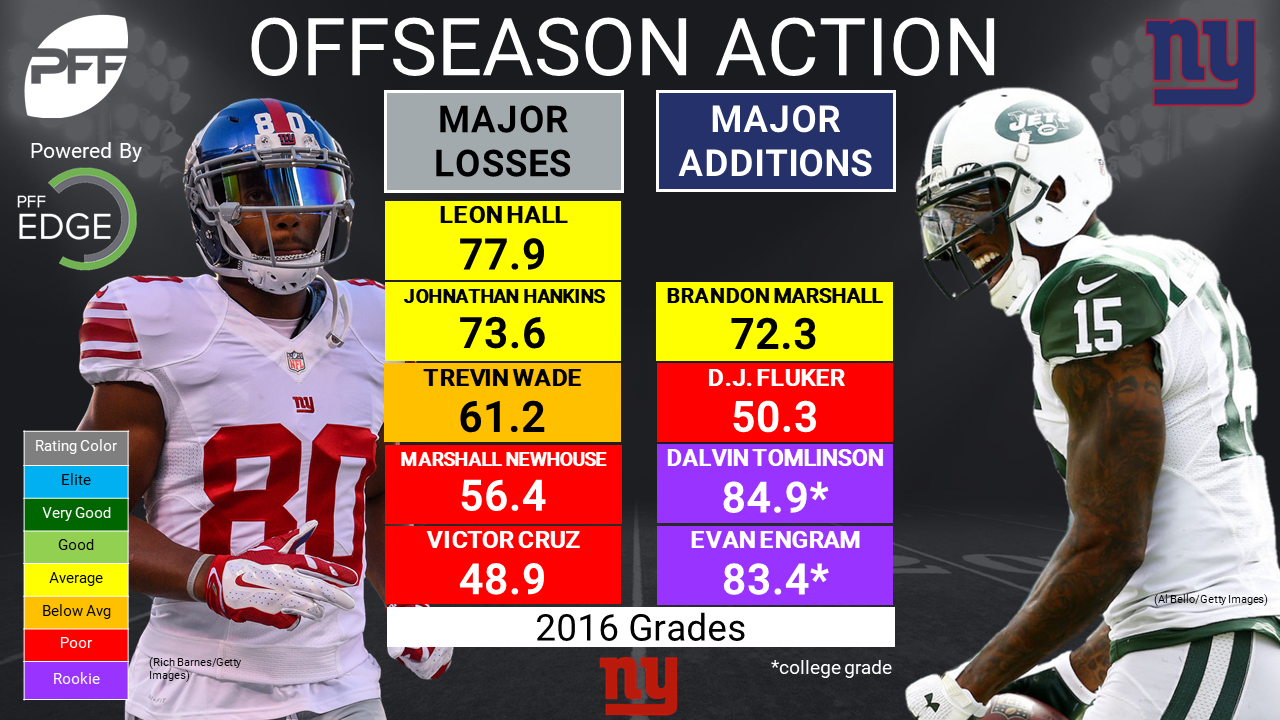 TOTAL SNAPS LOST: 4135
OFFENSIVE SNAPS LOST: 2045
DEFENSIVE SNAPS LOST: 2090
Key Losses, offense: Victor Cruz – WR – 53.9 grade – 773 snaps, Marshall Newhouse – G – 52.8 grade – 461 snaps, Rashad Jennings – HB – 46.8 grade – 443 snaps
Despite not grading well last season, the loss of Cruz hurts the Giants. Considering the frequency in which the Giants work out of 11 personnel on 90 percent of their offensive plays, they need three receivers that they can rely on. Odell Beckham Jr. and Sterling Shephard were the main two last year, but Cruz played the role of the third receiver far more often than not. Losing him is a big hole to fill. Newhouse started seven games total at guard or tackle and was helpful depth for the Giants offensive line. Finally, losing Jennings means that the Giants don't have a running back on the roster that played more than 290 snaps last season. That's another big skilled position hole that the Giants needed to address this offseason.
Signing Marshall to work the other outside receiver position across from Beckham Jr. was a huge move for the Giants offense. Despite his age, Marshall still managed to haul in almost 800 yards and grade solidly despite playing with a revolving door of quarterbacks with the New York Jets. Fluker should adequately fill the role of swing tackle/backup depth for the offensive line with the loss of Newhouse. Especially since Fluker has experience playing both guard and tackle. Finally, the Giants seem to be staying in-house with the running back positon as they expect sophomore Perkins to have a much larger role as the team's top runningback. Perkins was one of 20 backs with at least 100 carries last season to average more than 4.1 yards per carry. The Giants are hoping he can keep that going in a full-time role.
Key Losses, defense: Johnathan Hankins – DI – 71.6 grade – 766 snaps, Kelvin Sheppard – LB – 36.8 grade – 451 snaps, Leon Hall – CB – 77.9 grade – 384  snaps, Trevin Wade – CB – 61.2 grade – 355 snaps
Hankins is a big loss for the Giants interior, as he and Damon "Snacks" Harrison made for a very fearsome duo in the middle. He had five sacks and 18 additional pressures last year to go along with 26 solo stops. Hall and Wade were effective as slot corners and depth for the outside, even if neither of them played starting roles. Hall specifically was very effective for the Giants last year, allowing just 29 catches for 307 yards and only one touchdown as the primary coverage player.
Up front the Giants figure to replace Hankins' production with a combination of Bromley and rookie Tomlinson. Bromley struggled last season but didn't see any consistent playing time, playing just 247 snaps all year. Perhaps with a bigger role, he'll be able to improve on the mere one sack and five hurries he had last season. Tomlinson was one of college football's best all-around interior defenders last season and will look to make an instant impact in the NFL. Finally, it looks like sophomore Goodson, who played just 13 snaps last season, has locked up the Giants middle linebacker spot that Sheppard vacated. Goodson was one of the highest-graded linebackers in college during the 2015 season, with his 48 solo run stops ranking 12th in the entire country.


TOTAL SNAPS LOST: 5207
OFFENSIVE SNAPS LOST: 1797
DEFENSIVE SNAPS LOST: 3410
Key Losses, offense: Pierre Garcon – WR – 85.8 grade – 807 snaps, DeSean Jackson – WR – 77.0 grade – 712 snaps
The Redskins' offense only lost two full-time players this offseason, but they were two very key players. Garcon was one of the best receivers in the NFL last season, his 1041 yards ranking 16th in the league and his yards per route run average of 1.96 ranking 20th. Jackson was arguably just as good, his 2.04 yards per route run average ranking 14th in the NFL. Jackson is still one of the best deep threats in football, his 579 yards on deep receptions (20 or more yards in air) ranking first last season. The two of them accounted for over 41 percent of QB Kirk Cousins' total yards last season and leave a massive gap in that passing offense.
Replacement Plan: Terrelle Pryor – WR – 79.7 grade, Josh Doctson – WR – 53.9 grade
The Redskins went to free agency to find a replacement for the two lost receivers and came back with a former quarterback. But Pryor is more than that now. As the number one receiver for the Cleveland Browns last season, Pryor managed to post a 1000-yard season in his first full season as a receiver. With another year under his belt and playing for a team with a solid quarterback, Pryor could have an even better season. Across from him, sophomore  Doctson seems like the most logical No. 2 receiver provided he's healthy. Doctson was a first round draft pick in 2016, but missed most of last season with an injury. He can be a game-changer though, as he led the nation with a 4.08 yards per route run average in his final college season in 2015.
Key Losses, defense: Chris Baker – DI – 84.2 grade – 782 snaps, Duke Ihenacho – S – 44.9 grade – 636 snaps, Donte Whitner – S – 44.9 grade – 564 snaps, Ricky Jean Francois – DI – 77.2 grade – 439 snaps
The Redskins defense lost two pairs of players that left big holes to fill. Baker was a big run stuffer up the middle, finishing with 20 solo run stops last season. But he also added six sacks and 36 additional pressures. Francois chipped in 15 solo run stops of his own while playing limited snaps in the middle. Whitner and Ihenacho combined to play a majority of the Redskins' safety snaps last year. Even though they didn't grade well, they were very big parts of that defense that the Redskins needed to find a way to replace.
Swearinger should make an instant impact for the Redskins defense as he finished last year as the ninth highest graded safety in the NFL. He was phenomenal in coverage, grading out at 87.1 there and ranking fifth in the NFL among safeties. The Redskins are hoping that the combination of McGee and Allen will be enough to replace the loss of Baker and Francois. McGee never played more than 40 snaps in a game last season, but still managed to rack up three sacks, five hurries and 14 solo defensive stops. Allen was drafted 17th overall in the 2017 NFL Draft and figures to see plenty of playing time this season. He was the highest-graded interior defender in college football last season after recording 13 sacks, 67 total pressures and a nation-best 11.5 percent run stop percentage.