A combination of a Jeremy Hill touchdown run and a Vontaze Burfict interception return for a score kept the Bengals up early on Washington despite a pair of Washington field goals and Rob Kelley rushing touchdown.
However, in the second half, Washington would go on to add a touchdown pass from Colt McCoy to Derek Carrier and a final field goal, eventually winning the game 23 to 17. With that, we give you our PFF exclusive takeaways from the contest for each team.

Top 5 Grades:
ED Junior Galette, 84.7 overall grade
CB Quinton Dunbar, 82.3 overall grade
CB Bashaud Breeland, 81.6 overall grade
TE Derek Carrier, 79.9 overall grade
DI Matt Ioannidis, 79.6 overall grade
Performances of Note:
RB Rob Kelley, 72.2 overall grade
The Washington offense struggled throughout the victory over Cincinatti, but Kelly submitted a solid performance, rushing for 57 yards, breaking a pair of tackles, and scoring on a one-yard run in the second quarter to bring the Redskins within four points. Kelly averaged 2.40 yards after contact per attempt, and added a three-yard catch on two targets.
Despite the victory, the offense appears to be out of sync, but Carrier provided a much-needed spark in the second half for Washington. Carrier collected both of his targeted passes, and secured a nine-yard touchdown within the coverage of LB Brandon Bell. The Beloit College alum averaged 2.20 yards per route run on 10 snaps in route.
Not much can be expected of a player missing back-to-back seasons after tearing their Achilles, yet Galette has the potential to elevate Washington's  unit overall. He was a dominant pass-rusher in the past and, on this showing, he's not been greatly affected by the time spent on the sidelines.
Sticking with the theme, Ioannidis is also emblematic of Washington's defensive line depth. The organization has used recent drafts to stockpile talent at the position, including with their 2016 fifth-round selection. Ioannidis always finds a way to flash in preseason, adding a further two hurries to the sack he managed in his previous outing. His performance could have been even more impressive but for a pair of missed tackles in the run game that dragged down his overall grade. The upshot, though, is the consistent disruption provided by the Temple product around the line of scrimmage. His performance bodes well for the future.

Top 5 Grades:
WR A.J. Green, 80.6 overall grade
G Alex Redmond, 80.0 overall grade
WR Kermit Whitfield, 76.0 overall grade
FB Ryan Hewitt, 75.8 overall grade
G Andre Smith, 75.0 overall grade
Performances of Note:
WR A.J. Green, 80.6 overall grade
There was redemption for a number of players missing time in 2016 through injury, including A.J. Green. He is so fundamental to the potency of the Bengals' offense, even more so with the offensive line in a state of flux. Green was back to his best, snagging four of six targets to 43 yards. He's simply unstoppable at times when using his big frame to box out defensive backs, relying more on strength than subtlety. Green looks ready for Week 1.
FB Ryan Hewitt, 75.8 overall grade
The Bengals like to get creative with their skill position players, including their backfield blockers. Hewitt stood out as a blocker, crushing linebackers at the second level on a couple of occasions after motioning into the backfield. He's sufficiently versatile to fill a number of roles, mixing in a handful of routes with a pass protection snap on his seven reps on dropbacks. Hewitt is at his best, however, when he can hurtle headlong into defenders coming downhill. Don't discount his dirty work.
Vontaze had himself quite a Sunday afternoon facing the Redskins, highlighted by a 62-yard interception returned for a touchdown out of the hand of QB Kirk Cousins to put Cincinatti ahead 14-3 early in the second quarter. Burfict recorded three solo tackles, one assist, and a defensive stop on 11 snaps in pass defense. While he allowed two-of-three responsible targets to be completed, he prevented either reception from gaining a single yard after the catch – 2.0 yards per coverage snap. Impressively, the linebacker out of Arizona State topped all defenders in the contest with an 88.0 coverage grade.
After missing all of the 2016 season, the Bengals have to be very excited to see the former Houston Cougar post an 81.2 coverage grade on 17 snaps in coverage. Redskins' quarterbacks only tested the 2016 first round selection on a single target throughout the game, for which Jackson promptly defensed the pass to score a perfect 0.00 yard per coverage snap average. Cincinnati desperately needs Jackson to display growth beyond his years if the franchise is going to end their playoff losing streak.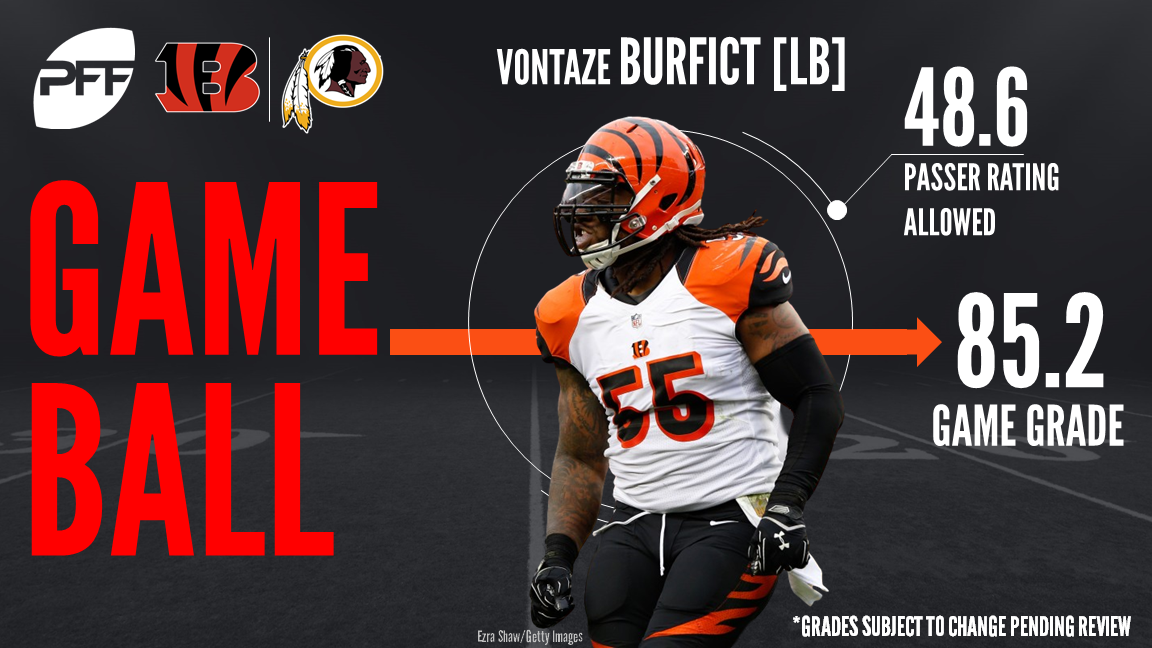 *Grades subject to change pending review