DENVER, CO - OCTOBER 15: Evan Engram (88) of the New York Giants runs for a big gain after a catch in the first quarter of the game against the Denver Broncos. The Denver Broncos hosted the New York Giants at Sports Authority Field at Mile High in Denver, Colorado on Sunday, October 15, 2017. (Photo by John Leyba/The Denver Post via Getty Images)
The Giants jumped ahead to an early 10-point lead on the strength of a QB Eli Manning touchdown pass to TE Evan Engram. The Broncos responded by securing a field goal scoring drive of their own, but just before the half CB Janoris Jenkins returned a interception for a touchdown to extend the Giant lead to 14 points going into halftime.
The Giants would add a pair of field goals in the second half, and Denver was only able to muster a TE Jeff Heuerman touchdown catch in response. The Giants would go on to win 23-10. With that, we give you our PFF exclusive takeaways from the contest for each team.

Top 5 Grades:
CB Eli Apple, 86.9 overall grade
S Landon Collins, 86.0 overall grade
DI Damon Harrison, 84.3 overall grade
Edge Jason Pierre-Paul, 84.1 overall grade
S Darian Thompson, 84.1 overall grade
Performances of Note:
TE Evan Engram, 82.8 receiving grade
With a depleted receiving corps, Evan Engram stepped up to have his best game of the season as a receiver. Engram caught five passes for 82 yards, including the offense's lone touchdown, and Eli Manning had a 150.0 passer rating when targeting Engram. He still has some work to do as a run blocker, but that's probably less important right now with their lack of skill players. His 3.9 yards per route run leads all tight ends this week with only one game remaining.
Darkwa had a career-high 117 rushing yards on 21 carries against the Broncos in a game where he was really boom-or-bust. He had a few impressive, bigger runs, but he also had 15 runs where he gained three or fewer yards and didn't force a single missed tackle. Still, even though it wasn't as good as it could have been, he did a good job getting some yards after contact when his blocking wasn't the best.
CB Eli Apple, 86.9 overall grade
Apple was targeted a whopping 10 times on the day, yet only allowed 38 yards. He broke up a pass and added three coverage stops in what would be a career day.
On the whole, the Giants pass-rush wasn't terribly effective, pressuring Trevor Siemian on 14 of his 55 dropbacks. Pierre-Paul, though, was responsible for seven of those pressures, as he notched three sacks and four hurries on the day.

Top 5 Grades:
DI Domata Peko, 85.9 overall grade
S Justin Simmons, 83.8 overall grade
S Darian Stewart, 82.8 overall grade
T Garett Bolles, 82.5 overall grade
Edge Von Miller, 81.5 overall grade
Performances of Note:
If ther was one word to describe Siemian's performance it would be "erratic." Even when he was putting balls on the money, they were often thrown into incredibly tight coverage that never should have been targeted in the first place. He only completed 6 of his 15 targets 10+ yards down the field
The lone bright spot offensively, Bolles yielded only two pressures all day long on 64 pass-blocking snaps. He did have a hold, but his otherwise clean effort more than made up for it.
Edge Von Miller, 81.5 overall grade
It was a quieter game from Miller than we are accustomed to, but he was still effective nonetheless. Miller had five total pressures, including a sack, on just 20 snaps rushing the quarterback.
DI Domata Peko, 85.9 overall grade
Peko has really looked like a different player since leaving Cincinnati. Typically a liability in the run game in the past, Peko has been considerably more disruptive, forcing runners away from the intended point of attack and clogging up running lanes. He finished the game with three run stops of his own.
PFF Game Ball: Eli Apple, CB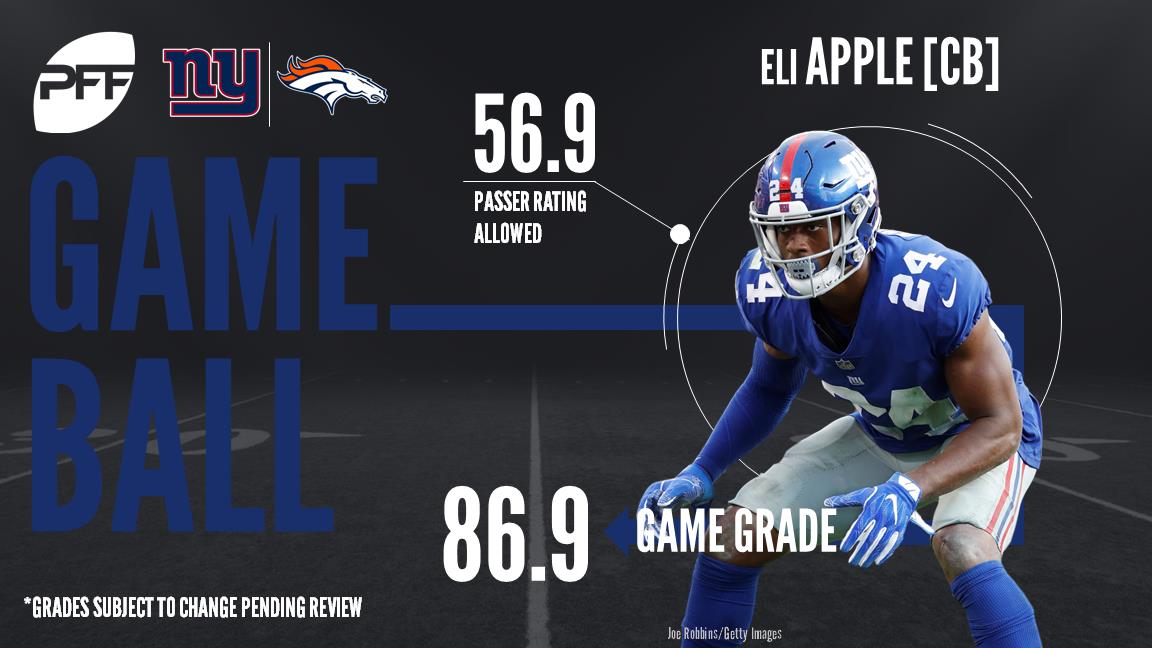 *Grades are subject to change upon review