New Orleans Saints running backs Mark Ingram and Alvin Kamara took no prisoners in their meeting with the Buffalo Bills on Sunday, as the two combined for 269 total offensive yards and four touchdowns en route to a 47-10 win.
Feeding off their offense's success, the Saints' defense limited Bills quarterback Tyrod Taylor to 56 yards and an interception, guiding him to the bench in the fourth quarter. Replacing Taylor, rookie quarterback Nathan Peterman completed 7-of-10 passes for 79 yards and one touchdown against New Orleans' backup defenders.
Saints quarterback Drew Brees, on the other hand, didn't have to do much to pull off the victory from under center, as he put together an efficient performance with his 184 yards on 18-of-25 passing.
Second-year Saints wide receiver Michael Thomas managed to bring in 117 of Brees' 184 passing yards on a team-high nine receptions. With that, we give you our PFF exclusive takeaways from the contest for each team.

Top 5 Grades:
RB Alvin Kamara, 89.1 overall grade
RB Mark Ingram, 88.4 overall grade
G Larry Warford, 87.7 overall grade
WR Michael Thomas, 85.7 overall grade
LB Manti Te'o, 83.9 overall grade
Performances of Note:
The Saints absolutely dominated on the ground against Buffalo, and were led by Mark Ingram. Ingram gained 97 of his 131 rushing yards after contact, forced five missed tackles, and found the end zone three times. 105 of his rushing yards came on his 14 runs to the right side of the offensive line.
Kamara seemed to be given a bit more space to run on his carries compared to Ingram, but he also made the most out of it, utilizing his speed effectively. Eight of his 12 runs gained at least nine yards, and he averaged 8.8 yards overall. Kamara added a bit more on screens in the passing game, too, with five catches for 32 yards.
Te'o has come into his role as just a run-down linebacker. Te'o is able to run forward aggressively to the ball carrier and against the Bills he was at his best, as he recorded five stops (season high) and has still not missed a tackle since Week 2 of the season.
For years the Saints defense has been Cameron Jordan and players behind him struggling to get close to matching his performance. This year the Saints defense has seemingly found multiple play makers and the play of Cameron Jordan has continued as its normal high level. Jordan recorded five hurries on 21 pass-rushing snaps, as he was too much for the Bills right tackle Jordan Mills.

Top 5 Grades:
T Dion Dawkins, 84.4 overall grade
CB Tre'Davious White, 81.0 overall grade
RB LeSean McCoy, 78.4 overall grade
T Jordan Mills, 77.3 overall grade
G Vladimir Ducasse, 76.7 overall grade
Performances of Note:
In a game where the Bills offense struggled to get going one of the strengths was the play by left tackle Dion Dawkins. Dawkins, who was replacing a very good player in Cordy Glenn, allowed 0 pressures on 36 pass plays
The Bills were behind a lot early and had to rely on the passing game to get them back in the game, but the passing game was unable to get anything going. Taylor's grade is not a disaster, but this is due to the fact that the Bills where unable to get first downs and Taylor didn't get the opportunity to make many plays, good or bad, due to the quick three and outs throughout the game.
White was one of the few players that had above-average performances on defense. He was targeted three times in coverage, allowing two catches for 35 yards to Michael Thomas, but he also had the Bills' lone pass breakup in the game.
The entire defense shares the blame for their abysmal performance against the run. Brown had the lowest run-defense grade, however, as he was sealed off at the second level several times and was even out of his gap on a couple of occasions.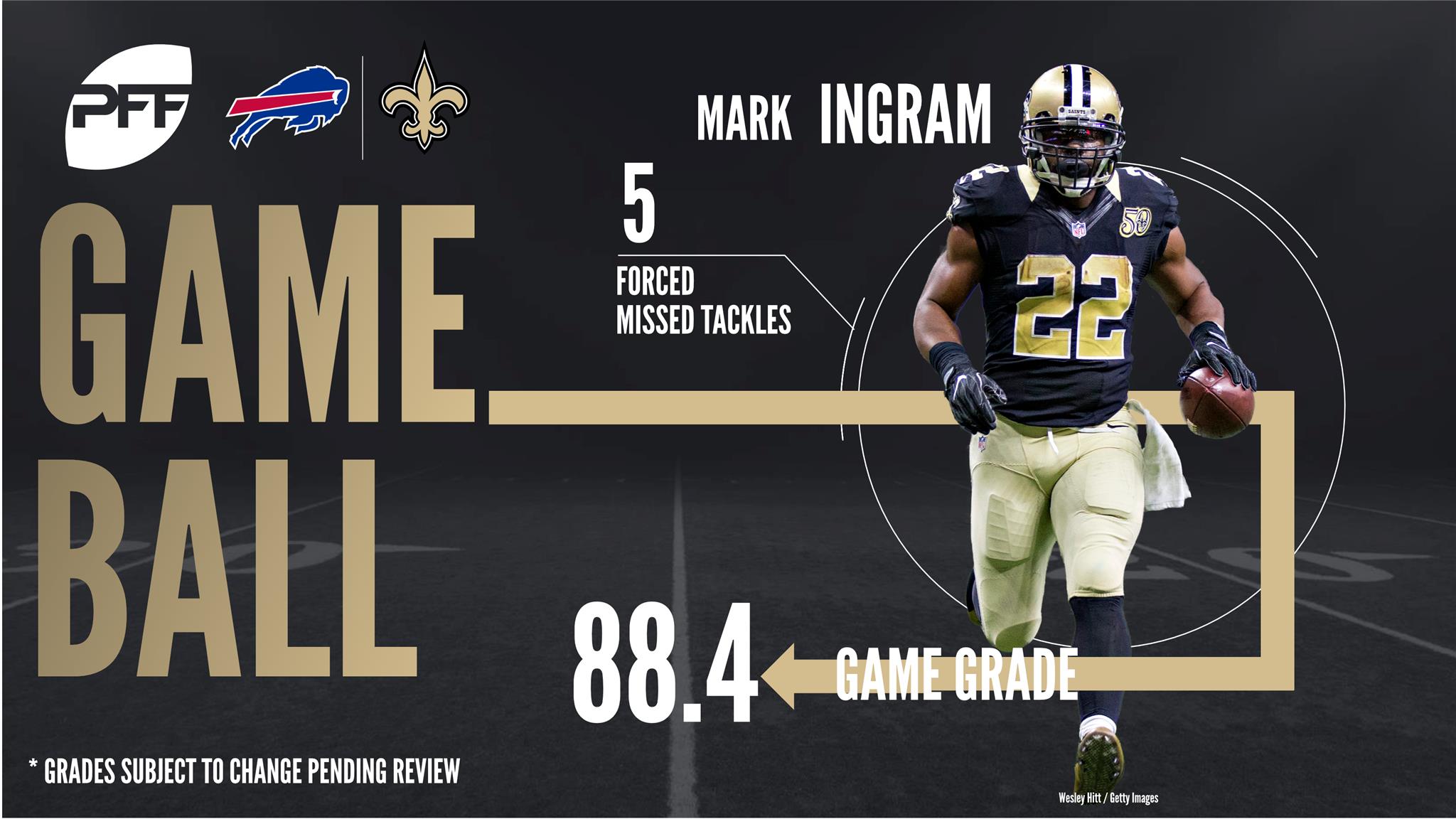 *Grades are subject to change upon review