Quarterback Drew Brees and the New Orleans Saints clinched a playoff berth with their 23-13 win over the visiting Atlanta Falcons on Sunday.
Brees completed 21-of-28 passes for 239 yards, one touchdown and one interception in the contest, finding wide receiver Ted Ginn Jr. on one of his completions for a 54-yard touchdown.
The Saints' dynamic duo in the backfield in Mark Ingram and Alvin Kamara also did their part, combining for 156 yards from scrimmage and one touchdown (Ingram, 26-yard run).
Falcons star wide receiver Julio Jones did his best to match New Orleans' offense stride for stride with his 149 receiving yards, but his efforts weren't enough to push his team ahead.
With that, we give you our PFF-exclusive takeaways from the contest for each team.

Top 5 Grades:
LB Manti Te'o, 85.1 overall grade
CB Ken Crawley, 84.8 overall grade
QB Drew Brees, 83.9 overall grade
S Vonn Bell, 82.0 overall grade
WR Michael Thomas, 82.0 overall grade
Performances of Note:
Brees had a very solid, all-around game and produced enough deep passes to seperate the Saints from the Falcons. The Saints' offensive game plan was to get the ball out quick and to the Saints pair of running backs in space. With that, it gave Brees the chance to work with no pressure, as he was was pressured just 6 times on 29 dropbacks and completed 78.3% of his passes when he wasnt pressured and overall had a 88.0 adjusted completion percentage.
While Michael Thomas didn't have a game-breaking play, he was his usually reliable self, catching every pass thrown his way. Thomas had his fewest targets in any game this season yet finished with his second-highest yards per catch at 16.5.
LB Manti Te'o, 85.1 overall grade
A force in the run game, Te'o got in on three tackles for loss, including another run stop as well as one in coverage. He pushed center Alex Mack back into RB Devonta Freeman for the goal-line forced fumble, and he even managed to complete the play by recovering the loose ball. Te'o has been a quietly solid addition to the Saints' defense, and this was one of his best games of the year.
Lattimore had an excellent battle with WR Julio Jones, though Jones got the better of him for a 44-yarder on a double move, and he ran away from him on a big gain on a shallow cross. Lattimore did have fine coverage on Jones in the end zone to prevent a touchdown on a short pass, and he finished the game with three pass breakups to go with his lucky, butt-clenching interception.

Top 5 Grades:
S Keanu Neal, 88.4 overall grade
WR Julio Jones, 86.7 overall grade
LB Deion Jones, 84.8 overall grade
Edge Adrian Clayborn, 83.1 overall grade
QB Matt Ryan, 82.8 overall grade
Performances of Note:
Ryan's bad interception luck continued against New Orleans, as he threw a perfect dig route that was dropped and landed on CB Marshon Lattimore's buttocks for the turnover. He did get away with one dangerous red-zone pass that was tipped by Hau'oli Kikaha for an incompletion. Ryan's best throws came on a back-shoulder pass to WR Julio Jones and a perfectly placed deep ball thrown his way, but there weren't enough "move-the-chains" passes throughout the game to sustain drives. Ryan finished 4-for-9 for 94 yards and that dropped dig route on passes thrown at least 10 yards in the air.

The 37 yards on 12 carries only tell a part of the story for Freeman, whose game will be remembered for a goal-line fumble as well as two penalties (face mask and unnecessary roughness). Freeman's fourth fumble in three weeks proved disastrous, as the Falcons struggled to score points in the red zone, and the turnover was one of a number of plays that were back-breakers for Atlanta.
Kenau Neal was all over the field, recording eight tackles and one pass breakup. With the Saints throwing a lot of passes to their backs, it put Neal in a position to make a lot of plays in space. Neal's biggest success was not missing a tackle all game even with Karama caught five of the six balls thrown his way.  Kamara was limited to just 6 yards after the catch.
Falcons second-year linebacker Deion Jones recorded six stops and (again) did his part in limiting the Saints' running backs through the air. Jones averaged just 4.5 yards allowed when targeted.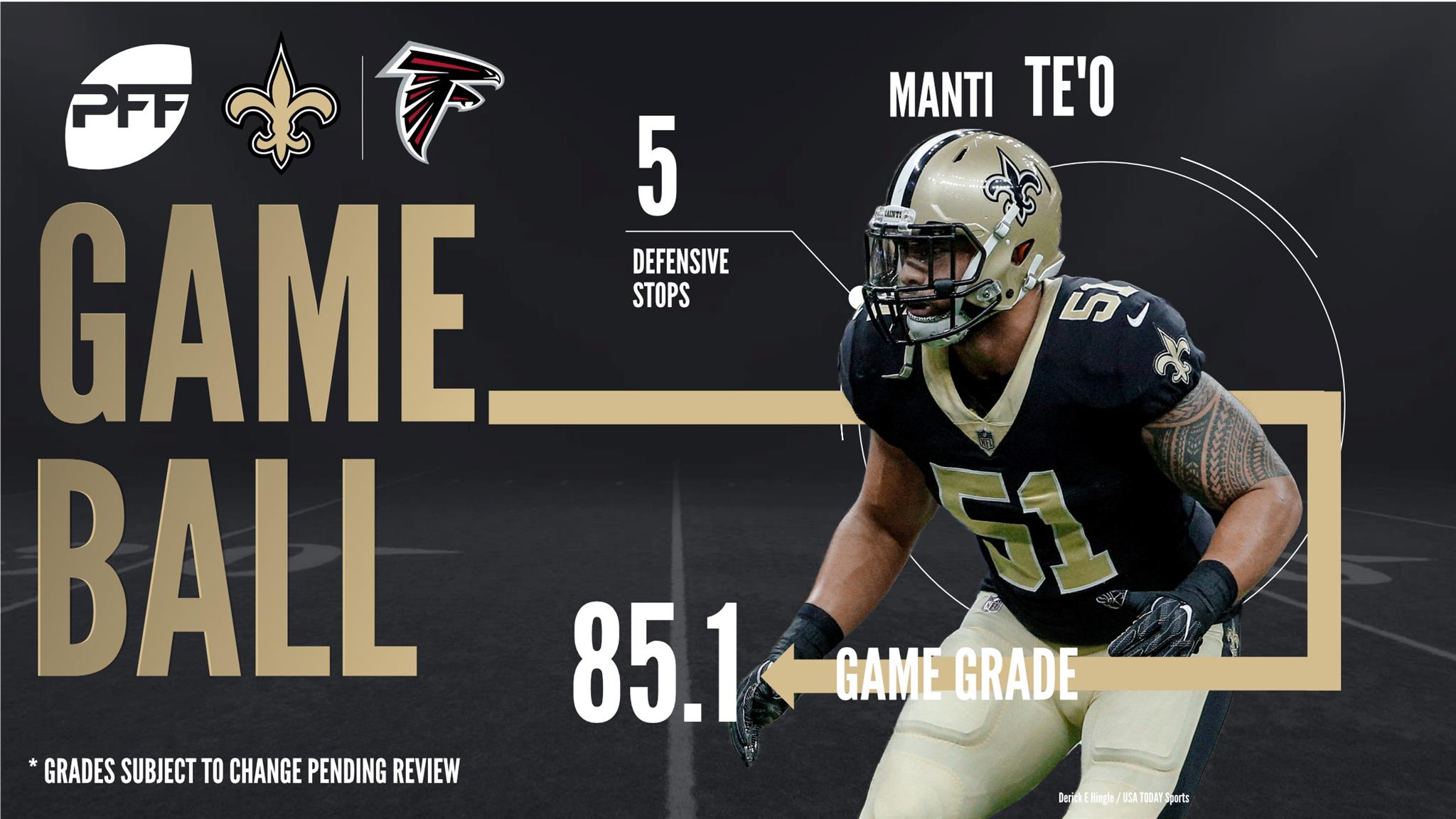 *Grades subject to change