Putting points on the board when working inside of the 20-yard line is paramount for offenses to have success, which is, of course, much easier said than done. Here, we preview the league's best quarterbacks at making things easier for offensive coordinators in the red zone.
[This is the pinnacle of a four-part series that has highlighted the league's best at each skill position (WR, RB, TE) and quarterback from an offense grade standpoint in 2017.]

Injury struck for Philadelphia Eagles sophomore quarterback Carson Wentz 13 games, 502 dropbacks into an MVP-caliber season in 2017. Of course, the result of Wentz's season-ending ACL injury last year went over well with the Eagles' faithful, but his return to greatness is paramount for the team to have a repeat performance in 2018, and said return starts in the red zone.
Wentz's league-leading offense grade in the red zone a year ago was propped up by stellar passing production, as he led all 29 NFL quarterbacks with 40-plus dropbacks in the red zone last season in passer rating (116.3), touchdowns per attempt (0.41) and passing grade (90.1). He completed 38-of-59 red-zone attempts for 24 touchdowns and zero interceptions, while his big-time throw percentage (10.17) and adjusted completion percentage (75.93) ranked fourth and second, respectively, among qualifiers.
Turning red-zone opportunities into six points is the name of the game, and no single player did a better job of that than Wentz. Whether or not he can get back on the saddle in 2018 will determine how high the Eagles fly.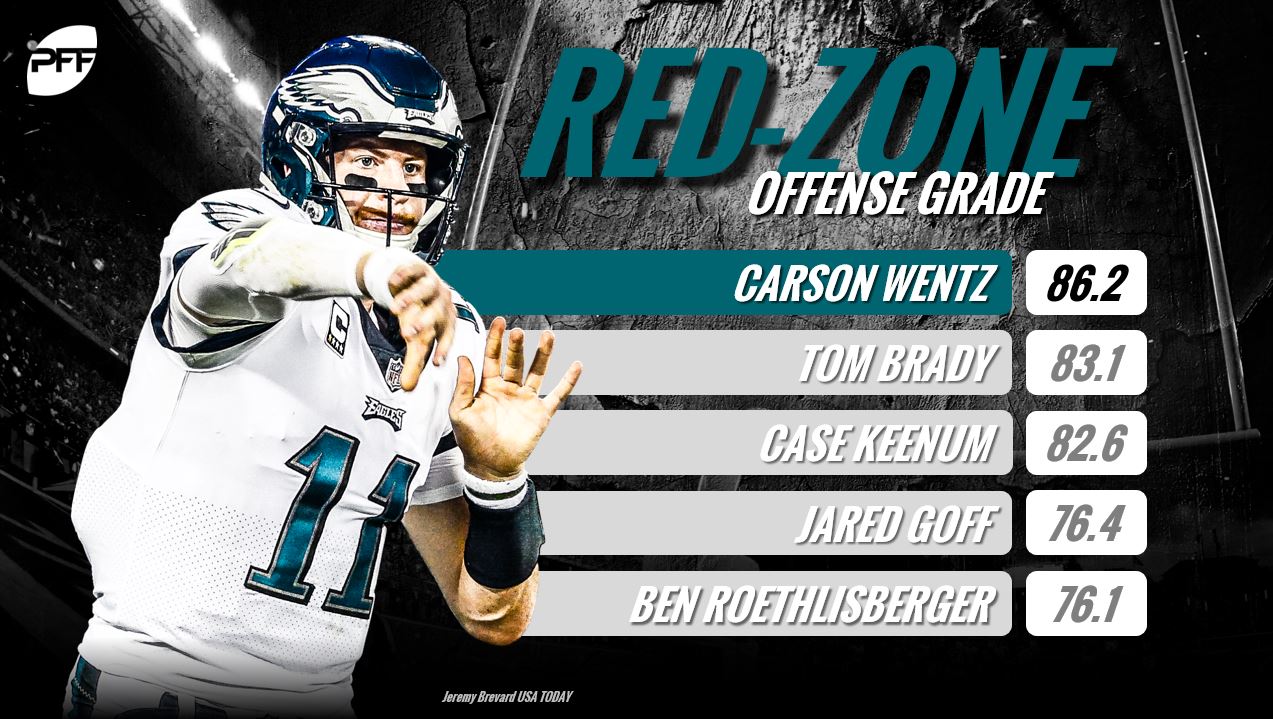 A staple to any list highlighting the league's best passers, New England Patriots' Tom Brady didn't fail to disappoint inside the 20-yard line a year ago, nor has he for the past five seasons. The tried-and-true veteran has earned an 87.2 offense grade across 1,109 offensive snaps in the red zone over the past five years, leading all NFL quarterbacks with at least 200 snaps in the red-zone since 2013. Brady's performance in 2017 was simply par for the course.
Leading all NFL quarterbacks in total dropbacks in the red-zone with 123, Brady completed 75-of-113 attempts for 33 touchdowns and zero interceptions inside the opponent's 20-yard line in 2017. His passer rating (114.2) and adjusted completion percentage (74.1) ranked second and third, respectively, while his total touchdowns and touchdown-to-interception ratio paced the league.
 Case Keenum's breakout campaign with the Minnesota Vikings, which carried the team to the NFC Championship, was a product of his ability to put points on the board in the red zone. He completed 36-of-66 red-zone attempts – including five big-time throws – for 17 touchdowns and one interception across his 78 dropbacks. He ranked 12th in passer rating (97.2) and 15th in adjusted completion percentage (64.5).
The road to a repeat performance in the red zone for Keenum isn't as smooth as it would've been in Minnesota. Now with the Denver Broncos, Keenum trades one of the NFL's most talented wide receiver tandems in Stefon Diggs and Adam Thielen for Broncos' Emmanuel Sanders and Demaryius Thomas, two wideouts that haven't quite lived up to expectations in recent years. Both Thomas and Sanders recorded sub-80.0 receiving grades a year ago, and neither receiver recorded a red-zone receiving grade above 70.0.
Los Angeles Rams quarterback Jared Goff, the No. 1 overall pick in the 2016 NFL Draft, stumbled out of the gates, earning an underwhelming 42.9 offense grade across 392 snaps as a rookie. He also earned the 29th-ranked red-zone offense grade (52.4) in his debut season. Goff's stumble in both areas, of course, was corrected (with the help of NFL Coach of the Year Sean McVay) in Year 2 of his career.
Goff improved his offense grade by 32.7 points in 2018, going from his 42.9 offense grade in 2017 to 75.6 the following season, which ranked 15th among qualifying signal-callers. His dramatic improvement carried over to his red-zone performance, as well. He completed 53-of-92 attempts (57.6 percent) for 24 touchdowns and zero interceptions, meaning 85.7 percent of his touchdown passes were thrown in the red zone – the third-highest percentage among quarterbacks with at least 40 red-zone attempts last season.
With such a high percentage of Goff's scores coming in the red zone, his success in 2018 will be much more dependent on his red-zone efficiency than other quarterbacks. With McVay pulling the strings, Goff's floor production inside the 20-yard line is high, but it will take Goff nearing his ceiling in the area for the Rams to push past the first round of the playoffs.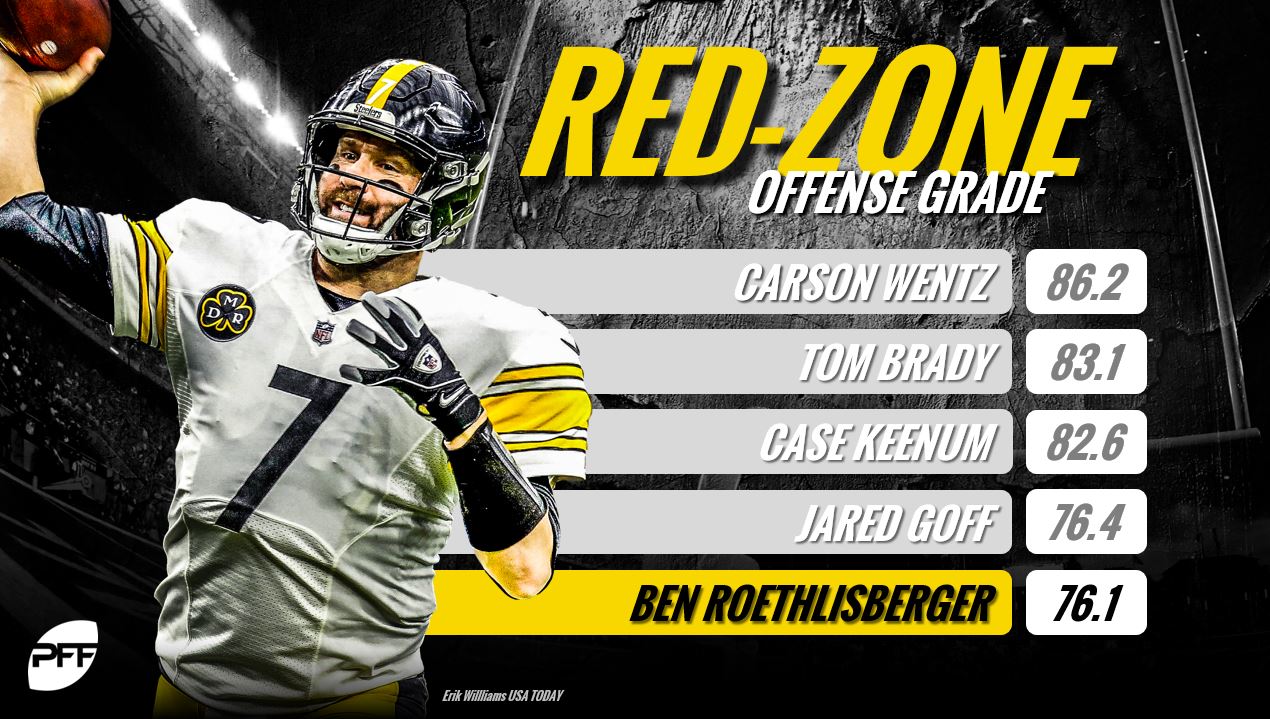 The product of a strong, well-executed offense, Pittsburgh Steelers' Ben Roethlisberger ranked second behind Brady in total dropbacks in the red zone, and when he got there, Big Ben delivered. The now 36-year-old gunslinger completed 51-of-97 attempts for 23 touchdowns and one interception.
Oddly enough, Roethlisberger didn't have too much help from his supporting cast inside the 20-yard line, as his pass-catchers dropped a league-high nine passes in the red zone. Also, his highest-graded receiver in the red zone (Antonio Brown) earned just a 69.2 receiving grade. Conversely, Wentz had a bevy of pass-catchers with high red-zone receiving grades, as Trey Burton, Zach Ertz and Alshon Jeffery all ranked inside the top-10  among wide receivers and tight ends with at least 40 offensive snaps in the red zone last year.
Other Notable Red-Zone Statistics 
All seven of San Francisco 49ers quarterback Jimmy Garoppolo's touchdown passes in 2017 were thrown inside the red zone. He was the only NFL quarterback with at least 40 dropbacks to have 100 percent of his passing touchdowns came in the red zone. He was also one of three (Jay Cutler, Josh McCown) to have zero big-time throws in the red zone.
Green Bay Packers quarterback DeShone Kizer, who suited up with the Cleveland Browns a year ago, ranked last among qualifiers in adjusted completion percentage (48.7), passer rating (42.4), turnover-worthy play percentage (10.0) and offense grade (28.3) in the red zone in 2017.