It's not hyperbole to say that the Los Angeles Rams' offensive turnaround in 2017 was the single biggest in league history. They more than doubled their point total from 2016 going from 14.0 point per game that year (dead last in the league) to 29.9 this past season (most in the league). It was a miraculous change of fortune for a franchise that had been mired in mediocrity during the Jeff Fisher era.
The bulk of the credit has been heaped upon first-year head coach Sean McVay and his offensive genius. You've probably heard his system referred to as quarterback friendly although it's difficult to define exactly what that entails. As Chip Kelly once famously said "any system that's not QB friendly [is] probably a bad system."
The 2016 Rams offense was certainly the latter.
At PFF though, we like to quantify every aspect of football that we possibly can. When people talk about what makes McVay's scheme so special, this is what they mean. There are four key areas that McVay drastically turned around the Rams passing attack last season:
1. No huddle
2. Condensed formations/stacks/bunches
3. Play action
4. Screens

All four are weapons in a play-caller's arsenal that can be deployed in an advantageous way and all were more-or-less ignored in 2016. A balanced usage of each can leave defenses reeling for answers about what will come next.
The data is illuminating as to just how much of an impact McVay's changes had on the Rams offense.
No huddle
The no-huddle offense was non-existent under Fisher. QB Jared Goff and Case Keenum combined for 35 attempts in the no-huddle offense in 2016 – almost all of which came during end of game situations, when trailing. That number jumped to 103 attempts in 2017 despite having far fewer such situations while completing a record of 11-5. Nearly a quarter of Goff's 3,804 yards last year came without a huddle (850). That was the fourth most of any quarterback in the league. The reasoning for it is the same as why many college teams don't huddle. The quarterback-coach communication sytem doesn't cut off until there's 15 seconds left in the play clock. Goff was able to get checks and audibles from the booth and could be certain about their validity.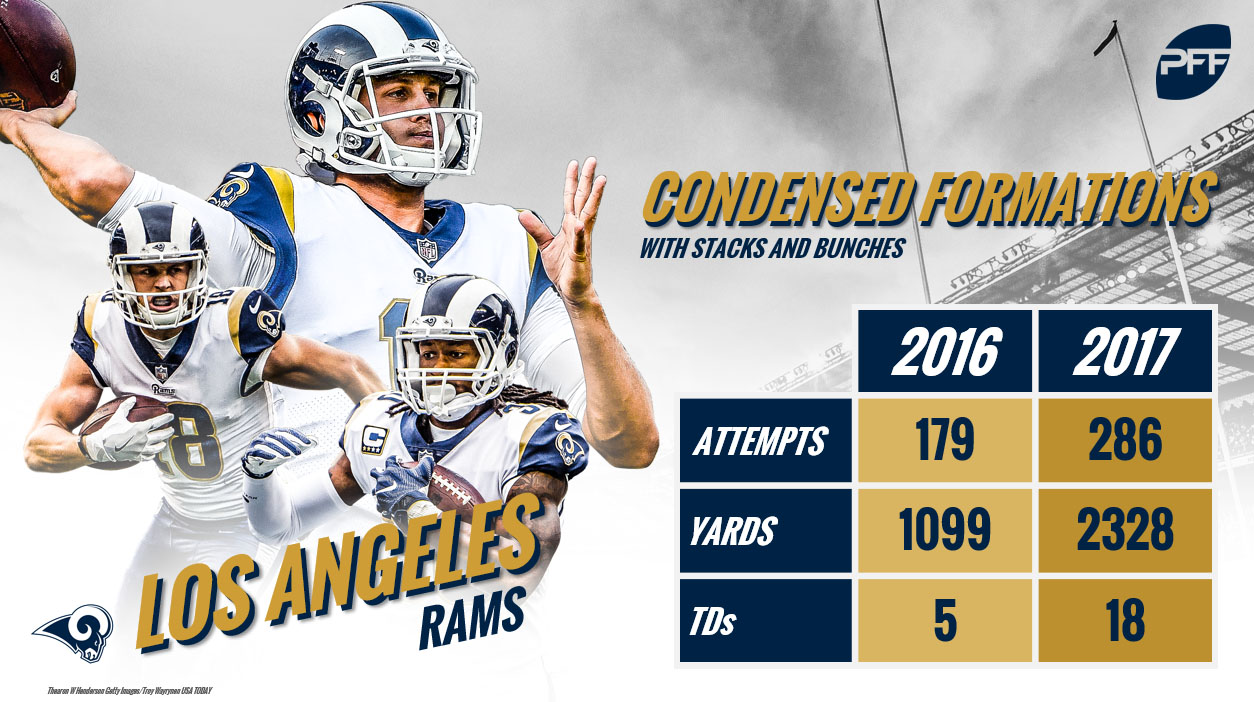 Subscribe to PFF Edge to continue reading
Already have a subscription? Sign In