Putting points on the board when working inside of the 20-yard line is paramount for offenses to have success, which is, of course, much easier said than done. Here, we preview the league's best tight ends at making things easier for offensive coordinators in the red zone.
[This is the continuation of a four-part series that will highlight the league's best at each skill position (WR, RB, TE) and quarterback from an offense grade standpoint in 2017.]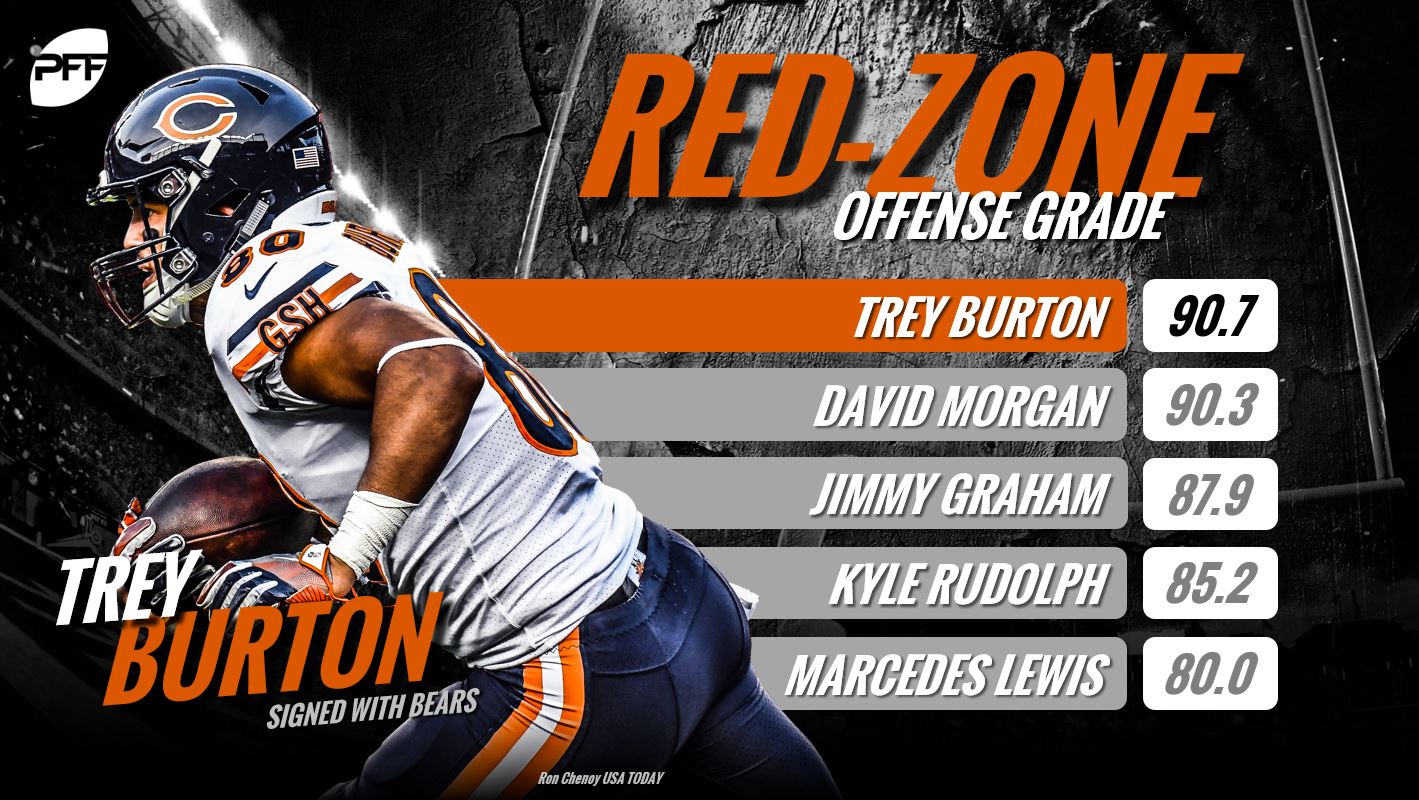 Five-year veteran tight end Trey Burton received 33 total targets in 2017, but he made the most of his opportunities, specifically in the red zone. The former undrafted Florida product caught six of his seven red-zone targets for 69 yards and four touchdowns. He also recorded zero drops and caught three of his four contested targets for touchdowns. Burton's receiving grade in the red zone (88.2) led all qualifying tight ends.
The former Eagle joined the Chicago Bears as a free agent this offseason, and now two preseason games into his Bears career, he is seemingly picking up right where he left off. Among tight ends with at least five preseason targets, Burton ranks fourth in offense grade (86.9), catching five of six targets for 50 yards and a score in the process. Surprising no one, his lone touchdown came on his only snap inside the red zone this preseason.
Minnesota Vikings' David Morgan isn't on this list for conventional reasons. Morgan blocked on 88 percent of his 75 offensive snaps in the red zone in 2017, hiding nearly all of his positive plays from the box score. He earned an 85.9 run-block grade across his 61 run-block snaps inside the 20-yard line, ranking second only to Pittsburgh Steelers' Vance McDonald.
Morgan's receiving grade (69.9) across seven receiving snaps in the red zone is inflated by one play, as he caught his lone target for a one-yard touchdown in 2017. He, of course, loses a lot of red-zone targets to his teammate Kyle Rudolph, who also makes an appearance on this list. 
Nine-year veteran Jimmy Graham isn't the same tight end that averaged 1,000-plus yards and 10 touchdowns per season across a four-year span in New Orleans, but the 6-foot-7, 265-pound matchup nightmare still proved quite lethal near the goal line a season ago. Behind Burton, Graham earned the second-highest receiving grade in the red zone (87.8), which nearly single-handedly pushed him to third on this list.
Graham led all NFL tight ends in total red-zone targets and receptions with 27 and 16, respectively. The result of his 16 red-zone snags were three first downs and 10 touchdowns with the latter metric also ranking first among all tight ends. Graham also caught nine of his 14 contested targets for seven touchdowns.
Entering the season at 31-years-old and now as a member of the Packers, Graham has lost some of the athleticism and speed that made him a household name in this league, but he's still athletic enough to win one-on-one situations where speed becomes less of a factor – the red zone.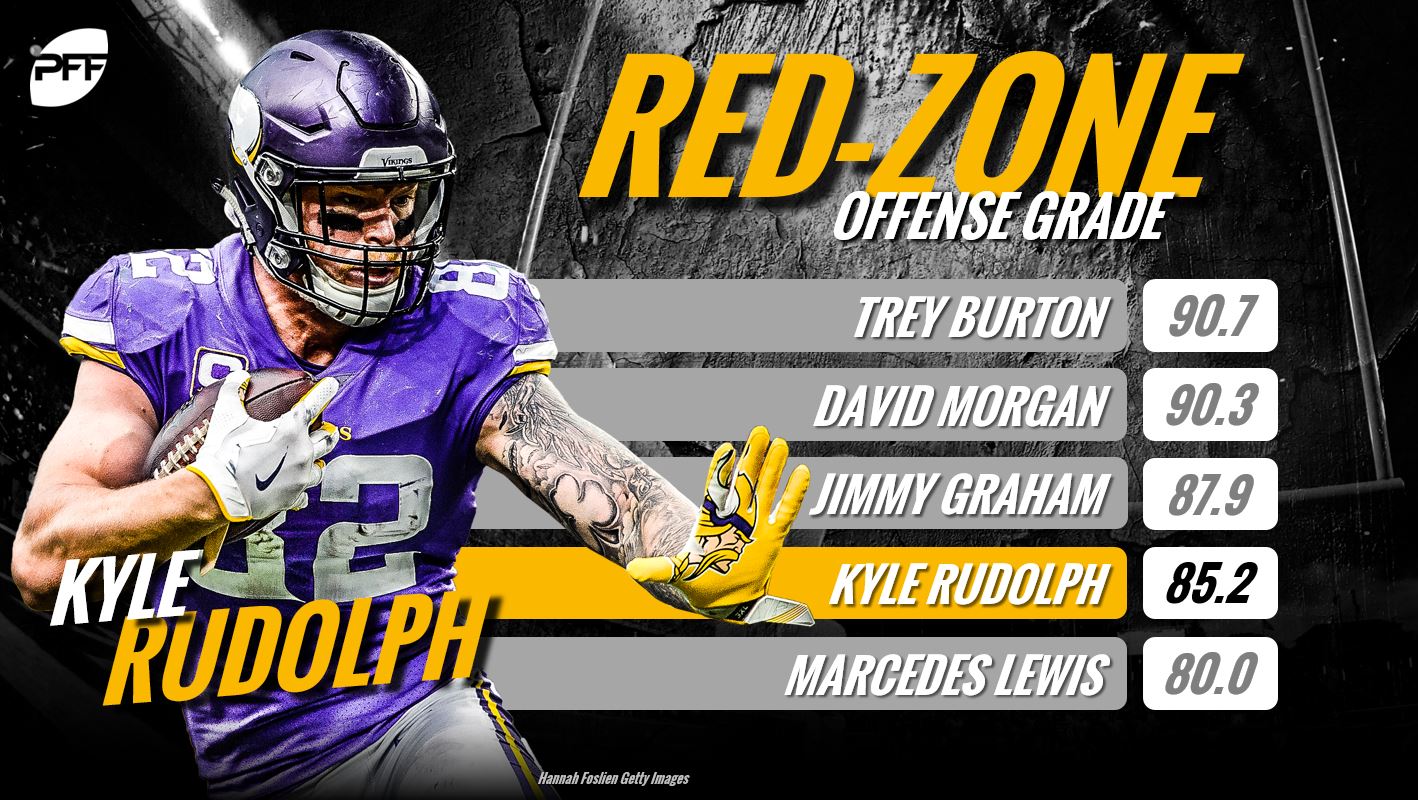 Though he falls second in line behind Morgan in terms of total red-zone offense grade, Vikings' Rudolph still puts points on the board. He caught 14-of-18 red-zone targets for seven touchdowns and three first downs en route to an 87.6 receiving grade, which ranked third among qualifying tight ends inside the red zone.
At 6-foot-6, 265 pounds, Rudolph scares away smaller linebackers and safeties, forcing defenses to call on their better defenders to go toe-to-toe with him inside of the red zone. If his health permits, he can have a repeat performance in 2018.
Marcedes Lewis, Green Bay Packers | Red-Zone Grade: 80.0
Veteran tight end Marcedes Lewis has recorded more than four touchdowns in a single season just twice in his 12-year NFL career, the first of which came in 2010 and the latter this past season. Lewis hauled in 24-of-49 targets for 318 yards and five touchdowns, with all of his touchdowns coming on targets inside the red zone.
Lewis' scoring frenzy inside the 20-yard line serves as the foundation of his fifth-ranked red-zone grade (80.0), while efficient play in pass protection and as a run-blocker gave him the final push. He earned a 78.9 pass-block grade across 11 pass-block snaps and tied for sixth in run-block grade (68.5) among qualifying tight ends inside the red zone.