We broke down the Offensive Rookie of the Year race yesterday. Now, we turn our attention to the defensive side of the ball. Remember, this is handicapping for the NFL's award, not necessarily the one we would hand out at PFF (as that would look precariously like our draft board).
[Editor's Note: To view all of Pro Football Focus' advanced stats and grades for draft-eligible players, check out our 2019 NFL Draft Guide. All EDGE and ELITE subscribers already have access to the guide, and for those who don't, you can get your copy for as low as $9.99!]
Here are the top candidates for Defensive Rookie of the Year: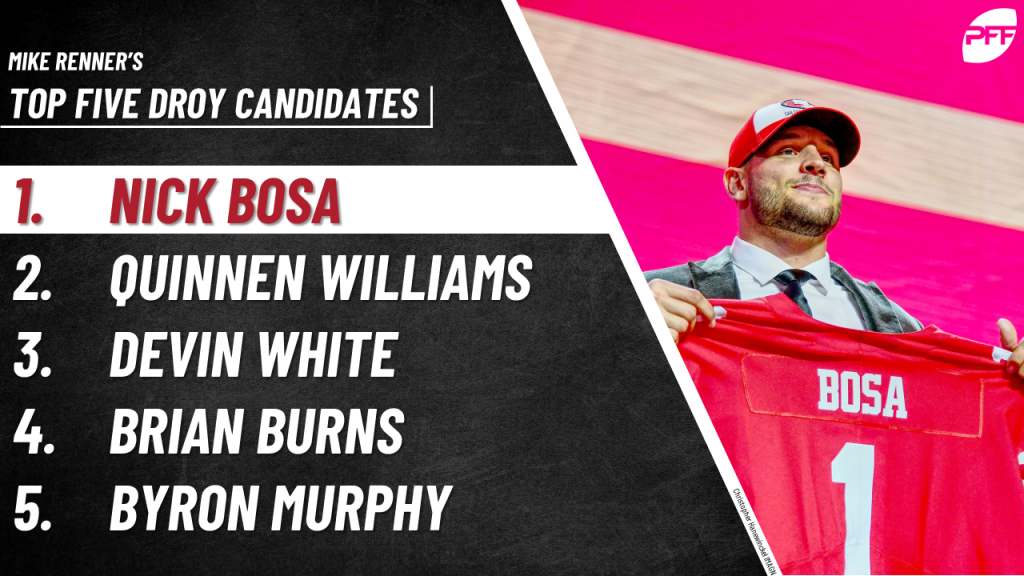 The top defensive player went to the perfect scheme fit in San Francisco and, with almost no depth at the position, he'll rarely be asked to come off the field. Add in the fact that older brother Joey had double-digit sacks in only 12 games as a rookie (you may have read they're a lot alike) and Nick is the clear front runner.  
While defensive tackles won't rack up huge raw numbers, I'd like to think we're past the day and age where that's all that matters in award races. Williams is on par with Bosa in terms of NFL-readiness.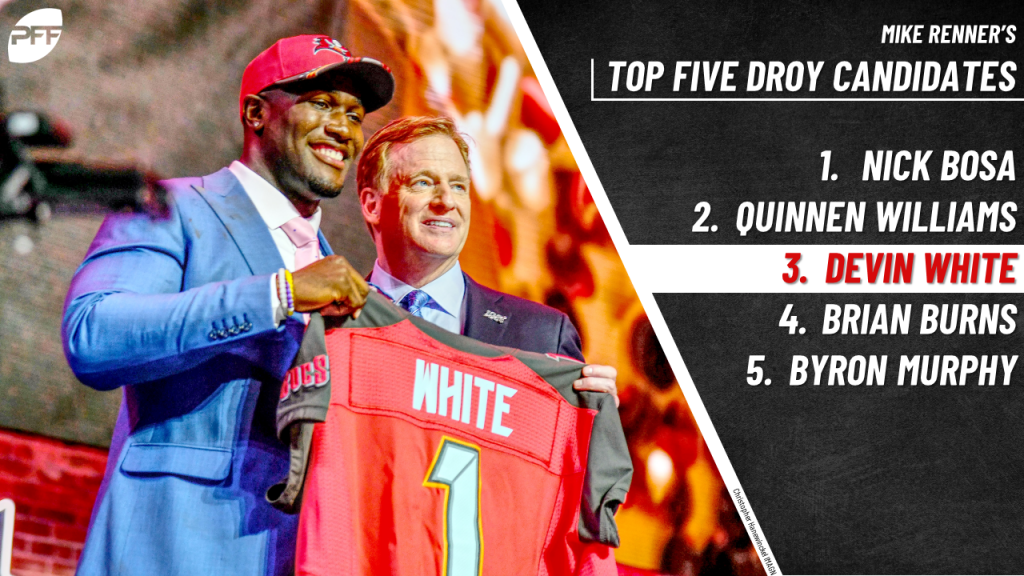 White was tailor-made to play linebacker in a Bruce Arians/Todd Bowles defense. The middle linebackers back in Arizona would regularly rush the passer 150-plus times, with Larry Foote even rushing 210 times back in 2014. White racked up 70 pressures on 188  rushes at LSU over the past couple of seasons.
With only Mario Addison, Bruce Irvin, and last year's fourth-rounder Marquis Haynes in the fold at defensive end, Burns' path to the field should be an easy one. Burns can not only pressure the quarterback (66 pressures last year), with his 4.53s 40 and absurd change of direction ability, he'll be a guy who converts those to sacks at a high level.
It remains to be seen how Vance Joseph will scheme up his back end, but for years the cornerback opposite Patrick Peterson has had one of the easiest jobs in football. If Peterson tracks number one receivers again, Murphy will be left with number twos and should theoretically have an easier job. Combine that with his ball skills, and it could lead to some nice interception numbers.
Inside linebacker is arguably the most valuable position in the Steelers' defense. They're asked to cover a ton of ground and limit YAC to keep offenses behind the chains. Bush played as the hole player in Michigan's man-heavy defense a lot in college, but he has exactly the sort of skillset to rack up a ton of stops in zone for the Steelers.
Adderley's ball skills were a thing of beauty at Delaware. He may not be the most sound free safety just yet, but he can pluck it out of the air with the best of them. Adderley racked up 11 interceptions over the last three years for the Blue Hens.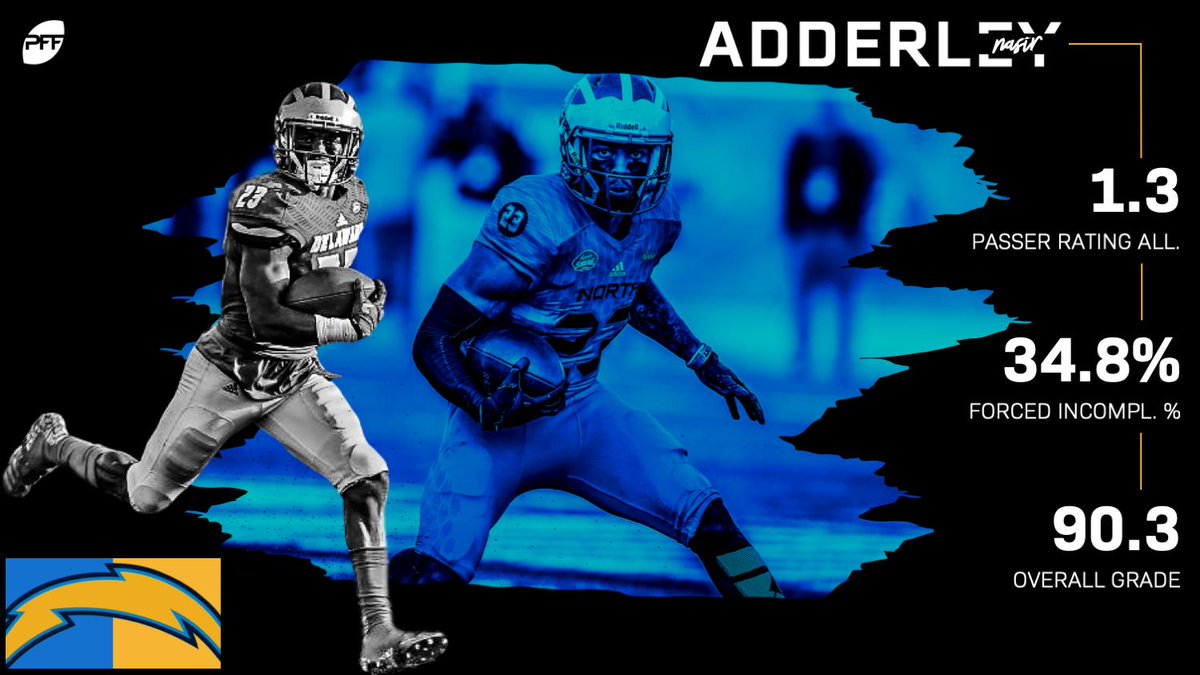 Savage was 1b to Adderley's 1a in our safety rankings. He's also a perfect fit as a middle-of-the-field safety in the Packers' defense. Savage's ball production will fit in nicely for Green Bay – he racked up 18 total interceptions and pass breakups over the past two seasons.
Allen may not have as easy a path to playing time as the defensive linemen above him on this list, but he'll be out on the field on money downs nonetheless. Allen was the highest-graded edge rusher in college football last season, and he was a sack specialist to boot. He racked up 17 sacks and five forced fumbles on 256 pass rushes.
The former cornerback is both freakishly athletic and freakishly productive. He not only notched 10 picks over the last two seasons at Virginia but also 16 pass breakups. Those are crazy numbers that if he comes close to replicating will put him in the rookie of the year conversation.