With rookies already suiting up with their respective franchises, it's time to handicap the Rookie of the Year races. Above all, situation matters most when coming into the NFL, and the guys below have been placed into a role where they should be able to make an impact right off the bat.
[Editor's Note: To view all of Pro Football Focus' advanced stats and grades for draft-eligible players, check out our 2019 NFL Draft Guide. All EDGE and ELITE subscribers already have access to the guide, and for those who don't, you can get your copy for as low as $9.99!]
Here are the top candidates for Offensive Rookie of the Year:
He was the number one quarterback on PFF's draft board, and he now has an unabated path to the starting job in Arizona with Josh Rosen out of the picture. Even if he doesn't translate immediately as a passer, Murray should put up enough numbers as a runner to be in the conversation.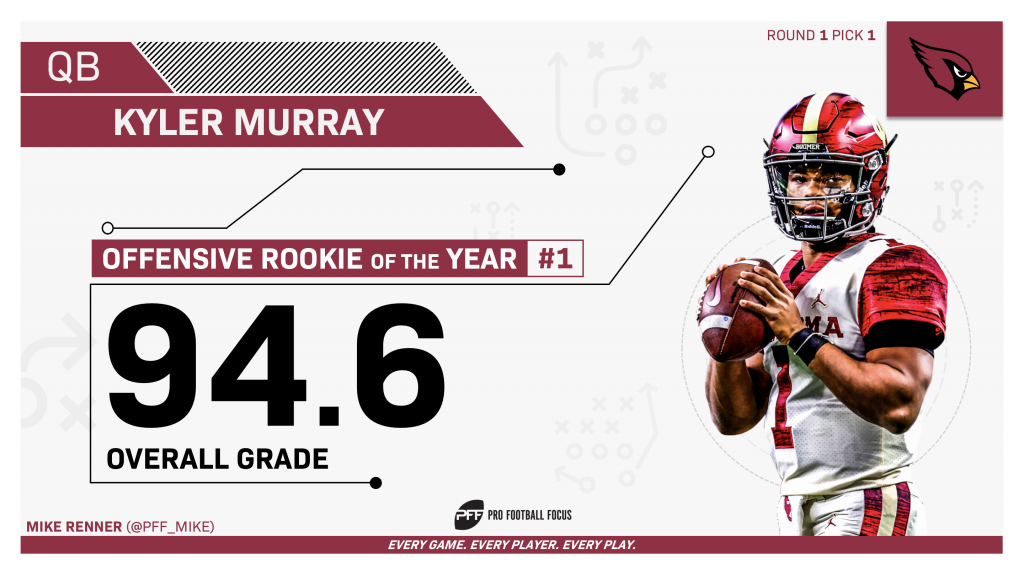 Running back production is incredibly dependent on the offensive line, and Sanders has that edge in a big way over Josh Jacobs. The Eagles' offensive line was ranked top 10 in the NFL last season in terms of run blocking, and they added tackle Andre Dillard in Round 1. Sanders wasn't too far a cry from last year's Rookie of the Year either, with an 83.1 rushing grade compared to Saquon Barkley's 84.1 in his last season at Penn State.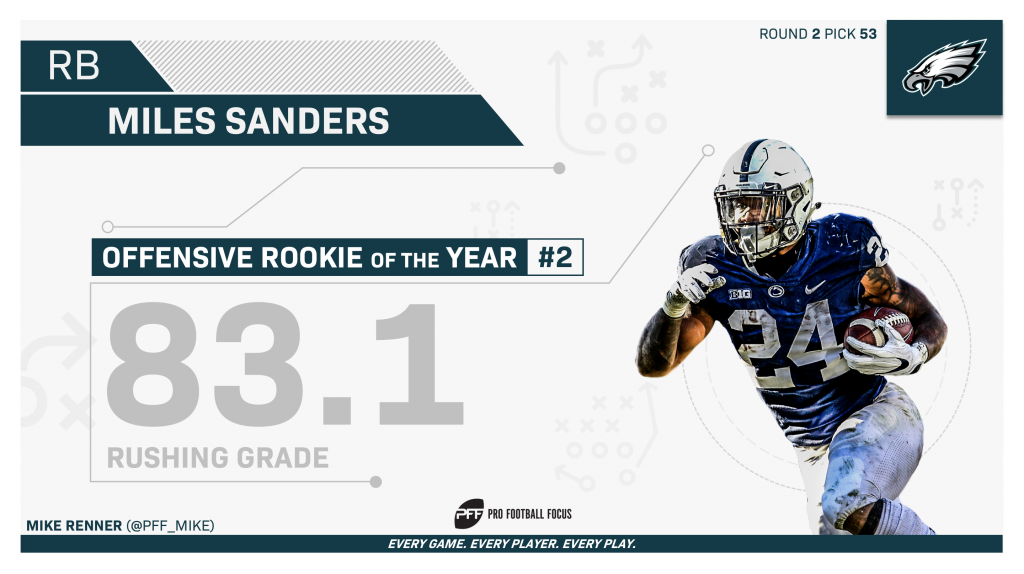 The do-it-all running back should be pumped carries and targets with little competition at the position in the Oakland offense. Where he'll likely shine is around the goal line. Jacobs had the highest percentage of carries that resulted in first downs or touchdowns of any running back in college football last season.
The track record of first-round quarterbacks riding the pine for entire seasons isn't particularly long. When he does see the field, he'll also have what pretty much every rookie quarterback who has hit the ground running in recent years has had: a competent offensive line.
Samuel's after the catch ability should see targets right away in screens and other favorable situations underneath. He broke 21 tackles on 62 catches this past season and 18 tackles on 59 catches in his previous healthy season of 2016.
One thing is for sure, if the Bears give Montgomery enough touches, he'll continue to be a broken tackle machine. Over the past two seasons, Montgomery has broken 185 tackles as a runner and 30 as a receiver.
There are a lot of mouths to feed in the Lions offense at the moment, but Hockenson is easily the most NFL-ready tight end of the class. Hockenson dropped all of two passes his entire college career and broke eight tackles on 49 catches in 2018.
Brown is another receiver who should get a good deal of schemed targets right away because of his YAC ability. Brown broke 40 tackles on 159 catches over the past two seasons at Ole Miss. The Titans don't have another receiver in the starting lineup that can replicate that sort of production.
Not the next receiver you were expecting? Johnson goes to a Steelers club that heaved the ball all over the yard last season – Ben Roethlisberger's 675 passing attempts were 36 more than any quarterback in the NFL. A whopping 164 of those targets are up for grabs with the departure of Antonio Brown. Now Johnson won't replace Brown's production, but he should replace his role within the offense with a very similar skill set.
The Aaron Rodgers–Jimmy Graham connection never materialized last season in Green Bay. With no established number two after Davante Adams, there are a ton of targets up for grabs in the offense. Sternberger had seven more big-time catches than any other tight end in college football last season.