The first full week of the regular season has come and gone, bringing with it several standout performances from rookies and veterans alike. There were some upsets, and there were some surprises performances, but there were also some severe injuries that could make a real difference to the result of the season.

PFF's Press Pass for Week 2 takes you deeper into the intriguing matchups for every game during the second week of the regular season. Building on our features from Week 1, here are the budding storylines for all 16 games on the slate this week:
Sunday 16th September
Another tough task for rookie Denzel Ward
Rookie cornerback Denzel Ward is coming off the highest Week 1 game grade (86.4) by a rookie cornerback since Jason Verrett (89.2) back in 2014, and that is all while beginning his career opposite a perennial "elite" wide receiver in Antonio Brown. Brown was targeted seven times while being covered by the rookie in Week 1, and Ward was able to earn a positive coverage grade on three of those targets, which is tied for the second-most by any cornerback covering Brown since Week 1 of last season, behind only William Jackson's unbelievable six. The standout rookie's 86.4 coverage grade will be put to the test again with a matchup against two fellow former Buckeyes in Michael Thomas and Ted Ginn Jr. on the horizon. The duo combined for 21 receptions on 23 targets for 248 yards and two touchdowns in the shootout last week against the Buccaneers.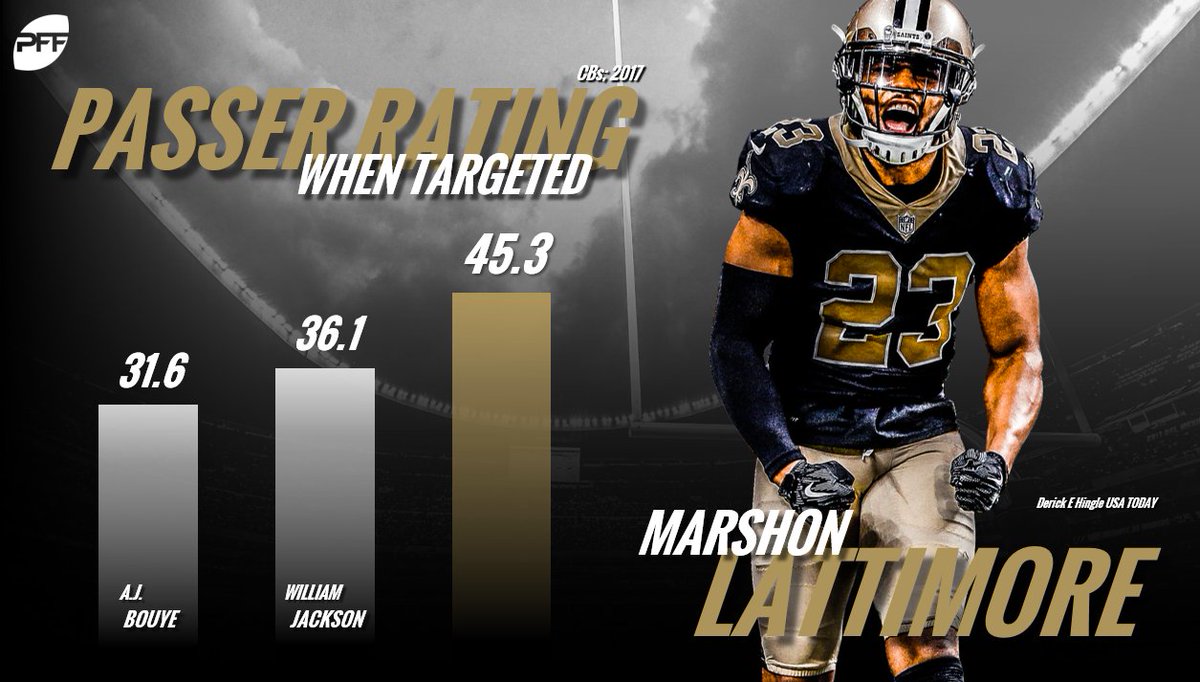 Marshon Lattimore's first taste of adversity
The Saints' 2017 rookie class was the talk of the league last season as it included the offensive and defensive rookie of the year winners, running back Alvin Kamara and cornerback Marshon Lattimore. However, Lattimore would probably like to leave Week 1 in the past, as he earned the lowest game grade of his career (44.8) while shadowing Mike Evans on 82.8 percent of his routes run. Last week, the former Buckeye allowed his first touchdown and yielded his second 100-yard receiving game to a wide receiver, along with allowing passer rating of 149.3. With the Browns on the horizon, Lattimore will go from the highest-graded passer of Week 1 (Ryan Fitzpatrick, 96.6) to the second-lowest-graded passer of Week 1 in Tyrod Taylor (42.9). Lattimore will look to return to his 2017 form where he allowed a mere 45.3 passer rating in coverage, the third-lowest in the league.
The Nick Foles roller coaster ride continues
As Carson Wentz continues to sit out and rehab the torn ACL that he suffered last season, Nick Foles will remain the starting quarterback for the Philadelphia Eagles in their Week 2 matchup with the Tampa Bay Buccaneers. Foles has been at both extremes of our PFF grading scale in his recent stint with the Eagles. After replacing Wentz in Week 14, Foles struggled in weeks 15 through the divisional playoff matchup with the Atlanta Falcons, receiving an overall grade of 45.3 over those four games. As everyone knows, though, he turned it around and put together an excellent performance in the NFC Championship and Super Bowl, receiving an overall grade of 95.3 over those two weeks. What was the difference? His deep passing improved dramatically over the final two games. In Week 15 through the divisional playoffs, Foles went just 1 for 13 on passes 20 or more yards downfield for a passer rating of 7.5. In the NFC Championship and Super Bowl, Foles went 8 for 12 on deep attempts with four of those going for touchdowns. Unfortunately for Eagles fans, that version of Foles did not return in Week 1 against the Falcons, as Foles received a game grade of 55.6 and did not connect on any of his five deep attempts. He will look to get the deep ball going this week against a Buccaneers defense that just lost starting cornerback Vernon Hargreaves.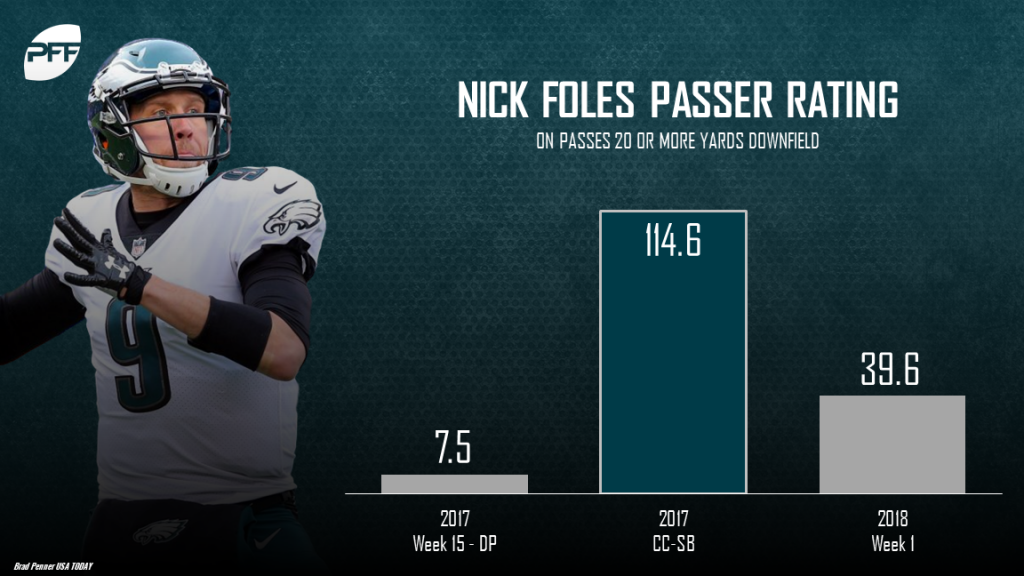 An early challenge for the Buccaneers' passing game
The Tampa Bay Buccaneers stormed into the 2018 NFL season and rolled over a New Orleans Saints defense which was widely expected to be excellent after they posted an 84.1 team defense grade in 2017, 11th-best in the NFL. DeSean Jackson and Mike Evans were the primary beneficiaries, posting overall grades of 94.8 and 91.9 respectively, while Ryan Fitzpatrick paced the league among quarterbacks with a 96.1 overall grade. DeSean Jackson might miss the Week 2 matchup with the Philadelphia Eagles, so Chris Godwin is likely to see increased usage in his absence, as will tight ends O.J. Howard and Cameron Brate. Continued offensive execution could be necessary for a win, as the Bucs posted a 55.5 overall grade defensively, 30th of 32 teams.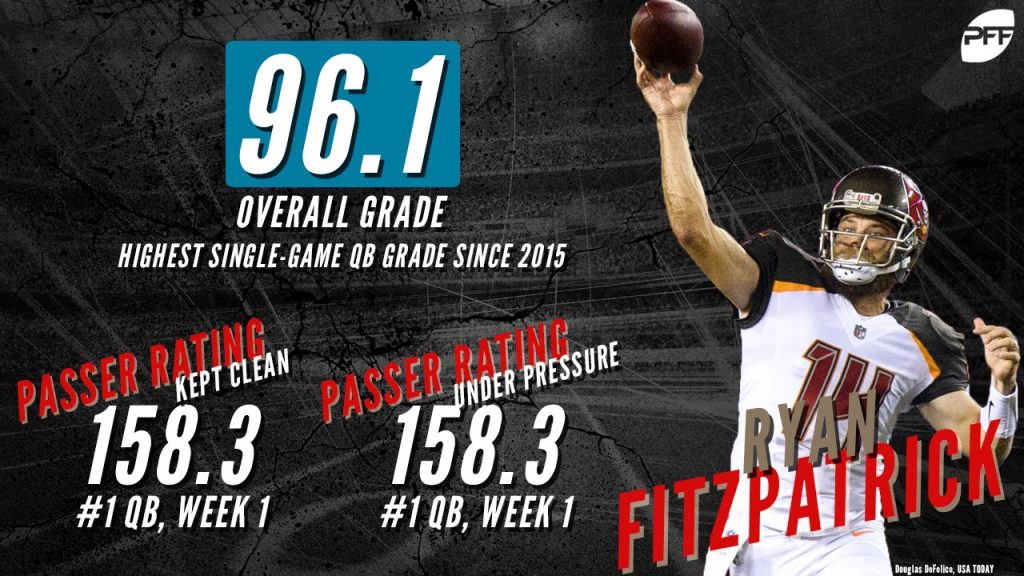 Andrew Luck is just warming up
When Indianapolis Colts quarterback Andrew Luck was picked off on his first drive in return from a lengthy shoulder injury, many were quick to say he wasn't the same quarterback who posted a 90.4 grade in 2016. From then on after the interception, Luck was just stellar. He earned an 82.3 overall grade — sixth among quarterbacks — and also finished sixth in adjusted completion percentage at 82 percent. However, Luck understandably wavered under pressure, posting just a 25.7 passer rating on his pressured plays. Aside from getting used to performing under duress, Luck will also need to get back to his deep-throwing ways. In 2016, 13.6 percent of his throws were 20 or more yards downfield, but in Week 1, only 5.7 percent of his attempts were thrown 20 yards or more — third fewest among quarterbacks. Just as Luck got more comfortable after his interception, he'll want to show his Week 1 performance is merely the beginning of his road back to glory. He'll get a good test when he faces a Washington Redskins secondary that shut down the Arizona Cardinals' offensive weapons.
Effectiveness through efficiency
The Washington Redskins' win over the Arizona Cardinals wasn't flashy, but it was refreshingly efficient. Their defense is loaded, and it showed in the secondary as no cornerback allowed a passer rating higher than 45.0. Combine that with quarterback Alex Smith's adjusted completion percentage of 80.8 percent (7th among quarterbacks), and the Redskins secured their first season-opening win under Jay Gruden. But there's no reason to stop there — a team that can perform as cleanly as the Redskins can compete with anyone in the league. Their next task is to hinder Indianapolis Colts quarterback Andrew Luck. The best way to do that is through the pass-rush, as Luck posted just a 25.7 passer rating under pressure last week. 
Remaining competitive up front
Miami finished the first week of the season ranked fifth in the NFL with a 73.1 overall grade on offense. While wide receiver Kenny Stills was the star on against the Titans (caught four of five targets for 106 yards and two scores), first-round draft pick Minkah Fitzpatrick earned the highest grade on the team (75.6) playing in 44 of the team's 69 defensive snaps. Heading into New York for a Week 2 matchup with the Jets, Miami will be looking to control the pace on offense once again at the line of scrimmage. In week one, Miami's offensive line ranked seventh in the league in overall run-blocking grade and ninth in overall pass blocking. If the 'Fins stay competitive at the point of attack as they did against an impressive bunch in Tennessee, there's no reason that quarterback Ryan Tannehill (11th in league in adjusted completion percentage after Week 1) and running back Kenyan Drake (46 snaps in week one on 62 possible plays) shouldn't produce impressive results.
The Sam Darnold Era begins with a primetime bang
The Sam Darnold era began with an image Jets fans are all too familiar with; their quarterback threw an ill-advised pass, the defense picked it off and returned the interception for a touchdown. "Here we go again" cried Jets fans everywhere. But Darnold proved to be resilient after his early miscue, tossing darts all over the field to dismantle the Lions secondary, and leading the Jets to a colossal primetime victory. Darnold was brilliant when passing from a clean pocket with an 88.2 percent adjusted completion percentage (5th among all quarterbacks) and a 123.4 passer rating (8th).  Quick passes were Darnold's bread and butter as he compiled an astounding 142.2 passer rating on throws in 2.5 seconds or less from snap to attempt. Throughout the victory, Darnold demonstrated a strong rapport with receiver Quincy Enunwa, targeting him on a staggering 9/20 routes run for a stellar 123.8 passer rating and 3.15 yards per route run (11th among all receivers). The Dolphins 25th ranked pass coverage unit is next on the schedule as Darnold looks to build on an auspicious debut.
Texans could look to RPO's to get Watson going
After his rookie season was cut short, Deshaun Watson's long-anticipated return didn't go as planned. On 42 dropbacks, Watson recorded a passing grade of 62.5 that ranked 21st among signal-callers. One area in the passing game where Watson did make a big impact for the Texans was on RPO's. This past Sunday, Watson went 3-of-3 on RPO passes for 31 yards and his passing grade of 90.8 on those throws was far and away tops among quarterbacks in week one. Against the Dolphins in Week 1, the Titans had to defend four RPO pass attempts. Ryan Tannehill completed all of them for 28 yards. With two of Watson's RPO attempts coming on first down last week, the Texans could resort to that more this Sunday as they look to recapture the potent offense they had with Watson at the helm in 2017.
In Walker's absence, Smith has a chance to shine
After losing Delanie Walker to a gruesome injury, the next man up at tight end for the Titans is Jonnu Smith. Last year as a rookie, Smith played 591 offensive snaps and finished with an overall grade of 53.6 that ranked 48th among tight ends. Over that same period, he averaged 1.03 yards per route run compared to the 1.83 Walker had. While he didn't get to show it much as a rookie, Smith at Florida International had 0.31 missed tackles forced per reception; a figure that was second among all college tight ends with 75-plus receptions from 2014-17. With Walker set to be 35 at the start of the 2019 season and the unfortunate nature of the beast, a strong showing from Smith could lead to him being the Titans top option at the position for the foreseeable future.
Vikings boast intimidating defensive interior
After a one year stint with the Seattle Seahawks, interior defensive lineman Sheldon Richardson is fitting right into what was already an impressive defensive front with the Minnesota Vikings. Richardson had seven total quarterback pressures last week, tied for the most by an interior defender in Week 1. Fellow interior lineman Linval Joseph was also a force on the inside last week, totaling four defensive stops, also tied for the most by an interior defender in Week 1. Richardson and Joseph finished with two of the top four grades for all interior defenders last week, with 89.8 and 90.8 overall grades, respectively. The dynamic duo will look to keep things rolling against the Packers in Week 2.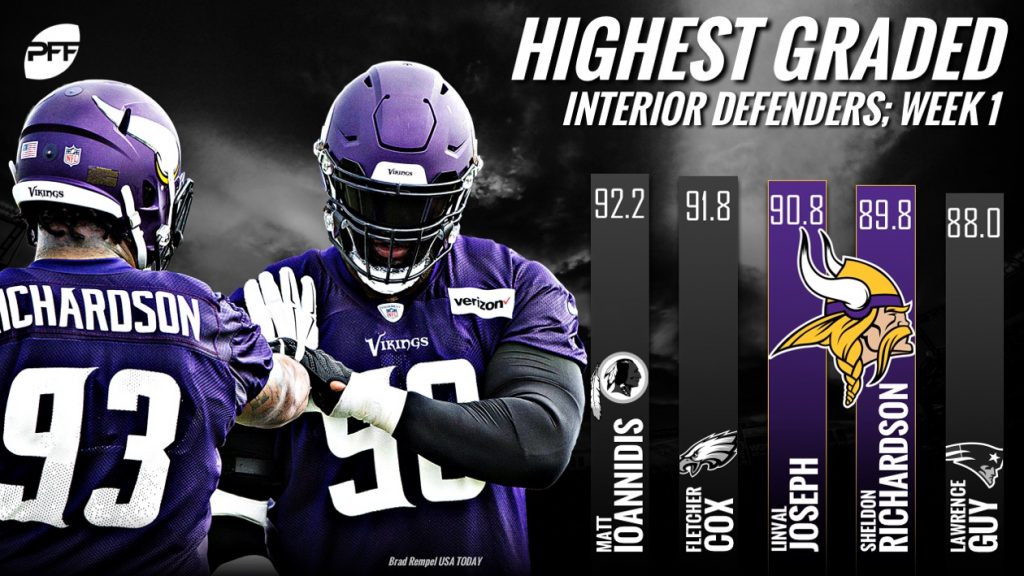 The legend continues
Week 1's thrilling comeback victory was just par for the course for Packers quarterback Aaron Rodgers. After going down with a knee injury that eventually took him to the team's locker room, quarterback Aaron Rodgers then returned to the game and orchestrated an awestriking fourth-quarter comeback, in which he completed 9-of-12 pass attempts for a staggering 212 passing yards and three touchdowns. As good as Rodgers was,  his injured knee was clearly causing him some discomfort, and that injury could very well keep him from seeing the field in Week 2. If Rodgers is ruled out, Packers fans will get their first look at backup quarterback Deshone Kizer, who struggled with accuracy this preseason and managed an adjusted completion percentage of just 57.1 percent, which ranked last out of 77 qualifying players at the position.
The Cam and Christian show continues
The Cam & Christian show pushes into Week 2, looking to stake an early claim to NFC South supremacy and a 2-0 record.  Cam Newton was solid in Week 1 through the air (72.3 passing grade) while being pressured on 35.5% of his drop-backs, but was his usual tough-to-bring-down self in the run game – forcing four missed tackles, averaging 4.54 yards after contact per attempt, and having three runs over 10 yards.  McCaffrey averaged five yards per attempt (and 2.6 yards after contact per attempt) but was at his best in the passing game (87.3 receiving grade) – catching six of nine targets and gaining 46 yards after the catch.  Expect more of this on Sunday in Atlanta, mainly because Falcons linebacker Deion Jones is unable to play due to injury. Also on the injury front, the Panthers must now also deal with the loss of two key contributors, tight Greg Olsen (76.0 overall grade) and right Daryl Williams (64.9 overall grade), who are both out indefinitely.
Falcons look to rebound
Outside of Julio Jones being his usual dominant self (90.3 overall grade), not much went right for the Falcons in Week 1, as they basically started their season precisely as the last one ended.  To add injury to insult, safety Keanu Neal was lost for the season with a knee injury, and they just found out fellow young star Deion Jones (90.3 overall grade) is also out indefinitely with a foot injury. Offensively, we highlighted their red zone woes, but, overall, Matt Ryan is going to need more time and protection.  Ryan was pressured on 38.8% of his drop-backs in Week 1 and finished with a disappointing passer rating of just 38.8 on those dropbacks. Ordinarily solid right tackle Ryan Schraeder allowed nine total QB pressures in Week 1 after only allowing 20 in 967 snaps in 2017.
Can the Chargers protect Philip Rivers?
The Chargers offensive line finished with the NFL's fourth-lowest pass blocking grade in 2017 and it could very well get worse now the team has lost starting right tackle Joe Barksdale to injury.  Last week, Second-year guard Dan Feeney was oft victimized by Chiefs interior defensive lineman Chris Jones, allowing six pressures and a sack in the game, while Barksdale's replacement Sam Tevi also allowed six pressures throughout the game. Despite this, quarterback Philip Rivers still responded with 424 yards passing over his 52 dropbacks. The veteran impressively posted an NFL Rating of 126.6 when under pressure, third-best after Ryan Fitzpatrick and Ryan Tannehill. He instinctively got rid of the ball quickly (averaging 2.32 seconds) and often targeted his running backs Melvin Gordon III (12 targets) and Austin Ekeler (5) throughout the game.
All eyes on Josh Allen
The Bills have announced that Josh Allen will be starting in Week 2, so the rookie quarterback will be thrown right into the fire in his opening NFL season. Allen had an up and down preseason, finishing with an overall grade of 65.1, which ranked tied 61st out of 95 qualified quarterbacks. In limited action in Week 1, Allen struggled under pressure, completing only two of seven passes for 38 yards, and a passer rating of 49.7. Rookie quarterbacks usually find themselves being blitzed early in their first NFL action, so keep an eye on how Allen responds to that.
Don't forget the trenches
Get excited. Patrick Mahomes finished Week 1 with the fourth-highest overall grade among quarterbacks at 83.8. His 9.5 yards per attempt was tied with Aaron Rodgers for third-most, his three deep completions (20 yards or more downfield) trailed only Ryan Fitzpatrick. You can quickly surmise how potentially explosive this offense can be, and we haven't even begun to mention Tyreek Hill and his league-high 93.9 receiving grade. However, keep your eyes on the trenches this week as Cam Erving matches up against Cameron Heyward, who is coming off a dominant 2017 season. The Steelers had seven total sacks last week against the Cleveland Browns, tied for the most in Week 1. The Chiefs allowed only one last week.
Home sweet home
Let's be honest; if you're a Steelers fan you feel like you're coming off a Week 1 loss. Here's the good news: James Conner may not be Le'Veon Bell, but he showed that he was more than capable of filling the role. Among 31 running backs with at least ten rushing attempts last week, Conner finished fifth with a run grade of 69.4. Antonio Brown and JuJu Smith-Schuster look more of the same, finishing 18th (74.0 overall grade) and 21st (72.8) among 116 qualifying wide receivers, respectively. After Kendall Fuller, the Chief's cornerback group takes an obvious hit, with Steven Nelson (2017 overall grade of 69.6) and Orlando Scandrick (55.3) manning the outside. While there may be cause for concern that Ben Roethlisberger may finally be heading downhill after years of dominance, it's worth noting that he's facing a defense that missed a total of 15 tackles (second most) last week. Pencil in Big Ben for an obvious bounce back week.
Plenty of targets for David Johnson
In their first game of the season against Washington, the Cardinals targeted running back David Johnson eight times. The Cardinals would be wise to increase Johnson's targets against the Los Angeles Rams in Week 2, as the Rams allowed the Raiders running backs to catch 13 of their 15 targets on Monday night. Johnson last faced the Rams in the season finale in 2016 and earned his second highest receiving grade ever in the NFL (90.7) and his highest graded game overall (80.0).  
Rams wide receiver distribution
Rams' quarterback Jared Goff has three excellent wide receivers to throw to in Robert Woods, Cooper Kupp, and newly acquired Brandin Cooks. Cooks is among the league's top deep threats and while it did not show up in the box score, Cooks' presence was felt on offense as he racked up 87 receiving yards in Week 1. Woods often lines up on the outside opposite of Cooks, and he is also a reliable downfield threat as he drew three targets on passes of 20 or more yards downfield last week. Kupp is known for his ability in the slot and was able to haul in five catches for 52 receiving yards and a touchdown from the slot in Week 1. Goff had a near even target distribution last week as Cooks saw eight targets, while Woods and Kupp both had nine. It will be interesting to see if the even distribution trend continues against the Cardinals, due to the fact that the Rams will be going up against all-pro cornerback Patrick Peterson. 
Young weapons ready to contribute
The Lions' faced a tough loss to the Jets in their season opener, but there is a glimmer of hope on the horizon. Kenny Golladay played more snaps in that game than any game last season, and rookie running back Kerryon Johnson made his NFL debut. Both players showed promise for the road ahead. Golladay hauled in seven catches on 11 targets for a total of 114 yards, earning him a grade of 75.9 – the second-highest grade of any offensive player for the Lions. The second-year receiver also averaged 16.3 yards per reception, 2.19 yards per route run and racked up 49 yards after the catch. Kerryon Johnson also made the most of his limited opportunities, turning just three targets and five rushing attempts into 20 yards receiving and 17 yards rushing. Johnson had the highest overall grade (71.9) of any running back on the team and posted the highest receiving grade (81.9) of any player for the Lions. His 3.4 yards per attempt appears to be nothing to write home about, yet upon closer inspection, you would find that Johnson was hit at or behind the line of scrimmage on three of his five carries and was given an abysmal 0.2 yards before contact per carry, which makes his 3.2 yards after contact per attempt even more impressive. His ability to be a weapon in the passing game as well as a physical runner on the ground gives all the more reason for the rookie to see an increase in opportunities in the coming weeks.
Jimmy G poised to rebound
After an offseason surrounded by a lot of hype, San Francisco 49ers quarterback Jimmy Garoppolo underwhelmed in his Week 1 performance against the Minnesota Vikings. Finishing with a 65.2 grade, Garoppolo ended up with a 45.5 completion percentage and three interceptions to his one touchdown. While this may be a poor performance, it does not warrant an overreaction about his ability as a franchise quarterback, and some leniency can be given in the fact that he was playing a pretty good Vikings defense. Still, with all the money the 49er's invested in Garoppolo, it will be essential to see if he bounces back from last week's performance when he faces off against a defense that struggled mightily in their  Week 1 contest against the Jets. All in all, the important storyline for this game will be Garoppolo's response to Week 1, and if he can get the 49's to a 1-1 record.
Raiders struggle to generate pressure without Mack
One of the biggest stories of the Raiders season is and probably will continue to be the departure of Khalil Mack. The effects of not having Mack showed in the very first game, as Oakland's edge defenders generated only four pressures in the opening week. Mack had six total pressures by himself, including one sack, a forced fumble, an interception, a touchdown, and the league's highest overall grade among edge defenders (93.3) for the week. Not a single Oakland edge defender was able to put up an overall grade higher than 65.0 against the Rams. The Raiders hung around with the Rams for the first half, but their lack of talent on the defensive side of the ball started to show as the game went on. If pressuring the quarterback is something that the Raiders value, they'll likely have to do it with creativity rather than sheer talent.
Freeman and Lindsay forming Broncos' new-look backfield
The Denver Broncos seem to be taking a running back-by-committee approach to the run game this season. Last week, Phillip Lindsay and Royce Freeman each earned 15 carries for 71 yards. The odd man out seems to be Devontae Booker, as he played 19 of 74 snaps on Sunday against the Seattle Seahawks but was only given two rushing attempts. Denver splitting carries among multiple backs is a foreign concept since C.J. Anderson played 170 more snaps than any Bronco running back last season.
Gronk as dominant as ever
Premier tight end Rob Gronkowski had a vintage showing in Week 1 against the Texans. Matched up against a variety of Houston defenders, simply put, none of them could meet the physical challenge of keeping Gronk away from the ball. The All-Pro tight end could be in for a more challenging afternoon this Sunday in Jacksonville. Gronkowski will still see waves of defenders as he did in Week 1, but Jacksonville has the athletes to control his playmaking ability. Last January, the Jaguars held Gronkowski to one reception for 21 yards and his second-lowest overall grade of the season at 54.2 before a hit to the helmet ended his day. 
Hayden stepping up in the slot
The career of cornerback D.J. Hayden has been somewhat disappointing so far, however, playing the slot for the Jaguars, he seems to have found a home. Against the Giants, he was able to be active in short zones and play more to his strengths. Hayden led all defenders with an overall grade of 85.5 in his first action with the Jaguars, and he produced an elite grade of 90.3 in coverage. The former 2013 first-round selection finished the day allowing three catches for only 12 yards on 24 snaps in slot coverage. Hayden's role will be highlighted this week against New England, as quarterback Tom Brady tends to target slot receivers and running backs early and often. Last year, during the AFC Championship game against the Jags, Brady targeted slot receivers or running backs on 23-of-38 attempts.
Barkley's NFL career is off to a good start
After being drafted 2nd overall by the Giants, Saquon Barkley was immediately touted as an offensive rookie of the year candidate. In his NFL debut, Barley did his best to show what the hype was all about by breaking an electrifying 68-yard run for a touchdown. Barkley's rushing performance was reminiscent of Kareem Hunt's 2017 debut in many ways. Barkley ended the weekend first in breakaway percentage (64.2%), second in yards after contact per attempt (5.28), and fourth in elusive rating (131.9) among 44 RBs with at least 6 attempts, while Hunt finished 11th (39.2), second (4.00), and third (145.5), respectively, in 2017. However, as impressive as he was in the running game, Barkley somewhat struggled in the passing game, catching just two of six targets for 22 yards. Look for the Giants to get Barkley much more involved in the passing game this week.
A WR rotation in Dallas
What's a team to do lacking a clear-cut WR1? The Cowboys' answer in week 1 was to run the heaviest wide receiver rotation in the league, as the Cowboys had a league-high six wideouts play at least 10 offensive snaps during the first week of the season. You could mostly tell who was on the field based on the personnel package they were in. In Base offense and personnel packages like '12' and '21', players like Deonte Thompson, Terrance Williams and the rookie Michael Gallup were often featured, whereas Cole Beasley and Allen Hurns have almost exclusively lined up in 3 WR sets. Beasley led the way with eight targets on 43 snaps against Carolina, and looks like the guy who Dak Prescott will lean on the most during these first few weeks of the season.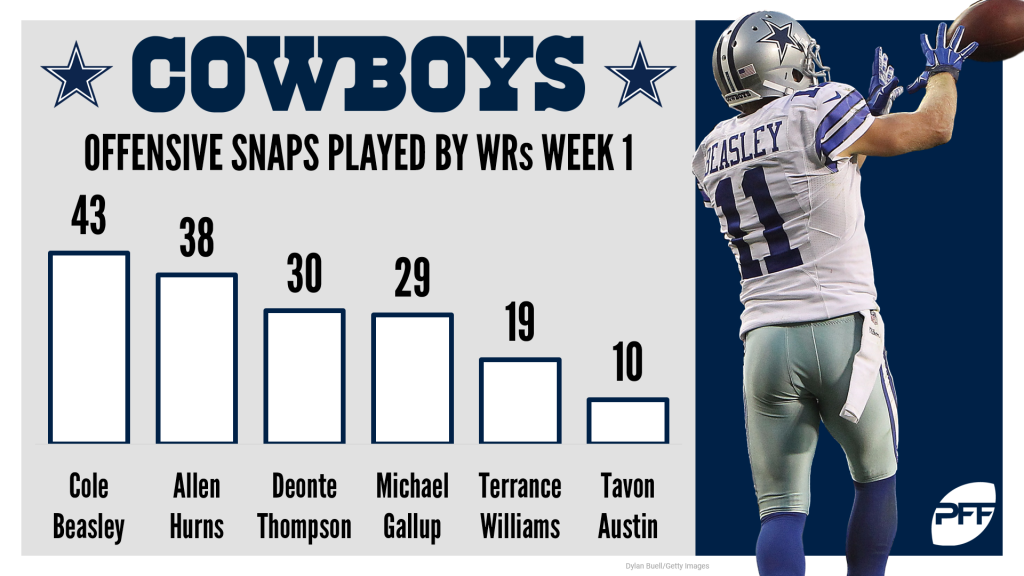 Monday 17th September
Getting Trubisky Going
The Bears will need to have a short memory come Monday night after a tough loss against the Packers. While Week 1 saw many positives, one big area for improvement is the passing game, where Mitchell Trubisky struggled to push the ball down the field averaging only 4.9 yards per attempt and connecting on just 33.3% of his deep passes. One remedy Trubisky can utilize against the Seahawks is his new wide receiver, Allen Robinson II. Robinson is not far removed from a 2015 campaign where he led the league in receiving yards (672) on deep passes and could help Trubisky get on track.
Baldwin out for Seattle
With Doug Baldwin expected to be out because of a knee injury, the Seahawks will need their other pass-catchers to fill his shoes against the Bears. This will be no easy task, however, as Baldwin has averaged an overall grade of 86.2 over the past three seasons. Brandon Marshall, Tyler Lockett, and Will Dissly all showed big-play ability in Week 1 and should get plenty of chances to make an impact Monday night. Against the Broncos last week, Marshall and Lockett both caught a deep pass for a touchdown, while Dissly finished sixth amongst all wide receivers and tight ends in the league in yards per route run at 5.25.