As we got the 'Brockenning' out of our system last night, we head into Week 8 of the NFL season. Our model doesn't like any over/unders as of Thursday and likes fewer total sides than normal. Therefore, we're going to go with three games this week, each featuring teams in the thick of the playoff race after seven weeks.  
Our models rely heavily on our PFF ELO rating system for the NFL, along with game information like where the game is played, how far a team has to travel, etc. We also fold in opponent-adjusted PFF grades into our machine learning algorithm to factor in roster changes and possible asymmetric mismatches that can occur through the course of a game.
With our slow start to 2018, we are now 16-11-1 on our "Lock of the Week" picks since the start of 2017 (59.3%), with five win totals still pending. Our lock will be featured on the Sports Illustrated Gambling Show with our pick (visit PFF Greenline to see this week's pick). The analyses here will involve a point-counterpoint between the two of us for all five picks, using perspectives that only the PFF grades and data can provide. Follow us on Twitter at @PFF_Eric and @PFF_George, and for some podcast commentary on some of these picks, and the process that goes into them, give the PFF Forecast a listen. We will have a special Monday morning podcast each week with look ahead lines for the upcoming week.
Prediction: Ravens 24-23 (Panthers cover)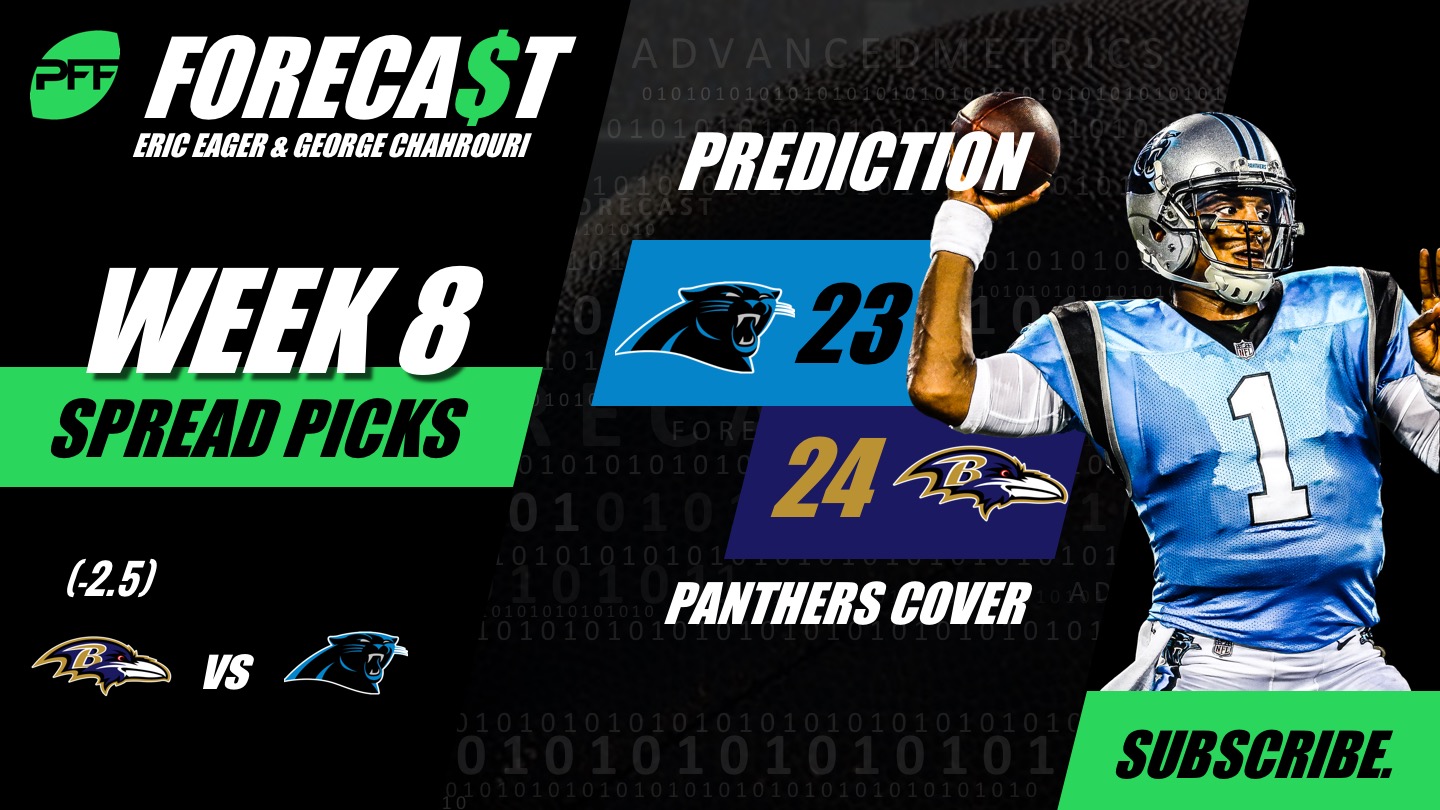 Point (Eric Eager): Rumors of Cam Newton's shoulder notwithstanding, it's time to buy into the Panthers a little bit here. Undefeated at home through three games, Newton has had his best season since his MVP year of 2015 under new offensive coordinator Norv Turner. Eighth in PFF grade per dropback, and fourth in the percentage of dropbacks that have been positively graded, he has guided an offense into being the sixth-most-efficient group on early downs so far this season. The Ravens have been great defensively, especially in late-down and long-yardage situations. However, if Turner can continue to put Cam and Co. into advantageous spots, they should have more than enough success on that side of the ball to keep up with Joe Flacco and a Ravens offense that has generated fewer than 20 points a game on the road, and might be looking back at their disappointment against the Saints last week or ahead to their rematch with Pittsburgh next week.
Counterpoint (George Chahrouri): Despite what the 'analytics' say, defense wins championships. If you think about it, every Super Bowl winner has had a defense. The Ravens take it one step further with a defense that appears not to be terrible (first in EPA allowed per pass play). With football finally embracing 'analytics,' the value of a great '3-and-D' player is well documented. There is no better example than the elite Joe Flacco, with a strong defense and impeccable 3-point shot in Justin Tucker. Tucker is a perfect 4-of-4 from 50-plus yards; those should really be worth six points since it would probably make coaches try them less. The Panthers have allowed the ninth-highest EPA per pass play to go along with 14 completions on throws 20-plus yards downfield (tied for seventh). One big play to born-again deep threat John Brown (seven deep completions, tied for third) combined with a sound defensive performance could be all the Ravens need to squeak by the Panthers by 3.
Prediction: Washington 23-20 (Washington covers)
Point (EE): While it's a little scary to back Washington away from Landover, this is the biggest discrepancy in terms of the market and our number this week. The Giants fought hard against the Falcons on Monday the same way they did against the Panthers three weeks ago – only to fall on their face at home in a short week against an Eagles team that has had little in the way of success besides that game of late. One could argue that trading Eli Apple and Damon Harrison could galvanize a team to get up and play their division rival and avoid the "tanking" narrative. However, I think it's much more likely that Washington, by virtue of their top-10 coverage unit and solid play from quarterback Alex Smith (just 2.2% of his throws being turnover-worthy), will put forth a winning effort in this one and distance themselves from the rest of the NFC East.  
Counterpoint (GC): The three best quarterbacks in this game reside on the New York sideline; in order, Kyle Lauletta, Odell Beckham Jr., Pat Shurmur. At number four is Eli Manning who has actually earned a higher grade than the original Mr. Checkdown, Alex Smith. Manning and Smith are tied with just 55.6 catchable pass percentage on throws 10-plus yards downfield and one of them is playing on the road without Beckham. Speaking of Odell, this seems like a great time for him to expose Josh Norman, who is allowing a passer rating of 138.0 (ninth-highest). There is also a chance that Shurmur wasn't scared back into the dark ages by the spirited rhetoric of one Booger McFarland, and in a close game, a smart decision could go a long way toward winning outright.
Prediction: New Orleans 27-26 (Saints cover)
Point (GC): Raise your hand if you care that Eric "Seth Rogan" Eager was born and raised in Minnesota.
That's what I thought.
Last season's miracle required an all-time defensive performance that simply doesn't seem possible given the regression that has the Vikings allowing a 106.4 passer rating from a clean pocket (19th) after ranking second in the NFL last season. No quarterback has played from a clean pocket more often (76%) and only Patrick Mahomes has a higher clean pocket passer rating than Drew Brees (126.7). Both defenses are bad and the Saints have the better offense and the better quarterback. Even if this comes down to who has the ball last, I would bet Sean and Drew find a way to reverse what happened in January.
Counterpoint (EE): I'm obligated by the geography of my birth to side with Minnesota here. While I think the Saints are a budding freight train against the spread, one that I'm not thrilled to get out ahead of, a good question is whether the move from NO (+5) in the divisional round of the 2017 NFL playoffs to NO (+0/+1) in Week 7 of this year is merited. Kirk Cousins has been most of what the Vikings have asked him to be so far this season: accurate on over 80% of his passes, generating negatively-graded plays on fewer than 8% of his dropbacks (second-lowest to… Drew Brees) and generating big-time throws on over 5% of his dropbacks. Adam Thielen has been worth roughly half a win above replacement himself and is likely the best non-QB player in the NFL so far this year. Even banged up, the Vikings defense is better than the Saints and is playing at home. If Cousins plays towards the right tail of his distribution, we could be in for a good one at US Bank Stadium and a sweat with respect to this pick.