Another NFL debut has ended with the worst result, as New England Patriots' first-round draft selection Isaiah Wynn's season has ended just as it began after a handful of snaps into his first preseason game.

Per ESPN's Adam Schefter, Wynn will miss his entire rookie campaign with a torn Achilles. The 21-year-old rookie offensive tackle limped off the field at the end of the first quarter of the Patriots' preseason matchup with the Philadelphia Eagles on Thursday. He played just nine offensive snaps before taking an early exit from the contest.
Slotted as our 16th overall player entering the 2018 NFL Draft, Wynn earned a 91.2 offense grade across 903 offensive snaps in his final year at Georgia, ranking second behind just Notre Dame's Mike McGlinchey among draft-eligible FBS offensive tackles with 250-plus offensive snaps in 2017. Wynn also ranked second in run-block grade (90.9) and sixth in pass-blocking efficiency (98.9) among qualifying offensive tackles last season.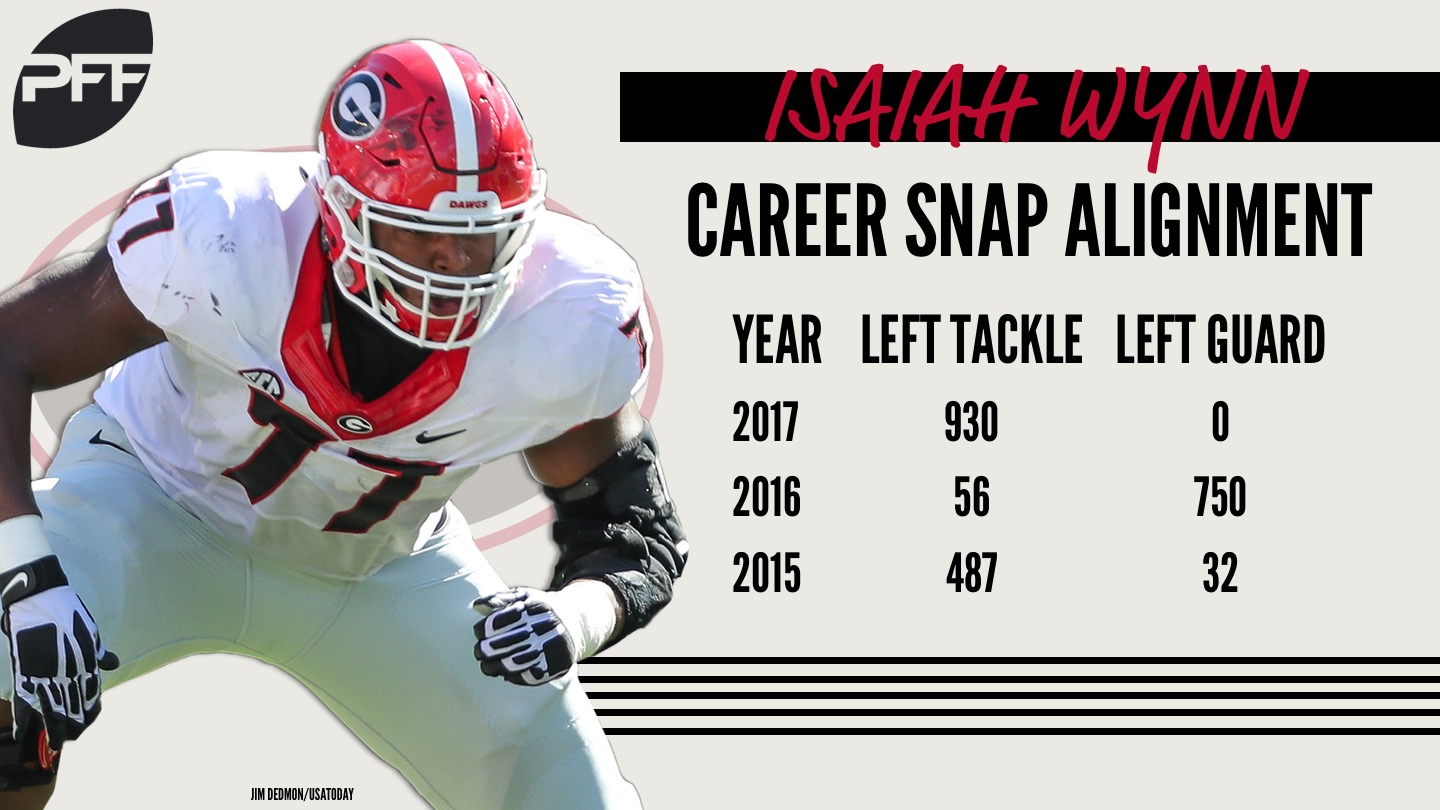 At 6-foot-2, 313 pounds, Wynn best projected as an interior offensive lineman given his size and length, but his high-end play at tackle with the Bulldogs paired with a standout performance at the 2018 Reese's Senior Bowl proved otherwise. He won 80 percent of his 1-on-1 pass-rush drills throughout the practice week and allowed just one hurry in 22 pass-block snaps in the game itself.
Vying for the swing tackle spot along the Patriots' offensive line, Wynn being sidelined won't affect New England's starting five in the trenches, but his season-ending injury cuts deep in regard to the team's depth at the tackle position. Behind starters Marcus Cannon and Trent Brown, the Patriots' available bookends consist of LaAdrian Waddle and career backup Ulrick John.
While Ulrick has played just 282 offensive snaps in his four-year NFL career, Waddle has played significant snap totals with the Patriots in recent years. The results, however, aren't favorable.
After earning 75.3 and 69.5 offense grades in 2013 and 2014, respectively, Waddle earned a 57.8 offense grade across 380 offensive snaps with the Patriots in 2017. He allowed 22 total pressures (14 hurries, eight hits) across 211 pass-blocks snaps, ranking tied for No. 67 among offensive tackles with at least 150 pass-block snaps in pass-blocking efficiency (94.8).
Fortunately for New England, Cannon and Brown remain in the starting lineup as long as their health permits. The more prevalent concern is how Wynn's injury will affect his development moving forward.