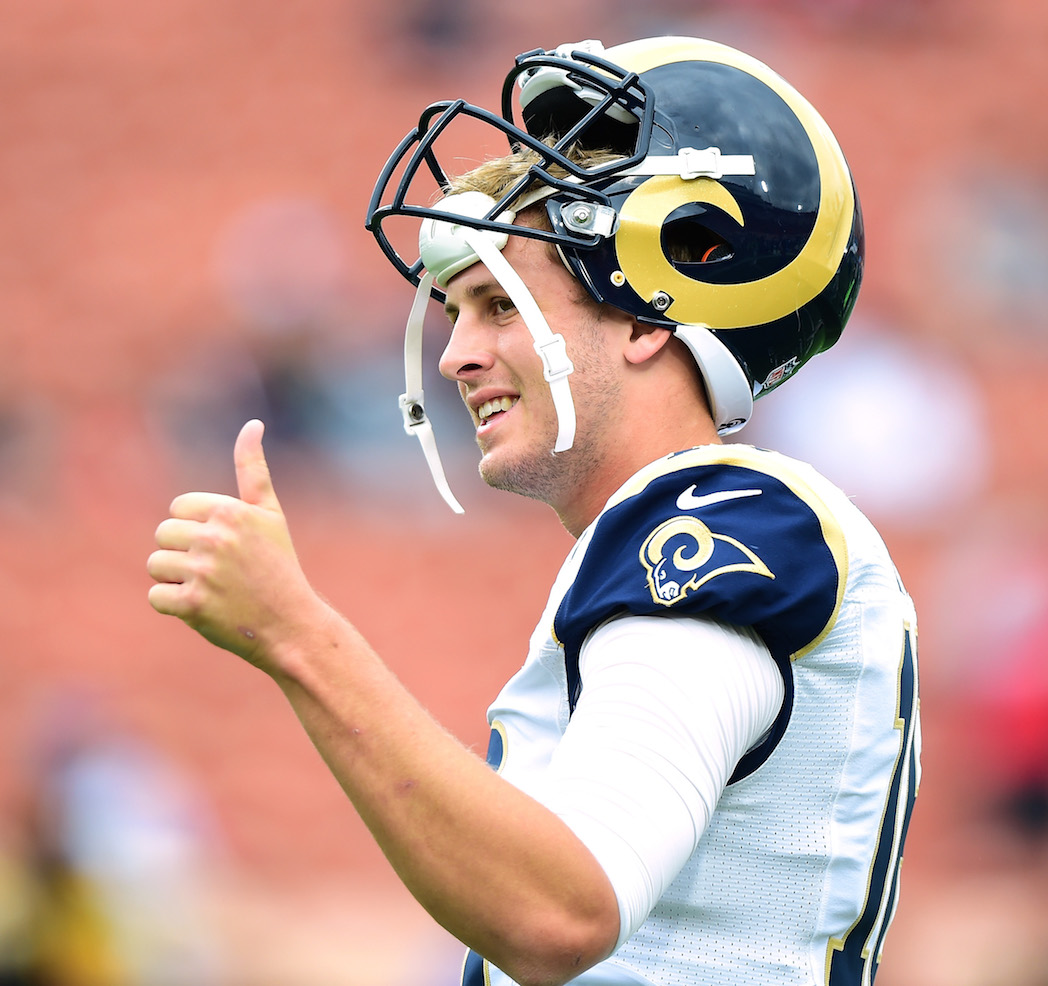 LOS ANGELES, CA - DECEMBER 11: Jared Goff #16 of the Los Angeles Rams warms up before the game against the Atlanta Falcons at Los Angeles Memorial Coliseum on December 11, 2016 in Los Angeles, California. (Photo by Harry How/Getty Images)
Week 4 was another strange week, with three of the top five teams in our PFFELO rating losing outright. We were a perfect 5-0 on our free picks, nailing our third-straight Monday Night Football under (thanks Andy Reid). We were 7-6 against the spread overall. This brings us to 15-4-1 (78.9%) in our free picks on the season, and 31-19 overall (62.0%).
Each week provides an exciting slate of games, along with the knowledge generated from additional 16 games of PFF data. We're picking the under in the Chiefs game for the second-straight week, while backing multiple underdogs for the first time. Each of the five feature picks comes with a point/counterpoint analysis, with a deeper dive into our "Lock of the Week" on the PFF Preview Podcast. For the remainder of our spread picks, check out PFF Elite and the PFF Elite Facebook Group. For our thoughts on Thursday Night Football's spread, follow us at @PFF_George and @PFF_EricEager on Twitter each week.
Picks: Eagles 26 – 19 (Eagles cover)
Point (Eric Eager): Despite opening the season with three road games in the first four weeks, the Eagles are 3-1 and in first place atop the NFC East. They've won games despite having substantial injuries to their defense, leveraging a ground game that has produced an average of 203.5 yards the last two weeks. The Cardinals have allowed only 3.2 yards per carry defensively, but are shuffling players around this week, moving first-round pick Haason Reddick (49.1) to the edge, leaving Deone Bucannon (38.2) and Karlos Dansby (47.6) to man the middle of their front seven. With Carson Palmer (27th in adjusted completion percentage) struggling to give the Cardinals any efficiency offensively, look for Philadelphia to control the ball for the majority of the game and run away from the undersized Cardinals defense.
Counterpoint (George Chahrouri): The soft spot in my heart for Arians and Palmer is outdone in size and softness only by the Cardinals O-Line which has given up 83 pressures through 4 games, more than any other unit. While this seems like a reason to hammer the Dakota Eagles, the potential absence of Fletcher Cox (80.7 PFF Grade) on the D-Line could give Palmer a clean enough pocket to take advantage of the Eagles outside corners. On one side Jalen Mills has seen 46 targets and surrendered 31 catches, both of which lead the league, while the other side is manned by rookie Rasul Douglas who is fresh of allowing a passer rating of 149.3 on throws into his coverage in Week 4 (that's not good in case you're wondering). Additionally, Carson Wentz is the Eagles' quarterback.
Pick: Jets 24 – 21 (the over hits)
Point (GC): The wise words of the Grinch, "Stink – Stank – Stunk," accurately describes all three facets of this game, and a stanky defense is exactly what the doctor ordered for a McCown–Kizer shootout. The Jets put up 20 points on a Jaguars defense that has the third and 20th ranked cornerbacks (Jalen Ramsey and A.J. Bouye), the fifth and 14th ranked linebackers (Myles Jack and Telvin Smith), and a defensive line with three players grading above 80.0. The Browns defensive starters have exactly one player with a grade above 80.0 (Jason McCourty – 87.5) and only one other player with a grade over 75.0 (Derrick Kindred – 79.4). I already need to take a hot shower to remove the stench from writing this, but I will leave with a fool proof piece of betting logic: the total has gone over 50 in every single NFL game since the start of last season when the team that is favored hails from Cleveland.
Counterpoint (EE): While 39.5 is a small number for today's NFL, we're dealing with Josh McCown (21st-highest graded quarterback) and DeShone Kizer (32nd) as this game's two quarterbacks. While Cleveland has the lowest grade among all NFL defenses through four weeks, rookie first-overall pick Myles Garrett is returning from an ankle injury to make his season debut. He'll be facing an offensive line that currently boasts zero starters with a PFF player grade above 70.0, four of which have a grade lower than 50.0. If he can pressure McCown into some of his customary bad decisions, he might produce enough turnover-worthy plays for the Browns to scores some defensive tou… oh.
Pick: Seahawks 24 – 21 (the Seahawks cover)
Point (EE): While the Rams have been impressive so far, the Seahawks provide a test different than any they've come across this season. Andrew Whitworth (83.6) has lent credibility to an offensive line that struggled to protect Jared Goff his rookie season, but he can't block Michael Bennett (14 pressures so far), Sheldon Richardson (11) and Frank Clark (10) all by himself. With Bobby Wagner (93.3) and K.J. Wright (80.5) likely to neutralize to resurgent Todd Gurley as both a runner and a receiver, the Rams will need Jared Goff to continue generating passer ratings of 128.0 and 82.8 when kept clean (first among quarterbacks) and pressured (eighth), respectively. Against one of the league's best defenses. I like being on the other side of that wish.
Counterpoint (GC): Unless you live under a rock you have likely heard that the McVay-Goff combo is now the most lethal pair in the entire United State of Overreaction, and that the Seahawks defense is a toothless mess. Following the way of the millennial we hold these truths to be "like literally obvious," meaning that Jared "the sun rises when I bleeping say it does" Goff will continue to connect on 56.3 percent of his throws 20-plus yards downfield (second) while the Seahawks defense will continue to pressure the opposing quarterback at the fourth-lowest rate in football (29.9 percent). The loyalty of the Los Angeles fan base is sure to be in full effect again giving the Rams that extra push needed to hand Seattle a dose of the new reality show in the NFC West.
Pick: Cowboys 25 – 24 (the Packers cover)
Point (GC): A rematch from the NFC Divisional round, won by the Packers 34-31 – the biggest change to occur on either side is Zeke Elliott looking like he'll need multiple juice cleanses to have any chance of fitting in the Salvation Army bucket this Thanksgiving. The good news for the Cowboys is that running the ball doesn't matter, the bad news is that Dak Prescott has taken a bit of step back throwing the ball downfield this season. On intermediate throws (10-19 yards downfield) Prescott is averaging just 6.5 yards per attempt (30th) compared to 10.5 last season (sixth). On the other side of things is the brother of exemplary family man and television star Jordan Rodgers. Even if the Cowboys get some pressure with DeMarcus Lawrence (90.6 PFF Grade – second among edge defenders), Aaron Rodgers owns a passer rating of 92.3 under pressure since the start of last season (second to Brady). The return of Bryan Bulaga and David Bakhtiari should help get the O-Line get close to their form from last season when they earned the top PFF pass blocking efficiency score (measures pressure rate allowed with sacks weighted more heavily), and having Ty Montgomery (81.8 receiving grade) run routes against linebackers not named Sean Lee will add just enough insurance for Rodgers to ride out of Dallas with a victory.
Counterpoint (EE): The Packers' tackles have started to practice on this week, but that doesn't mean that they'll be able to slow the edge juggernaut that's been DeMarcus Lawrence, whose 20.2 pass-rushing productivity is first in his position group. With Ty Montgomery (ribs) out most of last week against the Bears, the Packers' offense was only able to generate 260 yards, a figure that will not be sufficient against Dak, Dez Bryant and Zeke Sunday afternoon. If Montgomery is lowed again, Lawrence will have less to worry about on his way to Aaron Rodgers, who's completed only 44.7 percent of his passes when pressured so far this season.   
Pick: Chiefs 23-22 (the under hits)
Point (EE): For the second-straight week we're backing the under in a Chiefs primetime game. While the Chiefs seem to continue to surrender yards at a high rate (their 5.5 yards per play allowed are the 10th-highest in football), they are surrendering under 20 points a game for the fifth-straight year in the Sutton-Reid era. While the Texans did score a whopping 57 against the Titans last Sunday, Tennessee is the fifth-lowest graded defense in the league to this point, despite having played the Jaguars and a Seahawks team struggling up front. Thus, we think that Deshaun Watson (still the 27th-highest graded quarterback so far) and the Texans offense are being a bit overvalued with this number.
Counterpoint (GC): My first attempt at writing this counterpoint ended up making a stronger case for the under, which clearly says more about this game than it does my current level of brain function. Now that I have you locked in, it is worth noting that the Chiefs defense is allowing an 82.1 percent completion rate on play-action passes and the play-fake has been Deshaun Watson's go to move; he's run play-action on 30 percent of his dropbacks since taking over as the starter (most) and has a passer rating of 114.2 when doing so. The Chiefs offense remains potent with running back Kareem Hunt (93.4 grade – first among all skill position players) and Alex Smith channeling whatever is left of the Steve Young blood transfusion he got this summer. Tack on a meaningless Chiefs defensive touchdown to end the game and you have quite a case for the over.