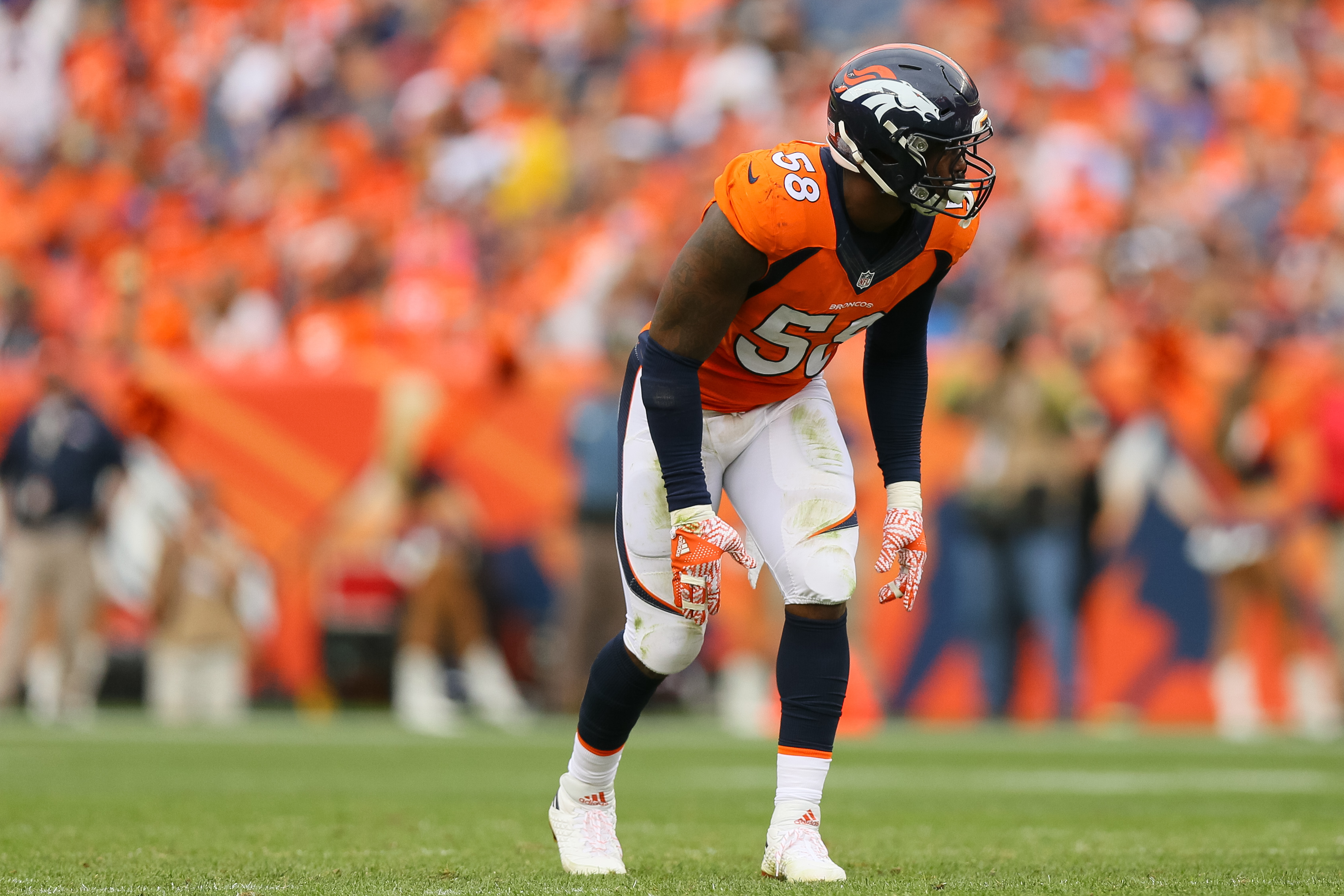 DENVER, CO - OCTOBER 30: Outside linebacker Von Miller #58 of the Denver Broncos in action against the San Diego Chargers at Sports Authority Field at Mile High on October 30, 2016 in Denver, Colorado. (Photo by Justin Edmonds/Getty Images)
Week 3 was the week of home underdogs, as the 49ers, Bills, Bears, Colts, Vikings, Jets and Redskins all covered (and all but the Niners won outright) a week ago. We were onto the Colts winning at home against a Browns team not used to being favorites, but missed on the Jaguars' dominance in their London home away from home and Case Keenum's career ownership of the Buccaneers. Luckily, we nailed our two over/under bets (thank you, Bruce Arians) and ended up going 3-2 in our free picks. We were 5-7 against the spread overall. This brings us to 10-4-1 (71.4%) in our free picks on the season, and 25-13 (65.8%) on all of our spread picks, including our Thursday Night pick of the Packers to cover -7.5 points and the game to go over 44.
Each week provides an exciting slate of games, along with the knowledge generated from additional 16 games of PFF data. We're hitting some similar themes this week, as we're picking the London game, against the Browns, a New England over, and the under for Monday Night Football. Each of the five feature picks comes with a point/counterpoint analysis, with a deeper dive into our "Lock of the Week" on the PFF Preview Podcast. For the remainder of our spread picks, check out PFF Elite and the PFF Elite Facebook Group. For our thoughts on Thursday Night Football's spread, follow us at @PFF_George and @PFF_EricEager on Twitter each week.
Pick: Saints 24 – Dolphins 20 (Saints cover)
Point (Eric Eager): Our second London pick in as many weeks… Hopefully we do better than a week ago (when we backed the Ravens). Less is going for Miami than was going for Jacksonville: They haven't had the luxury of playing at home since the preseason – adding being displaced by a hurricane in with an overseas trip in less than a month. The Dolphins are currently the second-lowest graded defense in the league in terms of pass coverage grades, while Drew Brees (88.7 overall grade) is the second-highest graded quarterback, meaning that, for the second-straight week, at least one team is going to put up points. It's an open question as to whether Jay Cutler (who managed only 5.0 yards per pass attempt against the Jets) can keep up.
Counterpoint (George Chahrouri): This has some feelings of an overreaction to the Saints winning a game after getting thoroughly dominated in the first two weeks. If the Dolphins can get pressure on Brees they may be able to bring the Saints passing game to their knees (before the Anthem of course) – Brees is completing less than half his passes under pressure so far this season and has just a 62.8 passer rating when being hit or hurried. The combination of Suh (91.1 grade – second) and Wake (81.5 grade – 23rd) could pick on a Saints O-line whose highest graded player is rookie Ryan Ramcyzk at 75.0. On the other side of things, the Saints defense could be just the  substance that Cutler needs to get back in the saddle.
Pick: Bengals 24 – Browns 19 (the Bengals cover)
Point (EE): For the second straight week we're going to go against the Browns, even against a team (like Indy the week before) that has major flaws. The Bengals have struggled up front, earning the league's 28th-best passing blocking grades and the league's worst run blocking grades. However, the Browns do not have the horses to exploit this weakness, grading out as the league's worst defense through three weeks, generating only 31 pressures with the absence of Myles Garrett up front. Look for the Bengals' new offensive coordinator Bill Lazor to continue to give Joe Mixon an increased workload (he had 21 last week for 101 total yards) to complement A.J. Green (3.70 yards per route run last week) and get the Bengals their first win of the season.
Counterpoint (GC): If Myles Garrett finds a way to play at anywhere near full speed we could be in for another Andy Dalton breakdown. Dalton's passer rating drops over 35 points into the sub-60s when pressured during his career, and this season seems to be going poorly enough that another clunker at the hands of a winless Browns wouldn't be a huge surprise. Garrett would be in line to rush against Cedric Ogbuehi whose name I can only spell because he has been entrenched at the bottom of the LT rankings where he currently sits in 32nd (of 35) with a grade of 34.9. Adding injury to insult, Tyler Eifert is unsurprisingly hurt which is bad news for Andy; the Orange Water Pistol has a passer rating of 136.9 when targeting Eifert (fourth of any duo since 2015).
Pick: Patriots 30 – Panthers 20 (the over hits)
Point (GC): The lowest point total in a Patriots game this season is 56. The Pats defense has not been so wonderful at covering running backs; through Week 3 they have surrendered a passer rating of 146.3 when the opposing quarterback targets a running back in the passing game. After the Pats let Deshaun Watson (who entered the game with a sub-60 grade) march up and down the field, we might see Cam Newton find some success after a rough start that has him ranked 31st among quarterbacks with a 46.7 grade. If the Panthers can put up a few points that should be all we need to push us over the top thanks to a Patriots offense that has looked to hit the big play more often than any other team. Brady has taken a deep shot on 20 percent of his throws and is generating a decent 135.4 passer rating on those attempts.
Counterpoint (EE): The counterpoint assignment for this game is a bit rough, since New England hasn't had a game below 49 points since they beat the Jets 41-3 in Week 16 last year. However, that example underscores the only way this could go wrong – the Panthers offense. Newton is the second-lowest graded quarterback in the league through three weeks (46.7), with adjusted completion percentages of 67.9 overall (27th among qualifying quarterbacks) and 37.5 percent (15th) on throws further than 20 yards downfield.
The Kai Forbath Memorial Extra Point: The only quarterback in the league with a lower PFF grade than Newton is Deshaun Watson, who helped Houston hang 33 points on the Patriots in Foxboro last week.
Pick: Broncos 23 – Raiders 19 (Broncos cover)
Point (GC): This line would be even more enticing but the Raiders showed up in D.C. like they were attendees for the most recent inauguration. That being said, there are still plenty of reasons to favor Denver in this one. Derek Carr is averaging just 2.3 yards/pass under pressure which is the worst mark so far this season, and to top it off he's been sacked on 30.0 percent of those pressured dropbacks (T-second highest). Why does this matter? Well, who would you take in the Von Miller–Marshall Newhouse battle royale? I will take the delicate Old-Spice visionary with 21 QB pressures (second) and a 91.7 pass rush grade (second). Opposite Von, Shaq Barrett has been no slouch rushing the passer either, he has pressured the quarterback 17 times in the first three weeks (T-fourth). Unlike the Raiders, the Broncos have a rock-solid pair of corners on the backend in Aqib Talib and Chris Harris Jr. who should limit Carr's quick passing game (2.04 second average snap to pass – fastest) just enough to push the Dancing Vance Joseph's over the top.
Counterpoint (EE): There is probably some overreaction here to one of the worst performances we've seen from a contending team in some time. When the Raiders laid their customary egg last year in Kansas City (with Carr throwing for 117 yards on 41 attempts) they rebounded with a hard-fought win in San Diego, and were in control the following week against Indy (before Carr broke his leg). Additionally, while the Raiders' defense has not been good, Trevor Siemian had just a 25.3 passer rating when pressured a week ago (31.5 on the season). Khalil Mack (90.1) versus Menelik Watson (35.7) could have a similar effect as Von Miller versus Marshall Newhouse mentioned above.
Pick: Chiefs 27 – Washington 17 (the under hits)
Point (EE): After exploding on the scene Week 1 in Foxboro, we've seen in subsequent weeks more "Chiefsy" games from Andy Reid's bunch: Scoring in bunches when needed – with long stretches without scoring filling out the rest of the game. While Chris Thompson (second among qualifying running backs with 3.92 yards per route run) has carved up Washington's last two opponents, the Chiefs match up well with linebackers Derrick Johnson (83.7 coverage grade) and Ramik Wilson (73.9). While Kareem Hunt (literally off the charts in terms of elusiveness this season ) can blow games open for the Chiefs, their offensive line struggled a week ago against the Chargers without center Mitch Morse, and left guard has been an issue with Parker Ehinger still recovering from a 2016 ACL injury.
Counterpoint (GC): Kirk Cousins will be playing in his first game as a father, while we don't have any data on the topic I am sure there is a massive amount of extra grit that one gains from such an experience (you can submit all questions about this to @PFF_EricEager). Cousins managed to find his way in Week 3 torching the middle of the field for a passer rating of 146.3. The Redskins defense stepped up in a major way on Sunday night pressuring Carr on 30.0 percent of his dropbacks after he had seen pressure only 14.0 percent of the time in the first two weeks. If newly found game-breaker Chris Thompson can maintain his lethal 3.92 yards gained for every route run, this could end up being a tough cover for Joe Montana Smith and the Chiefs.