PFF provides every fan with the right information to best prepare for Week 3 of the 2019 NFL season. We offer advanced stats and grades on key players to watch, fantasy football advice and links to PFF Greenline predictions for all 16 NFL games on the schedule for this week.
[Editor's Note: ELITE subscribers have access to all of PFF's fantasy football projections, rankings and lineup tools in addition to PFF NFL and College Greenline, an online dashboard with predictions for the spread, total and moneyline for every FBS and NFL game every week. Subscribe today to gain access!]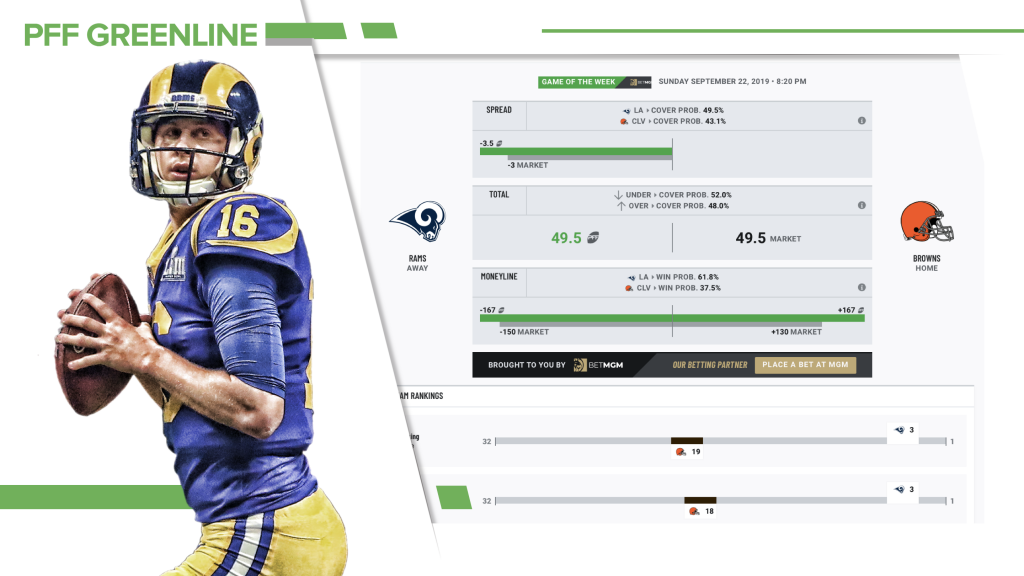 Thursday, September 19
Tennessee Titans @ Jacksonville Jaguars
NFL Players to Watch
Jacksonville is without its starting quarterback, down 0-2 on the year and battling injuries in several areas on the defensive side of the ball (e.g. Yannick Ngakoue, AJ Bouye). The good news, however, is that 2018 second-rounder D.J. Chark Jr. has seemingly taken a major step forward in Year 2. The 6-foot-4, 198-pound LSU product has hauled in 11-of-13 targets for 201 yards, four first downs and two touchdowns while owning a team-high 20.3% aimed target share. He ranks fourth in yards per route run (3.09) and seventh in receiving grade (81.8) among all NFL receivers with 40 or more routes run through Week 2.
Gardner Minshew has also played well above expectation with Chark as his go-to target. The rookie Washington State product has completed 45-of-58 passes for 488 yards, three touchdowns and an interception through two weeks, earning a 68.8 passing grade in the process. He also ranks sixth in passing grade from a clean pocket (84.7) among the 33 NFL quarterbacks with 20 or more clean-pocket dropbacks through Week 2.
Fantasy Football Preview
File this under the heading of "for what it's worth, maybe nothing," but Derrick Henry has feasted on the Jaguars over his career. In six games against Jacksonville, he's averaged 5.3 yards per carry and 18.8 PPR points per game. In 43 games against all other opponents, those numbers are 4.4 and 8.8, respectively. Three of his top six career fantasy performances (and four of his top 11) have come against the Jags.
 Spread: JAX +1.5 | Total: 39
Thursday Night Football brings another matchup lacking offensive power, as our 29th ranked offensive unit from Jacksonville hosts the 25th-ranked unit from Tennessee. This total has dropped down a full point from an opening of 40. After opening as a pick 'em, this spread has moved in the direction of the Titans with Greenline offering quite a bit of value on one team in particular. 
Sunday, September 22
Miami Dolphins @ Dallas Cowboys
NFL Players to Watch
Former NFL quarterback Kellen Moore has been given the keys to the Cowboys' offense and has had free rein to make this offense, his offense. It's so far, so good for Moore, as Dak Prescott has been the NFL's highest-graded quarterback through Week 2.
In the first two weeks, Dallas has ramped up their usage of play-action to the highest in the league, at 43.1% (25% in 2018). Prescott has been sharp out of play-action generating 12.3 yards per attempt, a 96.3% adjusted completion percentage and a 157.6 passer rating.
The Cowboys have also used 11 personnel (1 RB, 1 TE, 3 WR) on 73.2% of their offensive snaps, and Prescott has been elite once again in this package. When passing out of 11 personnel, Prescott has been the second highest-graded quarterback and has thrown three big-time throws to zero turnover-worthy plays.
Kellen Moore has also taken a page out Andy Reid's playbook in having the fifth-highest rate of run-pass options (RPOs). These plays are an extension of the run game and generate more yards per play on average than a designed run. With that said, no quarterback has pulled on an RPO and opted to pass more than Dak this season, and he has been highly effective when doing so, completing 100% of his passes, at 9.9 yards per attempt and a 108.0 passer rating.
Fantasy Football Preview
Through two weeks, the Dolphins have scored the fewest points, allowed the most sacks (tied), allowed the most interceptions and allowed the most touchdowns to opposing DSTs (tied). Opposing defenses have put up 50 fantasy points on Miami; to put that into perspective, Tennessee and San Francisco have tied for the most fantasy points put up by DSTs that haven't faced Miami, at 31. The Dallas DST is the most obvious play of the week.
 Spread: DAL -21.5 | Total: 47
The one data piece the market seems clearest on to start the season is just how bad the Dolphins are in 2019. Their spreads are massive each week as they continue to trade away their best players in the great tank of 2019. 21.5 points is a massive amount to lay. This could be a historically bad Dolphins squad, however. 
Detroit Lions @ Philadelphia Eagles
NFL Players to Watch
Through two weeks, rookie Miles Sanders leads all Eagles running backs in percentage of offensive snaps played (46.2%), but the former Penn State standout has struggled to make the most of his opportunities. He ranks 28th in rushing grade (55.5) among the 30 NFL backs with 20 or more carries through Week 2. He also ranks 28th in forced missed tackles per attempt (0.05) and tied for 23rd in yards after contact per attempt (2.3).
Fantasy Football Preview
The Eagles came into the season as maybe the deepest team in the league, and good for them that they did, as that depth is already being tested. Injuries to Alshon Jeffery and DeSean Jackson in Week 2 left the team with a top receiver trio of Nelson Agholor (77 snaps in Week 2), J.J. Arcega-Whiteside (74) and Mack Hollins (69). With Jeffery and Jackson both question marks for Week 3, Arcega-Whiteside becomes a very interesting plug-and-play option, especially considering he was the No. 3 PPR receiver in the preseason on a per-game basis. If Jeffery and Jackson miss Week 3, Arcega-Whiteside will be a strong flex option.
 Spread: PHI -6.5 | Total: 46.5
The Eagles suffered a tough road loss on Sunday night, and this spread has adjusted accordingly moving from an opening of -9.5 settling in at -6.5. Greenline thinks this spread may have adjusted too much, but if it is within betting range, it's something you will need a PFF ELITE subscription to see.  
Oakland Raiders @ Minnesota Vikings
NFL Players to Watch
While Sanders has struggled, fellow rookie Josh Jacobs leads all 30 NFL running backs in rushing grade (87.8) through Week 2. He ranks tied for sixth in forced missed tackles per carry (0.26) and fourth in yards after contact per attempt (4.2).
Minnesota will also feature one of the NFL's highest-graded backs in this one, as veteran Dalvin Cook is thriving in Gary Kubiak's outside zone scheme through two games this season. Not only does Cook lead all players in rushing yards (265), but he also ranks tied for 10th in forced missed tackles per touch (0.2), tied for first in yards after contact per attempt (4.5) and fourth in rushing grade (83.7) among qualifiers at his position.
Fantasy Football Preview
There are 42 quarterbacks with at least one pass attempt so far this year. Of those, Kirk Cousins ranks … 42nd in PFF passing grade at 36.7. If you want to be charitable, he had a fine grade in Week 1 in a game the Vikings dominated, so he only attempted 10 passes, and then he struggled against a strong Green Bay defense in Week 2. So the door isn't closed on Cousins rebounding. But if he can't put something together for fantasy against the Raiders in Week 3, it might be full bailout time.
 Spread: MIN -8 | Total: 43.5
These two teams have similar offensive rankings with the Raiders (15th) and the Vikings (14th) seeing a total of 43.5. The big ranking discrepancy is on the defensive side of the ball, where the Raiders have the worst ranking in the NFL and the Vikings slot in at ninth. Sliding down after opening with the Vikings as -9.5 point favorites, Greenline likes a particular side in this matchup.
Denver Broncos @ Green Bay Packers
NFL Players to Watch
Kenny Clark is coming off a standout performance against rookie Garrett Bradbury and the Vikings' offensive line in Week 2, where he recorded an 83.7 run-defense grade, 91.6 pass-rushing grade and a 91.6 overall grade across 56 defensive snaps. The 6-foot-3, 314-pound phenom is in line for another strong outing against the Broncos' interior offensive line.
Rookie guard Dalton Risner earned just a 58.4 single-game grade in his bout with the Chicago Bears' defensive line in Week 2, and his teammates, guard Ron Leary and center Connor McGovern, have both earned sub-62.0 overall grades so far this season.
Fantasy Football Preview
No matter how much anybody is talking about Emmanuel Sanders right now, it's not enough. He's a 32-year-old wide receiver who tore his Achilles last December. That he's even playing now is a bleeding miracle. That he's actually thriving — he's the No. 4 PPR receiver through two weeks and has the top PFF receiving grade with a minimum of nine targets — is nothing short of amazing. He'll get a strong test in Week 3 against a Green Bay defense that has a top-five PFF coverage grade, but anyone doubting Sanders is doing it wrong.
 Spread: GB -7.5 | Total: 42.5
One of the biggest spread movements we have in Week 3, the Packers opened as 9.5-point favorites but have slid down to 7.5 in most spots. This is the type of situation where it is crucial to monitor Greenline early in the week, but Greenline still finds some value on one of these teams in Week 3. 
New York Jets @ New England Patriots
NFL Players to Watch
This one will be ugly. The Patriots will likely score a lot, and the Jets will struggle to score a little. All of New England's offensive weapons will get their piece of the Jets' defense, so we pivot our attention to a high-performing, under-the-radar contributor on the Pats' defense: Jonathan Jones.
Now in his fourth year with New England, Jones has allowed just seven receptions for 64 yards and zero touchdowns as the team's primary slot cornerback through Week 2. He's also logged two pass breakups and an impressive 90.7 coverage grade across 80 coverage snaps.
Fantasy Football Preview
Things could scarcely be lining up better for the Patriots this season. After shutting down the Steelers in Week 1, they got the hapless Dolphins in Week 2. Every other team has allowed at least two touchdowns so far this year (Miami has allowed 14), but the Patriots haven't given up a single one. And with their next five games against the Jets (with Luke Falk the likely starter), Buffalo, Washington, the Giants and the Jets again, it's fair to wonder how far that streak can last. Either way, the Patriots' defense/special teams is an easy top-five play going forward.
 Spread: NE -22.5 | Total: 43.5
Our top-ranked Patriots take on the 32nd-ranked Jets at home against a third-string quarterback. With the Patriots having the top-ranked defense and second overall offense, this spread continues to rise from an opening of -19. Bringing in a third-string quarterback is a massive undertaking for the Jets. Check out Greenline to see what way our model leans in this one-sided matchup. 
Baltimore Ravens @ Kansas City Chiefs
NFL Players to Watch
Through two weeks of play, Mark Andrews is the highest-graded offensive player in football with 50 or more snaps played, and he still hasn't played more than 55% of the Ravens' offensive snaps in a single game. That's just unacceptable. Not only does he lead all qualifying offensive players in overall grade (93.4), but he also ranks second among all offensive players with 40 or more routes run through Week 2 in yards per route run (4.83), trailing only his teammate Marquise Brown (5.18).
Lamar Jackson has been equally impressive. The second-year Louisville product leads all qualifying signal-callers in passing grade (91.2) through Week 2, completing 41-of-57 passes for 596 yards, seven touchdowns and zero interceptions in the process. His accuracy is much improved compared to last season, and he's yet to throw a turnover-worthy pass this season.
Fantasy Football Preview
The Ravens are playing at an incredible pace through two weeks, averaging 72.5 offensive plays across two games. The Eagles are also over 70, at 71.5 In the last five years, the only teams to top 70 plays per game over a full season are … the Ravens in 2018 (70.2) and the Eagles in 2014 (70.7). More plays equal more chances for offensive touches means more fantasy points.
 Spread: BAL -6.5 | Total: 54.5
Possibly the most anticipated matchup of Week 3, the Chiefs opened as eight-point favorites but have slid down to less than a touchdown, settling in at -6.5. This total has risen slightly since the open with Greenline seeing some value opportunity on the total.
Atlanta Falcons @ Indianapolis Colts
NFL Players to Watch
Down in the trenches, few NFL GMs wouldn't choose Quenton Nelson as a player to build their offensive line around. He's tough, he's nasty and he gets the job done. That was true in 2018 as a rookie, and it's true yet again in 2019. After surrendering one pressure on 30 pass-blocking snaps in Week 1, he one-upped himself with none allowed on 35 pass-blocking snaps.
That culminated in an 88.3 pass-blocking grade for Week 2, fourth-best among all offensive linemen who played at least 30-plus blocking snaps and second-best among guards. Nelson was strong in run-blocking too, posting a 71.4 grade in that facet to slot himself in as the sixth highest-graded guard in Week 2.
Nelson, of course, will have his hands full every time Falcons' Grady Jarrett takes a swing at the second-year Notre Dame standout. Jarrett currently leads all at his position in overall grade (90.8) and ranks second on the list in pass-rushing grade (90.7).
Fantasy Football Preview
Parris Campbell? Deon Cain? In the Colts' first game after Devin Funchess' injury, the target leader behind T.Y. Hilton was actually … Chester Rogers. Campbell scored a touchdown on his only target, while Cain was held without a catch on his lone target, but Rogers was thrown the ball four times, catching three for 24 yards. Ultimately, the Colts' passing offense is Hilton and not much else (he's the only Colt to top 40 receiving yards in either game so far), and the only wide receiver on the team who needs to be rostered.
 Spread: IND -2 | Total: 47
Pitting the 16th-ranked Falcons against our 17th ranked Colts, this is one of the more even matchups in Week 3. These offenses rank seventh (Falcons) and sixth (Colts) with their defensive rankings only separated by three spots. The opening field goal spread was a bit too much and has slid down to Colts -2. Greenline is intrigued by a side in this matchup but falls right in line with the 47 point total. 
Cincinnati Bengals @ Buffalo Bills
NFL Players to Watch
A 2018 third-rounder out of Stanford, Bills' Harrison Phillips earned a 79.1 run-defense grade, 88.8 pass-rushing grade and a 91.5 overall grade against the New York Giants in Week 2. He earned just a 68.0 overall grade across 389 defensive snaps as a rookie, but he showed exactly what he's capable of this past week and very well could have a similar performance against a bad Bengals interior offensive line in Week 3.
While John Miller and Trey Hopkins have impressed in pass protection, both Cincinnati offensive linemen have struggled significantly in the run game. And rookie Ohio State product Michael Jordan has earned just a 43.4 overall grade, 52.4 pass-blocking grade and a 39.1 run-blocking grade across his 129 offensive snaps through Week 2.
Fantasy Football Preview
Devin Singletary has been incredibly efficient through two career games, averaging an insane 12.7 yards per carry on 10 carries. This week, he and Frank Gore get to play a Bengals defense that has been a sieve to opposing running backs so far this year, allowing 5.0 more PPR points to the position per game than the second-worst team and more than 10 points clear of fourth. The Bengals PFF tackling grade of 32.6 is easily the worst in the league. Singletary's efficient ways could continue.
 Spread: BUF -6 | Total: 44
Both the spread and total have seen significant movement since the open with the total rising a full two points from 42 up to 44 while the spread has slid out a full point for the home favorite Bills. Greenline falls right in line with consensus markets, giving the Bengals a 32% win probability as road dogs.  
New York Giants @ Tampa Bay Buccaneers
NFL Players to Watch
Buccaneers' Chris Godwin, a third-year wide receiver out of Penn State, is also off to a fiery start in 2019. Through two games, Godwin ranks fifth in receiving grade (82.7), 12th in yards per route run (2.56) and eighth in passer rating when targeted (151.1). And he's done so as the team-leader in aimed target share (25.9%).
Put simply, New York's secondary has been atrocious to start the season. Rookie DeAndre Baker has earned just a 24.4 overall grade across his 98 defensive snaps through Week 2, and veteran Janoris Jenkins hasn't been much better with his 53.7 overall grade. Expect Godwin and the Bucs' passing attack to put up big numbers in this one.
Fantasy Football Preview
This is just something to monitor for now, but the Buccaneers have been lights out against opposing running backs through two weeks. Tampa Bay has faced San Francisco and Carolina so far. Those teams' backs have accounted for 53 touches, 184 yards and no touchdowns against Tampa Bay. In their other games, those numbers have risen to 71, 538 and six, respectively. If the Bucs can hold Saquon Barkley in check in Week 3, we might really have something here.
 Spread: TB -6.5 | Total: 48
After opening as seven-point dogs, the Giants named Daniel Jones the starter in Week 3 and this spread has basically held steady or moved to -6.5 with added juice. The total has also dropped with Greenline having certain leans on both lines, but is the edge discernible enough to beat the vig?
Carolina Panthers @ Arizona Cardinals
NFL Players to Watch
Cam Newton needs to be better this week and in weeks following if Carolina is going to have a shot at the playoffs this season. After a dismal outing against the Buccaneers on Thursday Night Football in Week 2, Newton ranks 31st among the 32 NFL quarterbacks with 40 or more attempts this season in percentage of passes charted as accurate in PFF's ball location charting. Only Ryan Fitzpatrick ranks below Newton.
Again, only RYAN FITZPATRICK ranks below Newton.
Fantasy Football Preview
Entering this year, Cam Newton's worst career numbers through his first two games of the season were 26.0 PPR points (2017), 26 rushing yards (2014) and a 63.6 PFF passing grade (2017). This year, those numbers are at 20.7, -2, and 55.5, respectively. He's still Cam Newton, so he can't be dropped, but he has no business in any fantasy lineup until he shows more than he's shown.
 Spread: ARZ +2.5 | Total: 46.5
With questions related to Cam Newton's health, this spread has moved off the key number three down to -2.5 for the road favorite Panthers. The total has also risen a full point with Greenline intrigued by plays on both the spread and total. 
New Orleans Saints @ Seattle Seahawks
NFL Players to Watch
It's Teddy Bridgewater time in New Orleans. With Drew Brees sidelined with a thumb injury for the next few weeks, Bridgewater will take over the Saints' offense in Week 3 against the Seahawks.
In Bridgewater's limited action over the past three years, he has completed 31-of-51 passes for 283 yards, one touchdown and two interceptions. He's logged zero big-time throws, two turnover-worthy plays and a 49.9 passing grade in the process. His production from clean and pressured pockets is underwhelming, and the numbers don't get better looking at his ball location.
Among the 68 NFL quarterbacks with at least 50 pass attempts since 2017, Bridgewater ranks 61st in percentage of attempts charted as accurate (49%) and 42nd in percentage of passes charted as uncatchable inaccurate (20.6%).
Fantasy Football Preview
Teddy Bridgewater was a slightly above average quarterback in 2015, with a 70.4 overall PFF grade that was 16th of 39 qualifying quarterbacks. And then he basically disappeared. Bridgewater missed all of 2016, attempted two passes in 2017 and played in spot duty last year before a meaningless Week 17 start. And then he came in as the emergency backup in Week 2 this year. The point is anyone who says they confidently know what we can expect out of Bridgewater once he knows he's the starter in games that matter has no reason for that confidence. Bridgewater has looked good in the past, but that was almost four full years ago. There is no bigger mystery in fantasy football right now.
 Spread: SEA -4 | Total: 44.5
It is Teddy (or Taysom) time for New Orleans this Sunday. Their offensive and overall rankings take a step back from fourth with the loss of Drew Brees. The spread has moved in the direction of the Saints and is now settled at four with some fluctuations according to which book you are shopping at. The total has dropped over a point with Greenline still finding some value on one side. 
Pittsburgh Steelers @ San Francisco 49ers
NFL Players to Watch
All eyes will be on new Steelers starting quarterback Mason Rudolph on Sunday. The second-year Oklahoma State product has earned just a 65.1 passing grade across 20 regular-season dropbacks in the NFL, completing 12-of-19 passes for 112 yards, two touchdowns and an interception in the process.
Moving to a larger sample size, Rudolph was an absolute stud at the collegiate level. He finished his final year with the Cowboys (2017) ranked seventh among all FBS signal-callers in passing grade (86.9). He completed 319-of-490 passes for 4,908 yards, 37 touchdowns and nine interceptions that season as well, and he recorded 29 big-time throws and 15 turnover-worthy plays.
Prior to the 2018 NFL Draft, PFF's Cam Mellor had this to say about the Steelers' new starter under center:
"He may not be receiving as much first-round hype of the other quarterbacks in the front-end loaded 2018 NFL Draft QB class, but Rudolph has more than proven he deserves to be mentioned in the same breath as his counterparts. His ability on downfield throws combined with his ability to scan his progressions and hit targets from a clean pocket all could translate to plus-grades at the NFL level."
Fantasy Football Preview
We'll learn just how fast a new defensive player can get integrated into a team this week, with the newly acquired Minkah Fitzpatrick likely to slot right in the Steelers' defense — pun intended, as he will be counted on to help a defense that has allowed four touchdowns to the slot so far this year. If Fitzpatrick can't shore things up quickly, it could lead to a breakout Week 3 for George Kittle or Richie James Jr., San Francisco's slot leaders so far.
 Spread: SF -6.5 | Total: 43
Backup quarterback Mason Rudolph makes his first official start as a Steeler when they travel to San Francisco as 6.5-point dogs. It is tough to know what to expect from the Steelers' 21st ranked offense. The total has dropped a full point, but Greenline is finding some value on a certain spread side. 
Houston Texans @ Los Angeles Chargers
NFL Players to Watch
Just when you thought he couldn't get any better, Chargers veteran Keenan Allen is well on his way to a career year in 2019. Through Week 2, Allen owns an NFL-high 39.7% aimed target share in Los Angeles' offense and an even more impressive 13.36 average depth of target. He's hauled in 16 receptions from 25 targets for 221 yards, 11 first downs and one touchdown en route to an 81.6 overall grade on 111 total offensive snaps.
Allen should be licking his chops entering the Chargers' Week 3 matchup with the Texans. Starting safeties Justin Reid and Tashaun Gipson Sr. both have earned sub-55.0 overall grades to start the season, and veteran Jonathan Joseph is the team's highest-graded cornerback at 62.9. Houston's defense currently ranks 25th in passer rating allowed (123.7) when opposing offenses target either slot or outside wide receivers.
Fantasy Football Preview
Injury created two target monsters in Week 2. Zach Ertz got 15 targets for Philadelphia with so many of the team's pass-catchers shelved during the game. And Keenan Allen got 15 as well for the Chargers with Hunter Henry out and Mike Williams at less than 100% (to be fair, he still got five targets). Considering we might not see Henry again for quite a while, Allen could be the favorite to lead the league in targets the rest of the way.
 Spread: LAC -3 | Total: 47.5
The total has held steady to start the week with the spread pinballing between -3 and -3.5 depending on juice. Greenline gives the fifth-ranked Chargers a 62% win probability with our spread prediction falling right in line with consensus markets. 
Los Angeles Rams @ Cleveland Browns
NFL Players to Watch
After a stellar performance on Monday Night Football in Week 2 that included a pretty one-handed snag and an 89-yard receiving touchdown, Browns' Odell Beckham Jr. will be the player fans and Rams defenders will key on this week. OBJ currently ranks ninth among all qualifying NFL pass-catchers in aimed target share (29.4%) and 11th in yards per route run (3.01). He's also earned an 80.8 receiving grade that ranks seventh among the 81 NFL receivers with 50 or more route run on the year.
Los Angeles' secondary is currently led by veteran safety Eric Weddle, who has already earned a 79.3 overall grade and 74.8 coverage grade across his 88 defensive snaps so far this year. Cornerbacks Marcus Peters and Aqib Talib have allowed just 63 total yards and zero touchdowns from 12 combined targets through Week 2, and each of the two veteran cornerbacks has already logged a pass breakup, as well.
Fantasy Football Preview
Panic about Todd Gurley might have been a bit premature. After seeing Malcolm Brown get five of the team's six backfield opportunities inside the red zone in Week 1 (and Darrell Henderson get the sixth), that flipped in Week 2, with Gurley getting four of the six and Brown getting the other two. Clearly Gurley's upside isn't as high as it was in the last two years, but he's still getting the workload of a back-end RB1.
Greenline Preview (GAME OF THE WEEK)
 Spread: CLV +3 | Total: 49.5
The PFF Game of the Week has our third-ranked Rams as three-point road favorites against the 19th-ranked Browns. Greenline gives the Rams a 63.4% win probability with the cover probability leaning towards the Rams but not playable yet when factoring in the vig. The total has dropped over a point with the under playable but slightly below break even probability percentage at -110 odds. 
Chicago Bears @ Washington Redskins
NFL Players to Watch
Scary Terry is taking over the nation's capital. The Redskins' third-round pick, former Ohio State wide receiver Terry McLaurin, has quickly emerged as the team's top target just two weeks into his rookie year. The 6-foot, 208-pounder has played 90.3% of Washington's offensive snaps through Weeks 1 and 2, a figure that leads all at his position. He also leads his team and all rookie pass-catchers in aimed target share (21%). And the results from his heavy usage have been nothing short of spectacular. McLaurin ranks fifth in receiving grade (82.4), 15th in yards per route run (2.49) and 14th in passer rating when targeted (142.4) among wideouts with 40 or more routes run in 2019.
Fantasy Football Preview
Adrian Peterson found the end zone in his return to the Washington starting lineup in Week 2, but he also totaled only 25 yards on 10 carries. In his two years in Washington now, Peterson has averaged 11.1 carries and 3.5 yards per carry in Washington losses, compared to 21.4 carries and 4.5 yards per carry in wins. With the Bears 6.5-point favorites, this is an excellent time to steer clear of Old Man Peterson.
 Spread: WAS +4 | Total: 41.5
The Monday night showdown features our 27th-ranked Redskins offense against the 26th-ranked Bears offense. Points could be a struggle to come by with a total settling in at 41.5. Greenline finds no value in the -4 spread for the road favorites but is intrigued by a certain side of the total as long as no movement occurs.