The Tennessee Titans will battle the New England Patriots in the Divisional round of the postseason. PFF previews the top player matchups of this win-or-go-home game.

PFFELO Ranking: 17
Coverage by: Sam McGaw
QB Marcus Mariota vs. the Patriots secondary – While Mariota's touchdown-to-interception ratio isn't desirable, his overall grade of 84.0 is his top mark in his three-year career. He has elevated production over the past four weeks, including in the playoffs against the Chiefs. During that span, he's registered a passer rating of 88.6, which is up from his rating of 76.9 in the weeks prior. One of the top keys for Mariota's success this week will be his ability to pass against cover-1, which the Patriots have deployed on 38.6 percent of pass attempts against them. Mariota has struggled against cover-1 throughout the season, as he completed only 58.8 percent of his passes and tossed just one touchdown against five interceptions. The Patriots held quarterbacks to a 58.8 completion rate when in cover-1. However, they allowed 14 touchdowns and recorded three interceptions in that coverage.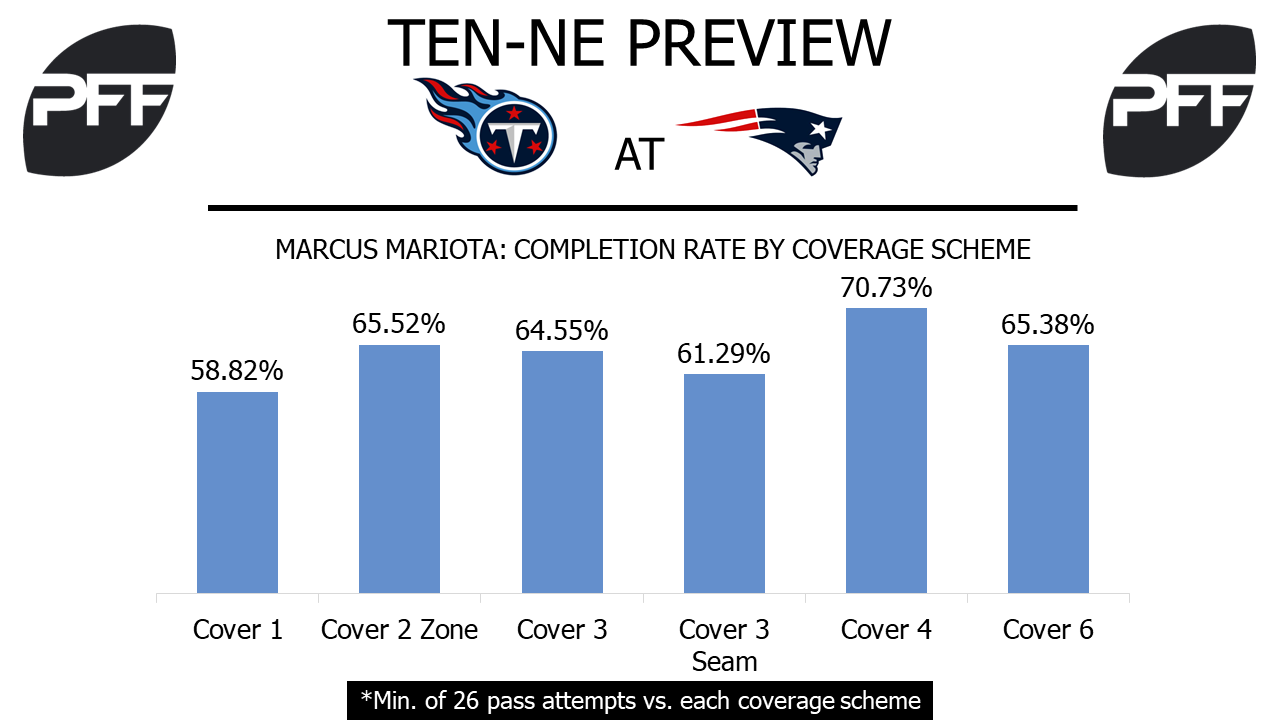 TE Delanie Walker vs. S Patrick Chung – Walker has been one of Mariota's most reliable weapons throughout the season. The 12-year veteran converted a team-high 59 percent of his targets into either a first down or a touchdown. His overall grade of 84.5 and his average of 1.88 receiving yards per route run both rank fourth among qualified tight ends. Walker will likely see a lot of safety Patrick Chung in coverage this week. Chung allowed 31 catches for 320 yards, two touchdowns and got an interception when he covered tight ends this season. Overall, he allowed an average of 1.10 receiving yards per coverage snap, the highest rate among safeties that have played at least 329 coverage snaps. Quarterbacks throwing into his coverage averaged a passer rating of 85.8.
RB Derrick Henry vs. LB Elandon Roberts – After stating he felt like he ran soft against Jacksonville in Week 17, Henry exploded in the Wild Card round. In last week's win against the Chiefs, the Alabama product amassed a career-best game grade of 88.6. He had only three of his 23 carries (13 percent) get stuffed for zero yards or less against Kansas City, compared to 31 percent against Jacksonville in the week prior. He did most of his damage running to the left, earning 140 rushing yards and a touchdown on 19 carries. His success running to the left was a trend throughout the regular season, as he averaged 5.09 yards per carry when he attacked that side. With last week's performance, Henry boasts a 63.4 elusive rating. In addition, he has a 36.1 breakaway percentage, 13th among qualifying running backs. Running backs running to the right side of New England's defense (offense's left) averaged 4.44 yards per carry, compared to a 5.02 average when running to the defense's left. While Elandon Roberts leads New England's linebacking corps with 17 run stops and a combined tackling efficiency of 16.0, he ranks 75th among linebackers with a run-defense grade of 41.9. He's not the only Patriots linebacker that has struggled defending the run, as there isn't a single member of the linebacking corps with a run-defense grade above 43.5.

Coverage by: Andrew Fleischer
TE Rob Gronkowski vs. S Kevin Byard – Rob Gronkowski finished the 2017 regular season with the No. 1 overall grade among tight ends at 92.7. After gaining 1,084 yards for the season on 100 targets, his 2.4 yards per route run was the highest figure among 42 qualifying tight ends. The Titans allowed the 11th-most receptions and yards to opposing tight ends for in 2017, and safety Kevin Byard will receive the unenviable task of covering Gronkowski. Byard's 90.0 overall grade for the season was the fourth-best out of 87 eligible safeties. His 43 tackles in the passing game were tied for fifth-most, though his nine missed tackles in coverage were the second-most, and his 0.52 yards allowed per coverage snap was tied for 30th among 59 qualifying safeties. It will be interesting to see if Byard will be able to limit the efficiency or big-play ability of Gronkowski.
RB Rex Burkhead vs. LB Wesley Woodyard – The Titans allowed 904 yards after the catch on throws to running backs during the 2017 season, which is 45 percent of their total yards allowed after the catch for all route types. In Weeks 8 through 14, the games in which Rex Burkhead was healthy and saw 15-plus snaps, he had more receptions than any other Patriots running back. Linebacker Wesley Woodyard played 497 snaps in coverage, most among Titans linebackers, and allowed a reception for every 8.3 snaps in coverage, tied for 21st-most out of 82 qualifying linebackers. His 8.0 tackle efficiency against the pass was 31st among 66 qualifying linebackers.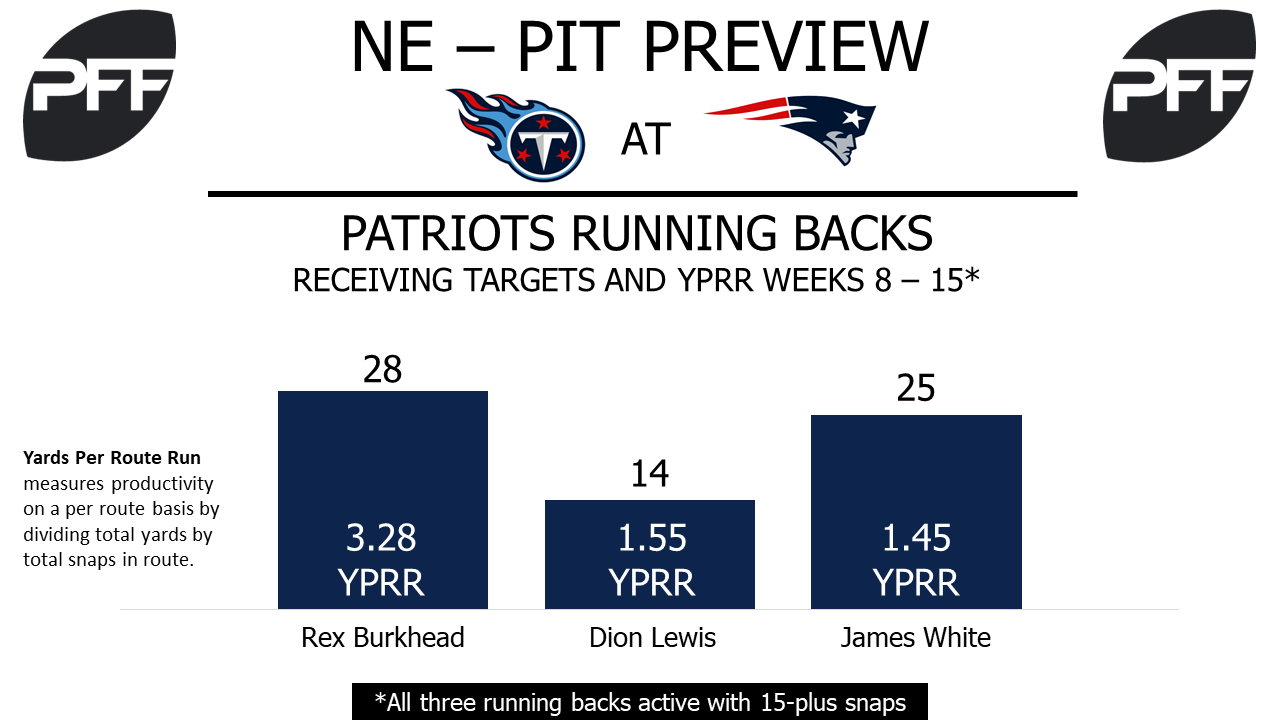 Editor's Note: Since this article was published, it has been widely reported that Rex Burkhead would not play for the Patriots in this game.
WR Chris Hogan vs. CB Adoree' Jackson – Chris Hogan finished the regular season with 12 red-zone targets, the same number as Brandin Cooks and Danny Amendola, despite missing all but one of the final eight regular season games. Four of those targets were on crossing routes, which is Tom Brady's second-most frequently targeted route. While his 49.6 overall grade was poor, his expected return could pay dividends for the Patriots' red-zone offense. Rookie cornerback Adoree' Jackson will work to prevent Hogan from finding a soft spot in the defense. Jackson's overall grade of 81.8 is tied for 39th out of 120 eligible cornerbacks. Jackson allowed three receptions and a touchdown on the six crossing routes he covered in 2017, with a passer rating allowed of 105.6 on those throws.