After each week of the NFL season, and once our exhaustive All-22 review process is in the books, PFF will be bringing you the insights from our play-by-play grading of every NFL game with our team of the week.
This year we will match the new and improved All-Pro system when it comes to offensive and defensive formation, with a flex player for both sides of the ball that can be either a receiver, slot weapon, tight end or running back on offense, and anybody in the defensive secondary on defense. This gives us the flexibility to reward the player that best deserves it across multiple positions, rather than shoehorning in somebody just to fit a slot receiver or cornerback role. 

OFFENSE
PFF Grade: 91.3
Elite Stat: Russell Wilson had an adjusted completion percentage of 78.4 percent this week.
Russell Wilson had another of those games that makes you think he is the best quarterback in the NFL when he is on his game. When he was kept clean against the Texans, he completed 70.4 percent of his passes and had a 128.5 passer rating, but because he was under pressure a relatively low amount of the time this week his rating under pressure was still 105.1. On deep passes alone, Wilson had five completions for 202 yards.
Running back – Jerick McKinnon, Minnesota Vikings
PFF Grade: 91.8
Elite Stat: Jerick McKinnon had an elusive rating of 100.7, the best mark in the league this week.
Who needs Dalvin Cook? Though McKinnon gained just 50 yards on the ground on 14 carries (3.6 yards per attempt), McKinnon broke five tackles to get that far and gained 47 of those 50 yards after first contact. In the passing game he added another 72 yards, caught all six of the targets that came his way and allowed just one hurry on the 13 snaps he was kept in to pass protect.
PFF Grade: 94.1
Elite Stat: DeAndre Hopkins gained 5.74 yards per route run this week.
For once the box score does a pretty good job, because DeAndre Hopkins was worth every one of his 224 receiving yards against the Seahawks this week. Ge gained almost six yards for every route he ran against a formidable passing defense, 123 of which came against Richard Sherman. Hopkins was a force all game, making tough catches and taking a receiver screen 72-yards for a score.
PFF Grade: 89.7
Elite Stat: JuJu Smith-Schuster gained 6.89 yards per route run, best in the league this week.
This was the best game of JuJu Smith-Schuster's rookie year so far, with 193 yards to his name, 97 of which came on one catch and run. He did drop one pass, but caught seven of the ten targets thrown his way and Ben Roethlisberger had a passer rating of 145.8 when throwing Smith-Schuster's way. He beat five different Lions defenders for catches.
PFF Grade: 90.6
Elite Stat: Jack Doyle gained 3.27 yards per route run this week.
Jack Doyle had a career game this week against the Bengals, seeing 13 passes thrown his way, catching a dozen of them for 121 yards and a touchdown. Doyle caught a pass against seven different Bengals defenders, beating five different players for gains of 10 or more yards. Doyle also had 25 snaps of run blocking and acquitted himself well in the run game too, putting together one of the best overall performances of the season at the position.
PFF Grade: 87.7
Elite Stat: LeSean McCoy gained 3.3 yards per carry after contact this week.
LeSean McCoy gained 151 rushing yards this week, and 89 of them came after first contact. McCoy was at his mercurial best, slicing through the Raiders defense for big gains and catching six of the seven passes thrown his way for another 22 yards in the air as a dump off option for QB Tyrod Taylor.
PFF Grade: 85.2
Elite Stat: Matt Kalil allowed no pressures this week.
Matt Kalil had his best game as a Carolina Panther this week, keeping his first clean sheet of the season when it comes to pass protection, with no pressures allowed across 35 pass-blocking snaps. This was by far the best game of Kalil's season, and the first time he has been in the 80s for a single-game grade this season.
PFF Grade: 89.6
Elite Stat: Dan Feeney allowed no pressures across 30 pass-blocking snaps.
The Chargers offensive line had an injection of youth this offseason, but they have only recently began to get any of it on the field. This was Feeney's first start of the year, and by far the most snaps he has played in a game, more than doubling his season total in just one game, and he was outstanding against the Patriots. He allowed no pressures at all, and run blocked well all game. If this is a sign of things to come, the Chargers may be on their way to repairing their line.
PFF Grade: 84.9
Elite Stat: David Andrews allowed no pressure from 52 pass blocking snaps.
David Andrews retains his spot on the team of the week thanks to a second-straight excellent game, this one coming against the Chargers. Andrews didn't allow any pressures despite playing 52 pass-blocking snaps, but again he also run blocked well despite playing 86 total snaps. Andrews now has back to back excellent games and is vaulting his way up the center rankings.
PFF Grade: 89.1
Elite Stat: Zack Martin allowed no pressures from 28 pass blocking snaps.
The one member of the Dallas offensive line that hasn't missed a beat all season, Zack Martin was again nearly flawless against the Redskins. He didn't allow any pressure at all across 28 pass blocking snaps, but was dominant on the ground, with the team averaging 5.9 yards on runs that went outside of his blocks.
PFF Grade: 84.5
Elite Stat: Daryl Williams allowed no pressure this week against the Bucs.
In a week with some interesting names in the team of the week we have an all-Panthers tackle pairing, with Daryl Williams joining his teammate Matt Kalil to form the team of the week bookends on the offensive line. Like Kalil, Williams didn't allow any pressure at all across 35 pass-blocking snaps.
DEFENSE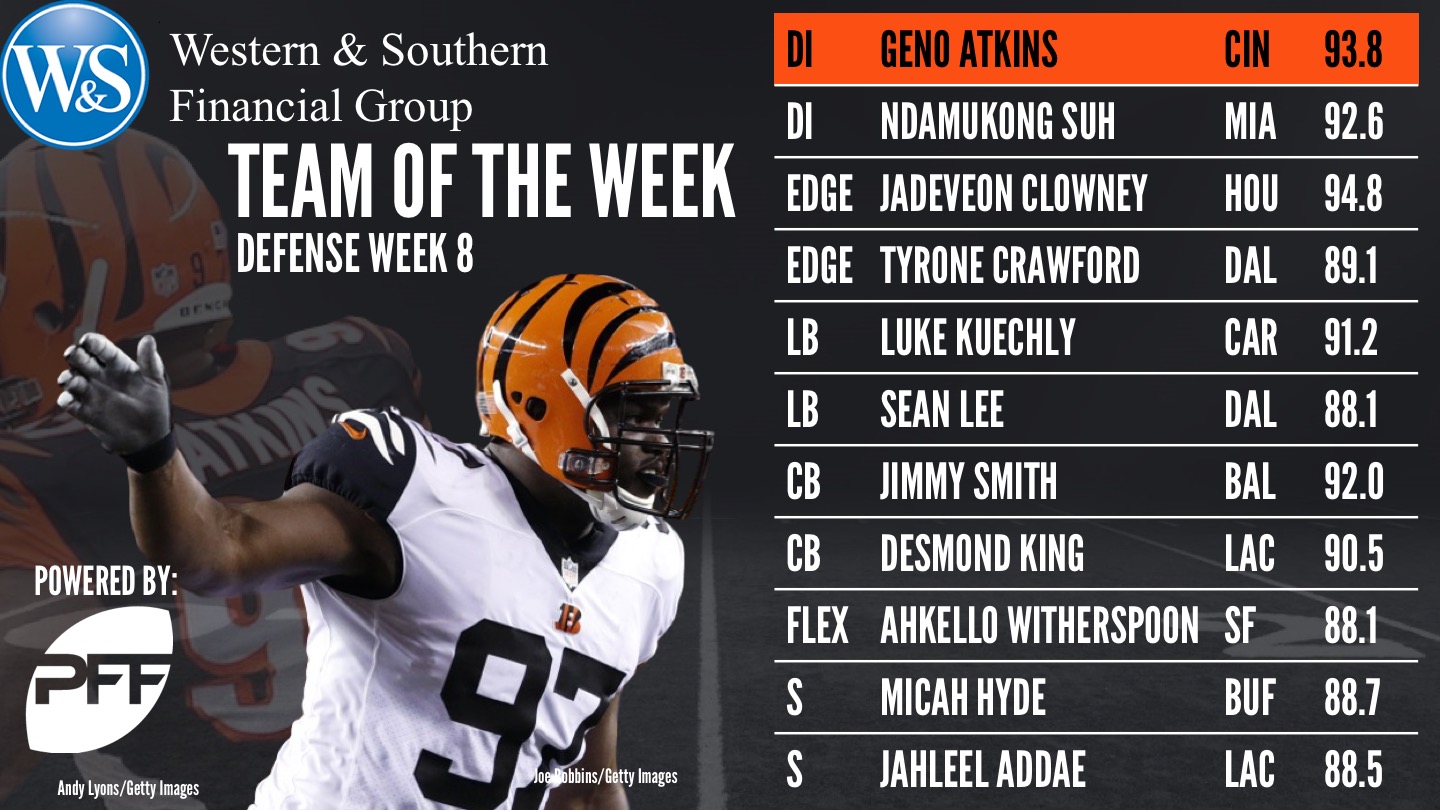 PFF Grade: 93.8
Elite Stat: Geno Atkins had a run-stop percentage of 23.5 percent against the Colts.
Geno Atkins feasted on a weak Indianapolis offensive line, racking up seven total pressures, but also five defensive stops as he knifed into the backfield and wrought destruction on the Colts offense throughout the game. Atkins played an impressive 57 total snaps in the game, with 40 of them rushing the passer.
PFF Grade: 92.6
Elite Stat: Nadmukong Suh had a pass-rush productivity score of 15.0 against the Ravens.
While the team found itself destroyed by the Ravens overall on Thursday night, Ndamukong Suh was excellent in the middle of the defense. He only had four hurries, but they were decisive pressures and he had more blocks defeated that never had the chance to become pressure. He also chipped in with three defensive stops in the run game.
PFF Grade: 94.8
Elite Stat: Jadeveon Clowney had eight total pressures from 43 pass-rushing snaps.
Going up against the Seahawks offensive line is always likely to bring the best out of any edge rusher (though that may change now with Duane Brown), and Jadeveon Clowney had the best game of his season this Sunday. He had eight total pressures and tied for the team lead in defensive stops across his 67 defensive snaps, 48 of which came rushing the passer.
PFF Grade: 89.1
Elite Stat: Tyrone Crawford had four total pressures against Washington.
While David Irving and DeMarcus Lawrence have been doing the bulk of the heavy lifting this season for the Dallas defensive line, against Washington it was Tyrone Crawford who was the best of the group. Crawford had four total pressures, but each one took the quarterback down, with a sack and three knockdowns, while he also had three defensive stops in the game.
PFF Grade: 91.2
Elite Stat: Luke Kuechly allowed NEGATIVE yards per coverage snap against the Buccaneers.
Luke Kuechly was back this week and the Panthers defense was once again transformed with his presence. In coverage he was targeted three times, allowing two catches, but those receptions went for a loss of one yard overall, and he also had an interception to his name as well.
PFF Grade: 88.1
Elite Stat: Sean Lee allowed just 0.28 yards per coverage snap against Washington.
Sean Lee hasn't had the best season of his career so far this season, but this week against Washington was the best game he has had in 2017, and he ended the game with seven solo tackles, three defensive stops, and allowed just 11 yards on five receptions in coverage.
PFF Grade: 92.0
Elite Stat: Jimmy Smith allowed a passer rating of 0.0 when targeted this week.
Jimmy Smith is putting together something of a career year for the Ravens this season, and against Miami he was shutdown in coverage. Targeted seven times, Smith allowed just two catches for 12 yards, and broke up two of the incompletions while picking one off for himself. This was a dominant display of coverage.
PFF Grade: 90.5
Elite Stat: Desmond King allowed just 0.32 yards per coverage snap against the Patriots.
Having one of your best games against Tom Brady and the Patriots offense is no mean feat, but that's what Desmond King did to earn his spot on team of the week. King was thrown at three times, allowing just two catches for 12 yards and breaking up one of the incompletions. Overall, he tied for the team lead with five defensive stops.
PFF Grade: 88.7
Elite Stat: Micah Hyde allowed three catches from three targets, but they went for a total of seven yards.
The Bills safeties have been transformed with their new defensive scheme this season, and Micah Hyde was the latest to show his best play this week against the Raiders. Hyde ended the team with the team lead for defensive stops with three, while notching an interception in coverage and allowing his three receptions given up to amass just seven total yards.
PFF Grade: 88.5
Elite Stat: Jahleel Addae missed two tackles on nine attempts.
Jahleel Addae's dominant facet of play this week was in run defense, where he managed to post an excellent grade of 99.3 despite missing tackles. Addae ended the game with four defensive stops and seven solo tackles, while consistently forcing cuts from Patriots backs and impacting the plays.
PFF Grade: 88.1
Elite Stat: Ahkello Witherspoon allowed three receptions from eight targets.
Despite being beaten for one big, 53-yard play against Alshon Jeffery, Witherspoon had an excellent day overall, and made up for that with an impressive interception and some very close coverage the rest of the game. Overall, Witherspoon allowed just three catches from the eight times the ball was thrown his way.
Five-for-five on the night, including three-for-three from 40 yards and beyond, and one from 50-plus, the seventh-round rookie had his best game as a pro on Monday Night Football.
From four punts on Sunday, returners netted minus one yard on punt returns against the Saints, a credit to both Morstead and the coverage unit. He had a great day, including one punt with a hang time of 5.27 seconds.
No player in the NFL scored on a punt or kick return this week, but Roberts had a huge return that would have stretched Atlanta's lead late had it not been called back for an illegal block in the back that didn't actually impact that play much.
Coleman, having a career year on special teams so far this year, had his best game on Sunday. Three tackles took his total on the year to 10, tied for most in the league.