After each week of the NFL season, and once our exhaustive All-22 review process is in the books, PFF will be bringing you the insights from our play-by-play grading of every NFL game with our team of the week.
This year we will match the new and improved All-Pro system when it comes to offensive and defensive formation, with a flex player for both sides of the ball that can be either a receiver, slot weapon, tight end or running back on offense, and anybody in the defensive secondary on defense. This gives us the flexibility to reward the player that best deserves it across multiple positions, rather than shoehorning in somebody just to fit a slot receiver or cornerback role. 

OFFENSE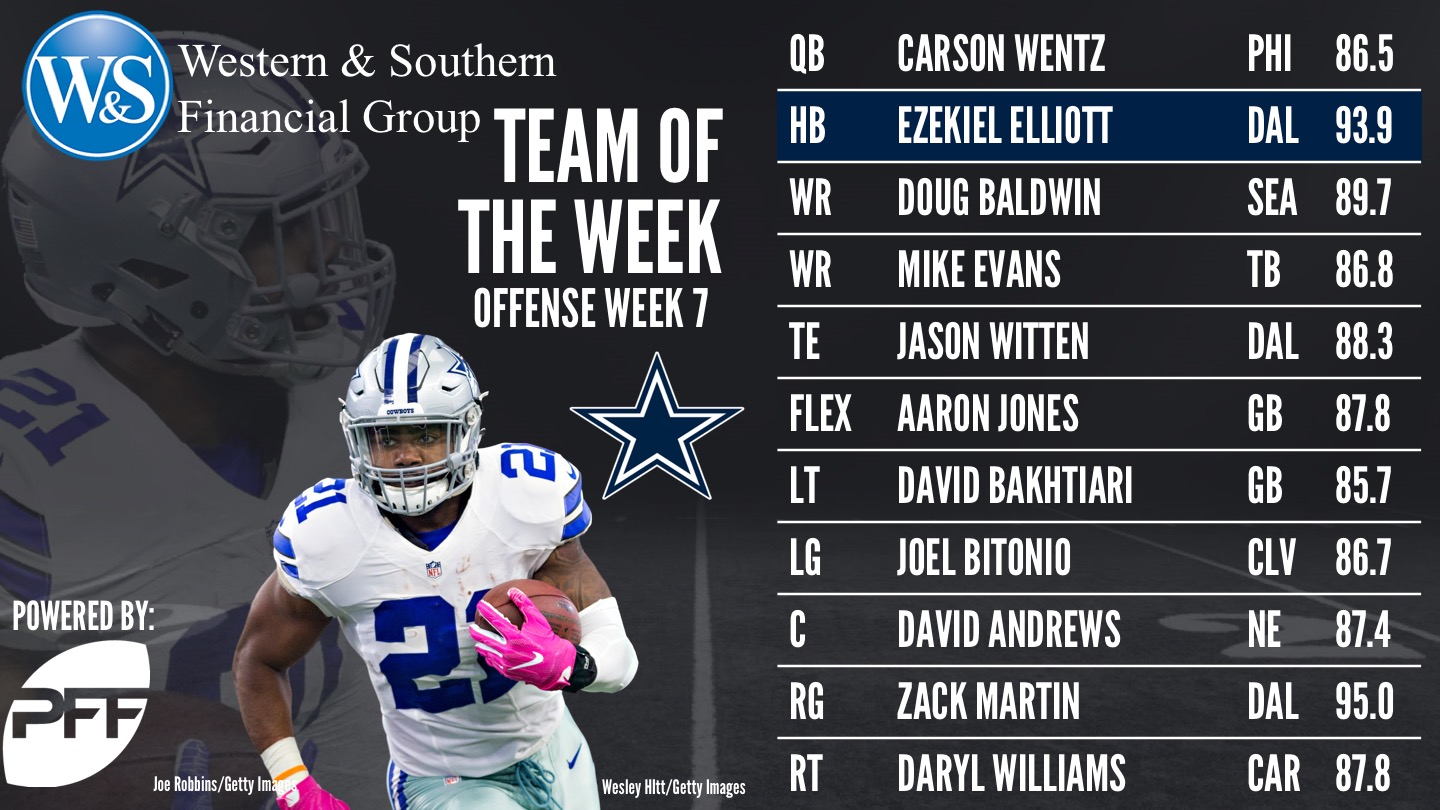 PFF Grade: 86.5
Elite Stat: Carson Wentz had an adjusted completion percentage of 72 percent on Monday night.
The highlight of his play on Monday night was a spectacular touchdown pass under pressure and off balance, but Wentz also performed a Houdini act to escape from a wall of bodies and make a positive play as well as simply execute the offense well pretty much all game. Wentz is playing extremely well so far in 2017, quickly developing into arguably the league's best young quarterback with very little to cap his ceiling going forward.
PFF Grade: 93.9
Elite Stat: Ezekiel Elliott gained just 1.92 yards per carry after contact this week.
Ezekiel Elliott was back to his commanding best against the 49ers this week. Aided by an offensive line that more than had the measure of San Francisco defense, Elliott was able to use his vision to pick his cuts and gain big yardage every time he had the ball. On the ground, he consistently kept the Cowboys ahead of the chains, while through the air he turned the only pass sent his way into a 70-plus yard touchdown, weaving down the sideline and into the end zone.
PFF Grade: 89.7
Elite Stat: Doug Baldwin gained 2.88 yards per route run this week.
Doug Baldwin is the most underrated devastating receiver in the league and he gave the New York Giants defense more than they could handle on Sunday. Baldwin had nine receptions for 92 yards and a touchdown, but was also missed by Russell Wilson on a couple of occasions when he was behind the defense and could have put up huge numbers if his quarterback had been a little more accurate. Baldwin beat five different Giants defenders for catches, including catching 100 percent of his targets against Janoris Jenkins and Dominique Rodgers-Cromartie.
PFF Grade: 86.8
Elite Stat: Mike Evans dropped none of the seven passes thrown his way.
Mike Evans is the primary receiving weapon for the Buccaneers, even as the team adds threats around him, and he continues to produce big plays. Against the Bills he caught seven of the ten passes thrown his way, and beat sensational rookie cornerback Tre'Davious White for two catches, 35 yards and a touchdown on three passes thrown into his coverage.
PFF Grade: 88.3
Elite Stat: Jason Witten gained 2.35 yards per route run this week.
Jason Witten had a strong day run blocking, which hasn't always been the case in recent seasons, but he was also an impressive receiver against the 49ers despite going up against Jaquiski Tartt, a defensive back who has made a lot of plays in coverage for them this season. Witten hauled in a one-handed touchdown in the end zone on a perfect pass play as Tartt had hold of one of his arms trying to prevent the catch.
PFF Grade: 87.8
Elite Stat: Aaron Jones broke two tackles this week.
Aaron Jones has been a pleasant surprise for the Green Bay Packers this season, getting opportunity because of the injury to Ty Montgomery. This was the second time this season he has seen 15 or more carries, and on both occasions he topped 125 rushing yards while posting a touchdown. This week he gained 62 of his 131 yards after contact, breaking two tackles along the way against the Saints.
PFF Grade: 85.7
Elite Stat: David Bakhtiari allowed one total pressure this week.
David Bakhtiari was the best pass-blocking tackle in the game a season ago, and this was the first game since his return from injury that we got to see him back to the peak of his powers. He did surrender a sack, but no other pressures in 33 pass-blocking snaps, and run blocked well enough to help Aaron Jones put up big numbers on the ground.
PFF Grade: 86.7
Elite Stat: Joel Bitonio allowed no pressures across 42 pass-blocking snaps.
The Browns line as a whole hasn't been as impressive this season as it had the potential to be coming into the year, and it's less likely they'll reach that potential with Joe Thomas injuring his triceps, but LG Joel Bitonio was excellent against the Titans. He didn't allow any pressures at all in 47 pass-blocking snaps and run blocked well. He was the only member of the line not to surrender a pressure this week.
PFF Grade: 87.4
Elite Stat: David Andrews allowed no pressures from 32 pass-blocking snaps.
David Andrews has one of the best performances of his career this Monday night against the Falcons. It marks the second-straight week that he hasn't given up a pressure of any kind, but this week he also had the run blocking to go with that pass protection performance. The Patriots averaged 5.8 yards on runs that went immediately either side of his blocks.
PFF Grade: 95.0
Elite Stat: Zack Martin allowed no pressures from 26 pass-blocking snaps.
Maybe the most dominant member of an offensive line that pounded the 49ers into the ground, Zack Martin has been a force all season long, but he was particularly exceptional this week. Martin didn't allow any pressures across 31 pass-blocking snaps, but he was at his best in the run game, crushing linebackers at the second level, but also controlling the 49ers defensive linemen long enough to allow big lanes to open up in their zone runs.
PFF Grade: 87.8
Elite Stat: Daryl Williams allowed two total pressures this week against the Bears.
Daryl Williams began the season with a tough game, but he has been getting better as the games have worn on. This week was his best game of the season, surrendering just two total hurries across 46 pass-blocking snaps and also grading well as a run blocker, while the players on either side of him struggled to maintain parity.
DEFENSE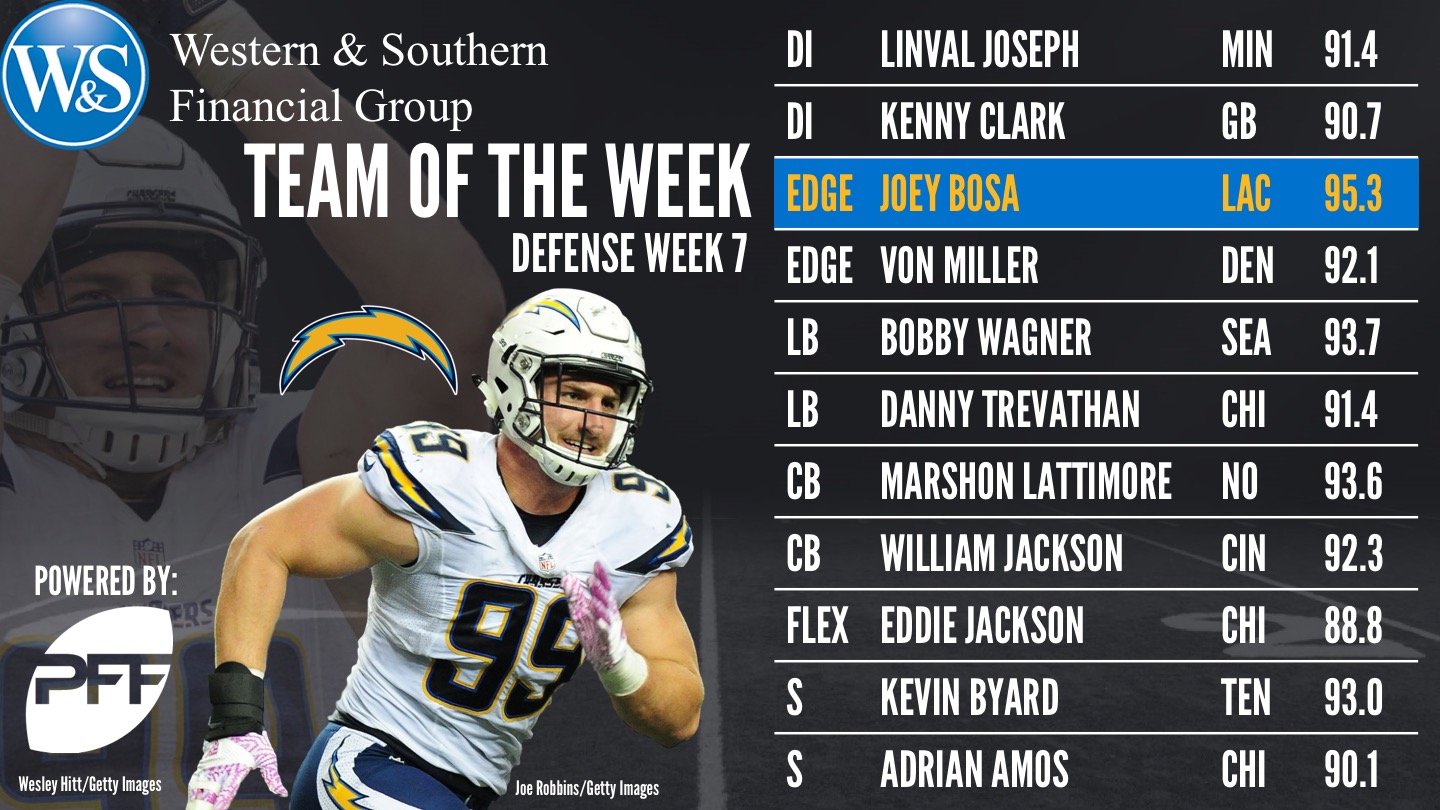 PFF Grade: 91.4
Elite Stat: Linval Joseph had a run-stop percentage of 16.7 percent against the Ravens.
Linval Joseph has been a force in the run game this season, and that was no different against the Ravens. Joseph also generated a little pressure as a pass-rusher, notching a hit and a hurry on just 18 pass-rushing snaps. He had three run stops and countless plays in which he destroyed his blocker at the point of attack and forced cuts from the Ravens running backs.
PFF Grade: 90.7
Elite Stat: Kenny Clark had a run-stop percentage of 8.8 against the Saints.
Kenny Clark's leap in performance in the past few weeks has been remarkable, and he was once again a force against the Saints this past weekend. He didn't have a sack, but he did have three total pressures as well as tying for the team lead with three defensive stops in the run game, giving the Packers a group of impressive performers up front rather than relying upon just Mike Daniels.
PFF Grade: 95.3
Elite Stat: Joey Bosa had seven total pressures from 35 pass-rushing snaps.
Going up against Denver's right tackle situation was always going to provide a boost for the Chargers pass rushing duo, and Joey Bosa actually spent the majority of his snaps on that side of the field, with 36 of 51 snaps coming on the left side of the defense. Bosa finished with two sacks and five additional hurries, almost all of them being quick and decisive wins to put Trevor Siemian under huge pressure all game long.
PFF Grade: 92.1
Elite Stat: Von Miller had eight total pressures against the Chargers.
Von Miller wasn't to be outdone this week in a battle of high-level edge rushers. Miller matched Bosa's two sacks, but had six additional hurries from 27 total pass-rushing snaps. Miller ended the game with five defensive stops and was far too much for former-backup RT Michael Schofield to handle, having lined up on that side of the field on 46 of his 55 snaps.
PFF Grade: 93.7
Elite Stat: Bobby Wagner allowed just 0.58 yards per coverage snap against the Giants.
Bobby Wagner led the Seahawks with seven solo tackles and was second on the team with five defensive stops against the Giants. He was also excellent in coverage, dropping into zones underneath Eli Manning's intended targets and breaking up two passes that would have gone for big gains in behind him.
PFF Grade: 91.4
Elite Stat: Danny Trevathan allowed just 0.54 yards per coverage snap against Carolina.
On just eight pass-rushing snaps against the Panthers on the blitz, Danny Trevathan notched a sack, hit, two hurries and a batted pass, while also making three solo tackles, three defensive stops and recording an interception of Cam Newton. This was as complete a performance as you're ever going to see from a linebacker in another dominant performance from the Bears defense.
PFF Grade: 93.6
Elite Stat: Marshon Lattimore allowed 0 yards against the Packers this week.
Marshon Lattimore had another huge game against the Packers, breaking up two passes and only not getting a third because Devante Adams dropped the pass just before he had a chance to chop down on his arms and prevent the catch anyway. Lattimore now has the best overall PFF grade among all corners and the best mark we have ever seen from a rookie through seven weeks of their debut season.
PFF Grade: 92.3
Elite Stat: William Jackson allowed just 0.13 yards per coverage snap against the Steelers.
Last season's first-round pick, William Jackson has been showing the talent that made him such a sought after prospect a season ago. Against the Steelers he was thrown at six times, allowing just one catch for three yards while breaking up two of the incompletions. He was targeted four times when covering Antonio Brown, and did not surrender a catch.
PFF Grade: 93.0
Elite Stat: Kevin Byard had three interceptions and was the primary coverage defender on three targets.
Kevin Byard was the beneficiary of more horrendous Browns quarterback play, picking off three passes this week in the team's victory. Overall he was the primary coverage defender on three pass attempts, and while he allowed two catches, they went for a total of just eight yards.
PFF Grade: 90.1
Elite Stat: Adrian Amos was thrown at four times, allowing two catches for negative two yards.
Adrian Amos makes the team of the week for the second straight week, and the Chicago Bears seem to be working towards taking over the team of the week in the secondary. Amos had a pass breakup this week and seven solo tackles for the fourth-straight week, with three defensive stops.
PFF Grade: 88.8
Elite Stat: Eddie Jackson didn't miss a tackle on four attempts.
Any time you rack up multiple defensive scores you're having a pretty good day, and Eddie Jackson was able to take both an interception and a fumble back to the house on 75-plus yard returns. Jackson has been part of a resurgent Chicago secondary and has been only getting better as his rookie year has gone on.
The NFL's best kicker in 2016 hasn't got off to a hot start in 2017, but was back to his best this past week, converting on all three field goal attempts including one from 57 yards that would have been good from 60-plus yards.
Kern is having a great year and impressed again this past week, averaging 52 yards per punt. Two of his four punts landed inside the Browns 20 yard line, and the return team allowed just 13 yards.
Only one player scored on a punt or kick return this week, and that was Benjamin, who used his game breaking speed to crack open the game against the Broncos
Littleton made two solo tackles and one assist on special teams this week, and also delivered a block to the ground as a blocker on the punt return unit.