It all came down to a field goal attempt. With just 15 seconds left, 44 yards away – the veteran Greg Zuerlein is standing, arms dangling, waiting for the time to snap. Seattle head coach Pete Carroll stands on the sideline, hands on his knees, bent at a 90-degree angle, 12 pieces deep in some Bubble Yum gum, awaiting the fate of his team. 
Kick is up and no good. Seattle moves to 4-1 and parties like it's 2013.
Heading into the divisional affair, both the Los Angeles Rams and the Seattle Seahawks still hadn't really found their identity for the 2019 season. The Rams are coming off an abysmal performance on both sides of the ball in Week 4's loss to the Buccaneers, giving up 55 points at home and quarterback Jared Goff putting together a rather poor performance.

Seattle had a dominant win in Week 4 (against the second-worst team in the NFL according to PFFELO), but they squeaked by with victories against two very bad teams in the Bengals and Steelers in weeks prior. Not to mention, they lost at home to Teddy Bridgewater.
With that said, we know both teams are good, but are they Super Bowl good? Using PFF's unique grades and advanced database, we breakdown the key takeaways from this Thursday Night Football matchup that take us near the answer to this question.
We are taking Russell Wilson for granted
Hey Seattle, you have a deal with one of the best quarterbacks in the NFL. 
After last night's victory and insane performance by quarterback Russell Wilson, Seahawks fans are waking up this morning feeling like how Wilson did when he posted a video in his bed shirtless after signing his record-breaking, four-year, $140 million extension this past April.
Nonetheless, the showing Wilson had in Week 5's edition of Thursday Night Football was near flawless with a 96.4 grade and five big-time throws to zero turnover-worthy plays on his 23 pass attempts. Whatever adversity Wilson was up against, he came out on top and showed no struggles. Wilson's composure was pristine when hit with pressure, as he recorded a 97.5 grade, averaged 11.4 yards per attempt and threw uncatchable passes just 10% of the time. The Rams' menacing pass-rush (that contains the best interior rusher in the game) opted to blitz Wilson a decent amount; however, it backfired on them badly. Against their blitz, Wilson finished with a 96.2 passing grade, averaged 14.4 yards per attempt and had a perfect passer rating of 158.3.
That's pretty good, folks.
For the entirety of his career, Wilson has been known for his outside-the pocket-passing ability. Including plays negated by penalty, nearly 60% of Wilson's total dropbacks ended outside the pocket. That is a staggering rate, and on those dropbacks, Wilson was about as good as we have ever seen with a 97.4 passing grade, completing nine of his 12 passes for 160 yards (13.3 yards per attempt) while recording three big-time throws, a 156.3 passer rating and an 81.8% adjusted completion percentage (his average depth of target on those throws was 15.2 yards). Does this mean Wilson wasn't good inside the pocket? Haha, nope. In fact, he was decent with an 82.2 grade, 9.8 yards per attempt, 80% adjusted completion percentage and a 143.2 passer rating. 
Perhaps Wilson's most undervalued attribute is his deep passing ability. On throws that were 10-plus yards downfield, Wilson had a superb 97.5 grade while recording all five of his big-time throws on his 12 pass attempts. A 40% big-time throw rate is UNHEARD of. In addition to that, Wilson averaged 15.8 yards per attempt, recorded a 149.3 passer rating and threw 63.6% of his passes accurately.
Pete Carroll and offensive coordinator Brian Schottenheimer have been known historically for their ground-and-pound mentality. Though last night it looked as if they were taking baby steps to the light – the light of analytics. It's a beautiful sight to see. It's proven that operating out of heavier sets provides a competitive advantage, as offenses average nearly a yard more per play out of those personnel packages. During Thursday Night Football against the Rams, Seattle ran 45% of their total plays out of 12 personnel (1 RB, 2 TE 2 WR), and when they passed out of this set, Wilson tossed LA's secondary around and left them toasted with a 98.1 grade, two big-time throws, 20.6 yards per attempt and a perfect passer rating of 158.3. In addition to that small step towards offensive success, Seattle ran their fair share of play-action passing, something folks in the football analytics community just love to see. On those plays, Wilson completed eight of his nine passes for 15.2 yards per attempt, a perfect passer rating, three touchdowns, threw zero uncatchable passes and had an insane 97.8 grade.
Russ was truly DangeRuss last night. If he keeps up this level of play, you might be hearing "go hawks" in Miami, Fla. come February.
Jared McVay rebounded nicely
While some in the media led the public to believe Rams quarterback Jared Goff had a good game last week, he, in fact, did not. His PFF grade against the Buccaneers has been his season-low at 57.8. However, he bounced back this week with a good, not great passing grade of 77.5. Goff made some jaw-dropping throws in Seattle (five big-time throws to be exact) but made a few that just made you wonder what he was thinking (four turnover-worthy plays). When examining his decision data, it's becoming more apparent that he may just be a first-read quarterback.
All five of Goff's big-time throws were going to his first read, leading to an impressive 88.6 grade. When his first read wasn't there, though, his play declined significantly with two turnover-worthy plays and a 30.3 passing grade. This coincides with his time-to-throw data, as well. When Goff threw the ball in 3.0 seconds or less, he had an 89.5 passing grade. When his time-to-throw when over 3.1 seconds, his grade fell to 43.9 (Wilson had a 99.7 grade on those throws in case you were wondering).
We've preached it before, but for those who don't know, the most telling of how great of a passer a quarterback really is and what's the best way to predict future performance is evaluating them in a clean pocket. When he was kept clean, Goff had a solid 80.4 passing grade, while putting up a 75.9% adjusted completion percentage and throwing uncatchable passes on just 10% of his clean-pocket targets Under pressure, it was a completely different ball game for Goff with a 66.8 grade and throwing 40% of his passes as uncatchable.
While Goff played rather average in Week 5, it was far better than his Week 4 showing.
Aaron Donald is one of the best players in NFL history
Seemed like every time you'd see Wilson drop back, you'd see Rams interior defensive lineman Aaron Donald swim past the offensive line and secure a pressure. In fact, Donald was so dominant that there were plays where the man got triple-teamed. Unsurprisingly, Donald finished the night with an elite 91.2 pass-rush grade. In total, Donald contributed nine total pressures, generating one on 34.6% of his pass-rush reps. Moreover, he beat his opponent in the pass-rush over 46% of the time.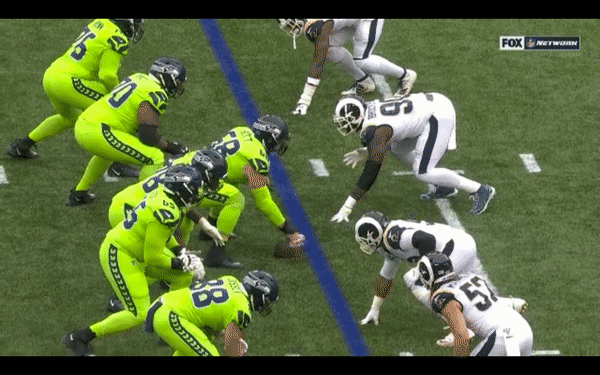 Donald was just TOSSING bodies in Seattle.
Over the course of his career, Donald has played more and more on the end than on the interior (42.5% of his snaps heading into Week 5 were when he was lined up over or outside the tackles). Last night, it didn't matter where he was on the line. He still left that offensive line in shambles. He was, however, at his best while playing on the end. On those pass-rush snaps, Donald had an elite grade of 91.5 while recording a pressure on over 45% of his reps and winning 63% of the time.
Seattle receivers have untapped potential
As indicated earlier, Seattle has been known for its run-heavy offense. When you examine their receiving corps, it really does not make any sense as to why this is.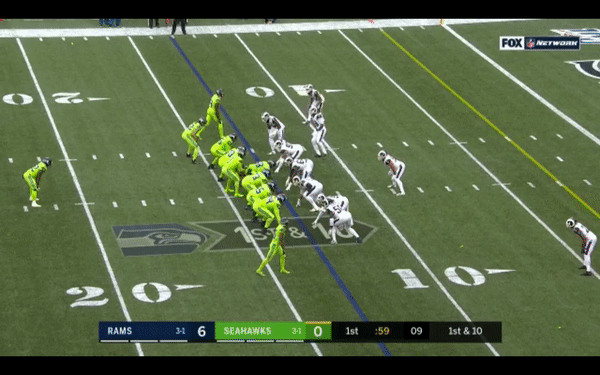 We all thought Odell Beckham Jr.'s catch from Week 2 Monday Night Football was the catch of the year, but Tyler Lockett's touchdown catch might be the catch of the decade. With an 82.0 receiving grade on the night and generating insane separation (three of his four targets were with two steps or more of separation), Lockett certainly did not disappoint. On the tight end front, Seattle has arguably the most underrated tight end in the NFL. Will Dissly continued to shine with an 84.3 receiving grade, two explosive plays, 4.05 yards per route run and a nice 6.8 yards after catch per reception average. His backup, Luke Willson, was only targeted once on his seven routes ran, but that one target resulted in a first down. Oh, and let's not forget about the generational running back Rashaad Penny that Seattle was so gracious enough to spend a first-round pick on in 2018. What separates a running back apart from all others is their receiving capability, and Penny showed he may be worthy in this area with being targeted twice on his four routes ran for a 92.7 receiving grade and 7.75 yards per route run, while tacking on a broken tackle and an explosive play.
Remember when we addressed Seattle's usage of 12 personnel and how great Wilson was passing out of it? When Wilson targeted Penny (RB), Dissly (TE), Willson (TE), Lockett (WR) and Metcalf (WR), he was 13 of 14, recording a perfect passer rating and averaged 15.5 yards per attempt. Seems like a solid 12 personnel package, eh?
Pete has the keg in front of him – he just has to tap it. Go full send Pete, you won't regret it.
DK can only run vertical routes but that's okay
Coming into the draft process, athletic freak D.K. Metcalf was known for his insane straight-line speed but horrifying cuts when running a route. While at Ole Miss, Metcalf had an elite 90.9 receiving grade on those vertical routes, while a 60.8 grade on all others. So far, we are seeing the same exact thing.
Two of Metcalf's three targets last night were a vertical route, and he had high success in running those routes with an 89.9 receiving grade.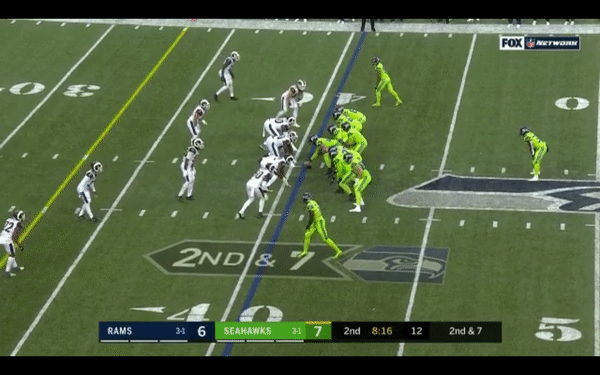 On the year, Metcalf has produced four explosive plays on vertical routes and an 82.6 receiving grade while generated a passer rating of 107.7. On non-vertical routes, Metcalf got nothing going last night and, on the year, has just a 61.3 receiving grade on those.