Offensive success in the NFL is all about exploiting defensive inefficiencies by creating favorable matchups and situations given your offensive personnel. One glaring example is the game between the Los Angeles Chargers and the Pittsburgh Steelers last season, in which Keenan Allen was targeted seven times with a linebacker as his primary coverage defender. Allen turned those seven targets into six receptions for 56 yards, including a clutch first-down reception on a pivotal, late-game third-and-four.
In football, as in life, you want to avoid friction if possible. As an offense, you want talented receivers — whether that be a wide receiver, tight end, running back or fullback — going to work against coverage liabilities, i.e., linebackers and safeties that are better suited for collisions near the line of scrimmage than keeping pace with crafty route-runners in the open field. You want the running back bursting through to a clear second level rather than bouncing off defenders from a stacked box at the line of scrimmage.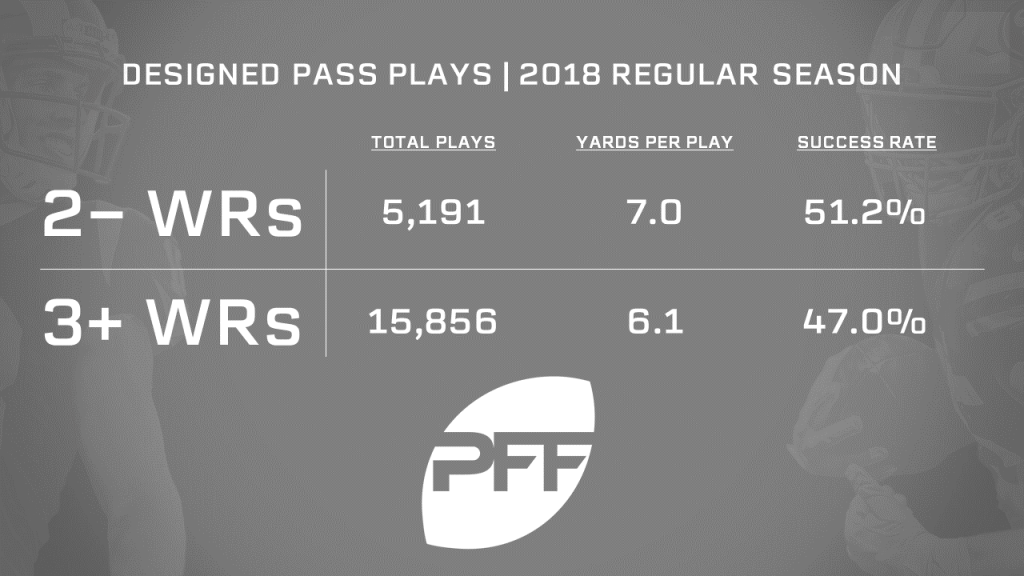 Slowly but surely, NFL teams are beginning to catch on. There's been talk about how successful the Los Angeles Rams' run game has been and the direct relationship that their absurdly high usage of 11 personnel (1 RB, 1 TE) has on that through manipulating the defensive personnel and alignment. An idea that has been slower to take hold has been the converse: that passing out of heavier formations (12 personnel, 22 personnel, etc.) could be more effective given that you have running backs and tight ends that can take advantage of base defenses in the passing game, as PFF analyst Jordan Plocher suggested several weeks ago.
If an offense runs 22 personnel out on the field, the defense will likely respond with base personnel. If the offense then goes empty and passes the ball they can pick on the SAM or any other coverage mismatch they want.

— Jordan Plocher (@PFF_Jordan) July 28, 2019
Luckily, we have the ability to look back at last season and check how teams fared when passing the ball out of heavier formations to see if that conjecture holds true. Spoiler: it does.