Not even the Adam Gase's smelling salts could spark an underwhelming New York Jets roster devoid of starting quarterback Sam Darnold, as the side got rolled by a Cleveland Browns team that looked very shaky at times. And after Jets defensive coordinator Gregg Williams claimed wide receiver Odell Beckham Jr. was not a "dynamic" player, Beckham Jr.'s subsequent destruction of the Jets' secondary was a fitting end to a very heated build-up.

Using PFF's unique grades and advanced database, here are six takeaways from Week 2's Monday Night Football showcase.
The Jets feeding Le'Veon Bell made the offense way too predictable 
Whether it was in the run game or in the passing game, running back Le'Veon Bell was the feature of this Jets offense. In fact, 58.5% of the Jets' offensive plays ended with Bell having the ball in his hands, but clearly, this strategy did not work, as only three points were scored on the day.
Bell was the most targeted Jets receiver, as he saw 34.5% of their designated targets (10 targets on 26 routes run, to be exact). In order to efficiently use a running back, especially in the receiving game, using them at different alignments is a must. 
Bell played 55 of his 61 snaps out of the backfield. 
As a result, Bell managed an average depth of target of -2.6 yards downfield — and that just won't move the needle going forward. That being said, Bell was productive despite the shallow targets he received and recorded 2.35 yards per route run, two explosive plays, a 100% catch rate and seven broken tackles.
What time is it? It's OBJ time.
He may not have sported the watch in-game last night, but he certainly let everyone know it was that time in his return to the Meadowlands. Beckham Jr. rebounded from his sub-par Browns debut in Week 1 with a near-elite 87.6 receiving grade and several big-time plays against the Jets.
On the night, Beckham Jr. was as productive as ever; he averaged 4.88 yards per route run and logged three explosive plays while being targeted on over 25% of his routes. Oh, and he probably made the catch of the year: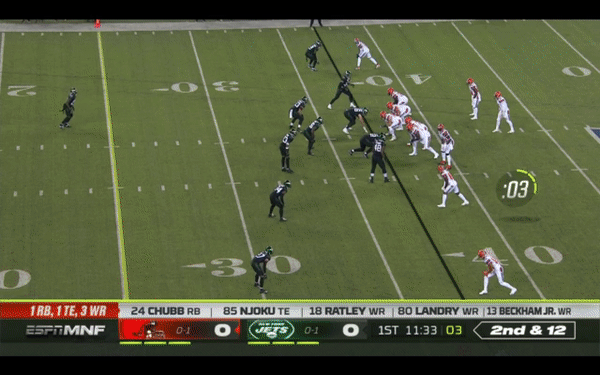 It's pretty obvious that head coach Freddie Kitchens is looking to use Beckham as their deep option, with seven of Odell's nine targets being 10-plus yards downfield (Baker Mayfield had 13 total attempts that were targeted 10-plus yards downfield). The standard stat sheet may read that OBJ caught only six of his nine targets, but he caught every single catchable pass thrown to him. Let's also not forget about what could have been: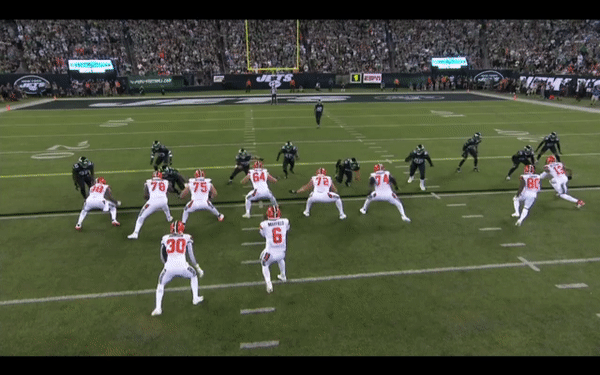 Greedy played like the first-round prospect PFF knew he was
After an abysmal Week 1 where he and the rest of the Browns' defense got roasted by the Titans, Greedy Williams flipped his 44.7 coverage grade in the first week to an 87.5 coverage grade in Week 2. Williams allowed zero catches on his three targets in coverage (including no plays). Two of those three targets were negated by penalties, and it just so happens both of those ended in a forced incompletion.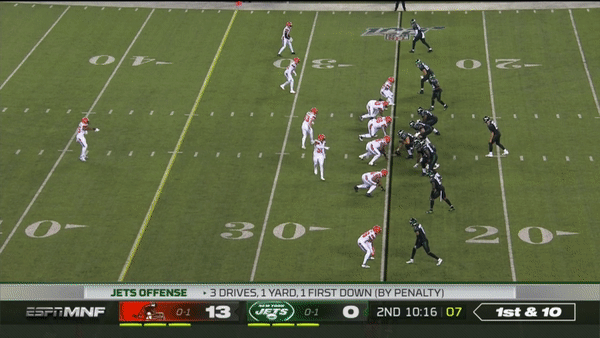 Wait, the Browns offensive line is actually good?
From top to bottom, the Browns' offensive line performed incredibly well after being beaten up by the 37-year old Cameron Wake in Week 1. Bouncing back, this line as a whole surrendered just eight pressures all night and allowed two quarterback hits and zero sacks. Left guard Joel Bitonio and right tackle Chris Hubbard both earned pass-blocking grades above 80.0, with the rest of the line being not too far behind. In addition to getting the job done in pass protection, they were also were stout in the run game, giving running back Nick Chubb plenty of holes on the night. Remember that Chubb rushing touchdown in the early second quarter?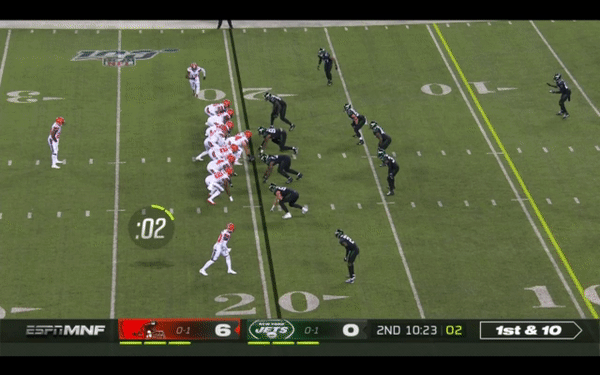 Those first 15 yards were because of the offensive line, specifically center J.C. Tretter, and Chubb's after-contact ability allowed him to get the touchdown rather than being tackled inside the five-yard line.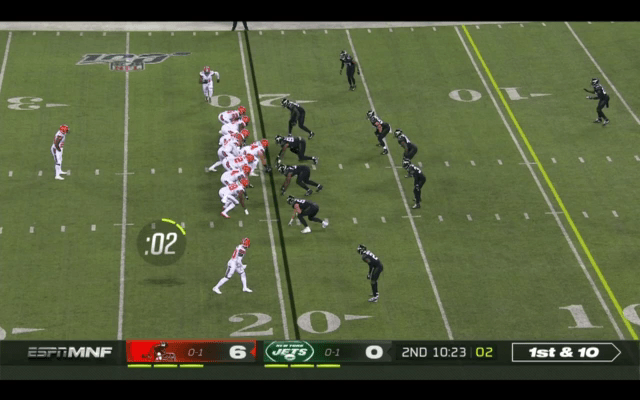 Joe Schobert showed once again why he is one of the most undervalued players in the NFL
Last season, the second-highest-graded linebacker in the NFL was none other than Joe Schobert. Seemingly picking up where he left off, Schobert posted a coverage grade of 90.5 last night and had four defensive stops while in coverage. Along with that, Schobert found success against the run, with three run stops and two tackles for loss or no gain. 
Though he did miss one of his 14 tackle attempts, Schobert made one of the best plays of the night towards the end of the game by forcing a fumble on a Le'Veon Bell reception: