The 2017 season saw a change in the NFL, with a new group of young cornerbacks stepping up to emerge as the best players in the league. Of our eight highest-graded cornerbacks in 2017, five of them were in their first or second season in the league, including the three players who ranked second, third and fourth.
With that in mind, here are our preseason rankings for the top 15 cornerbacks in the NFL heading into the 2018 season: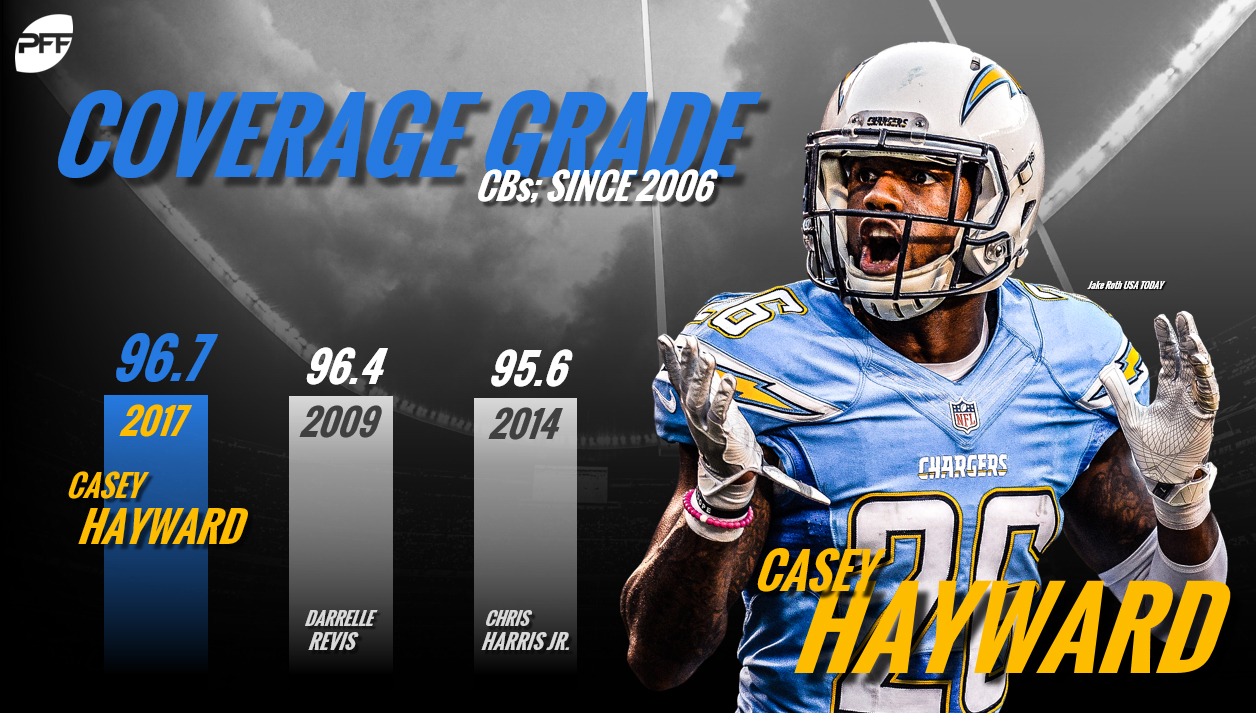 After years of being one of the most underrated cornerbacks in the NFL, Hayward took a big step forward to claim the throne of the top player in the league at the position. Setting a career high in terms of his PFF grade at 96.4 to rank first in the league, he allowed a reception just once every 17.7 snaps in coverage and allowed an NFL passer rating of 58.6 on throws into his coverage.
The fifth overall selection in the 2016 NFL Draft, Ramsey has already elevated himself among the elite at the position with a tremendous 2017 campaign. Targeted 92 times in coverage, Ramsey allowed just 51.1 percent of those targets to be caught, coming away with four interceptions and 10 pass breakups.
At 83.5, 2017 was the lowest graded season of Chris Harris Jr.'s career since 2011, but his career body of work suggests that he is still one of the top cornerbacks in the game today. Since 2011, he as allowed just 58.1 percent of the passes thrown into his coverage to be caught, at just 10.3 yards per reception. Over that span, he has allowed just 15 touchdowns in coverage compared to 16 interceptions and 43 pass breakups.
One of two rookie phenoms in 2017, the former LSU Tiger hit the ground running in the NFL, and finished the year as our third-highest graded cornerback at 91.6. A playmaker from Day 1, White tied for 10th among cornerbacks with 11 pass breakups and tied for fifth with four interceptions. While there are plenty of question marks in Buffalo ahead of the 2018 season, White's status as a playmaker on defense isn't one of them.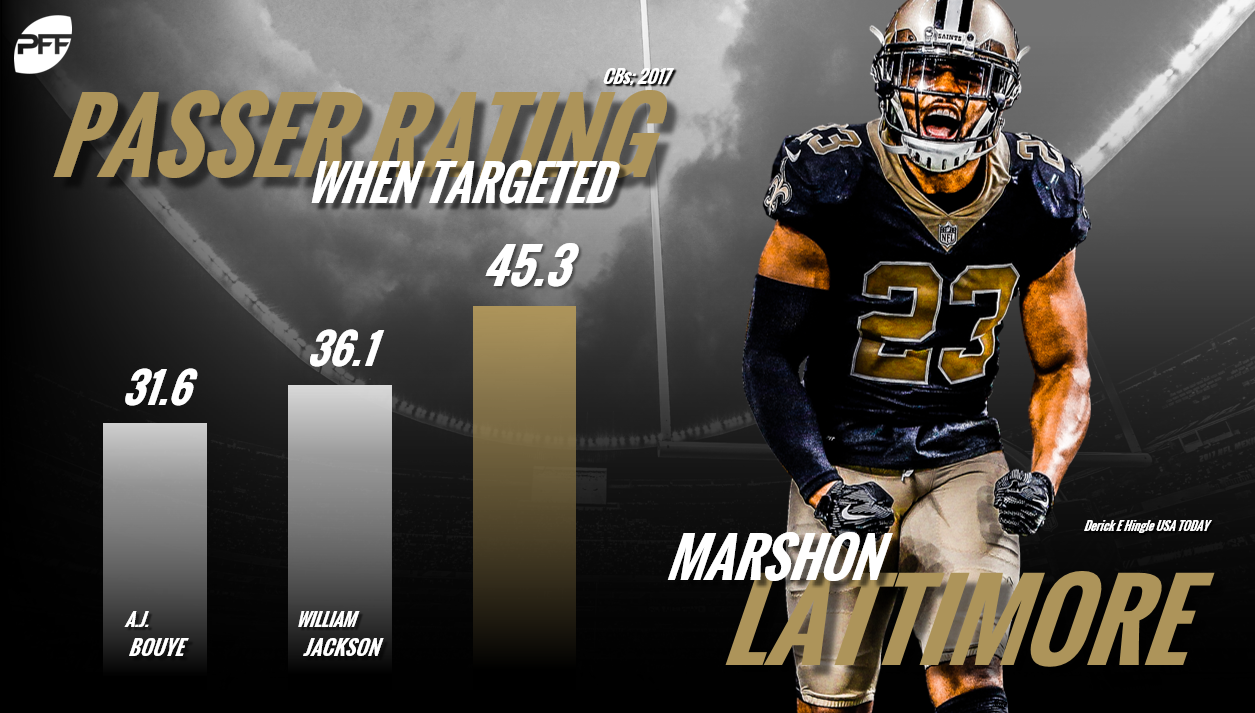 It's fitting that Lattimore is grouped with White here, because the two of them are likely to be compared to one another for every subsequent season after their success as rookies. Like White, Lattimore didn't miss a beat entering the NFL, and allowed a passer rating of just 45.3 on throws into his coverage, the third-lowest mark in the league. Coming off a season where he was our fourth-highest graded cornerback in the NFL at 90.5, there's no reason to expect anything other than another big year for Lattimore in 2018.
Bouye wasn't just good in 2017, he was historically good. His NFL passer rating allowed of 31.6 on throws into his coverage is the lowest we have seen from an outside cornerback since we began grading and collecting data in 2006. In his first season in Jacksonville, Bouye proved that his 2016 season in Houston was no fluke, and confirmed himself among the upper echelon of cornerbacks in the league.
Bouye yielded the lowest NFL passer rating allowed in coverage, but Cincinnati's Jackson was right behind him at 36.1. Proving he belonged in the NFL in his second season in the league, the 2016 first-round pick even dominated against one of the best receivers in the league in Antonio Brown. In two games against the Pittsburgh Steelers, Jackson was targeted seven times when covering Brown. He didn't surrender a single catch and had four pass breakups.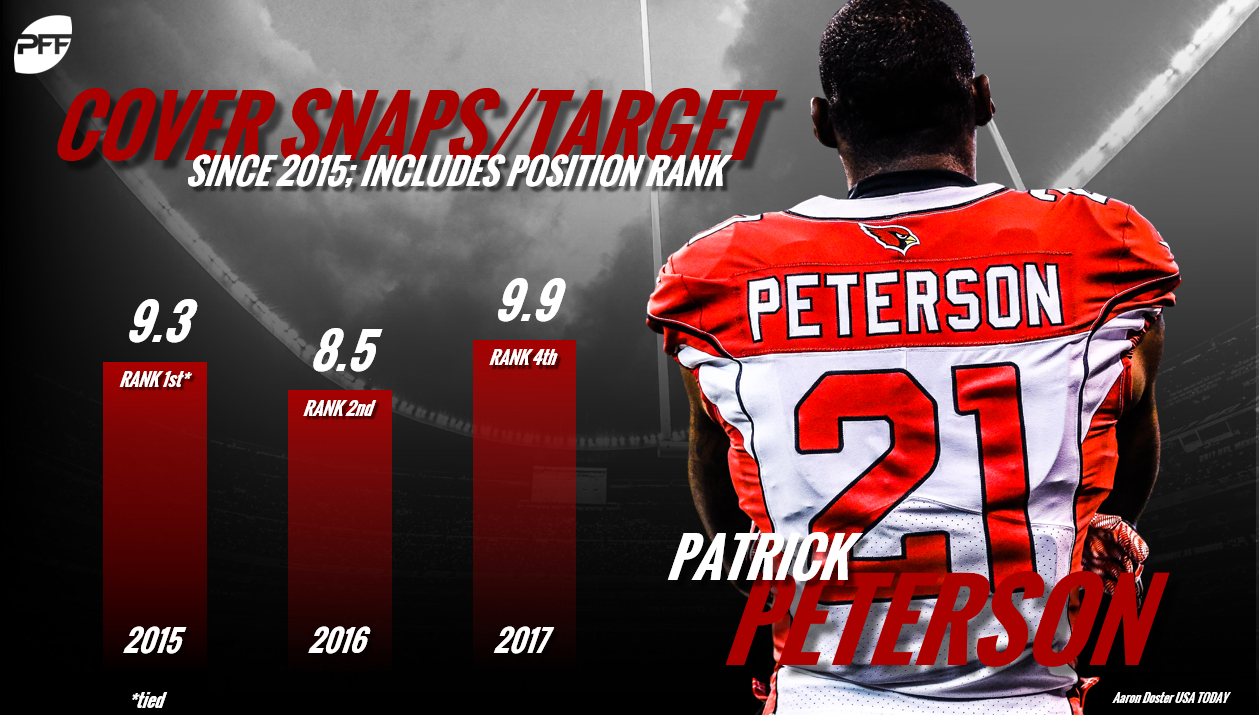 Quarterbacks just don't target Peterson often. Targeted once every 21.2 snaps in coverage, only Jackson III was targeted less frequently on a per snap basis. For his career, Peterson has allowed just 54.7 percent of passes thrown into his coverage to be caught, and allowed just 394 receiving yards in his coverage in 2017.
Talib's best season of his career so far came while playing for a Wade Phillips defense in Denver in 2016, grading at 90.6 overall. He wasn't quite at that level last season, but still ranked 14th in the league with a PFF grade of 86.2. Reunited with Phillips in Los Angeles now, he'll have the chance to recapture the magic and add to his 34 career interceptions and 71 career pass breakups.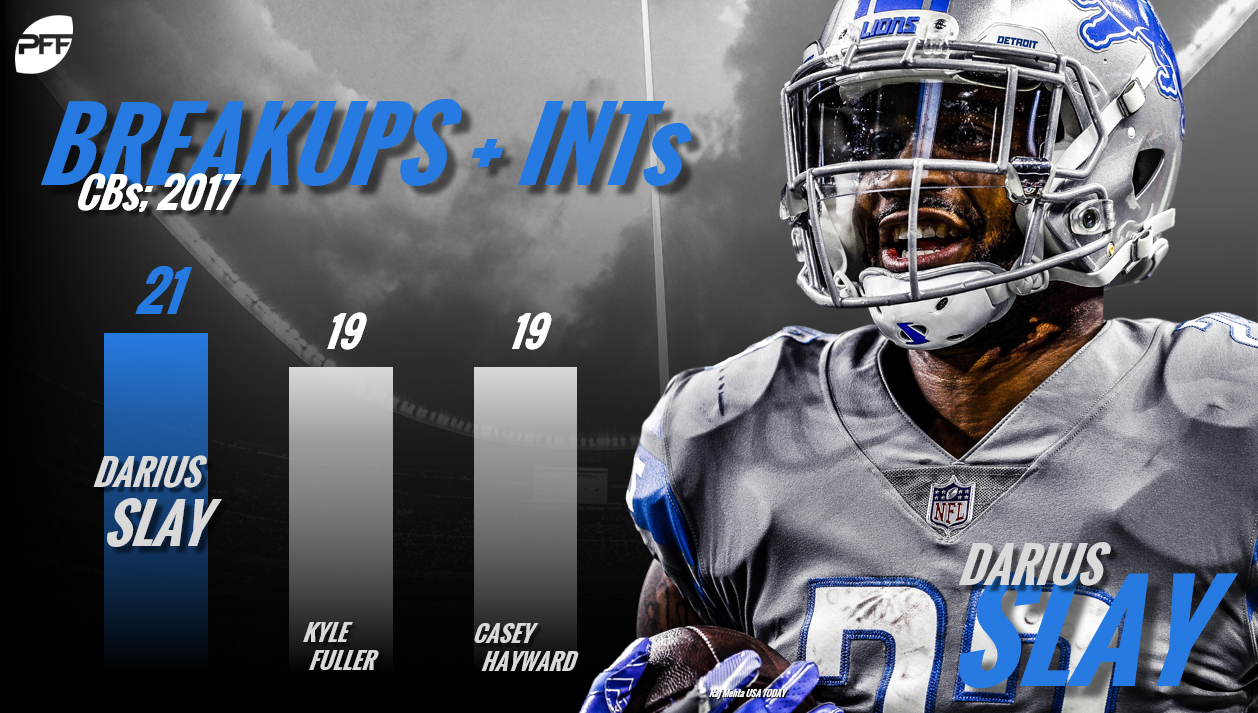 There's a reason that they call him 'Big Play Slay,' and he is coming off the best season of his career last year. Through just five seasons in the league, Slay has come away with 14 interceptions and 44 pass breakups. He had 21 combined interceptions and pass breakups in 2017, a mark that led the NFL on his way to allowing a career low 55.6 passer rating on throws into his coverage.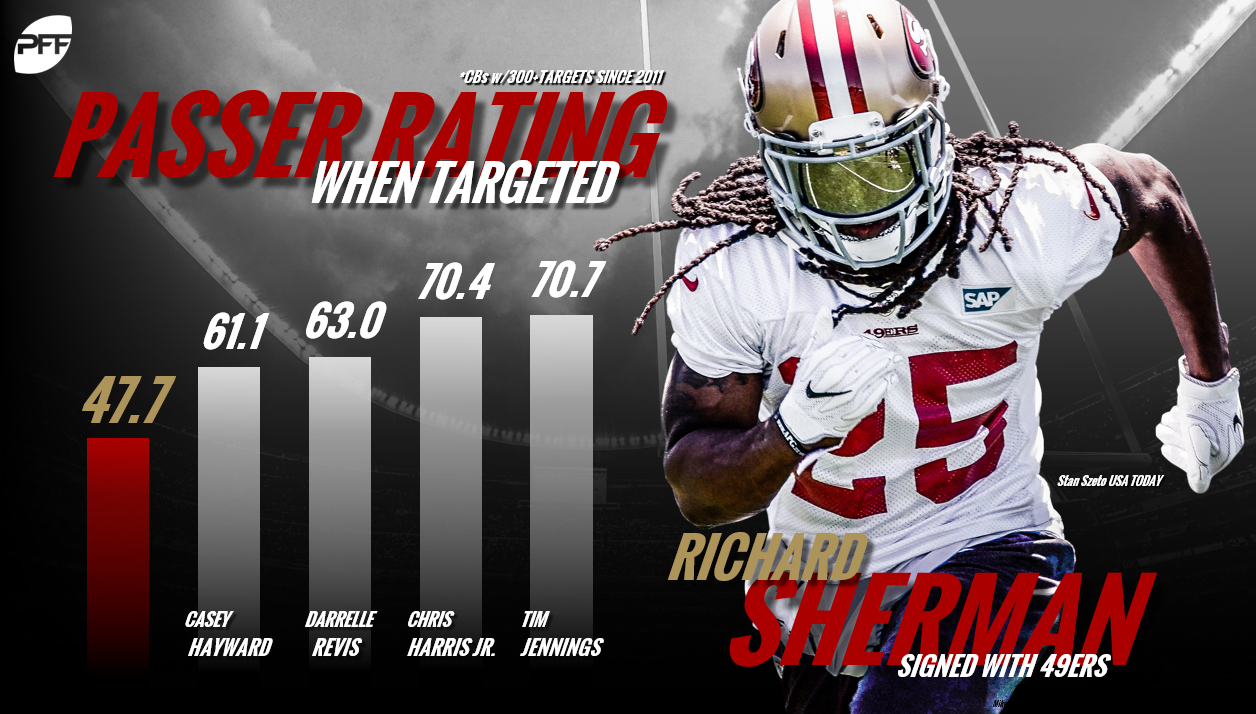 Big questions surround Sherman as he heads into his first year in San Francisco. Most notably, he is coming off an injury, is now 30 years old and has seen his PFF grade drop in each of the past three seasons. That being said, his 45.5 passer rating allowed in press coverage is the best in the league since we began grading in 2006, and he is still one of the toughest cornerbacks in the NFL to have success against in coverage.
When Gilmore signed with the Patriots last year, we viewed it as a perfect fit for his skillset. He proved us right with his first season for the Patriots, producing a career high 89.4 PFF grade. Including the playoffs, Gilmore allowed just 610 yards on throws into his coverage and looks set to remain as the Patriots No. 1 cornerback for the next few years.
The second new addition in Los Angeles is also one of our top 15 cornerbacks heading into the 2018 season. Peters is one of the top playmaking cornerbacks in the NFL as through three seasons, he has picked off 21 passes and come away with 34 pass breakups including the playoffs. In the regular season, he has yet to rank lower than third when it comes to interceptions in a season so far in his career. With a dominant player like Aaron Donald providing pressure up front, don't look for that to change in 2018.
Injuries seemed to slow him down in 2016, but Trufant was back to the level we saw from him earlier in his career last year. He has allowed just 57.9 percent of the throws into his coverage to be caught since entering the league in 2013 and while he hasn't created many turnovers, with just nine interceptions through five seasons including the playoffs, he has racked up 42 pass breakups, with 10 of those coming in 2017.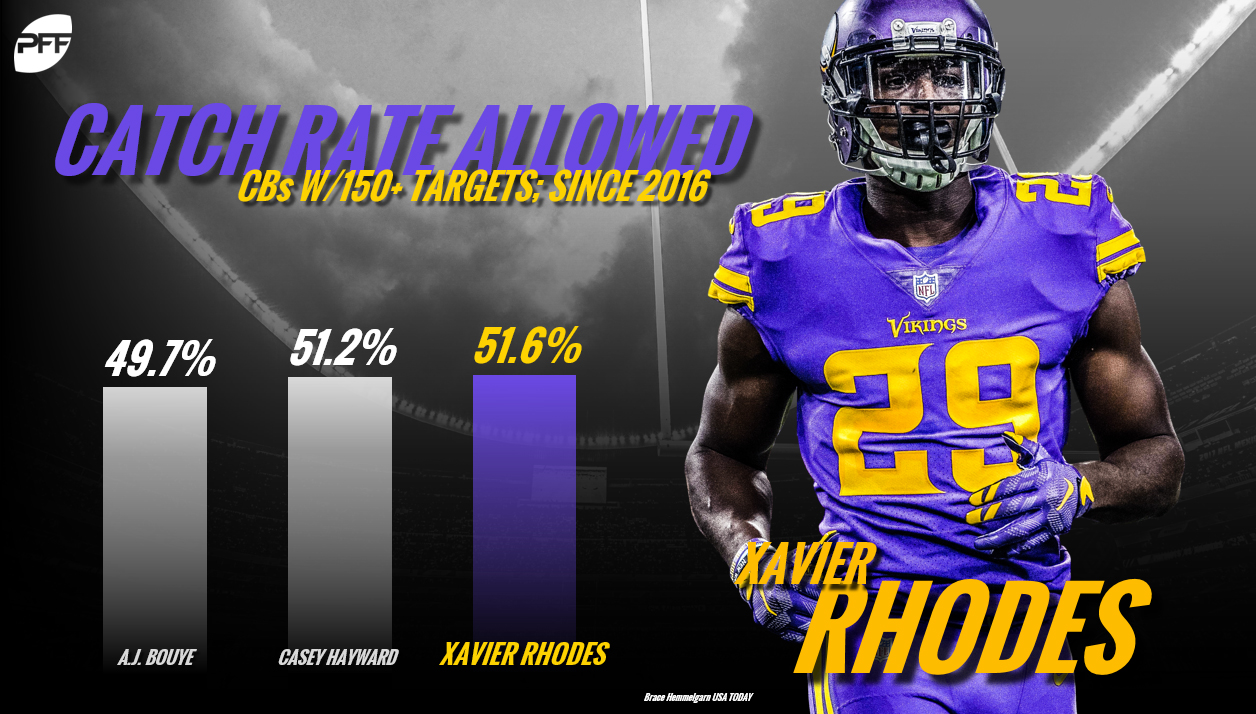 Grade wise, he hasn't quite lived up to his 'Rhodes Closed' reputation, as 50 penalties over his five-year career including the playoffs hurting his overall grade. That being said, Rhodes is one of the most physically-imposing cornerbacks in the NFL and he has a knack for getting his hands on the ball with 51 pass breakups so far in his career.
For more PFF grades and exclusive content, sign up for PFF Edge and check out all of last season's grades before the 2018 season begins –