Only two tight ends have ever finished a regular season with 535 yards or more after the catch since 2006. Those two tight ends are Rob Gronkowski and Travis Kelce, who have each accomplished the feat twice. San Francisco 49ers tight end George Kittle has now also reached that mark — and he's done it in just 10 games.

The second-year man out of Iowa is on pace to shatter Kelce's 652 yards after the catch in 2016. That year, however, Kelce hauled in 85 passes for an average of 7.7 YAC per reception, while Kittle is currently averaging 10.7 yards after the catch per reception — which would also be the most among qualifying tight ends since 2006.
What may be even more impressive is that Kittle is currently out-producing top pass-catching running backs in yards after the catch per reception, namely Todd Gurley (10.6), Saquon Barkley (9.5), Christian McCaffrey (8.4) and Alvin Kamara (7.8). Kittle has had 10 or more yards after the catch on 19 receptions, third-most among all players. Barkley and New England Patriots running back James White are the only others with more, and the next closest tight end is Kelce with 10.
To say that Kittle is on pace for a historic season is an understatement. He is outpacing elite running backs who are expected to catch screens and dump-offs for large gains. Tight ends are expected to block, catch mid-range passes and occasionally barrel over those who attempt to tackle them for a few extra yards (see Vance McDonald) — not snag passes with one hand and then out-run defenders for 71-yard completions.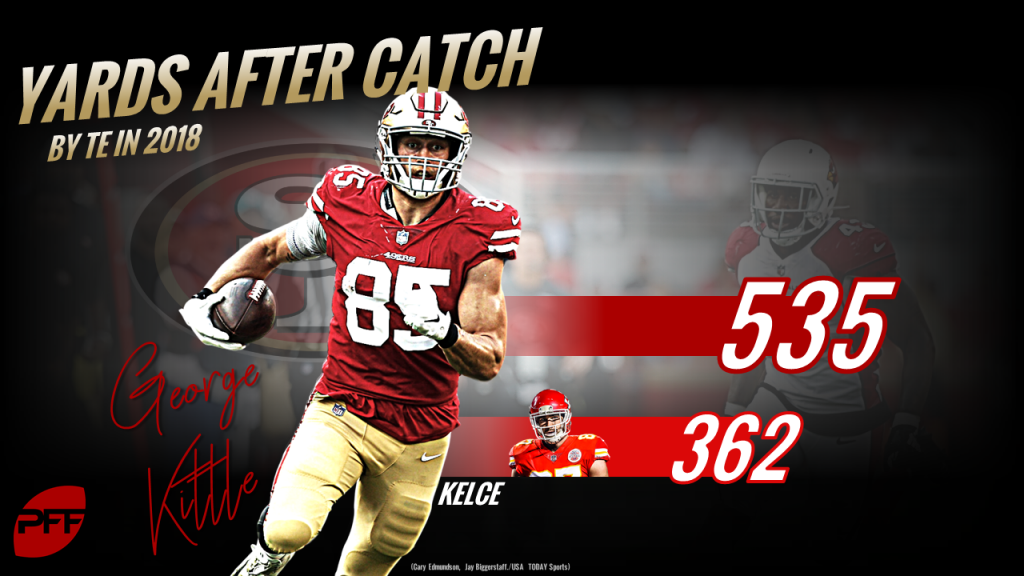 There have only been six instances since 2006 of a tight end with 10 or more yards after the catch on 20 or more receptions in a season. As previously mentioned, Kittle has 19 through 10 games, and he'll likely break Kelce's mark of 24 set in 2016.
In his breakout year, Kittle is also redefining what is expected of the tight end position and what will be expected for years to come. Similar to how running backs are used as pass-catchers more than ever before, NFL tight ends are becoming more elusive with each passing season. In 2006, the average yards after the catch per reception for a tight end was 2.81. In 2018, that number has skyrocketed to 3.68 yards, due in large part to Kittle's efforts.
In the same vein, tight ends are forcing more missed tackles per reception. From 2006 to 2012, tight ends averaged 11.4 receptions per missed tackle. From 2013 to 2018, that average has decreased to 10.0 receptions per missed tackle. Kittle has forced nine missed tackles, second to only McDonald and one more than he had a year ago.
Kittle's 86.2 overall grade ranks second among tight ends, and his receiving grade of 89.6 is deservedly first among the position. Kelce is the next closest to Kittle's 535 yards after the catch with 362 — in other words, very far away.
Among the 88 tight ends since 2006 with 90 or more receptions in that span, Kittle is the current leader in percentage of receiving yards that have come from yards after the catch (62 percent). And it's important not to understate that stat because it shows an ability to produce when you don't have a Brady-esque quarterback throwing to you (only 40.1 percent of Gronkowski's yards have come after the catch).
Kittle is making waves in the NFL, and his success in facets of the game that tight ends aren't necessarily supposed to excel at is eye-opening. If he's able to keep up the current pace, the tight end dynamic could soon shift as other teams look to replicate Kittle's abilities. After all, he's put up these numbers largely with backups C.J. Beathard and Nick Mullens at the helm — so when Jimmy Garoppolo returns likely next season, the 49ers could have an elite quarterback-tight end duo in their arsenal.