While building through the draft is the key to success in the NFL, it's still incredibly important to make key pickups during the league's free agency period. Looking at recent Super Bowl champions, you'll find teams that have drafted well, but also used their cap space to bring in free agents who have made important contributions to their championship runs. Getting a free agent who can help out is one thing, but getting one who can actually improve on his play with his new team is another. With that in mind, here's a look at five free agents who saw their performances improve with a new team in 2017.
[Editor's note: Read more about the free agency class of 2018 with the first ever PFF Free Agency Guide, which dropped for all PFF Edge & Elite subscribers. Not a subscriber? Sign up today and receive your copy with detailed profiles, exclusive PFF stats and much more.]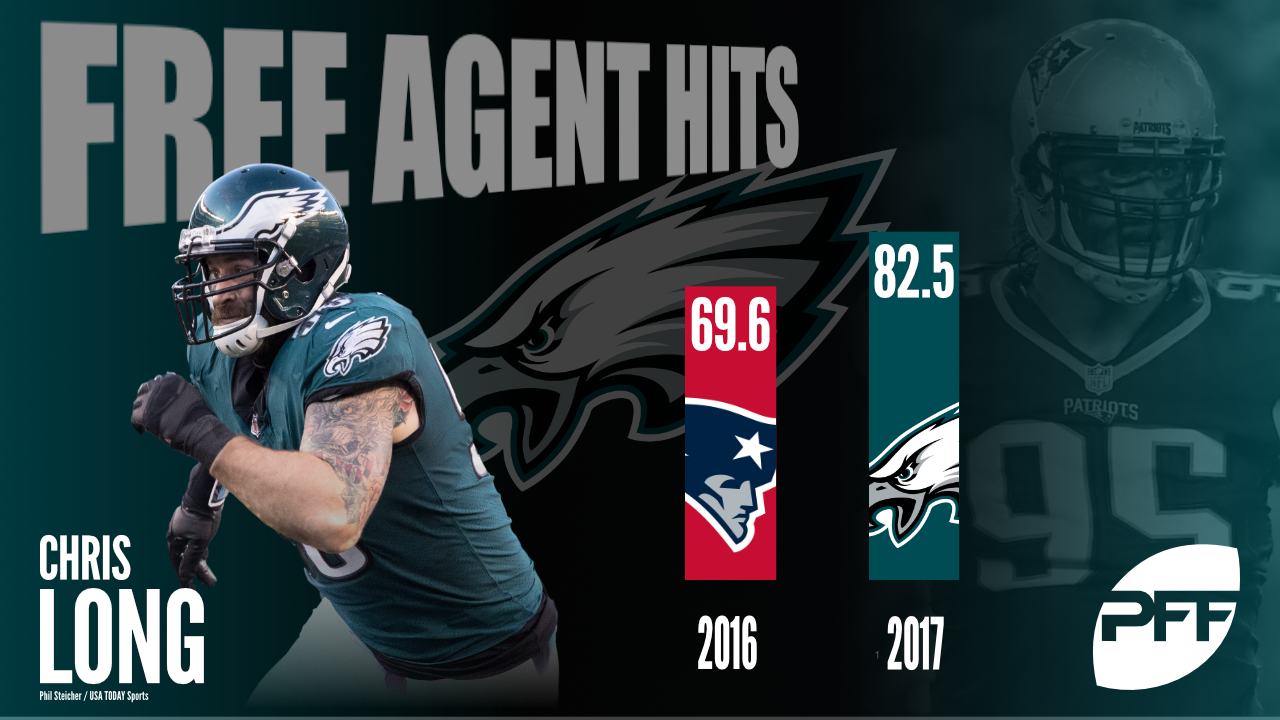 2016 grade: 69.6
2017 grade: 82.5
Long had the advantage of going from one Super Bowl contender to another, departing from the Patriots after winning a Super Bowl to end the 2016 season, to join the Eagles at the start of their Super Bowl campaign this past season. Playing as part of the deepest and most talented defensive line in the NFL, Long racked up 64 total pressures for the Eagles in the regular season and playoffs. That's actually one shy of his 65 total pressures registered in New England, but he did it on 53 fewer pass-rushing snaps. That meant his pass-rushing productivity rating of 11.8 in 2017 was better than his 10.8 pass-rushing productivity rating in 2016 with the Patriots. Long's sack total for both teams stood at five, but he registered 20 quarterback hits with the Eagles, compared with just seven for the Patriots.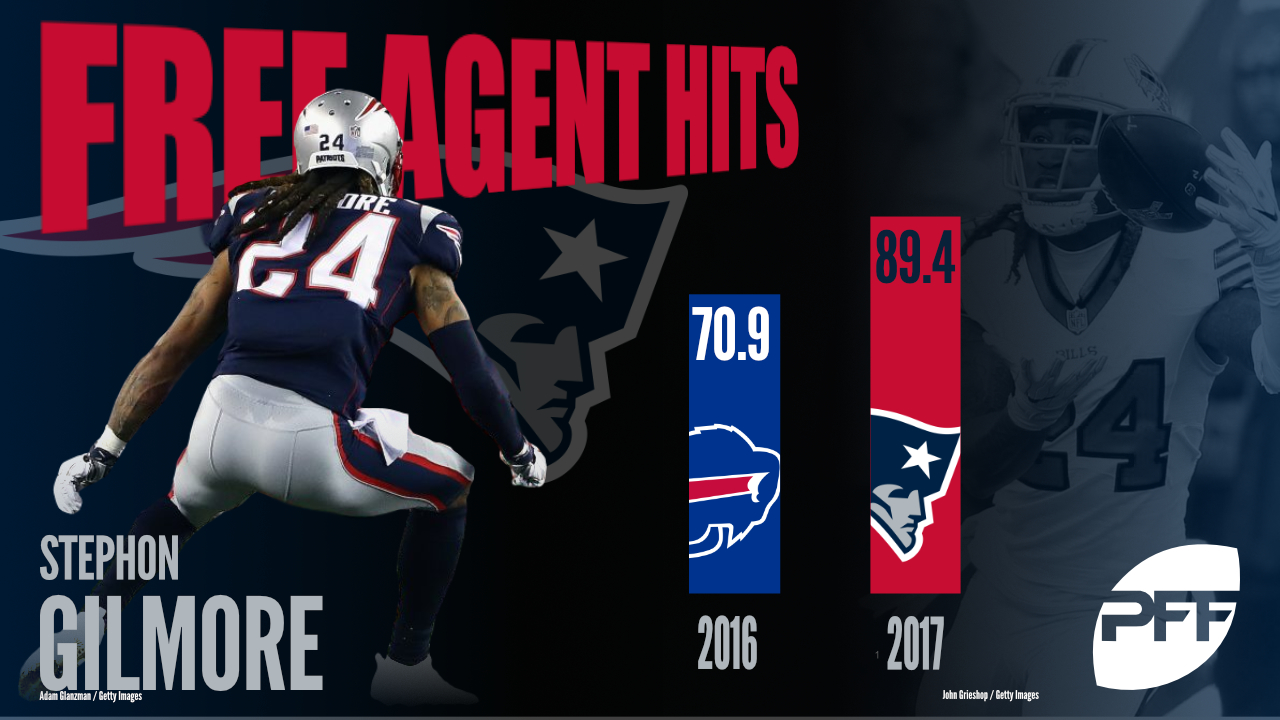 2016 grade: 70.9
2017 grade: 89.4
Gilmore's career was up and down during his time in Buffalo, but most people agreed that he was a fantastic fit for what the Patriots do defensively when they signed him last offseason. There were some hiccups in the regular season, but Gilmore really turned it on late in the year, delivering one of the top performances of any player in the playoffs this year. In his final season with the Buffalo Bills, where he played 572 snaps in coverage, Gilmore allowed 638 yards on throws into his coverage. With the Patriots this season, on 653 snaps in coverage including the playoffs, he allowed just 610 yards.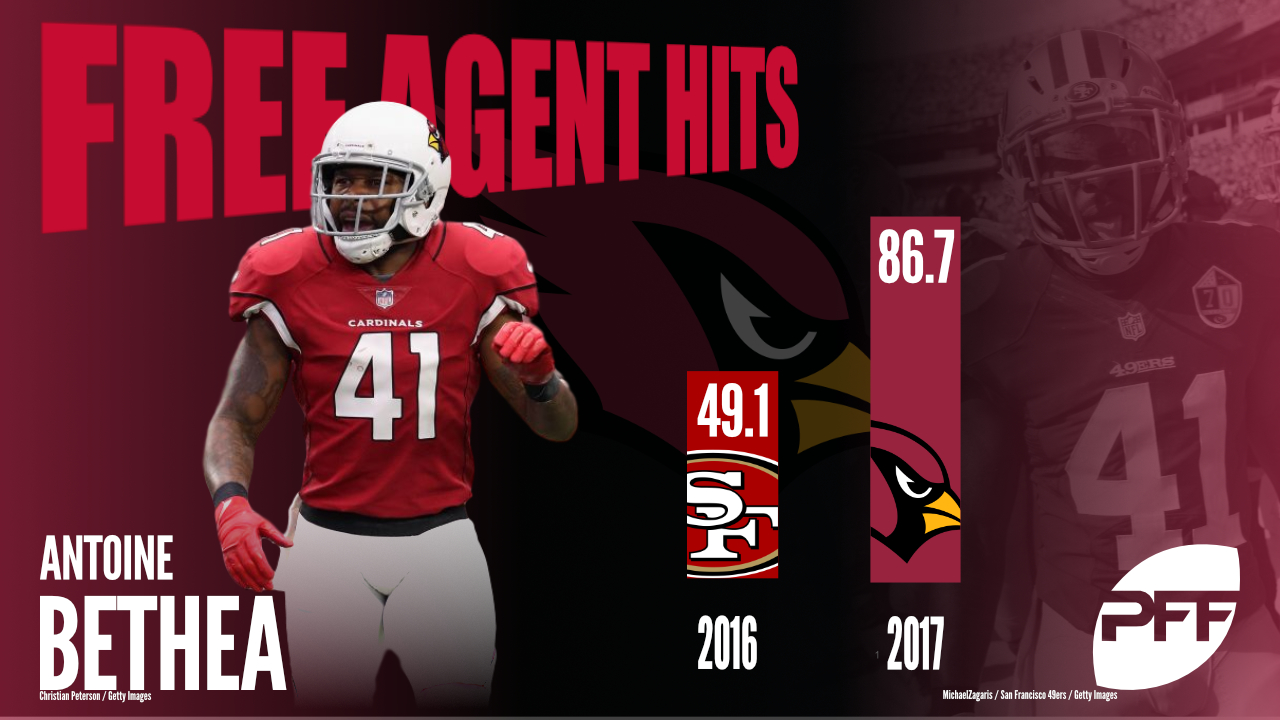 2016 grade: 49.1
2017 grade: 86.7
After struggling in 2015 and 2016, 49ers fans probably weren't too concerned to see Bethea head to Arizona last offseason. A new home helped Bethea recapture the form we saw during his 2014 season in San Francisco, with the former sixth-round draft pick out of Howard impressing against the run, contributing as a blitzer and standing out in coverage. On plays where he was the primary defender in coverage, Bethea allowed 35 receptions for 559 yards and four touchdowns in 2016. With the Cardinals in 2017, those numbers dropped to just 16 receptions and one touchdown. Coupled with his interceptions rising from one to five, this helped Bethea reduce the NFL passer rating allowed on throws into his coverage from 140.1 to 84.5.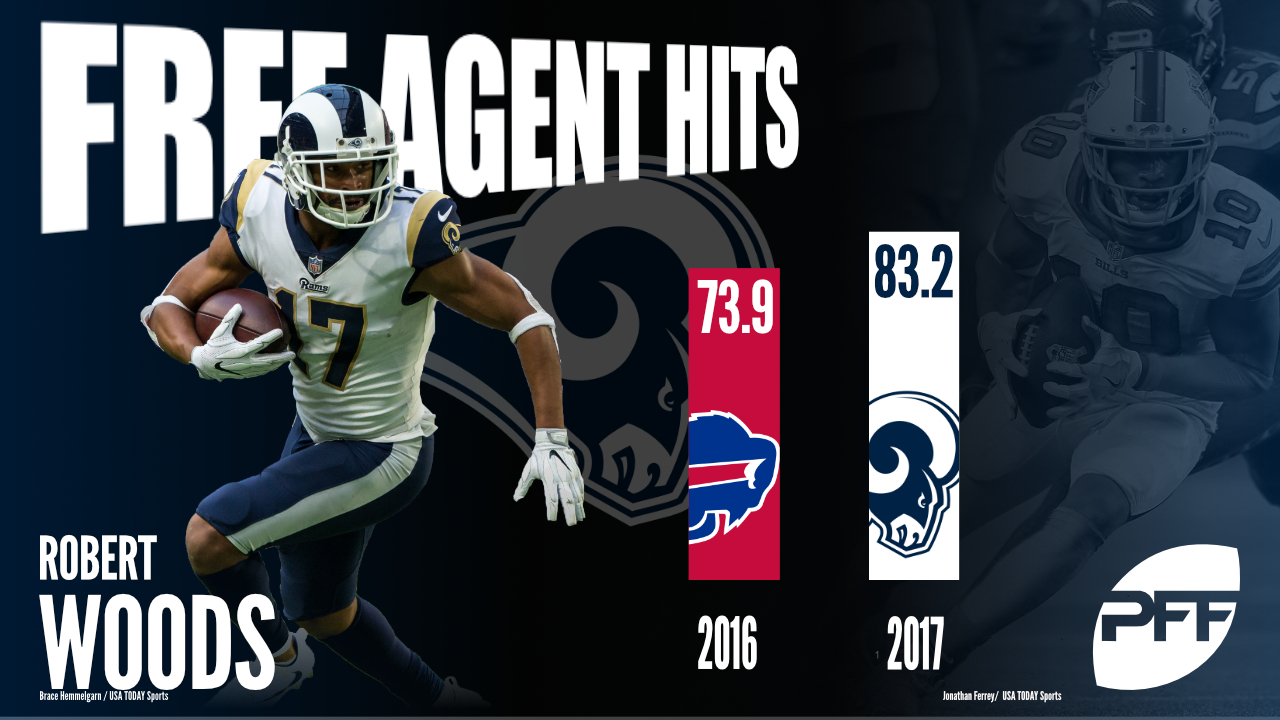 2016 grade: 73.9
2017 grade: 83.2
The Buffalo Bills completely revamped their wide receiving corps in 2017, both in the offseason and during the season itself. This meant that former USC receiver Robert Woods moved on, but he delivered the best season of his career in his new home with the Rams. Despite not seeing a career year in terms of targets, Woods delivered a career year in yards, yards after the catch and tied for a career best in touchdowns, missed tackles forced and fewest drops. After averaging 1.73 yards per route run in his final season in Buffalo, Woods improved that number to 2.17 in 2017.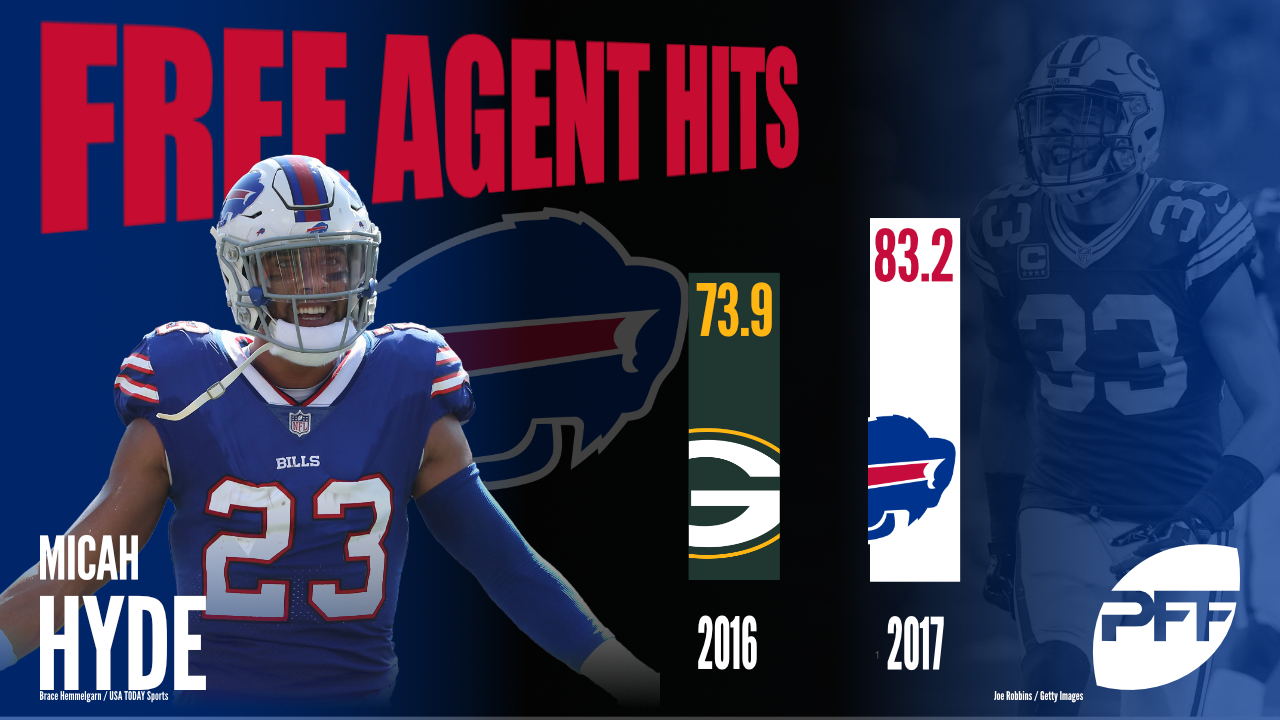 2017 grade: 73.9
2017 grade: 83.2
With two players on this list delivering career years after leaving Buffalo, Bills fans will be glad to see that one of their own free agent signings from a year ago had a stellar debut in his first season with Buffalo. After producing a lot of snaps in the slot during his final season in Green Bay, Hyde was used much more as a free safety with the Bills, and the move did wonders for his PFF grade. After producing a coverage grade of 69.8 in 2016, Hyde saw that jump by 20.0 points to 89.8 in 2017. In an offseason of high turnover for the Bills, the acquisition of Hyde was a key one as they broke their playoff drought.
2018 free agency
---
2018 Free Agent Previews
---
Arizona Cardinals / Atlanta Falcons / Baltimore Ravens / Buffalo Bills /
Carolina Panthers / Chicago Bears / Cincinnati Bengals / Cleveland Browns /
Dallas Cowboys / Denver Broncos / Detroit Lions / Green Bay Packers /
Houston Texans / Indianapolis Colts / Jacksonville Jaguars / Kansas City Chiefs
Los Angeles Chargers / Los Angeles Rams / Miami Dolphins /