For many, the NFL Draft is the most exciting time of the offseason, and trades are a huge reason why. One minute you're hoping a top prospect falls to your team, the next minute, the graphic flashes on the screen to show that they have moved up and are now on the clock.
Teams often elect to move down to collect future draft capital, while teams move up to secure coveted players that likely wouldn't be around at their original position. Winning a trade is often viewed as ending up with more than the trade partner, but really, it all comes down to whether or not teams got what they were aiming for.
A team might have to give up multiple first-round picks to land a quarterback, but if he leads that franchise for the next decade, the team can live with that price. Teams might land multiple picks by trading down, but if they miss on those picks, the trade for more draft capital won't be viewed as a success.
With that in mind, here are some first-round trades that have worked out well in the past.
[Editor's Note: To view all of Pro Football Focus' advanced stats and grades for this year's draft-eligible players, check out our 2019 NFL Draft Guide. All EDGE and ELITE subscribers already have access to the guide, and for those who don't, you can get your copy for as low as $9.99!]

This trade may not have been dialed in on draft day (it was actually agreed to during the 2009 NFL Draft), but it's still one of the better draft trades of the PFF era. During Day 2 of the 2009 NFL Draft, the Denver Broncos offered up their 2010 first-round pick in exchange for the 37th overall pick of the 2009 draft – and Seattle gladly agreed, but at that precise moment, few could have truly known that the Seahawks would eventually use that pick to draft the heartbeat of what would become the league's most dominant defensive secondary.
The Seahawks used that pick to select  Earl Thomas out of the University of Texas, who went on to earn six single-season coverage grades of at least 80.0 throughout his career in Seattle, which is currently tied with Ed Reed for the most among safeties in the PFF era. From 2010 to 2018, Thomas' work within the so-called "Legion of Boom' put him among the very best to ever play the position.  His career coverage grade of 92.7 is the fifth-best mark among qualifying safeties in that nine-year span, while his 64 combined pass breakups and interceptions and his 80 total coverage stops rank second and fourth among safeties in that span, respectively. He may have moved on to Baltimore this offseason, but for the price of a second-round pick, the Seahawks got nine years of truly stellar play at the back end of their defense – an invaluable gift, and one that they'd gladly take again.

In a rare occurrence, the New England Patriots ended up getting their man not by trading up, but by trading back – which sounds about right for the Belichick-led Super Bowl Champions. After trading back twice in the first round of the 2010 NFL Draft — originally from pick 22 to pick 24 and then from pick 24 to pick 27 — the Patriots acquired two additional picks and ended up selecting Rutgers cornerback Devin McCourty in the first round- a player who, according to Bill Belichick, they would have taken at 22 anyway.
Now nine years into his career, McCourty has been a consistent force on the back end of the Patriots' defense and has recorded overall grades of at least 75.0 in seven of his nine years with the team, including three elite single-season grades of 90.0 or higher. Among the 142 safeties in the PFF era with at least 100 targets in coverage, McCourty's 13.8 forced incompletion percentage is tied for 17th, his 45 forced incompletions are the sixth-most, and his 0.44 yards allowed per coverage snap is good for 17th – which is quite the feat considering that he's played 5007 coverage snaps since being drafted – the second-most among safeties in that span.

The Falcons paid a hefty price to move up from pick 27 to pick six of the 2011 NFL Draft, as they ended up sending a package of five picks Cleveland's way. However, eight years after doing so it's abundantly clear that Jones was more than worth the cost.
If you could choose only one word to describe the Falcons' number one wideout, the word 'elite' would do it. Since he entered the league in 2011, Jones ranks second in receptions (698), second in receiving yards (10,731), third in receiving yards after the catch (3747), second in first down receptions (495) and first in explosive plays (302) among receivers in that span. This is all while grading among the top-five players at the position in each year since 2014, including a three-season run from 2015 to 2017 where he finished as the highest-graded receiver in football.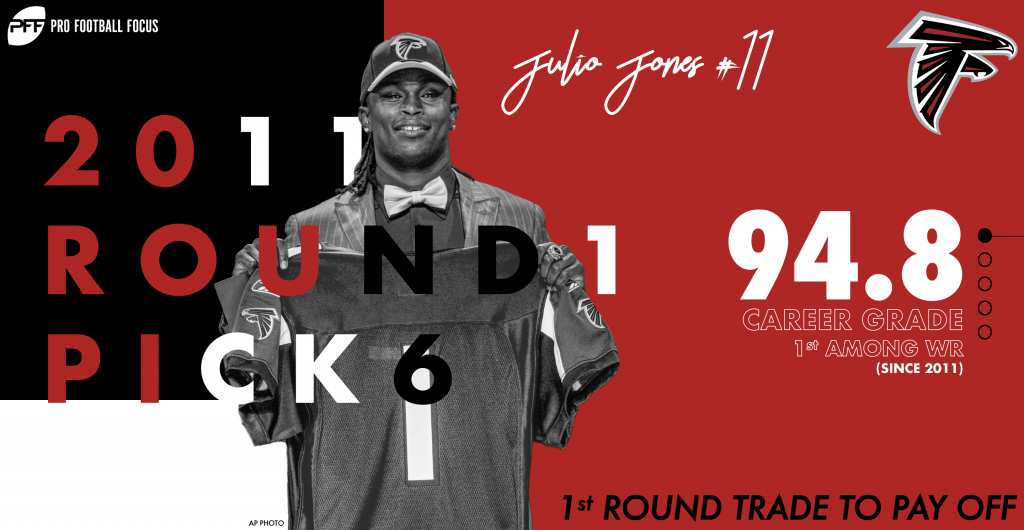 The quarterback-needy Redskins raised eyebrows in the first round of the 2011 NFL Draft, as they opted to trade back six spots instead of taking a quarterback with pick 10. It's funny how these things work out, as the quarterback who was eventually taken at 10 by the Jacksonville Jaguars was none other than Blaine Gabbert, while the Redskins opted to select Purdue product Ryan Kerrigan with the 16th overall selection, a player who would later become the cornerstone of Washington's defense.
After eight years in the league, you can make the case that Kerrigan is not only one of the most durable and consistent pass rushers in the NFL, you can also make the case that he's also one of the most underrated. Since 2011, no edge defender has played more snaps than Kerrigan's 7506, and he has gone on to record pass-rushing grades of at least 70.0 in seven of his eight seasons. Among the 108 edge defenders who have logged at least 1000 pass-rushing snaps over the last eight years, Kerrigan's 509 total quarterback pressures rank fourth, his pass-rushing productivity of 16.1 is good for 15th, and he joins only Von Miller as the only two edge defenders who have produced at least 55 quarterback pressures and at least 25 defensive stops in each of the last two seasons.

Knowing full well who he wanted his team to target, Philadelphia Eagles' GM Howie Roseman outlined a trade agreement with the Seattle Seahawks the night before the 2012 NFL Draft. They agreed that if one of Philly's top targets was still on the board by pick 12, the Eagles would send their 15th overall pick, a fourth-round pick, and a sixth-round pick to Seattle in exchange for the No. 12 pick. As it so happened, Mississippi State interior defender Fletcher Cox was indeed still on the board at pick 12, so the teams pulled the trigger on the trade.
To say the Eagles got what they wanted in Cox would probably be an understatement. He's graded above 80.0 in each of the past four seasons, and he's recorded elite overall grades in each of the last two. Since 2014, only Aaron Donald has accrued more quarterback pressures than Cox's 350, while Cox's pass-rush win rate of 15.7% ranks third among interior defenders in that span. As impressive as that all is, the best part is that he's seemingly getting better. The 2018 season was a banner year for Cox, as he ended the campaign with a career-high overall grade (92.5), and his 95 total pressures were the most we've ever seen from a defensive tackle not named Donald.

After moving up from pick No. 27 to pick No. 21 to acquire Syracuse edge rusher Chandler Jones, the Patriots then traded up for a second time by sending the 31st overall pick and a fourth-round pick to the Denver Broncos in exchange for the 25th pick of the 2012 NFL Draft. With that pick, the Patriots selected Alabama linebacker Dont'a Hightower, a player who would become the backbone of Bill Belichick's defense, and would go on to play a significant role in multiple championship-winning teams.
Hightower has since recorded overall grades north of 70.0 in five of the six seasons in which he played at least 300 snaps (he lost the 2017 season due to injury), and he's made himself known as one of the biggest pass-rushing threats at the position. Since 2012, no off-ball linebacker has rushed the passer more than Hightower, who has logged 908 pass-rushing snaps including the postseason, and on those snaps, he's tallied 176 total quarterback pressures which also ranks first among his peers. Among the 59 off-ball linebackers with at least 250 pass-rushing snaps since 2012, Hightower's pressure rate of 19.4% is 13th, his pass-rush win rate of 18.3% ranks third, and his pass-rushing performance of Super Bowl LIII (two sacks, one hit, and one hurry from 23 snaps) was a huge reason why the Patriots ended the game with their sixth Championship title.

At the midpoint of the 2013 NFL Draft, the Dallas Cowboys elected to trade down from pick number 18 to pick number 31, which raised eyebrows at the time, both because the team badly needed secondary help and because they only got a third-round pick in return. However, the trade back turned out well in the end, as the Cowboys eventually drafted Wisconsin center Travis Frederick, who would turn out to be a key cog in one of the league's most dominant offensive lines.
From 2013 to 2017, the Cowboys' offensive line produced the league's fourth-best pass-blocking grade (87.6) and the league's second-best run-blocking grade (90.9) — they were the only team to record top-five marks in both disciplines — and Frederick's work in the middle of that line was a huge reason why. Over that span, Frederick allowed only 69 pressures (and just five sacks) from his 2827 pass-blocking snaps, while he earned a run-blocking grade of 93.2 that was second to only Jason Kelce. He played over 1000 snaps in each season from 2013 to 2017, graded above 85.0 in each, and received a downgrade on just 6.6% of his snaps, cementing his place as arguably the league's most dependable center.

Among all the trades on this list, this one could simultaneously be both the riskiest and the most worthwhile. After trading for veteran signal caller Sam Bradford and watching him play relatively well during the 2015 season (Bradford ranked 10th among quarterbacks in passing grade that year), the organization decided that it was time to zero in on a true franchise quarterback in the 2016 NFL Draft. With the Los Angeles Rams almost certain to take Cal's Jared Goff, that left North Dakota State quarterback Carson Wentz as the next best option, but that came with two immediate concerns –  1.) They would have to pay a king's ransom to move up from pick No. 8 to pick no. 2 and  2.) Wentz hailed from a small school; he was never truly tested against elite-level opposition, and taking him at number two would be an unprecedented move given that no FCS quarterback had ever been taken that high. Trading up for him, however, turned out to be the right choice.
Wentz hit the ground running in his debut season with some stellar performances early in the year, but his sophomore season — the Eagles' Super Bowl-winning one — is what proved the trade to be worthwhile. He did eventually go down with an injury, but before then Wentz was a legitimate MVP candidate, dominating in all phases of the game. He was simply sensational on third-down plays that year, where he led all quarterbacks in passing grade (93.3), big-time throws (15), yards per attempt (9.5) and passer rating (123.7). While he didn't quite manage to return to that level last year, his 2018 performance was still worthy of a 14th-ranked overall grade of 79.4, proving that he's more than capable of leading this team for the next decade.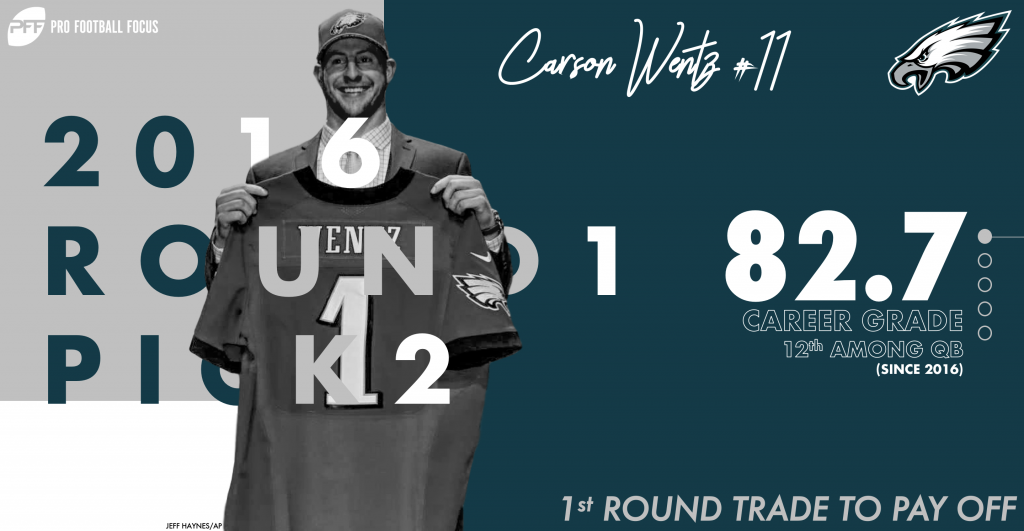 With Alex Smith about to enter his 13th NFL season, the Kansas City Chiefs targeted Texas Tech signal caller Patrick Mahomes as the heir apparent and the team took their shot by trading the 27th overall pick, a third-round pick, and their 2018 first-round pick to the Buffalo Bills in exchange for the 10th overall selection.
The returns thus far have been priceless. After sitting behind Smith during his rookie year, Mahomes lit the league on fire in 2018, completing 383-of-580 regular-season attempts for 5097 passing yards, a league-leading 50 touchdown passes, a league-leading 46 big-time throws, a league-leading 8.8 yards per attempt, a league-leading 134.2 passer rating from a clean pocket, and the league's second-best overall grade (92.9). He earned PFF's MVP honors in the process, after being worth around 7.49 wins for his team throughout his illustrious campaign, and all signs point to him being the league's next big superstar at the position.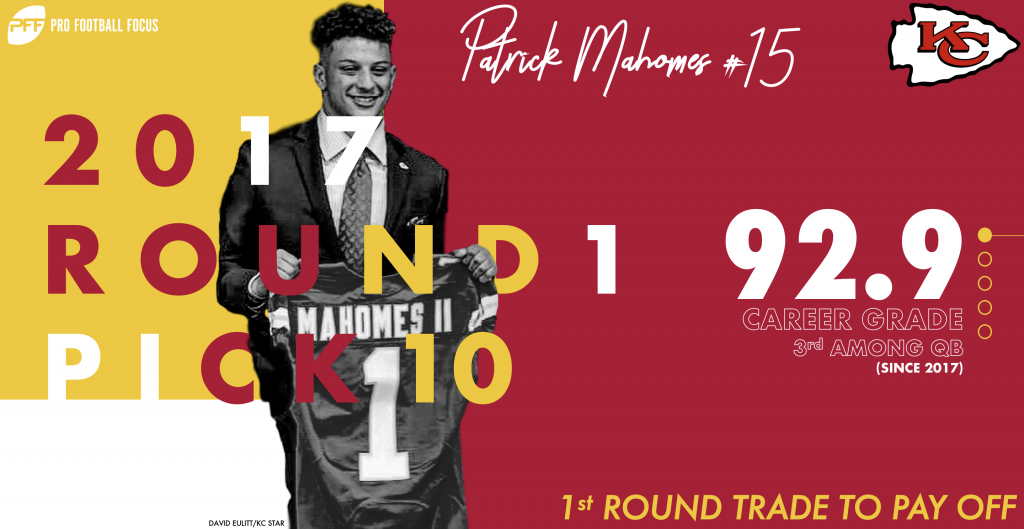 After struggling for years through a combination of Case Keenum, Ryan Mallett, Matt Schaub, Brian Hoyer, and Brock Osweiler (to name a few), the Houston Texans finally decided to get serious at the position by trading up to pick No. 12 to take Clemson quarterback Deshaun Watson.
So far, so good. Over the last two years, Watson has earned an overall grade of 79.1 that ranks 17th among qualifying quarterbacks in that span, while his 111.7 passer rating from a clean pocket is good for fourth among the 54 quarterbacks with at least 100 clean-pocket attempts. Not only that, but Watson has also been among the league's best at making things happen when he's faced pressure, as his 81.8 passer rating under pressure during that span sits behind only Tom Brady and Jameis Winston. He's also managed to produce a successful play on 35.8% of his pressured dropbacks since 2017, which ranks behind only Peyton Manning (37.7%), Matt Ryan (36.6%), and Ben Roethlisberger (36.6%) as the fourth-best mark of the PFF era.