One of the best parts about working at PFF is being surrounded by talented, hard-working individuals. My fantasy colleague Scott Barrett being one of my favorites among them. Luckily for me, and for you, Scott has no life. He spent his post-draft weekend pouring over every franchise's press conferences to glean whatever bit of insight the coaches and executives unwittingly let slip.
Here are some of the most insightful quotes on the offensive skill position players drafted this past weekend with the added context of PFF's data.

GM Brandon Beane: "Big. Big guy. He's an athlete… I don't want to rank where we had them (the quarterbacks), but we thought an awful lot of Josh. (Also mentioned other teams' unwillingness to trade down at various spots."
HC Sean McDermott: "Let's not lose sight of the guys already on the roster and the work that they're putting in."
Beane (later): "[We'll] give Allen a chance to win the job, but [we] don't plan to rush him in any way."
PFF's Take:
Not rushing Allen would likely be for the best. He was the sixth-ranked quarterback on our final draft board and only posted a 74.1 overall grade last year. From the 2018 NFL Draft Guide: "He must get better at handling the easy stuff, from working in the quick game to throwing with touch and accuracy to all levels of the field."

GM Chris Grier: "Everyone talks about him not being a great blocker. Well there's a lot of really good tight ends that are pass-catchers that aren't great blockers. It's about giving effort and stuff. The one thing we really loved is the skillset offensively… red-zone matchups. He's big and long and fast. High points the ball well… Loved the film. You see his play speed on film. The jump, on film. It's a matchup league. He's got a unique skillset."
PFF's Take:
Grier was very correct about Gesicki's run-blocking, where he never earned a grade higher than 50.5. That still didn't stop us as well from putting him as the No. 2 tight end on our big board. His 75.0 percent catch rate in contested situations was the best among tight ends in the draft.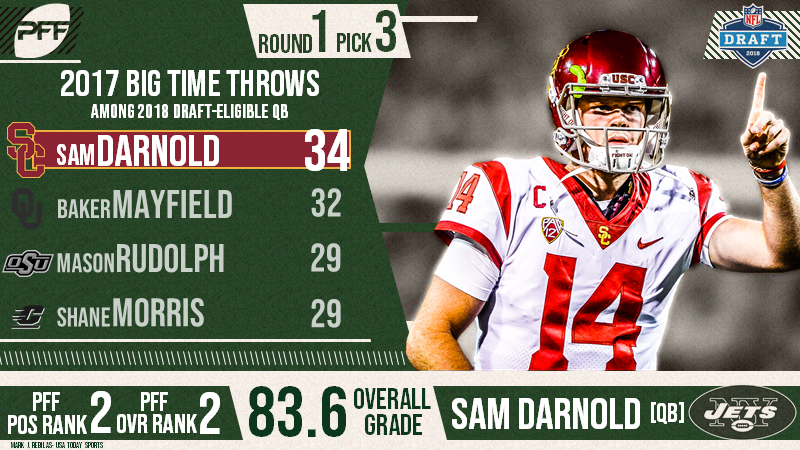 HC Todd Bowles: (On Year 1 expectations) "There's no timetable. We've gotta see how fast he learns and how fast he can grasp everything and then get some experience. We're not gonna throw him in there, but at the same time we're not gonna hold him back either."
PFF's Take:
Josh McCown posted a 77.1 overall grade last season while Teddy Bridgewater had an 82.1 grade during his last healthy season. They have other options if they want to 'redshirt' Darnold.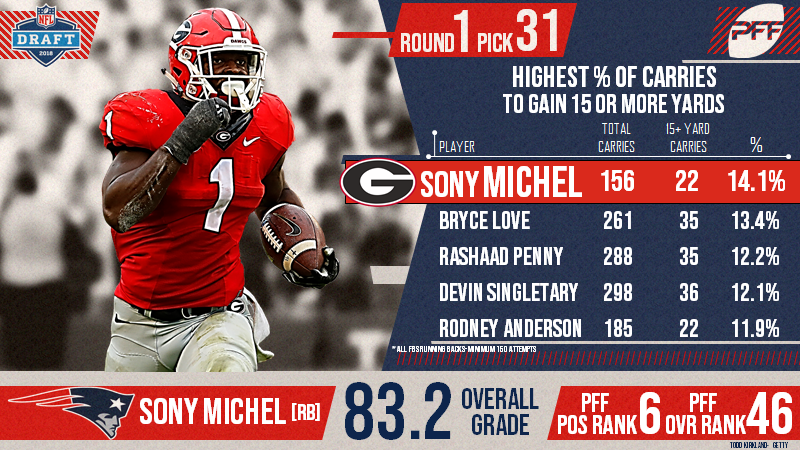 Director of Player Personnel Nick Caserio: "Athletic player. Got a lot of carries. Sony is productive in the passing game."
Caserio: (When asked why they drafted a running back so highly, when they typically wait on the position in the draft.) "We think he's a good football player… [But] everyone gets the same opportunity when they get here, regardless of where they're picked… We draft for value, not need."
Caserio: "Essentially you're talking about developmental players, [when discussing rookies]. It doesn't really matter where you're picked. These players all got a long way to go. A lot of work to do. They're behind our players. They're behind [on the playbook]."
PFF's Take:
Not much insight here from Caserio, but the 'productive in the passing game' claim is eyebrow-raising. Michel had 63 catches for 578 yards in four seasons at Georgia including only eight this past season. That's not necessarily indicative of skill level – and his 31 broken tackles on those catches is impressive – but it's hard to call that productive.