Not every rookie has a successful debut season. For every Tre'Davious White, there's an O.J. Howard.
The NFL features the best of the best players in the entire world, and sometimes, even the best in the world need a little time to adjust to their new competition. There will be plenty of guys who make a nice jump in performance from Year 1 to Year 2, and today we're going to look at 10 rookies from the 2017 NFL Draft class who could make the biggest leaps forward in 2018.
1. O.J. Howard, TE, Tampa Bay Buccaneers
2017 overall grade: 41.9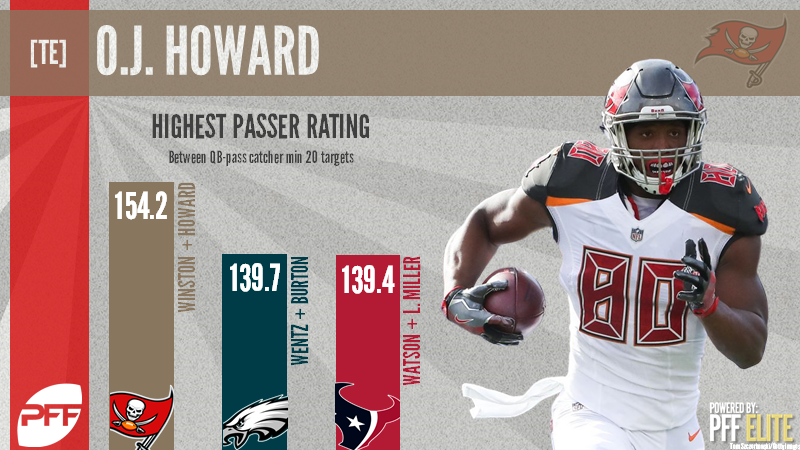 O.J. Howard finished his rookie season ranked 68th out of 71 qualified tight ends in terms of overall grade, one slot behind fellow rookie Evan Engram. Howard's grade was largely derailed by two things: his struggles as a run-blocker and fumbles. He ranked 64th among tight ends with an abysmal 36.3 run-blocking grade and he fumbled the ball three times on just 26 catches. Howard led last season's tight end draft class with an 83.6 run-blocking grade out of Alabama and in a three-year stretch from 2014-2016, he fumbled the ball just one time. It's hard not to envision him improving in both those areas.
If Howard builds upon his rookie production as a receiver while improving as a run-blocker and cutting out the fumbles, he'll shoot up the ranks in 2018.
2. Jarrad Davis, LB, Detroit Lions
2017 overall grade: 46.1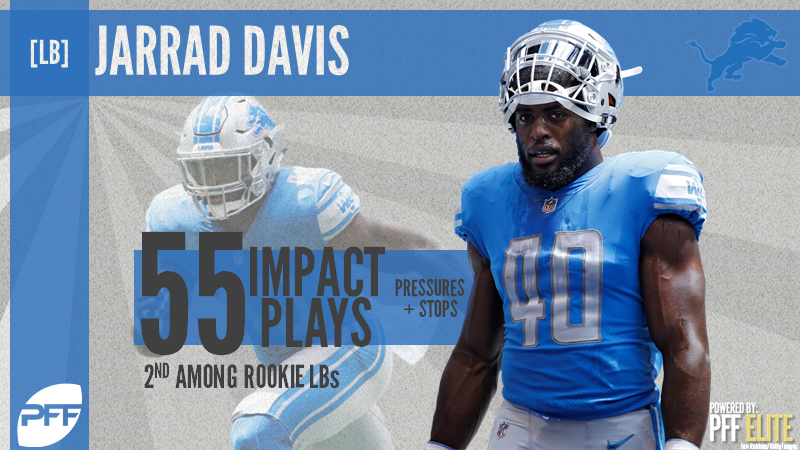 Jarrad Davis' overall grade is weighed down by his lowly 34.3 coverage grade, which ranked 76th out of 77 qualified linebackers last season. He was solid in run-defense however, earning an 83.4 grade (20th) in that department. Davis' season-long grade was also hit hard by a slump he had in midseason. From Weeks 6 through 11, he finished five consecutive games with overall grades below 57.0 (with four of those games below 39.0).
As long as he can improve in coverage next season (he ranked 11th in the country in 2015 with an 86.6 coverage grade) and avoid another prolonged slump, we should see a much nicer overall grade come 2018 season's end.
3. Solomon Thomas, edge, San Francisco 49ers
2017 overall grade: 53.2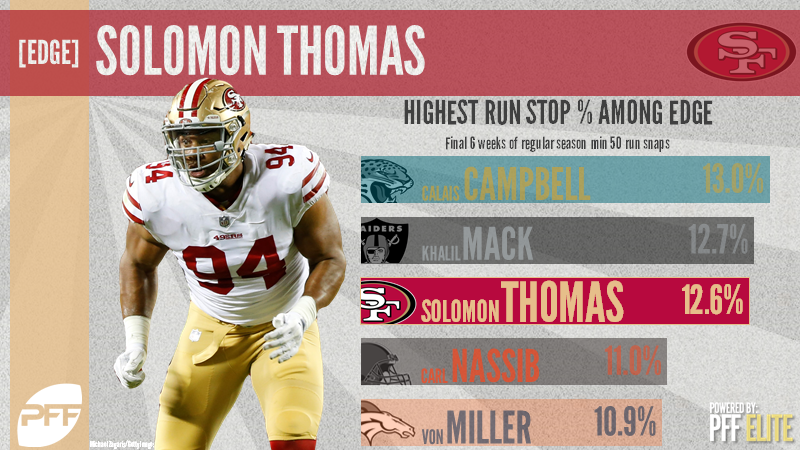 Solomon Thomas finished his rookie season ranked 92nd out of 106 qualified edge defenders in terms of overall grade, certainly not what you're hoping for out of the third-overall pick in the draft. The 49ers had a bit of a log-jam along the defensive line when they selected him in the first round and to alleviate that, they decided to play Thomas on the edge – lining him up outside of the offensive tackle – after he spent virtually all of 2015 and 2016 lining up as an interior defender for Stanford. Despite the position change, Thomas still flashed some above-average play in run-defense (his 79.3 run-defense grade ranked 45th) and he closed out the season on a relative high note, finishing two of his final three games with an overall grade of at least 70.0 (a number he passed just five times all season).
With another year in his new position, it would be shocking if he doesn't take a big step forward in Year 2.
4. Corey Davis, WR, Tennessee Titans
2017 overall grade: 65.3
The first wide receiver taken in last year's draft, there's no denying that Corey Davis' first year as a professional was anything other than disappointing. The Western Michigan phenom finished the season ranked 69th in terms of overall grade with six other rookie receivers out-grading him. The struggles from Davis and the entire Titans' passing offense were well documented all throughout the season by those covering the team, and they had a coaching staff in place that made no secrets with their love of the ground-and-pound game. With new offensive coordinator Matt LaFleur in place – one of the architects behind the offensive turnaround for the Rams in 2017 – that entire passing attack should see a boost, Davis included. Davis graded as one of the ten best wide receivers in the nation every year from 2014-2016, that's too long a stretch of dominant play to think that his performance as a rookie is what we should expect from him going forward.
5. Kevin King, CB, Green Bay Packers
2017 overall grade: 41.0
Green Bay's first pick in last year's draft, Kevin King was supposed to step in and revitalize a beleaguered Packers secondary. That ultimately didn't happen and he finished the season ranked 115th among 121 qualified cornerbacks in terms of overall grade. King should benefit in Year 2 from getting to work with new defensive coordinator, Mike Pettine. Packers fans should expect to see a lot more aggressive man coverage in 2018 with their cornerbacks up in press coverage, and a lot less cover-2 – that should play into King's strengths as he has the length, athleticism and ball skills to harass receivers at the line of scrimmage and then battle with them as they make it downfield.
6. Zay Jones, WR, Buffalo Bills
2017 overall grade: 43.6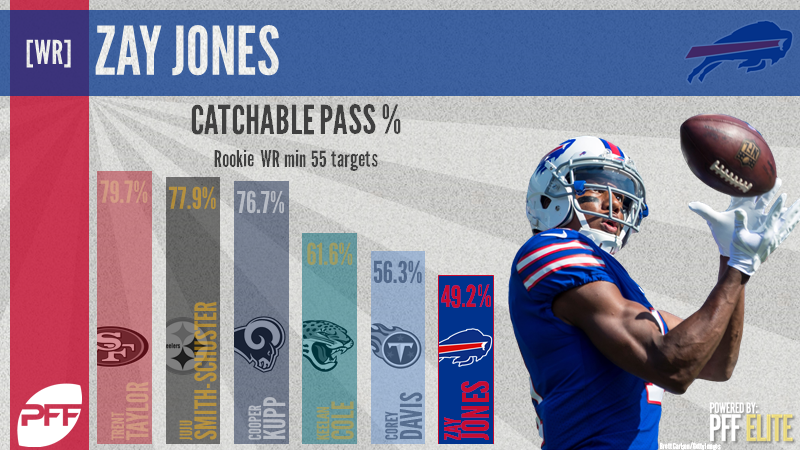 After both Sammy Watkins and Robert Woods walked out the door last offseason, in one way or another to Los Angeles, it became more clear that Zay Jones was in for a high-volume role at receiver in Buffalo. Year 1 certainly didn't go as planned as Jones finished the season ranked 108th out of 116 qualified wide receivers in terms of overall grade and Bills' quarterbacks had just a 60.8 passer rating when targeting him. Jones should fare better in Year 2 if he can rectify the drop issue that snuck up on him as a rookie. Jones dropped 5-of-32 catchable targets this past season, one year after he dropped just 6-of-164 catchable targets in his final campaign at ECU.
7. Evan Engram, TE, New York Giants
2017 overall grade: 42.2
Evan Engram graded poorly as a rookie because he A). struggled as a run-blocker (35.4 run-blocking grade in 2017 ranked 66th out of 69 qualified tight ends) and B). dropped an absurd amount of balls. On the surface his stats looked solid, he hauled in 64 catches for 722 yards and six touchdowns – all numbers that ranked within the top seven among tight ends – but that production could have been much higher had he not dropped 11-of-75 catchable passes. While it seems unlikely that Engram develops into even an average run-blocker, it's likely that he doesn't drop 14.7 percent of his catchable balls again like he did in 2017. If Engram can build off the production he earned as a rookie with an improved catch rate, we should see his grade climb as an NFL sophomore.
8. Jabrill Peppers, S, Cleveland Browns
2017 overall grade: 45.5
Coming out of Michigan, depending on who you asked and at what time of day, you'd hear a different projection on what position Jabrill Peppers would play as a pro. One of the positions you wouldn't often hear was "true free safety" – and ultimately that's right where Peppers ended up for the Browns. Peppers lined up as a free safety for Cleveland on 88.2 percent of his defensive snaps through the first 15 weeks of 2017 – he spent just 3.0 percent of his snaps at free safety for Michigan in 2016 – and the results were ugly, as he finished just three games over that stretch with an overall grade of at least 70.0. An injury to Derrick Kindred late in the year caused the Browns to shake things up and in Weeks 16 and 17, Peppers played more of the swiss-army knife role he was accustomed to in college, spending just 32.1 percent of his snaps at free safety during that two week sample. Peppers posted an 81.5 overall grade in Week 17 against the Steelers and in Week 16 he posted his best run-defense grade of the year (83.0). If Cleveland can keep Peppers closer to the line of scrimmage in 2018 his grade will almost certainly be better in Year 2.
9. Dan Feeney, G, Los Angeles Chargers
2017 overall grade: 48.5
Dan Feeney was truly called into action for the first time as a rookie in Week 7, the week he came off the bench to play 26 out of 58 possible snaps against the Denver Broncos. He then proceeded to play every snap for the Chargers from that point until the end of the season. The Chargers' third round pick started with a nice stretch, earning grades of at least 70.0 (including an 89.6 performance in Week 8 against New England) in 3-of-4 games between Weeks 7-11 but he failed to grade north of 70.0 in any game beyond Week 11. Feeney was a wall in pass protection as a right guard for Indiana, surrendering just seven total pressures on 551 pass-block attempts from 2015-2016 however, last season he struggled in pass protection – as a left guard – surrendering 20 pressures on just 358 pass-block attempts. Feeney never played left guard at Indiana, so if he's comfortable there with a season's worth of experience under his belt, expect him to bounce back when 2018 kicks off.
10. Josh Jones, S, Green Bay Packers
2017 overall grade: 48.1
Josh Jones finished the season ranked 74th among 86 safeties in terms of overall grade, certainly not the rookie season he or Packers fans were hoping for. Jones had plenty of bright moments, though, as he earned a grade of at least 70.0 in seven different games and he posted a grade north of 80.0 four times. When Jones wasn't on, he really struggled though, grading out below 45.0 seven times as well, crushing his grade for the season. Jones had too many positive performances as an NFL rookie to think that the grade he earned last year is indicative of what he'll earn in years going forward, if he can turn most of those disastrous performances into merely average one's next season his grade should be a good deal higher in Year 2.