After a rough start to the season, the Dallas Cowboys are in the midst of what feels like a run for the NFC East title. Dallas has quietly allowed the third-fewest points per game (19.4) and the seventh-fewest yards per game (331.1). By the numbers, Dallas' defense is one of the best units in the NFL, and it's led by a handful of young players. The Cowboy with the brightest future is arguably Demarcus Lawrence, who finished as last season's highest-graded edge defender (91.6) and currently has an overall grade of 83.2, tied for 11th out of 117 edge defenders this season.

Lawrence plays primarily on the defense's left side, where he has logged 344 of his 354 defensive snaps. He has 45 total pressures from the left side, ranking second among edge defenders and right behind J.J. Watt (49). Lawrence has won his pass-rush snaps 16.6% of the time, which is tied with Watt for 12th out of 64 edge defenders with 200-plus snaps. Although Lawrence may not yet be a household name, it's clear he keeps some elite company. In fact, his pass-rush grade of 79.6, which ranks ninth among edge defenders, is one spot higher than Von Miller (79.0) and four spots higher than Khalil Mack (77.2).
Lawrence isn't just a pass-rush specialist. His run defense grade of 77.2 ranks 23rd out of 117 edge defenders. On 168 run defense snaps, Lawrence has 21 run stops (tackles that constitute a "loss" for the offense); that gives Lawrence a run-stop percentage of 12.5%, which is tied for third at his position. The only thing keeping Lawrence from having an even higher run defense grade is his tackling ability. He has missed five tackles, tying him for the second-most among edge defenders on run plays.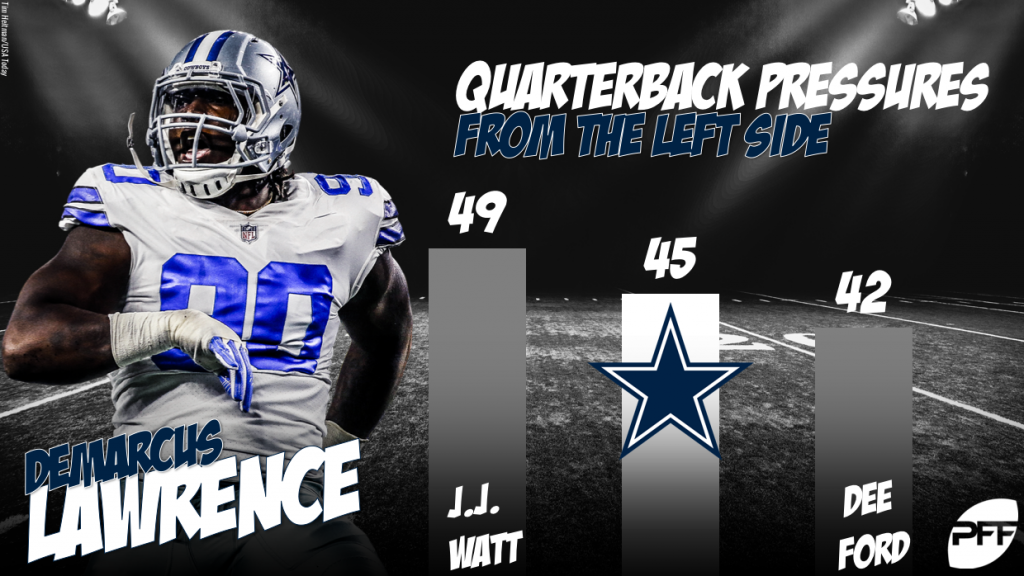 Lawrence's biggest challenge this season will be against the Saints' right tackle tonight, Ryan Ramczyk. The sophomore tackle from Wisconsin has an overall grade of 84.7, ranking third among offensive tackles. He has allowed only nine pressures on the year, which is tied for the fifth-fewest at the position. Ramczyk can certainly hold his own in pass protection, but where he really shines is when he's clearing lanes on running plays, as his run-blocking grade of 79.7 ranks fifth among offensive tackles. When running off the right tackle, Saints' running backs average 5.4 yards per carry (7.9 for Kamara and 2.5 for Ingram).
Lawrence has his work cut out for him in this tough matchup, especially because he has yet to play against an elite right tackle this season. But Lawrence is heating up at just the right time, as he has an overall grade of 89.7 over the last four weeks, ranking fourth among edge defenders.
The Cowboys' season so far has all the makings of a feel-good story. The only thing that can ruin it – if only for one week – is playing against the juggernaut known as the New Orleans Saints. With the national spotlight on Thursday night football, Lawrence has a chance to gain the popularity that matches his performance on the field.