When the Jacksonville Jaguars traveled to Dallas over the weekend, it was billed as the league's top defense tries to shut down the league's top rushing attack. The more accurate billing would have been a top-3 defense tries to shut down Blake Bortles. The latter is far more indicative of how the game played out and far more accurate of the state of both teams.
I know this is very difficult to believe, and I can't believe I'm saying it myself, but the Cowboys defense is actually underrated at the moment. After years of the general public being sold on second-tier starters as perennial Pro-Bowlers, Dallas now has a handful of blue-chippers at every level of the defense, who have yet to even sniff the Pro-Bowl. That'll be changing soon if these guys keep playing as they have.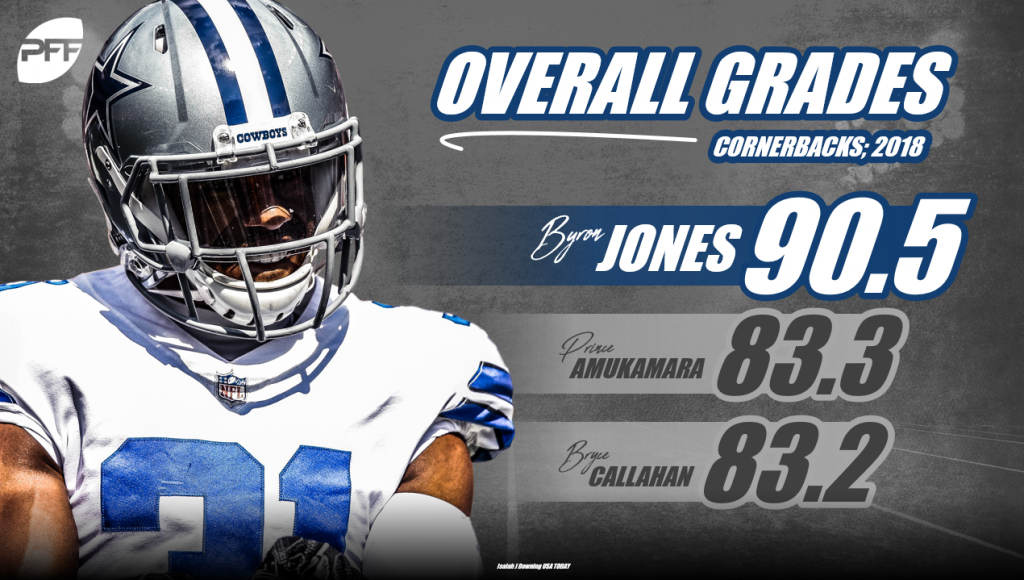 Jones is the ultimate reason the Cowboys are one of the best defenses in the NFL at the moment. Jones went from a very good safety last season, to an All-Pro cornerback this season. He would often drop down into the box to cover tight ends in man coverage last season, but even then it didn't quite seem like the right fit. He allowed five touchdowns last year compared to just four combined interceptions and pass breakups.
Moving to the boundary corner position – and specifically in press coverage – Jones has flourished. Sam Monson and I broke down just how good a couple of weeks ago and he's continued his dominant play since. He's allowed 12 catches on 24 targets this season for only 125 yards and has five pass breakups. That's under 21 yards allowed a game.
The key, as Sam stated in the video, has been his prowess in press coverage. His physicality was one of the main reasons he was switched to safety in the first place, but combined with his freakish athleticism; it's been far more valuable shutting down number one receivers on the outside than it was coming up in the box to stop the run. The vast majority of his snaps, Jones is in a press alignment. Here he is at right cornerback – where he exclusively lines up – across from one of the most physical receivers in the league in Brandon Marshall.
Jones deadens the release with his initial jam, then stays in his hip-pocket the whole route before having the ball skills to break it up at the catch point. Now, here's a nearly identical play against one of the quickest receivers in the league in Odell Beckham Jr.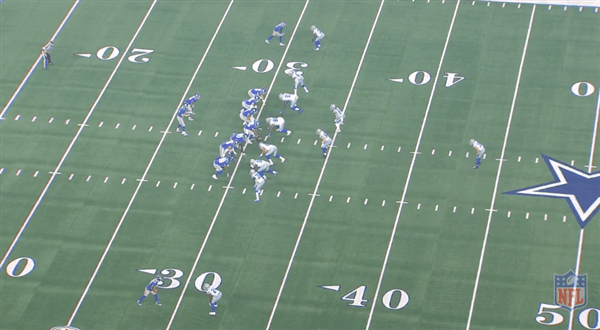 The fact that Jones can span the spectrum of different receiver types and still dominate should scare opposing quarterbacks. The only question at this point isn't whether or not Jones is elite; it's what took the Cowboys so long to find out?

At this point in his career, Irving is known more for getting perennially suspended than he is for his play on the field. That's not surprising, as he's played all of 1,096 snaps in his four-year career. Soon though, he'll be known more for his on-field performance than his off-field performance and especially when he hits free agency after the season. Since the start of the 2017 season, his 13.9% pressure rate trails only Aaron Donald and Geno Atkins among interior defenders. Last season, Irving posted seven sacks on only 228 pass-rushes for the highest sack rate among interior players and the seventh-highest among all defensive linemen. He's not merely working over slaps either; here's Irving destroying Eagles center Jason Kelce and subsequently Carson Wentz last year.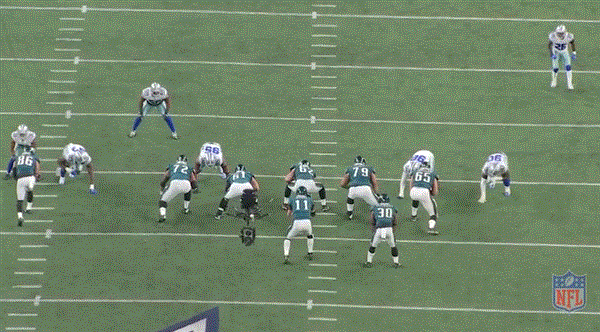 Irving can rush from anywhere up and down the line of scrimmage, and his incredible combination of size, length, and power are a nightmare for offensive linemen. Saying 'incredible' is almost an understatement with Irving. He's 6-7, 291 pounds and has 37 ¾" arms – over an inch and a half longer than the longest arms measured at this past year's NFL combine (unsurprisingly, he had seven batted passes last season – third most in the NFL). At his pro day, he reportedly had a 38 inch vertical and 10-8 broad jump.
All that translates to the field where he's a bull in a china shop. He's mainly utilized as a sub-package rusher, but with how dominant he is in that role, Irving is still immensely valuable. In his first game back, he was already making an immediate impact with a hit and a hurry, and once again clowning offensive linemen.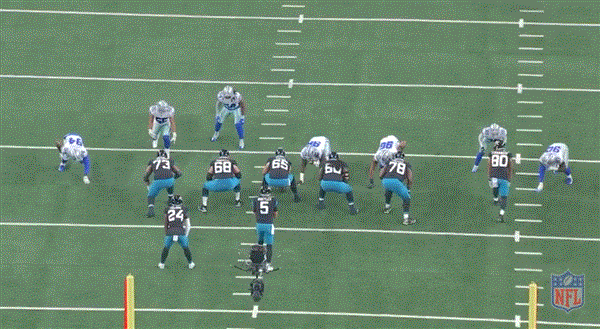 Obviously, people know Vander Esch's name for going in the first round last April, but I'm not sure most realize how good he already is. For a man billed as a raw athlete who couldn't even start at Boise State until last year, it's scary that he's already a top-3 graded linebacker in the NFL.
Vander Esch has graded out so highly because he's been a complete player. He's big enough at 255 to blow up full-backs in the run game and fast enough to chase down wide runs as he did to Deshaun Watson on this outside zone run against Houston.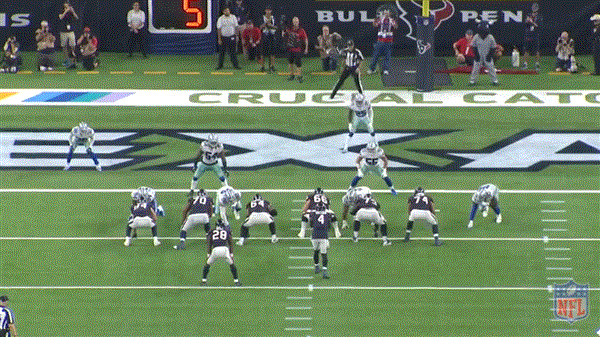 Where I've been most impressed with Vander Esch though is coverage. The Cowboys are a very zone-heavy team. They've run Cover-3 the third-most often in the NFL and Cover-2 the fifth-most often. Those coverages require more than just staying with a tight end or running back; they demand a mastery of assignments to process multiple things at once. In the play below, he sinks perfectly under the seam route on the tight end before reacting up to the crosser and bringing down Golden Tate – who has been the most difficult receiver in the NFL to tackle over the last five seasons.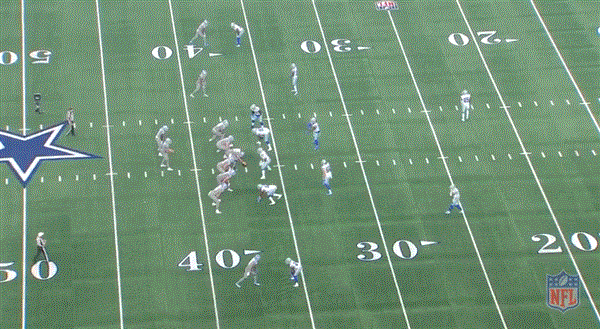 Zone coverages put a premium on closing quickly and wrapping up in space like this. So far on the season, Vander Esch has one lone missed tackle on 28 attempts in coverage. That innate balance in space is impossible to teach and there really isn't much the rookie hasn't shown the ability to do at this point.