DeAndre Hopkins has been one of the league's best receivers since entering the NFL, despite the myriad of underwhelming quarterbacks that have thrown to him. In his first full season with budding star Deshaun Watson under center, Hopkins has cemented himself as not only the league's top receiver but also as the NFL's most valuable non-quarterback.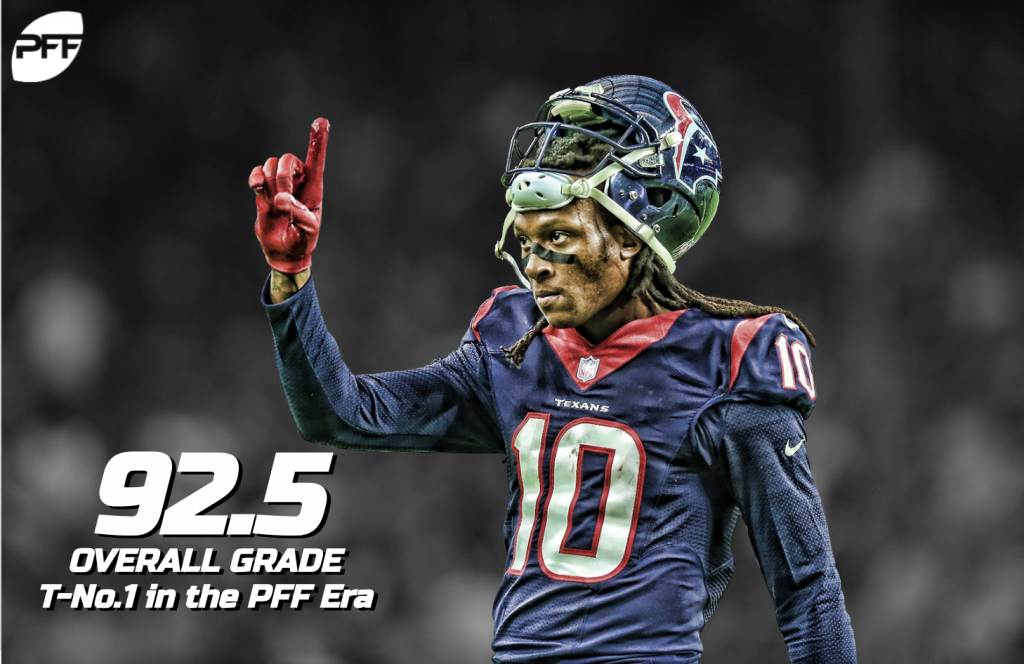 The former Clemson Tiger has racked up an impressive 1,572 yards this season, which is the second-most of any receiver. He also has added 11 touchdowns, and 81 of his 115 receptions went for either a first down or a touchdown. The most absurd statistic from Hopkins' career year is that he has caught all 115 of his catchable targets without a single drop— the best single-season mark of any receiver during the PFF era.
While his raw totals and excellent hands are impressive in their own right, Hopkins' case as the best receiver doesn't stop there. The sixth-year wide receiver earned an elite PFF grade of 92.5 for his efforts this season, which is tied with Julio Jones (2015) and Antonio Brown (2015) for the highest PFF grade ever given to a wide receiver. The Clemson product is also fifth among qualifying wide receivers in terms of efficiency, boasting a healthy average of 2.51 yards per route run this season. It is part of the reason that according to PFF's Wins Above Replacement metric, DeAndre Hopkins is the most valuable non-quarterback in the entire NFL.
Many have unfairly labeled DeAndre Hopkins as strictly a talented contested catch receiver because of the highlight plays he can make like the one below.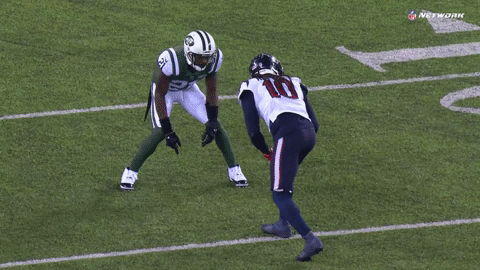 While Hopkins is certainly one of the best contested-catch receivers in the league (he led the NFL with 25 contested catches this season), he is so much more than that. He doesn't run a blazing 4.4 forty-yard dash, but he is still one of the league's premier deep threats, placing inside the top-10 in deep receiving yards four out of his six seasons. Despite only 15.7% of his targets qualifying as deep targets this season (tied for 65th), Hopkins managed to produce 387 deep yards, which is the eighth-most in the NFL.
Versatility is one of the qualities of an elite receiving option, and Hopkins has that in spades. On top of quietly being one of the league's most consistent deep threats, he is also lethal when he lines up in the slot. Hopkins lined up in the slot on 15.4% of his routes this season and in turn, averaged 3.11 yards per route run from the slot — the third-best mark among qualifying receivers.
Another dimension of Nuk's game that doesn't get near enough credit is his surprising elusiveness. Hopkins has forced 12 missed tackles this season, which is more than elusive speedsters like Tyreek Hill (11) and T.Y. Hilton (7). 
The Texans will face the Indianapolis Colts in the first round of the playoffs, and the Colts will surely have their hands full trying to contain Hopkins. In the most recent of the teams' previous meetings, the Colts were able to limit the damage Hopkins could do, holding him to just four catches on nine targets for 36 yards and a touchdown. While the Colts did their part breaking up three of those targets, only four of Hopkins' nine total targets were deemed catchable, demonstrating that Watson was as much reason for the quiet day as the Colts' secondary.
In their Week 4 matchup, Hopkins had his way, eviscerating the Colts' defensive unit to the tune of 10 receptions for 169 yards, a touchdown and an 88.8 grade, with all his catches going for a first down or touchdown. If the Colts want to have a chance to beat the Texans, they will need to find a way to slow down Hopkins when he sees catchable targets, which is no easy task.
DeAndre Hopkins finally has a competent quarterback he can rely on to get him the ball, and he has emerged as the NFL's top receiver and most valuable non-quarterback as a result. He's developed into a multi-faceted receiver and is no longer one of the best receivers in the league— he is the best.