After a 5-11 record and a second straight last-place finish in the NFC South, the Tampa Bay Buccaneers closed the chapter on the 2018 NFL season by sending head coach Dirk Koetter packing. Not long after, the Bucs began the all-out search for the franchise's 12th head coach, and they weren't afraid to give up assets to secure the right man for the job. Fortunately — after they sent a sixth-round pick to the desert to secure his rights — Tampa drew former Arizona Cardinals head coach Bruce Arians out of retirement — but this wasn't the only big-name splash Tampa made in the coaching ranks.
Upon signing with the team, Arians brought over former NFL quarterback (and former Cardinals offensive coordinator) Byron Leftwich to be his right-hand man and offensive coordinator in Tampa. Not set there, Arians and Tampa also secured the signature of former New York Jets head coach Todd Bowles, who spent two seasons in Arizona with Arians as his defensive coordinator. With the band now back together, Arians and his team will look to take over a new division with a new team, just four years after they took their Cardinals to the NFC Championship game.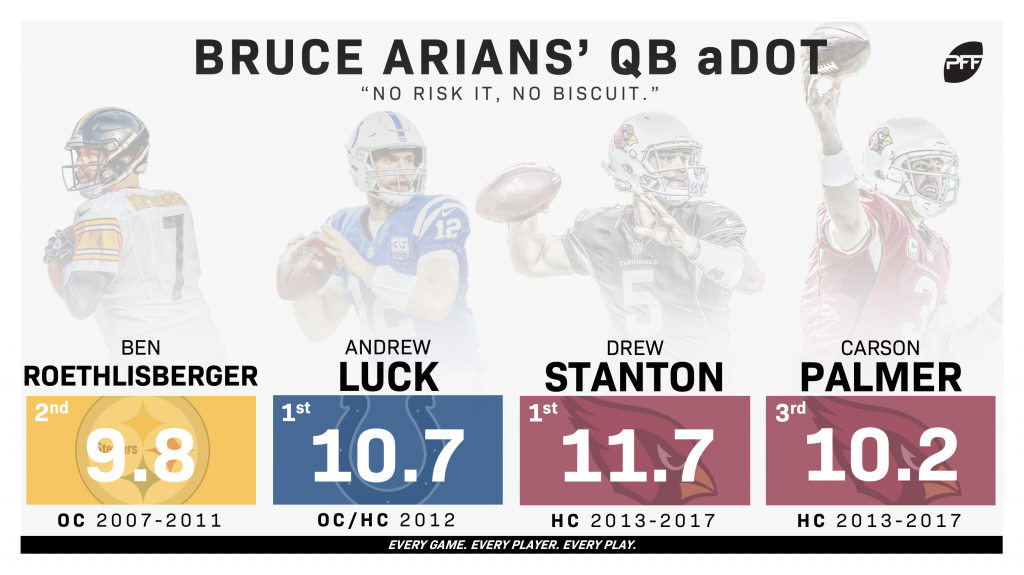 NO RISK IT, NO BISCUIT
Made famous by his book "The Quarterback Whisperer," one of Arians' coaching mantras is "no risk it, no biscuit," and this mantra can be traced all the way back to his days as offensive coordinator of the Pittsburgh Steelers. During his time in the Steel City (2007-2011), Arians coached quarterback Ben Roethlisberger to the second-highest average depth of target in that timeframe, which rang in at an impressive 9.8 yards downfield. Big Ben's 332 deep pass attempts (attempts of 20-plus yards downfield) from 2007-2011 were the fifth-most in that span, and his 4,006 deep passing yards and 79 deep big-time throws were both the sixth-most.
When he came to Indianapolis in 2012 to join Chuck Pagano's staff as the offensive coordinator, Arians coached rookie Andrew Luck to the league's highest average depth of target which, by the end of the year, rang in at an impressive 10.7 yards downfield. Luck's 108 deep attempts were the second-most thrown that year, and his 1,136 deep yards and 30 deep big-time throws were both the fourth-most.
Even during his five years as head coach of the Arizona Cardinals, Arians molded quarterbacks Carson Palmer and  Drew Stanton into the "no risk it, no biscuit" mentality. From 2013-2017 Stanton led all quarterbacks in average depth of target at 11.7 yards and Palmer wasn't too far behind with the third-highest average depth of target at 10.2 yards. Moreover, Arians was hardly afraid to pull the deep trigger right out of the gate, as Arizona uncorked 208 deep pass attempts on first downs from 2013-2017 — the most among all offenses by a significant margin. In that timespan, including the postseason, the Arizona offense collectively had the second-most deep attempts (420) and their quarterbacks combined for an impressive 92 big-time throws that ranked eighth among the 32 teams in that timeframe.
Luckily for Arians, his new quarterback, Jameis Winston, has lived off the same mentality. Since coming into the league in 2015, Winston has maintained the highest average depth of target at 10.8 yards downfield, but so far into his career, he hasn't quite made the most of those pass attempts. Among the 34 qualifying quarterbacks since 2015, Winston ranks 30th in adjusted completion percentage from his deep attempts, 29th in big-time throw rate, 18th in turnover-worthy play rate, 29th in positively-graded play rate and 28th in negatively-graded play rate. With Winston ranking among the league's worst on deep passes, the question is posed: Can Arians make Jameis Winston into one of the league's top deep passers?
With arguably one of the league's most promising receiving corps, there is a reason to believe Arians can bring out the best in Winston. Among wide receivers with at least 25 targets in 2018, Tampa has three of the top 30 in terms of PFF receiving grade: Mike Evans (84.2, 13th), Chris Godwin (79.6, 26th) and Breshad Perriman (76.0, 30th). The only other team to have three in the top 30 is the Los Angeles Rams.
Evans, now entering his sixth year in the league, has shown that he is one of the league's top deep threats, which makes the combination of Winston and Arians all the more exciting. In 2018, Evans finished with a 93.1 deep receiving grade (ninth), 543 deep yards (second) and 14 deep receptions (tied for third).
OFFENSIVE PERSONNEL USAGE
As with every head coaching change, a team's personnel usage is bound to alter with it. In the case of Arians to Tampa, however, there are drastic alterations across the board.
In 2018, Tampa used 11 personnel — the league's most popular personnel package —  at an above-average rate of 69.0% that ranked as the tenth-highest rate in the league. But when Arians was with Arizona from 2013-2017, their 11-personnel usage was far below the league average, at 49.3% (26th).
Arians went against the status quo at Arizona with his low usage of 11 personnel and his high usage of the 12 and 10 personnel packages. As the Cardinals' head coach, Arians used 12 personnel (one running back, two tight ends) 26.5% of the time (third-highest leaguewide) and 10 personnel (one running back, zero tight ends) 12.0% of the time (second). Whereas in 2018, Tampa used 12 personnel only 21.8% of the time, and they utilized 10 personnel just 3.5% of the time.
With the changes in personnel usage, we can also assume Arians will bring more "trickery" to the Buccaneers' offense. This past season, Tampa used motion at a below-average rate of 38.2% (22nd). When with Arizona, Arians was a huge proponent of motion, as he used it 49.0% of plays (fourth). On top of that, the old regime and Arians have many different philosophies on the spread of receivers. In 2018, Tampa's old regime preferred a more balanced formation, as they had 41.7% of plays from a 2×2 formation (10th) to only 39.3% of plays from a 3×1 formation (19th) and 19.8% of plays with a bunch formation (31st). During his last head coaching spell with Arizona, however, Arians was all about an unbalanced attack with only 23.7% of plays coming from a 2×2 formation (fewest by over 2.5%) to 49.7% of plays coming from a 3×1 formation (highest) and 32.1% of plays with bunch formation (highest by over 5%). Simply put, Bruce Arians is obsessed with trying to cause chaos for the opposing defense.
USE OF RUNNING BACKS IN THE PASS GAME
While with Arizona, Bruce Arians was an advocate of getting the running backs involved in the passing game. The Cardinals' 558 running back targets and 6.8 yards per target to a running back in the Arians era both ranked the sixth most among offenses. Moreover, Arians lined up his running backs in the slot and out wide more than any other offense in the league during that time span, as 171 targets of the 558 running back targets went to those lined up in the slot or out wide. As opposed to Arians, Tampa was not big on putting their running backs in the slot or out wide, as they had the fewest slot/out wide targets to running backs in 2018 with just five. Furthermore, Tampa practically failed to get the running backs involved in the passing attack in 2018, and when they did, it was hardly successful. Collectively, Tampa's running backs saw just 84 targets this past season (27th) and averaged an underwhelming 5.2 yards per target (31st). Out of those 84 targets, Jacquizz Rodgers had 43 of those and is no longer on the team. Peyton Barber had the second most targets by a Bucs' running back with 27 but netted the 2nd worst receiving grade among running backs at 49.3. Subsequently, Tampa was lacking the resources Arians needed at the running back position upon his arrival. So, Arians went out and signed a former running back of his at Arizona with vast receiving experience in Andre Ellington. From 2013-2017, Ellington garnered the 16th most targets at 210 and the 12th most yards per reception at 9.1 but had just a 69.4 receiving grade (40th). As a result, Ellington may be involved more than some think in Arians' Tampa offense.
HOW WILL ARIANS HANDLE O.J. HOWARD?
Arians was more traditional in his tight end usage with the Cardinals. Overall, Arizona had the 2nd fewest tight end targets with Arians as Head Coach with just 424 in five years. With the Cardinals, Arians usage of tight ends in the passing game came mostly when the tight end was lined up inline as his tight ends had 335 targets such targets (seventh most) and only 72 targets when lined up in the slot or out wide (fewest by 42). With that being said, there is no doubt Arians and the Cardinals didn't have a tight end as good as O.J. Howard was in 2018. Howard broke out in his sophomore season, recording an 89.4 overall grade, the second highest by a tight end. Howard showed he can be an effective receiver regardless of where he was lined up, as he had 83.8 receiving grade on 13 targets when line up inline (13th) and an 87.9 receiving grade on 34 targets when lined up in the slot or out wide (2nd). Because of this, it'll be intriguing to see how his usage of O.J. Howard will differ from his traditional tight end usage.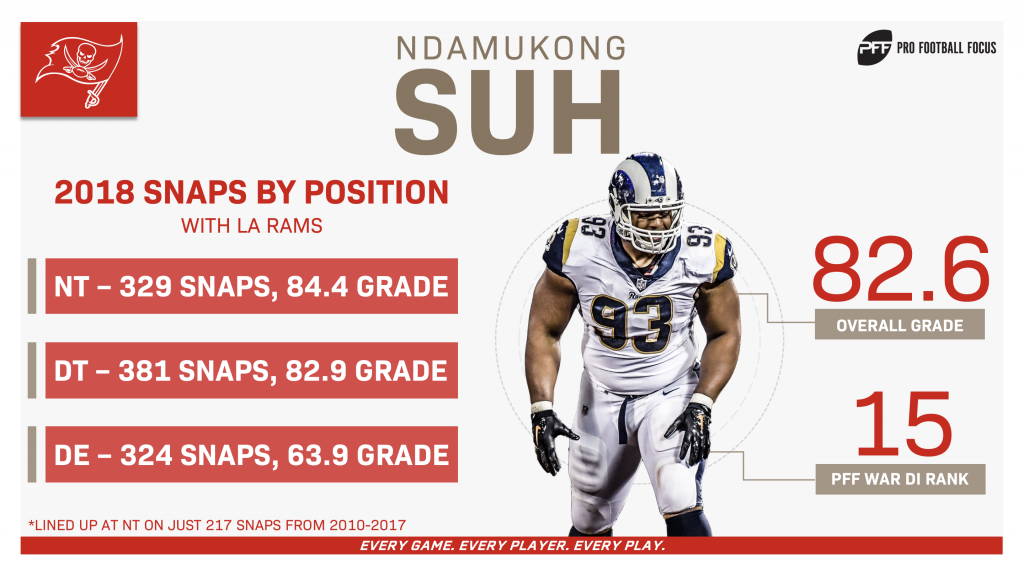 THE DEFENSIVE SWITCH FROM 4-3 TO 3-4
With Todd Bowles coming in as the new Tampa Defensive Coordinator, the Bucs will be making the switch to a 3-4 defense. Nonetheless, Tampa's defensive line recently saw a slight adjustment in who will be a part of this new look 3-4 defense. After a long offseason of speculation regarding the future of interior defender Gerald McCoy in Tampa Bay, the Bucs and McCoy decided to part ways. Less than 24 hours after McCoy and his $13 million 2019 cap hit left Tampa, the Bucs agreed to a 1-year deal with free agent interior defender Ndamukong Suh, according to ESPN's Adam Schefter. In regard to PFF wins above replacement (WAR), Suh ranked 15th among interior defenders in 2018, while McCoy ranked 25th. Over the length of their careers, Suh ranks fourth among interior defenders, while McCoy ranks ninth. Along with this, Suh has out-graded McCoy in three of the last four seasons. Because of this, Suh looks to be a marginal, if any, improvement over McCoy.
Prior to joining Wade Phillips' 3-4 defense in Los Angeles in 2018, Suh almost exclusively lined up at defensive tackle. His 6,405 snaps at defensive tackle were the most by an interior defender since 2010 by over 827 snaps. With that said, Suh played out of his element with the Rams in 2018 playing 1-tech, 3-tech, or 5-tech at a near equal amount. In fact, Suh played more 0/1-tech in 2018 (329 snaps), than he did from 2010-2017 (246 snaps). Even with little experience playing at the nose tackle position, Suh showed to be one of the top interior defenders in 2018 when lined up at nose tackle as he had an 84.4 overall grade. When lined up at his natural position at defensive tackle in 2018, Suh recorded a solid 82.9 overall grade (381 snaps). When Suh was lined up at defensive end, however, his play faltered as he recorded a subpar 63.9 overall grade (324 snaps). Even though Suh was versatile for the Rams by playing up and down the line, it is best to keep at the 3-tech position.
Suh will be joining a promising interior defender in Vita Vea on the Bucs' defensive line. Vea got off to a slow start in his rookie campaign in 2018 due to injuries, but he still managed to finish in 16th in pass-rush win rate at 12.8%, 13th in pass-rush grade at 75.4, and 18th in pressure rate at 10.2%. After getting a few healthy weeks under his belt, Vea was one of the top interior defender pass-rushers in the game. From weeks 12-17, Vea had the 5th highest pass-rush grade. Additionally, with Bowles bringing the 3-4 to Tampa, Vea will be able to go back to his dominant position at nose tackle. Vea played just 99 snaps at the 0/1-tech positions in 2018 but recorded the ninth highest pass-rush grade among interior defenders when lined up there. During his final collegiate season at Washington in 2017, Vea recorded the highest overall and pass-rush grade among all FBS interior defenders when lined up at 0/1-tech.
Outside of Suh and Vea though, there is a steep drop-off in defensive line play for the Bucs. With the switch, interior defenders Beau Allen (57.5 overall grade) and William Gholston (34.7 overall grade, last among all defensive interior) will have far more responsibility in this Bucs defense. Due to his experience playing the 5-tech position, Gholston is more likely to get more snaps than Allen in 2019. In his career when lined up at defensive end, Gholston has recorded a 58.9 over grade on 2,394 snaps.
As for their edge rushers, Tampa has drastically improved their 31st ranked pass-rush from 2018 this offseason with the additions of veteran Shaquil Barrett and rookie Anthony Nelson. Barrett, a free agent acquisition, has posted an overall grade among the top 25 of edge defenders in each of his four seasons. Nelson, a fourth-round pick in this year's draft out of Iowa, was one of the more undervalued edge rushers in this class with the third highest pass-rush win rate at 23.5%.
DIALING UP CHAOS IN THE PASS-RUSH
 Tampa's pass-rush was insipid in 2018, generating pressure at one of the lowest rates and sending a blitz at a below average rate of 26.4% (18th). With Bowles as Defensive Coordinator, this is bound to change. With the Jets from 2015-2018, Bowles' defense finished with the 2nd highest blitz rate at 43.1%. When with Arizona in 2013-2014, Bowles' defense had the highest blitz rate in the NFL by over 6% at 51.7%.
Bowles was also one of the league's biggest stunt supporters. From 2016-2018, his defense with the Jets had the 3rd highest stunt rate at 35.0%. Further, Bowles often mixed stunts and blitzes together. In those three seasons, Bowles dialed up 261 stunt blitzes, the 5th most among defenses and recorded a respectable 48.7% pressure rate on those plays (12th). Tampa is familiar with the stunt, as they had a 33.7% stunt rate in 2018, but is unfamiliar to the stunt/blitz combos that Bowles covets. Last season, Tampa had just 43 stunt blitzes and recorded the 2nd worst pressure rate on those plays at 32.6%.
Though Bowles didn't just stop there. During his time with Arizona and New York, Bowles was one of the heaviest users of cover-0. For the layman, cover-0 is also known as the zero blitz and is a man coverage scheme with no deep defenders and a heavy pass-rush. With Arizona, Bowles ran the third-most plays in cover-0 (51 from 2013-2014) and the second-most with the Jets (124 from 2015-2018, Patriots had the most with 125). Tampa ran cover-0 just 13 times in 2018, but that number is expected rise with Bowles on the Tampa staff. With the addition of linebacker Devin White in this year's NFL draft, Tampa's cover-0 success will only rise as he was one of the top off-ball linebackers in the pass-rush. Since 2017, White had recorded an absurd 70 pressures and 26.5% pass-rush win rate (both third among all CFB off-ball linebackers).
FROM ZONE TO PRESS-MAN COVERAGE
Bowles used man coverage at a high rate while with the Jets. His 39.3% man coverage usage rate with the Jets was the sixth highest among all defenses. This, however, is something Tampa swayed away from in 2018, as the Bucs had just a 26.7% man coverage usage rate (23rd). Furthermore, Buccaneers' cornerback Vernon Hargreaves has been vocal about how excited he is to get back to playing his "natural" style of press coverage under the new regime. When looking at PFF data, one can understand why Hargreaves is happy to play more press coverage. On coverage snaps where he is in press coverage since 2017, Hargreaves ranks 36th among 130 cornerbacks' in coverage grade and had posted an impressive 27.5% forced incompletion rate (fifth). On coverage snaps when he isn't in press coverage, Hargreaves ranks 123rd among 125 cornerbacks' in coverage grade.
In this year's NFL Draft, the Bucs went and got themselves two of the top press corners in the class in Central Michigan's Sean Murphy-Bunting and Auburn's Jamel Dean. When in press coverage, Murphy-Bunting recorded the sixth best coverage grade at 88.7 and allowed 46 receptions on just 99 targets and a 43.7 passer rating. As for Dean in press coverage, he had the seventh-best coverage grade at 88.5 and allowed 27 receptions on 74 targets with 23 forced incompletions (third).
CONCLUSION
 With the addition of Bruce Arians and Todd Bowles, the Bucs are shaping up to be one of the most fascinating teams to watch in 2019. In fact, they are a staff favorite here at PFF:
"Very intrigued with what Tampa Bay is going to do next season." – PFF Senior Analyst Steve Palazzolo on the PFF NFL Podcast
"Arians' offense is perfectly suited for Jameis Winston." – PFF Data Scientist Dr. Eric Eager
"All eyes should be firmly fixed on this offense. No risk it, no biscuit + Jameis Winston + Mike Evans = fun in the NFC South." – PFF NFL Editor Mark Chichester
Under this regime, the Bucs could surprise all and become this year's worst-to-first team. Regardless, Tampa is only trending up from here with Bruce Arians at the helm.