Our picks went 2-1 last week, with our lone loss coming at the hands of the Dolphins (+16.5), who lost by 20 points at home to a Chargers team playing at 10 am their time. Our all-time record is now 102-85-10 (54.5%), and we're now 9-4 on the young season. The Week 5 slate of games is relatively bare, so we're only picking two games, but they feature teams that are sure to give you a full week's worth of heart pain and pit sweat.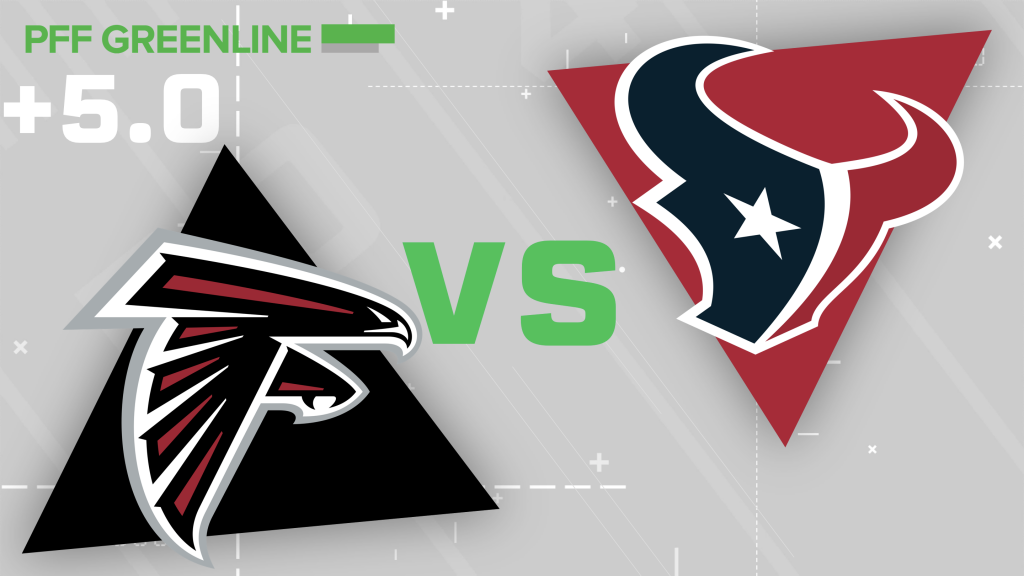 Point (Eric Eager):  It really is a light week. When it comes to betting the PFFalcons, it's the old adage "bet numbers, not teams." Despite the starting the season 1-3 and ranking 26th in points per game, the Falcons are ninth in yards per play offensively. The Texans, despite playing two backup quarterbacks, are in the middle of the pack in terms of yards per play allowed defensively and are 27th in terms of our team-level coverage grades. Even in light of the noise of the season's first four weeks, the Falcons should be able to score enough points to be competitive in this one.
On the other side, many of the problems that have caused us to fade the Texans (and successfully) the last two seasons remain. Deshaun Watson is facing pressure at a higher rate than every quarterback except Kirk Cousins and Daniel Jones, and the Falcons are a top defense in terms of pass-rush grades, meaning Watson will be under more siege than most NFL quarterbacks on Sunday in Houston. The probable pressure on Watson plus the injuries hampering the Houston receiving corps should do enough to help a vulnerable Falcons secondary and keep this game low-scoring enough to be close.
Lastly, while neither George nor I have much in the way of patience for the Falcons' inability to turn talent into wins, going against Bill O'Brien and company makes us a little more bullish than the coaching matchup will be even on Sunday. Put those things together, and it's a "hold your nose and bet Atlanta" situation.
Counterpoint (George Chahrouri): The Falcons are in the process of redefining "Falconry" to mean "tempting poor idiots to put faith in a supremely talented offense that leaves its supporters depressed and in need of a hug." The Falcons have a top-10 offense in expected points added per play for what feels like the millionth consecutive week, and yet, there is no rhyme or reason for some of the ways they've managed not to cover spreads. This past week they got absolutely embarrassed by A.J. Brown and the Titans at home — yes, that sentence was not even hyperbolic. They managed to go for a fourth-and-one but decided to line up in heavy personnel in order to run the ball unsuccessfully right up the gut. Remember one of the 10 commandments of football and life, "pass from heavy, spread to run."
In addition to the awful vibes that permeate the Falcons, the reason to worry about them losing by less than five points is that there is no reason to believe they can slow down Watson and DeAndre Hopkins — only the Washington WTFskins and the Miami LOLphins are allowing a worse expected points added per pass play than the Falcons, and with Grady Jarrett questionable, Atlanta may be without a full complement of their best defensive lineman against a Texans offensive line that has allowed the sixth-most pressures so far this season. 
Five points feel like a lot for a team with top-five/top-10 players at quarterback and wide receiver, but the Falcons' duo is likely the second-best duo in this game, and they have absolutely zero means by which to slow down their opposition on defense.
Subscribe to PFF Edge to continue reading
Already have a subscription? Sign In