With Watson's quick transition from championship-winning college quarterback to dynamic NFL signal-caller, the Texans have been able to show just how well-rounded they are as a side.
Even though J.J. Watt, Jadeveon Clowney and the rest of the defense usually takes center stage, the offense (offensive line excluded) has become a complete, well-rounded unit. And after hitting on a few key picks in recent drafts, the wide receiver corps has become one of the most intriguing in the NFL; one that is full of weapons with very different skillsets and led by PFF's reigning Offensive Player of the year DeAndre Hopkins, the deep threat out of Notre Dame Will Fuller and the electric Keke Coutee manning the slot.
DeAndre Hopkins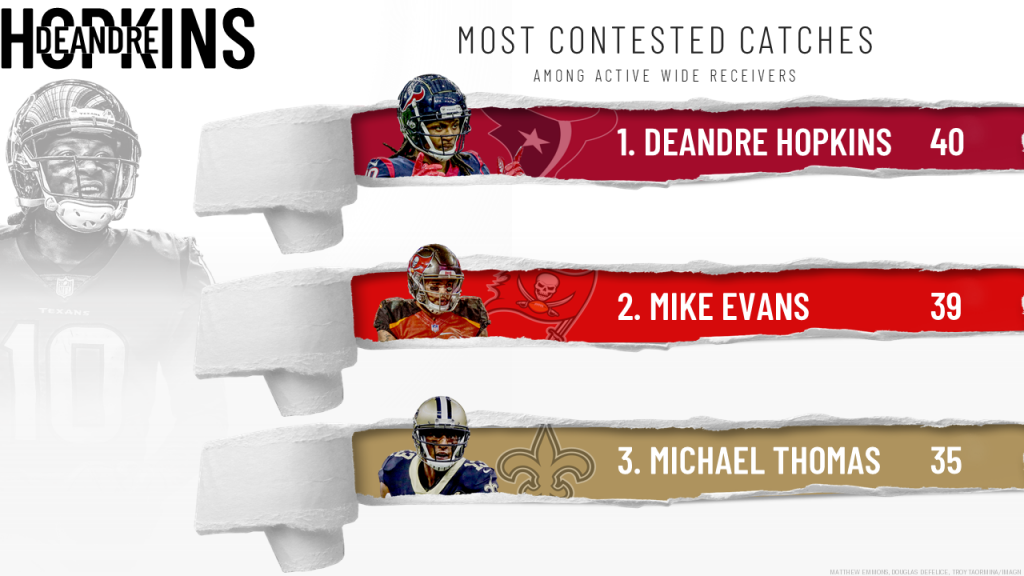 Throughout his six-year career, Hopkins has not had the luxury of strong quarterback play like some of the other top players at the position. Even with that being the case, Hopkins has earned an elite overall grade three times since 2013, tied for the second-most among wide receivers. One of Hopkins' biggest strengths has been his ability to reel in contested targets; he's been one of the NFL's best at turning the 50-50 balls into something more. Since entering the league, he has converted 40-of-91 contested targets into receptions, both of which lead the league.
Of course, Hopkins is much more than just a player that can bring in targets with a defender bearing down on him. In 2018, it was nearly impossible to name an aspect of the passing game without mentioning Hopkins' being among the best. Showing off how reliable his hands are, Hopkins set the PFF record for most catchable targets without a drop, as he finished the year with an astounding 115 that was nearly double the previous record of 60.
A testament to his ability, Hopkins is one of only two receivers able to lay claim to a top-five grade at multiple depths downfield (Michael Thomas being the other). Hopkins ranked first when targeted short (1-9 yards downfield) with an 89.4 receiving grade, and second on intermediate targets (10-19 yards downfield) with a 96.8 receiving grade. Hopkins will only be 27 years old when the 2019 NFL season kicks off, so the sky really is the limit for the Watson-to-Hopkins connection as it enters Year 3.
Will Fuller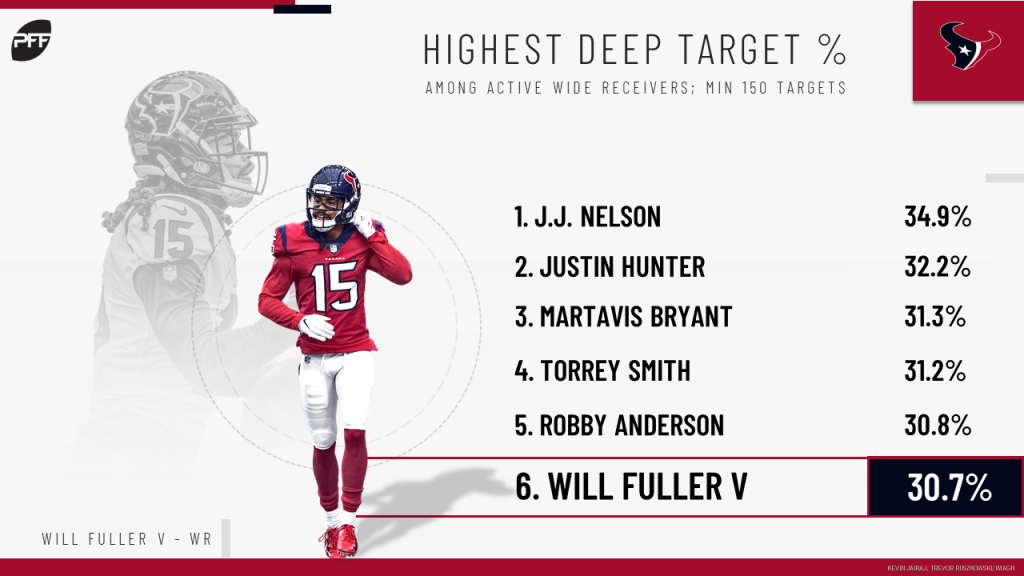 While Hopkins is the unquestioned leader of the wide receiver room in Houston, Fuller has been one of the league's most dangerous targets with Watson under center. Known as simply a deep threat entering the 2016 NFL Draft, Fuller was immediately thrust into that role in the Texans' offense. The former Notre Dame product's 34.5% deep-target percentage in 2016 was the highest by a Houston pass-catcher in the PFF era (since 2006), and even though that number has gone down each season, his career deep-target percentage of 30.7% is still sixth among receivers with at least 150 career targets since 2006.
Enter Watson into the fold, and the two became a match made in heaven. The dynamic duo has found the endzone on 17.2% of their completions during their time in the NFL together, a mark that ranks first among tandems with at least 50 targets, and they've combined to generate a passer rating of 138.2 that ranks fourth among that same group of players. For comparison, Fuller's passer rating when targeted by anyone not named Deshaun Watson is just 75.5.
Sadly, Fuller's 2018 breakout season came to an abrupt halt due to a torn ACL in Week 8, but he still earned a career-high 81.2 overall grade that had jumped up 14.0 points from his previous best. And that's largely due to his improvement at all levels of the route tree: He improved to a 73.8 grade on short targets and 88.4 on intermediate targets in 2018, both of which were among the top-40 wide receivers. And let's not forget about his deep prowess, Fuller still earned a 90.1 grade on passes of at least 20 yards downfield.
Keke Coutee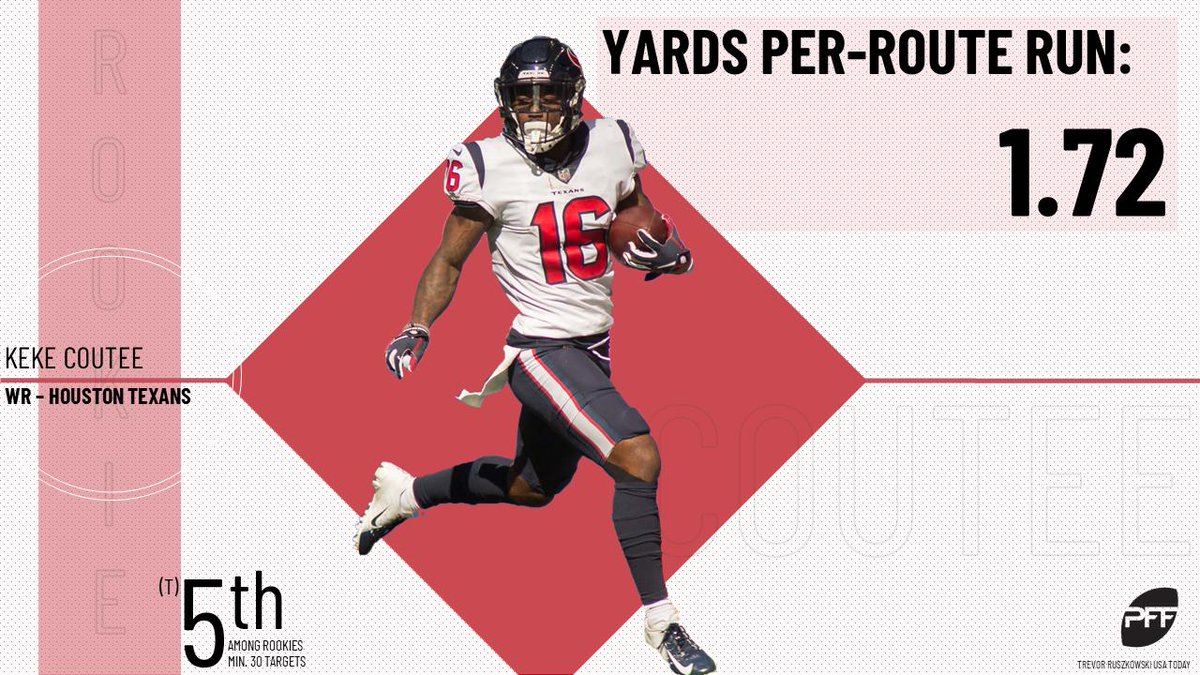 The least experienced of the three, Coutee was drafted in the fourth round of the 2018 NFL Draft after he cemented himself as one of the most productive slot receivers in the PFF College era.
While in Lubbock, Coutee was a menace in the slot, and he earned an 83.7 grade when lined up inside — a mark that was good enough for fourth among draft-eligible wide receivers in 2017. A part of the high-flying "Air Raid" offense, Coutee led the nation in receiving yards (1,265) and touchdowns (10) from the slot in his final college season; he also led the nation in yards after the catch per reception (9.0), and he ranked third among his classmates in passer rating when targeted (139.7).
While a nagging injury limited him to just seven games in his rookie season — he played 30 or more snaps in just five of those games — he still impressed in what little time he had. All told, he caught 39-of-52 targets for 397 yards and two touchdowns, and he managed to lead all rookies in catch rate from the slot, at 87.5%.
Final Thoughts
With Watson at the helm, there is little doubt that DeAndre Hopkins will continue to produce on the field, but if Fuller and Coutee are both able to stay healthy, this Texans offense has all the potential to make waves in the AFC.
Combining one of the most talented receivers in the league, a deep threat who can take the roof off of NRG Stadium and a shifty slot receiver who can make plays after the catch will make the Texans one of the most well-rounded passing attacks in the NFL.