With the Tom Brady to Rob Gronkowski connection now defunct and the Aaron Rodgers to Jordy Nelson reliance long gone, a new wave of top quarterback-to-receiver tandems are taking over the NFL — and quickly. No introduction is needed for the likes of Patrick Mahomes and Deshaun Watson or Calvin Ridley and Will Fuller V. Each is a key piece in the latest generation of offensive duos making their respective marks on the league.
A more pass-happy league in recent years has fostered stronger bonds between gunslingers and pass-catchers, and those relationships have translated to more targets and heightened production levels. Here are the top 10 active quarterback-receiver duos, ranked by passer rating generated between the two with a minimum threshold of 50 targets.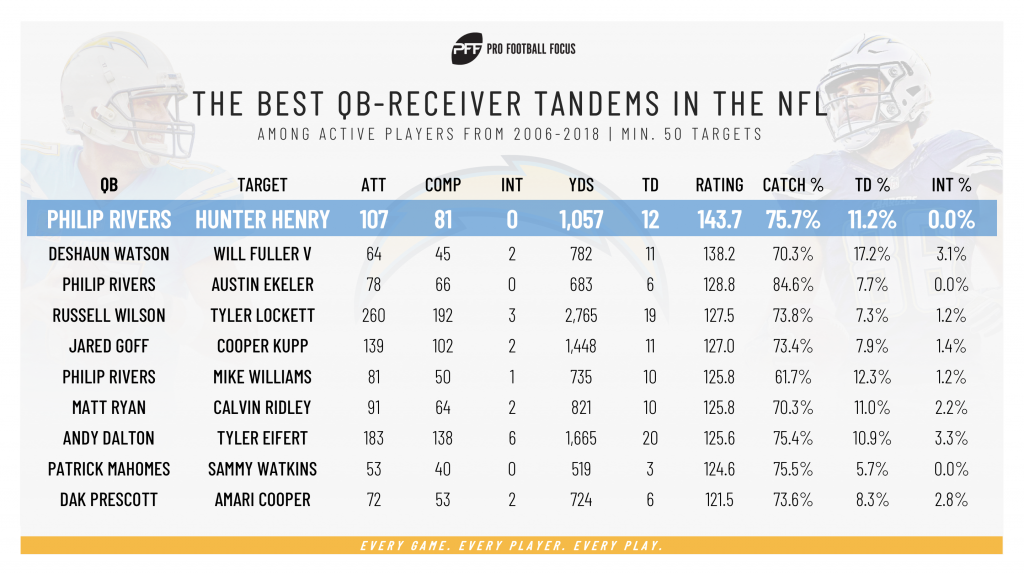 Hunter Henry and Philip Rivers aren't exactly the first two who come to mind when thinking of reliable duos — partially because Henry missed all of 2018 with a torn ACL — but here they are at the top of the list. Since 2006, Henry and Rivers are the only duo (not including running backs) who have 100 or more targets together with no interceptions and more than 10 touchdowns. That's a mouthful, but it's an exceptional feat — and Henry will be back on the field in 2019, meaning the two will get to build upon what is already proving to be one of the most reliable connections in recent years.
A forgotten pair, perhaps, as Fuller V went down with an ACL injury early in his 2018 campaign. Before that, though, he was carving up opposing defenses with Watson in tow. Through five weeks, Fuller ranked second in passer rating when targeted among wide receivers with 15 or more targets. The former first-round pick appeared ready to truly break out in his third year, but the injury derailed it — what it didn't derail, though, is the rapport Fuller and Watson have developed. With 11 passing touchdowns to Fuller on just 45 completions, the duo owns the highest touchdown rate among qualifying pairs since 2006.
From undrafted free agent to top-five on the best active quarterback-receiver tandems list since 2006 isn't too bad. For Austin Ekeler, that leap to stardom is evident in his efficiency — an 84.6% catch rate from Philip River plus no interceptions when Rivers has thrown his way has all the makings of a nightmare out of the backfield for opposing linebackers. And that's exactly what Ekeler is when Rivers is manning the offense.
Both Russell Wilson and Tyler Lockett are some of the more underrated players at their respective positions. But you won't find an active tandem that has produced as efficiently as they have. With 260 targets together — including 19 touchdowns — and more than 2700 yards, Lockett and Wilson have put on a clinic. And don't give Lockett any space on deep balls, because he and Wilson combined for the highest catch rate on passes of 20 or more yards downfield in 2018.
Another chart-topper and another injury. Cooper Kupp's 2018 season was also cut short, but what he's been able to accomplish in two years with Jared Goff bodes well for the future. Kupp saw more than 100 targets in his rookie campaign in 2017 and Goff showed tremendous improvement in 2018, moving from a 75.6 overall grade to an 84.3 mark.
As it turns out, Philip Rivers is pretty good at this whole "quarterback" business. He appears for a third time on the list, this time with former first-round pick Mike Williams. After hauling in no touchdowns his rookie season, Williams' 10-touchdown effort in 2018 catapulted him onto this list. With 50 receptions on 81 targets, Williams' catch rate with Rivers is somewhat low, but his touchdown rate is undeniably high.
Veteran quarterbacks with young, explosive wide receivers are generally the theme here, and Matt Ryan and Calvin Ridley are no different. Ridley led all rookie wideouts in yards, touchdowns and first down receptions in 2018 while Ryan polished off his fifth straight season with a grade higher than 80.0. Together, the tandem combined for 10 touchdowns to just two interceptions — a connection that will surely thrive for years to come.
Tyler Eifert's health is the only thing keeping him and Dalton from filling up the stat sheet even further. Of the tandems on this list, none have more touchdowns between them than Dalton and Eifert (20). But Eifert has played just more than 2,100 snaps in six seasons while Dalton has played more than 2,500 combined in the last three seasons.
With just three touchdowns combined last year, Sammy Watkins and Patrick Mahomes have a long way to go before truly becoming an elite tandem. However, the two were so wildly efficient, with 40 of the 53 targets being completed, that they find themselves at No. 9. Watkins has the talent as a former top-five pick and Mahomes showcased his MVP skills in 2018 with a 92.9 overall grade (2nd).
There were few turnaround stories in 2018 as great as Amari Cooper's with the Dallas Cowboys. The former Alabama product went from a 64.9 overall grade with the Oakland Raiders in six games to a 79.9 mark with the Cowboys. And five of Cooper's touchdowns on the year came in two games. He and Prescott have work to do, but 2018 was a promising sign for a budding tandem.