Plagued by injury in previous years, New England Patriots running back Dion Lewis has peered up at his potential for the entirety of his NFL career. Now, having avoided the medical tent through all 15 games this season, he has put his elite-level talents on full display.
Lewis has emerged as the Pats' top running back in 2017, leading the team with 803 rushing yards and five touchdowns on 154 attempts. He also leads his backfield counterparts in yards after contact per attempt (3.4) and forced missed tackles on the ground (38), and the two figures rank fourth and tied for fifth among NFL running backs with 80-plus attempts through Week 16, respectively.
A byproduct of his high-end statistical production, Lewis has earned the second-highest overall grade (89.8) and rushing grade (88.1) among running backs with at least 236 offensive snaps this season. Only Todd Gurley (92.0 overall grade) and rookie phenom Kareem Hunt (88.3 rushing grade) have earned higher marks in the two facets.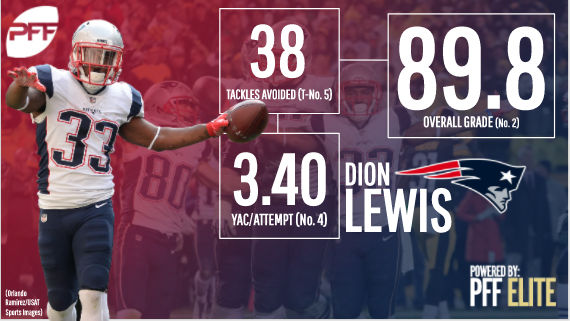 On pace to finish his first 16-game season in his seven-year career, Lewis' dominance on the ground would have surely become the norm by now if he hadn't so often fallen victim to the injury bug.
After logging just 102 offensive snaps from 2011-12 and sitting out the 2013 and 2014 seasons with a fractured fibula, Lewis signed a future/reserve contract with the Patriots at the tail-end of the 2014 season.
The former University of Pittsburgh standout got off to a blazing start with New England early in the 2015 season, more than doubling his career totals in offensive snaps, rushes and yards in just Weeks 1-3. Leading the team with 30 carries, 146 yards (4.9 yards per carry) and 10 forced missed tackles, he inked a two-year, $2.6 million contract extension just a few days after his third game with the Patriots.
Seven games into what was becoming his breakout year, Lewis was averaging a team-high 4.9 yards per carry before going down with a season-ending ACL tear in his right knee. Prior to the injury, he led the league in total forced missed tackles (43) and ranked fourth in yards after contact per attempt (3.27) to earn the top elusive rating (165.2) among running backs with 42-plus attempts. None of the other qualified running backs earned even half of his elusive rating, the second-highest mark reaching just 78.7.
Continuing to deal with the effects of the injury, Lewis missed the entire 2016 preseason and after having his second knee surgery in August 2016, was simply not himself a season ago.
Over 10 games in 2016 (including the postseason), Lewis earned his worst rushing grade (69.0) since his rookie campaign while playing 225 offensive snaps. He earned a career-low elusive rating (36.0), forcing just eight missed tackles and averaging just 2.10 yards after contact per attempt.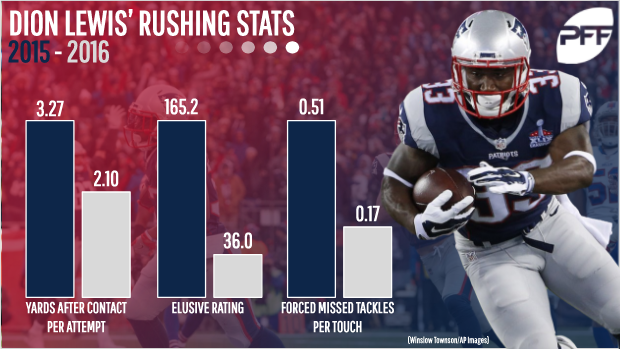 On the heels of his best season to date, the 5-foot-8, 195-pound Lewis has seen a resurgence in 2017, and has now become a lead back on the AFC's top team, shaking off any thoughts of him being another oft-injured gadget player slight in both stature and impact.
Lewis has successfully transitioned into more of a traditional role at the running back position through Week 16 – a rarity for a back of his size. After running routes on 59.58 percent of his offensive snaps in his first two years in New England, he has seen his receiving snaps drop to 41.23 percent in 2017.
Bound for the postseason, Lewis will continue to be the Patriots' go-to back on the ground and could even see an increased role as a receiver for as long as James White (ankle) is sidelined.
In his first game without Rex Burkhead (injured reserve) and White in the mix in Week 16, Lewis earned 129 rushing yards on 24 carries, both of which were career-highs. He also hauled in a season-high five receptions for 24 yards and one touchdown.
Though New England surely hopes to have White back in January to provide a change of pace, having a healthy, much-improved Lewis take on the added reps should continue to give the Pats' offense an edge moving forward.