This season has been an enigmatic one, and week 14 continued a streak of unpredictable play. Two of our top-five teams in last week's rankings lost, and another two in our top ten went down, with some of the league's worst teams (Oakland, both New Yorks, San Francisco, Detroit) coming away with victories. With three weeks remaining, much is still left to be determined, starting with Thursday night in Kansas City.
Like all ELO systems, PFF ELO is an iterative system that updates each team's rating after each game based on two things: how well they played against their opponent and how well they were expected to play against their opponent. The PFF ELO rating system measures the former using our unique offensive, defensive and special teams grades, while the latter is determined by the PFF ELO ratings leading up to the game and where the game is played.
For example, a heavy favorite playing at home is expected to outplay the visitor, so a victory would result in only a small rise in their PFF ELO rating and a similarly-small decrease in the defeated team's. However, if an upset were to happen, the visiting team would see their PFF ELO rating rise substantially, and the home team's see a similarly-sized drop.
[Note: for week 15, we've adjusted the ratings slightly to incorporate the anticipated return of injured players, coaching changes, etc. These adjustments will be rare, but will reflect the output of other quantitative models we use as a part of Greenline – in which PFF ELO is just one.]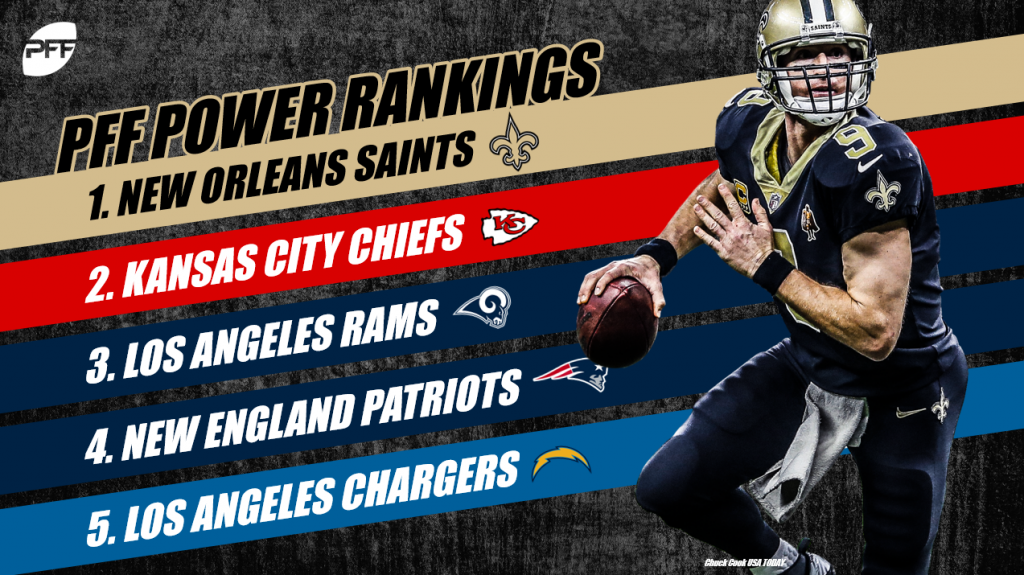 2018 Week 15 ELO Ranking: 1
Passing is what wins in the NFL, and with 0.34 EPA per early-down passing play, the Saints are the second-most efficient offense in that regard. Drew Brees is second in the NFL in our WAR metric through 14 weeks, helped in large part due to the facing one of the lowest pressure rates among active quarterbacks. They are our current odds-on favorite to win the Super Bowl, and it's not particularly close at this point.

2018 Week 15 ELO Ranking: 2
Kansas City probably hits their regular-season peak at number two in these rankings, having won a hard-fought matchup during a week where many in the AFC fell off. Patrick Mahomes is the league MVP so far this year, accounting for over six-and-a-half wins above replacement through the season's first 14 weeks.

2018 Week 15 ELO Ranking: 3
Sunday night's loss was a bit of a snapping back to reality for the Rams and their backers, with Jared Goff continuing his struggles against pressure. We know that this is not a stable metric for most quarterbacks, but Goff has consistently struggled to complete even 45% of said passes during his two years as a starter. The Rams still have roughly a 30% chance to get home-field advantage throughout, an advantage they'd likely need should they need to play a quarterback of Drew Brees' caliber come January.

2018 Week 15 ELO Ranking: 4
The Patriots (+650) are currently the best value to win the Super Bowl, as their coach/quarterback combination is still one of the best in the league. That said, a week after they shut down Kirk Cousins and the Vikings in Foxboro, they thoroughly struggled for 60 minutes to contain Ryan Tannehill, one of the worst-graded quarterbacks in the NFL, and a Dolphins rushing attack featuring 47-year-old Franklin Gore. This week's game in Pittsburgh will go a long way to determining their path (they are currently an 80% proposition to have a bye, but less than 10% to get a first-round bye).

2018 Week 15 ELO Ranking: 5
The Chargers, who are on pace for 11.6 wins, might finish second in the AFC in total wins. In a very Chargerian way, this gives them only a 10% chance to actually win their division, making their path to a Super Bowl championship (about five percent) a murky one. PFF Greenline has them at roughly a 35% chance at winning in Kansas City on Thursday, which would be a great start for them if they want to play at home in the playoffs and make these likelihoods shoot up.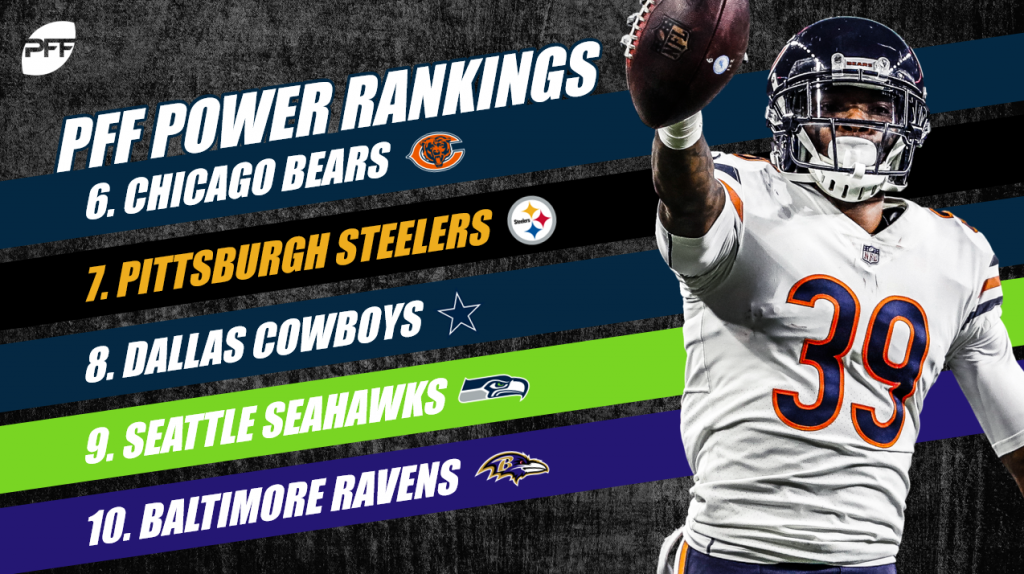 2018 Week 15 ELO Ranking: 6
The Bears were very impressive in a 15-6 win against the Rams at Soldier Field Sunday night. Their defense has been amazing, allowing -0.10 EPA on early-down passing plays and -0.23 EPA per early-down runs (both best in the league). The asymmetry is real, though, with Mitchell Trubisky generating as many turnover-worthy (15) as big-time throws on the season, putting their defense to the ultimate test on a weekly basis. Will they eventually crack?

2018 Week 15 ELO Ranking: 7
On the heels of a three-game losing streak, the Steelers are in danger of not only losing a chance at the AFC North title but missing the playoffs altogether (about a one-in-three chance of missing out as of today). Big Ben has been somewhere between a tier two and tier three quarterback all season, generating positively-graded throws only 23.1% of all of his dropbacks. If he cannot get healthy and improve, they will likely not win against the Patriots and the Saints over the next two weeks, ending their reign as AFC North champions.

2018 Week 15 ELO Ranking: 8
The Cowboys are almost a 99% chance to win the NFC East, a far cry from where they were before their bye week. While they have certainly been impressive, the second half against the Eagles is a cause for concern, as they are still allowing over 50% of early-down passes to gain success, and Dak Prescott has been hit or miss (with his hits now turning into Amari Cooper touchdowns). Some regression is certainly in order, but it will likely need to happen in the playoffs instead of in December at this point.

2018 Week 15 ELO Ranking: 9
The Seahawks won again Monday, their eighth win in 11 tries (and nine non-Rams tries) after a 0-2 start. With losses to the Rams, Bears and Chargers on their resume, as well as a defense that is in the bottom four of the NFC in terms of early-down passing allowed, there are legitimate questions about whether the 'Hawks can win in January. However, Russell Wilson – and his league-high big-time throw rate – gives them a better chance than most teams in their situation, which makes them a true dark horse to watch.

2018 Week 15 ELO Ranking: 10
Sometimes you just have to tip your cap. The Ravens pressured Patrick Mahomes on more than half of his dropbacks, were able to generate 24 points offensively and outplayed the Chiefs in the kicking game on the road in Arrowhead last week. It didn't matter, and now the Ravens are in an all-out brawl for the sixth spot in the AFC, as well as for the AFC North. They'll need Lamar Jackson to play as he did against the Chiefs as a passer (123.2 passer rating from a clean pocket) for them to achieve their dreams in 2018.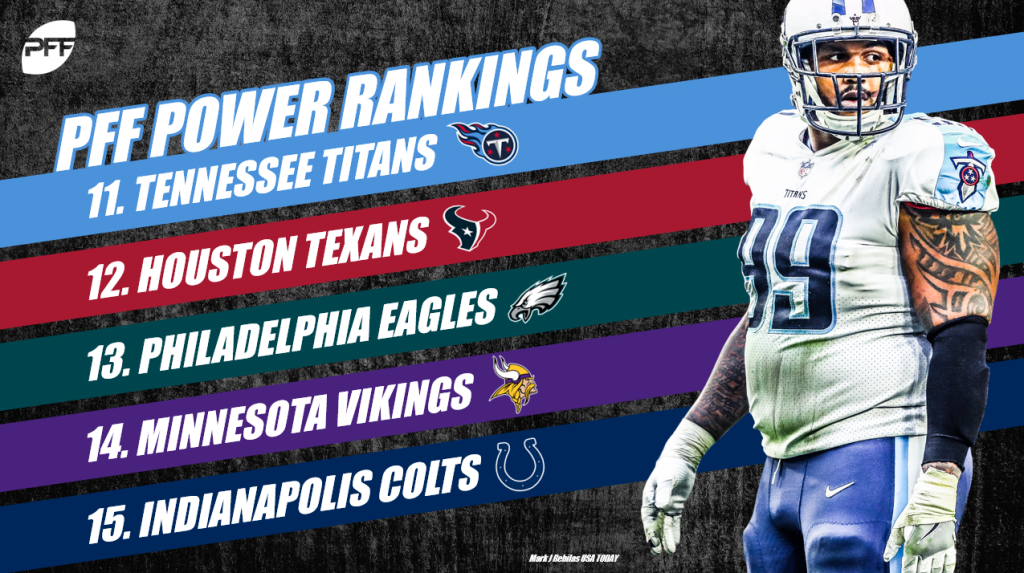 2018 Week 15 ELO Ranking: 11
On the back of a seldom-used and seldom-productive running back on Thursday night, the Titans moved to 7-6 and increased their playoff odds to roughly 30%. While their 30-9 win over the Jags was cute, Marcus Mariota continues to be one of the league's weakest passers, generating just 0.02 EPA per dropback, with more turnover-worthy plays than big-time throws through the season's first 14 weeks.

2018 Week 15 ELO Ranking: 12
As we said last week, the Texans are a bit more of a paper champion that a team that is in the upper echelon of the NFL, despite having won nine consecutive games and possessing Deshaun Watson, who is one of the league's most encouraging youngsters. DeAndre Hopkins is the third-most valuable non-quarterback in the NFL by our WAR numbers, capitalizing on Watson's 29.7% positively-graded throw rate (third in the NFL).

2018 Week 15 ELO Ranking: 13
The Eagles still have a chance to make the playoffs (21%), but after a plus effort in Dallas, there are big questions as to whether they can play well enough to beat the Rams in LA (a 20% proposition), let alone win out. Carson Wentz has played a good season from a process standpoint, even though the results are not always falling into place. His receivers are generating only 1.03 actual passing yards for every air yard, which is lower than Mahomes, Brees, Rivers, Brady and Goff, to name a few.  

2018 Week 15 ELO Ranking: 14
Woof. Another week, another poor showing by the Kirk Cousins-led offense. They got rid of John DeFilippo, who was one of our lower-rated coaches heading into the week, but regression was in store for Cousins for much of the season anyway. He was 0-7 passing when under pressure against Seattle, a far cry from his early-season exploits when hurried. His sub-10% negatively-graded throw rate has been compensated for with a sub-20% positively-graded throw rate (one of five starters in the league to do so), an aggressiveness that is unbecoming given that he arguably possesses the best pair of receivers in the league.

2018 Week 15 ELO Ranking: 15
The Colts rebounded from a tough week in Jacksonville to win their seventh game of the season and their first road game in over a month. They have a 29% chance of making the playoffs, odds that will grow substantially if Andrew Luck can continue the level of play that has made him a top-five player in terms of our WAR metric through the season's first 14 weeks. His 4.5/3.0 big-time throw to turnover-worthy play ratio is one of the league's more impressive marks, a great development given his early-season limitations.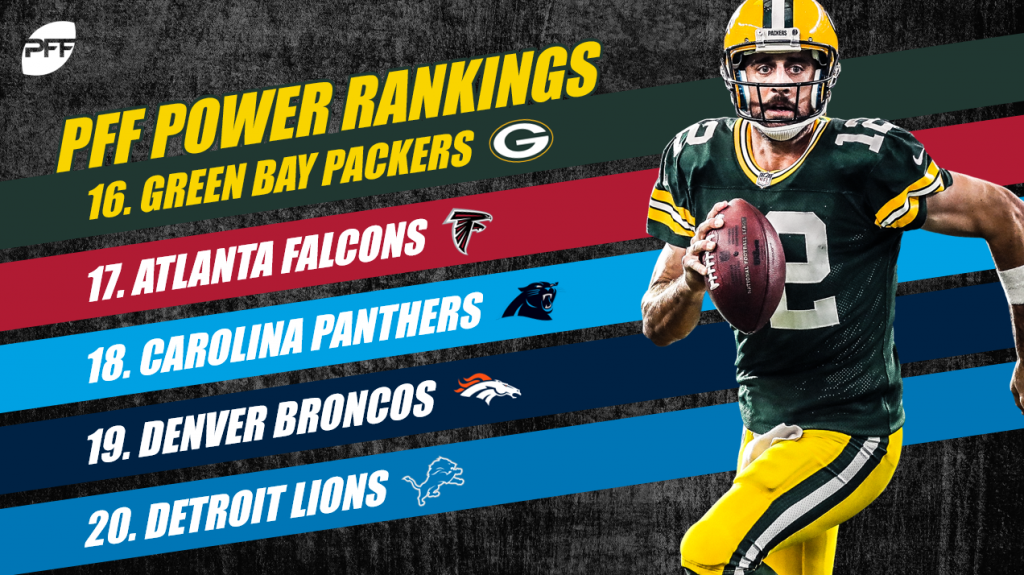 2018 Week 15 ELO Ranking: 16
Aaron Rodgers has a 5.5/1.8 big-time throw/turnover-worthy play ratio – which is in many ways due to his outlier throwaway numbers – but is shadowed well by a 24.2/11.7 positively-graded to negatively-graded throw ratio. The team's 45.6% early-down rushing success rate is second to only the Rams in the NFC. The Packers' inability to close the deal earlier in the season has left them with such low odds to get into the tournament, which is a shame because, with a rejuvenated Rodgers, the Packers would likely be alive for a Super Bowl run with an extra win or two under their belt. 

2018 Week 15 ELO Ranking: 17
The Falcons, on the other hand, do not look like a team that is rejuvenated from their early-season woes and needed a couple of garbage time scores to make their loss to the Packers look respectable. This passing offense continues to be one the best in the NFL, with an early down success rate of 55.1%. Matt Ryan is playing a tier below the elite level of quarterbacks, posting a 3.1/3.2 big-time throw/turnover-worthy play ratio and he is the 11th-highest rated quarterback according to our WAR metric.

2018 Week 15 ELO Ranking: 18
Another team in an absolute free fall is the Carolina Panthers, who have dropped five straight games after starting the season 6-2. Despite the highest adjusted completion percentage of his career, Cam Newton has had very limited success passing and has generated an EPA per dropback of 0.09. He has had significantly more bad throws, with a 2.8/4.4 big-time throw/turnover-worthy play ratio, and his average depth of target is a full yard lower than any other season in his career. His limited passing success has come in check-down spots to Christian McCaffrey, and that production is unsustainable at the quarterback position.

2018 Week 15 ELO Ranking: 19
The Broncos had their three-game winning streak snapped by the Nick Mullens-led 49ers. This was a crippling defeat for the Broncos' playoff chances and effectively drops them out of any chance at a Wild Card berth. Case Keenum is one of only four non-rookie starting quarterbacks to have a negative EPA per passing drop back.

2018 Week 15 ELO Ranking: 20
The Lions struggled through a weak opponent on the road, highlighting a 17-3 victory over the Cardinals with a Darius Slay pick-six. Matthew Stafford hasn't exactly guided this team with stellar quarterback play in 2018 as just 19.9% of his pass attempts have received a positive grade, which is the fourth-lowest mark in the NFL. He is sandwiched between Andy Dalton and Derek Carr in our WAR metric at 2.51.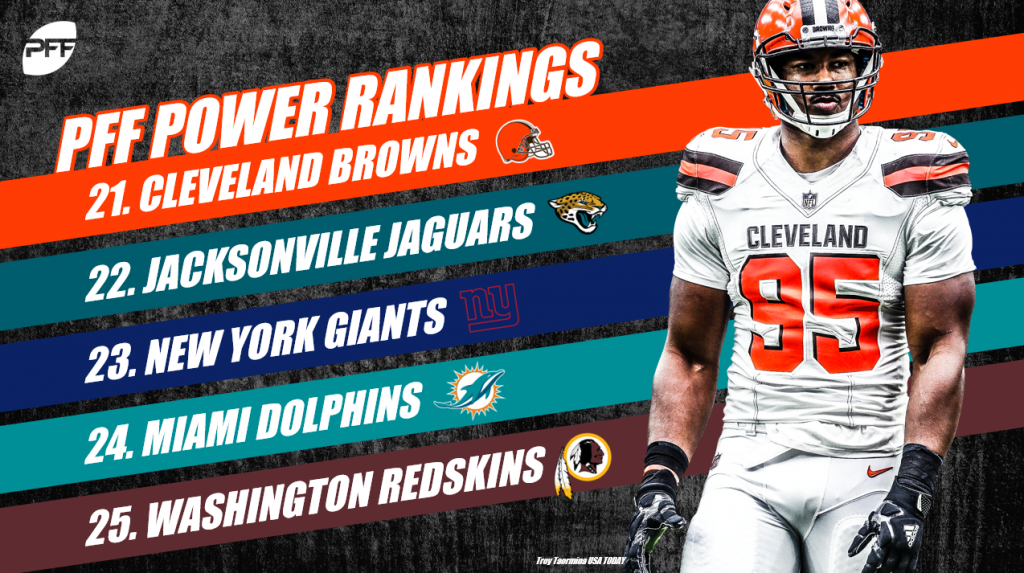 2018 Week 15 ELO Ranking: 21
The Browns, for the first time in forever, appear to have their franchise quarterback in place and playing well. Baker Mayfield has the third-highest percentage of big-time throws in the NFL at 7.0%. He has also been successful in limiting bad mistakes and has the third-highest differential between big-time throws and turnover-worthy plays. If it weren't for the inexplicable mistake of letting Hue Jackson begin the season as head coach, this team would be playing for a playoff berth down the stretch.

2018 Week 15 ELO Ranking: 22
The bad news for the Jaguars this year has been how unstable and unpredictable defensive play is from season to season. The good news for the Jaguars next year is how unstable and unpredictable defensive play is from season to season. The talent level is there for the Jaguars to be a playoff team with one glaring omission – quarterback play. If the Jaguars find an acceptable solution at quarterback for 2019, they could become a trendy bounceback candidate next year.

2018 Week 15 ELO Ranking: 23
The Giants continue their winning ways with a 40-17 thumping of the Mark Sanchez-led Redskins. Two weeks ago, we said the worst case scenario for the Giants is Eli Manning playing well enough down the stretch to convince the Giants brass on rolling the dice with him for one more year. Two wins later and that very scenario is playing out before our eyes. Manning hasn't been atrocious, but he hasn't exactly elevated the play of those around him. The Giants have one of the best cores of skill position players in the NFL, but another season led by Eli will have the same result as this 2018 campaign.

2018 Week 15 ELO Ranking: 24
The "Miami Miracle" capped another impressive victory for the Dolphins over the Patriots. The Dolphins remain very much alive in the Wild Card chase with our model giving them a 26% at the playoffs. Ryan Tannehill will need to play even better down the stretch for the Dolphins to sneak into the playoffs. Currently, he has the highest percentage of turnover-worthy plays in the NFL.

2018 Week 15 ELO Ranking: 25
Welp! Expectations meet with reality when you start Mark Sanchez. Thankfully, Josh Johnson came on in relief and flashed some playmaking ability. It is hard to believe, but this team was playing for a potential division championship a mere three weeks ago.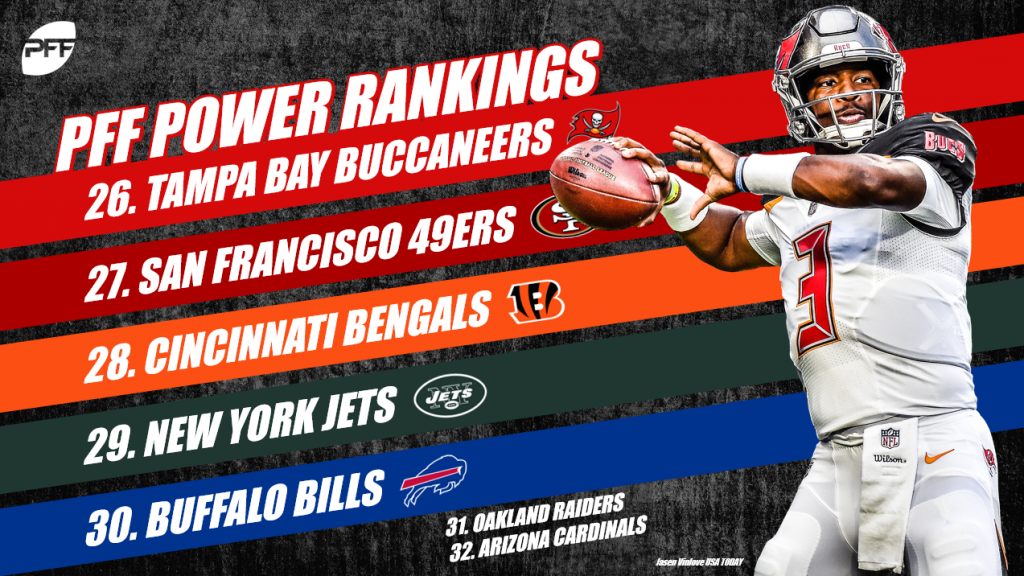 2018 Week 15 ELO Ranking: 26

The Bucs showed up for the first half of football and dominated the Saints taking a 14-3 lead into halftime. Unfortunately for the Bucs, two halves are required in the NFL. Jameis Winston has generated 0.17 EPA per dropback putting him equal with Big Ben, Tom Brady and Jared Goff, but his big-time throw/turnover-worthy play ratio of 3.1 / 5.6 paints a very different picture. Over the last three games, it is imperative that the Bucs figure out what they are going to do with Winston in 2019.

2018 Week 15 ELO Ranking: 27
The 49ers played spoiler on Sunday, getting an 85-yard catch-and-run touchdown from George Kittle and knocking off the Broncos, dashing their playoff hopes in the process. Kittle has the third-best receiving grade among tight ends and has generated a passer rating when targeted of 115.1. He has contributed 10.2 yards after the catch per reception and is second among tight ends to Travis Kelce with 1.2 WAR. In an otherwise lost season, he has emerged as the best young tight end prospect in the NFL.

2018 Week 15 ELO Ranking: 28
The Bengals played well in a road matchup against the playoff-bound Chargers but didn't have enough horsepower to pull out an upset victory. It is a long ways from their 4-1 start, but a win at home Sunday against the lowly Raiders gets them over their season win total in 2018. With the Hue Jackson succession plan potentially in place, this could be the crowning achievement for the Bengals over the next couple of seasons.

2018 Week 15 ELO Ranking: 29
In the battle among rookie quarterbacks, Sam Darnold and the Jets emerged victorious, as Darnold was able to limit the costly turnover-worthy plays that plagued his rookie counterpart. As a passing unit, the Jets have the lowest percentage of successful early down pass plays at just under 42%. Defensively, they have been much better, with Jamal Adams emerging as the prototypical safety in this new passing era.

2018 Week 15 ELO Ranking: 30
As should be expected, Josh Allen had some brilliant moments along with some numbing slip-ups that eventually cost the Bills a victory on Sunday. With a 5.1/5.1 big-time throw/turnover-worthy play ratio, Allen continues to demonstrate his range of outcomes as a prospect. Trying to rein in or limit some of his costly errors comes with the risk of neutering the behavior that could turn Josh Allen into a franchise quarterback in the NFL.

2018 Week 15 ELO Ranking: 31
The Raiders shocked the Steelers at home with Derek Carr throwing a late touchdown to elevate the Raiders to win number three. The Raiders have spent this season in flux and have more of the same coming in 2019 after announcing they will not be playing their home games in Oakland. The question should be asked if Jon Gruden will survive to see this team begin playing in Las Vegas in 2020.

2018 Week 15 ELO Ranking: 32
Yes, things have been bad for Josh Rosen in his rookie campaign, as he has posted the lowest EPA per dropback of any quarterback in the NFL. Still, his 4.5/4.2 big-time throw/turnover-worthy play ratio flashes his ability to make plays downfield. Hopefully, we have all learned it's futile to judge a quarterback based solely on his rookie performance.