After a 1-2 weekend where we saw three-plus points of line value on two of our picks (Browns +3, Titans +6.5), and a Davante Adams drop kept us from covering in Minnesota, we're onto Week 13. It's a pretty shallow slate of games, so we are going to continue our theme of picking around three games, with the rest available on PFF Greenline for your enjoyment.
Our models rely heavily on our PFFELO rating system for the NFL, along with game information like where the game is played, how far a team has to travel, etc. We also fold in opponent-adjusted PFF grades into our machine learning algorithm to factor in roster changes and possible asymmetric mismatches that can occur through the course of a game.
Green Bay (+3.5) was a loser in Minnesota last Sunday night, and thus we are now 19-14-1 on our "Lock of the Week" picks since the start of 2017 (57.6%), with four win totals pending. The analyses here will involve a point-counterpoint between the two of us, using perspectives that only the PFF grades and data can provide. Follow us on Twitter at @PFF_Eric and @PFF_George, and for some podcast commentary on some of these picks, and the process that goes into them, give the PFF Forecast a listen.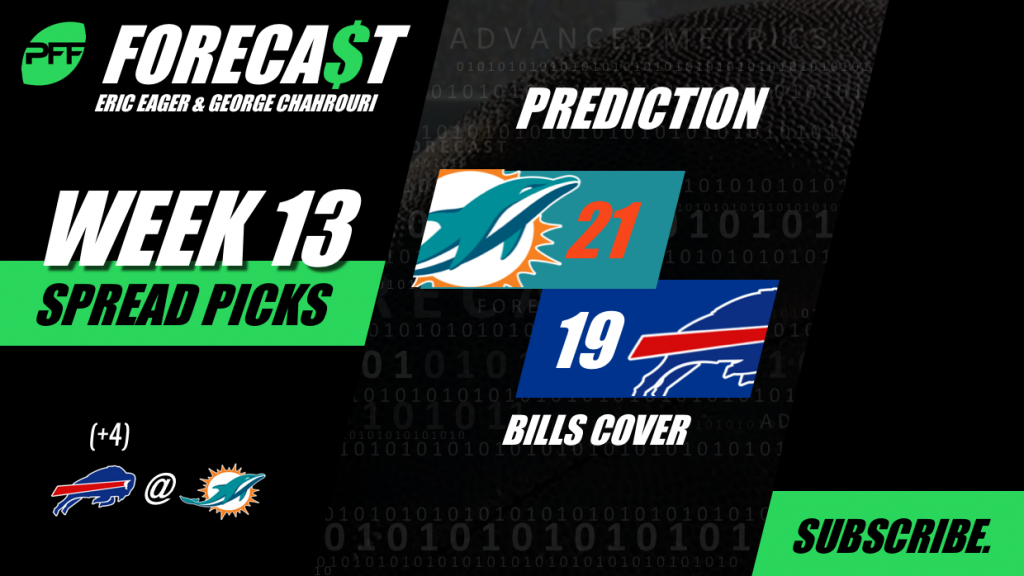 Pick: Dolphins 21-19 (Bills cover)
Point (Eric Eager): As Jason Witten would say, we're "holding our nose in spite of our face" here by taking Josh Allen plus the points down south this weekend. The Dolphins put forth a super effort in Indy last weekend, covering a large spread while almost pulling the game out outright in Ryan Tannehill's return from injury. While the Colts defense is a plucky one, the Bills are downright good on that side of the ball, with Tre'Davious White leading the entire league in fewest yards allowed per coverage snap from the cornerback position. The Bills defense as a whole is third in the AFC in terms of early-down expected points added in the passing game, and have allowed just over 40% of early-down runs to gain positive EPA.  
On the offensive side of the ball, I think the Bills match up well despite the limitations of Josh Allen. Miami is the third-worst team in the AFC in stopping early-down run plays, while the Bills are an explosive team on the ground when Josh Allen (99 yards rushing last week, including a touchdown on a designed run) gets going. With a low total (40 points), give me the team getting more than a field goal in a divisional matchup.
Counterpoint (George Chahrouri): The Buffalo Bills in Miami, what can possibly go wrong? The Bills players will act perfectly subdued after going from the frozen tundra to the demure sands of Miami. Josh Allen currently ranks fifth-worst in EPA per dropback but is coming off his best outing of the season, which seems like a sure sign that regression cometh. The Royal Tannehill has been no shining star himself, but he gets to continue his path towards taking the next step at home which should help him keep his nose clean, and he has a 103.0 passer rating from a clean pocket. The Bills have won consecutive games; this can't be a good thing.
Pick: Patriots 28-22 (Patriots cover)
Point (GC): I've graded enough Kirk Cousins huddle speeches to know that the quarterback deficit will never be bigger than this Sunday afternoon in Foxboro. Tom Brady is having a down season but he's still earned a better grade than Kirky, and Brady and the Pats have the sixth-ranked offense this season while the Vikings come in at 17th and have to deal with injuries to both Stefon Diggs and Adam Thielen, who is the NFL's most valuable non-QB so far. The Patriots know that the best way to win games is to play like you need a touchdown to win and that just so happens to be the way to cover the spread. This is actually a trap game for the Vikes, who are coming off a must-win to bitter rivals at home and have a huge game against the Seahawks next week. If this game were played on a neutral field, there is no way you are convincing me the Patriots are only 1.5 points better.
Counterpoint (EE): We've had a heck of a time picking Vikings games the last few weeks, with the Vikings' passing offense overperforming what Kirk Cousins is doing in terms of a grades standpoint due to the brilliant (but injured) Adam Thielen and Stefon Diggs. Their defense has also usually been bigger than the sum of any of its (oft-injured) parts, a great deal due to the coaching of Head Coach Mike Zimmer. Tom Brady and the Patriots' offense has been slow to go for stretches this season, with Tom Brady earning only the seventh-best passing grade among quarterbacks (versus first the last two seasons). If Xavier Rhodes can play – and play up to his standards – I am not nearly as confident about this pick as I was at the beginning of the week but I still ultimately think that pliability will win out in Foxboro this weekend.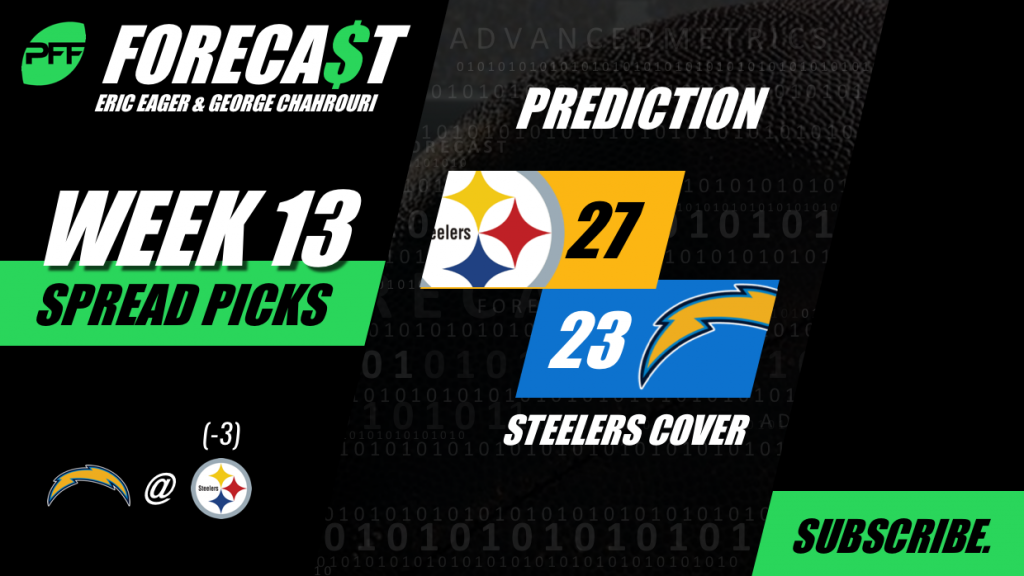 Pick: Steelers 27-23 (Steelers cover)
Point (EE): Both of these teams lost to Denver the last two weeks, but the Steelers needed to turn it over four times and allow more than one catchable, and possibly game-breaking catch, slip through their fingers, while Denver's win in Los Angeles was of the "fair and square" variety. There's plenty to like about the Chargers and Philip Rivers, but much of it is of the unstable variety. Rivers' NFL-best passer rating when pressured is one of them, especially against Pittsburgh's ninth-highest-graded pass-rush.
On the other side, it's actually been pretty impressive what the Steelers have been able to do as a team and offensively, despite the poor play (at times) of Ben Roethlisberger. He's led the league in volume of big-time throws but has also only been able to muster the 20th-best grade among quarterbacks (which is seemingly enough clout to criticize teammates). Some of these things are likely to revert back to being good, like his passer rating under pressure (56.1). The Steelers are allowing a league-low pressure rate on Big Ben, meaning (as with Rivers) the regression might be more-heavily felt in this case.
Lastly, from a motivational standpoint, this game likely means more to the Steelers, who are competing with the Patriots and Texans for a two-seed in the AFC, than it does to the Chargers, for whom we have a 10% chance to unseat the Chiefs in the AFC West, and also for whom none of the teams vying for the sixth seed will likely catch. While this is not a component of our numerical projection, it's something to consider as the game approaches.
Counterpoint (GC): We talk about the better quarterback getting points quite often and this would qualify, as Rivers has far outplayed his classmate and fellow signal-caller this season. Rivers will have to deal with the blitz-heavy Steelers defense, but he has all the tools to do it. Keenan Allen and Austin Ekeler have been terrific and helped Rivers to the best passer rating on throws in two seconds or less. Perhaps the bigger worry for the Steelers is the absence of right tackle Marcus Gilbert. With Joey Bosa back in action, the Chargers' defense poses quite a threat; over the past two seasons, the Chargers pass defense is allowing a passer rating of just 77.1 when Bosa and Melvin Ingram are on the field and Bosa has the best pass-rush win rate over that span. The best pass-rusher not named Bosa might actually be rookie safety Derwin James, who has pressured the opposing quarterback on a league-high 35.0% of his 43 pass-rushing snaps and should be a good match for Vance McDonald, as the former Florida State defensive back has allowed just a 29.3 passer rating to tight ends targeted in his coverage (first).
In reality, we're all losers here. What should have been an epic matchup between Melvin Gordon and Le'Veon Bell will be a dumpster fire thanks to the physicality that these two human battering rams have taken with them. We'll have to watch hall of fame quarterbacks try to grease up their cranky shoulders just enough to finesse the ball a few short yards downfield. Thoughts and prayers.